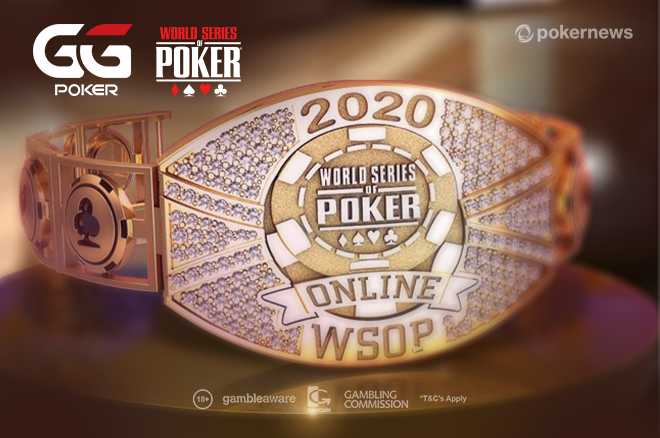 On Sunday, July 19, GGPoker held its first-ever WSOP bracelet events — part of a 54-event schedule spread out across July, August, and into September. Unfortunately, on a night where three bracelet winners were supposed to be crowned, two of the events ran into a critical bug and had to be suspended to next week.
The lightning-fast Event #34: $525 Super Turbo Bounty No-Limit Hold'em 6-Handed — clocking in at a mere 3 hours and 15 minutes start to finish to make it the fastest-ever bracelet event — was unaffected by the technical issues and played out as normal. In total, 2,214 entries of $525 each were made to create a total prize pool of $1,107,000.
In the end, it was Shoma "pp_syon" Ishikawa of Japan writing history as GGPoker's first-ever online bracelet winner, as well as the third person from Japan after Naoya Kihara and Takahiro Nakai to claim the coveted prize. Ishikawa is an emerging talent from the land of the rising
Ishikawa may have been GGPoker's first-ever bracelet winner, but he's not the last. As the series rolls on, several others have been crowned.
Sign Up for a GGPoker Account Through PokerNews
2020 Online WSOP Bracelet Winners on GGPoker
| Date | Tournament | Entries | Prize Pool | Winner | Prize |
| --- | --- | --- | --- | --- | --- |
| 7/26/20 | Event #32: $100 The Opener | 29,306 | $2,571,216 | Marcelo Jakovljevic Pudla | $265,880 |
| 7/26/20 | Event #33: $1,111 Every 1 for Covid Relief | 2,323 | $2,580,853 | Alek Stasiak | $343,204 |
| 7/19/20 | Event #34: $525 Super Turbo Bounty No-Limit Hold'em 6-Handed | 2,214 | $1,107,000 | Shoma "pp_syon" Ishikawa | $117,650 |
| 7/21/20 | Event #35: $5,000 Pot-Limit Omaha Championship | 328 | $1,558,000 | Juha Helppi | $290,286 |
| 7/22/20 | Event #36: $1,500 FIFTY STACK NLHE | 1,342 | $1,912,350 | Michael Clacher | $297,496 |
| 7/23/20 | Event #37: $1,050 Bounty Pot Limit Omaha | 971 | $971,000 | Hun Wei Lee | $161,886 |
| 7/25/20 | Event #38: $600 Monster Stack 6-Max | 2,007 | $1,143,990 | Aaron "fishnchip" Wijaya | $171,389 |
| 7/26/20 | Event #39: $1,500 No Limit Hold'em | 922 | $1,313,850 | Roberto Romanello | $212,613 |
| 7/26/20 | Event #40: $2,500 Pot Limit Omaha | 532 | $1,253,500 | Simon Lofberg | $224,493 |
| 7/28/20 | Event #43: $10,000 Short Deck No Limit Hold'em Championship | 130 | $1,261,000 | Lev "LevMeAlone" Gottlieb | $276,393 |
| 7/29/20 | Event #44: $2,500 NLHE 6-Handed | 892 | $2,118,500 | Kristen Bicknell | $356,412 |
| 7/30/20 | Event #45: $840 Bounty NLHE | 2,382 | $1,095,600 | Patrick "Muddington" Kennedy | $245,448 |