On Saturday night, the 2021 World Series of Poker (WSOP) Online Event #17: $400 No-Limit Hold'em 8-Max attracted 747 players who rebought 378 times. The 1,125-entry field resulted in a $405,000 prize pool. After nearly 11 hours of play, it was Justin "LappyPoker" Lapka coming out on top to claim the $75,371 first-place prize and his first gold bracelet.
Lapka, who originally hails from St. Paul, Minnesota, is a well-known Twitch streamer at twitch.tv/lappypoker. It's there he describes himself as "a 29-year-old online poker player trying to find my place in the world through experiencing travel, poker, meeting new people, understanding other perspectives. and learning something new every day."
He adds: "I have been studying poker as a serious hobby for about 6-7 years now and playing professionally online for close to four years … Traveler, poker player, masters grad, and humanist who is trying to make a better life for myself and other people one day at a time."
Prior to the win, Lapka had $183,459 inWSOP-related cashes with his previous best being $65,392 for finishing fifth in the 2018 WSOP Event #61: $1,000 WSOP.com Online NLH Championship. According to The Hendon Mob, Lapka has $104,292 in lifetime live earnings.
2021 WSOP Online Event #17 Final Table Results
| | | |
| --- | --- | --- |
| Place | Player | Prize |
| 1 | Justin "LappyPoker" Lapka | $75,371 |
| 2 | Uke "ooopsmybad" Dauti | $46,575 |
| 3 | Eugene "Beratna" Kwak | $32,967 |
| 4 | Chance "BingShui" Kornuth | $23,652 |
| 5 | Jason "TheBigGift" Gooch | $17,172 |
| 6 | Troy "troyrlee" Lee | $12,636 |
| 7 | Joseph "ShoeGoat" Walters | $9,437 |
| 8 | Brandon "Omni27" Ienn | $7,128 |
The top 167 finishers made the money including Jeremiah "freestyler" Williams (13th - $3,362), Donnell "spreezy52" Dais (17th - $2,673), Ryan "Adopt_aDogg0" Leng (21st - $2,187), Tony "Panoramic" Dunst (32nd - $1,782), Anthony "heheh" Zinno (40th - $1,539), Jesse "mrjessejames" Sylvia (73rd - $850.50), Anthony "flawlessbink" Maio (100th - $648), Martin "bathroomline" Zamani (123rd - $648), and Ryan "joeyisamush" Depaulo (137th - $648).
Final Table Action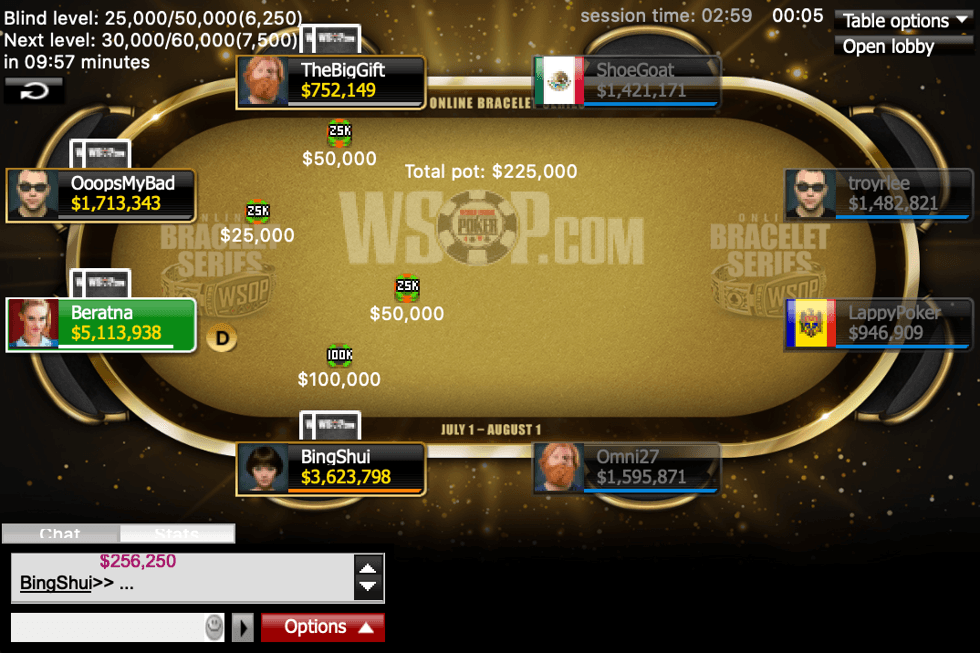 It didn't take long for Brandon "Omni27" Ienn to run pocket treys smack dab into the nines of Eugene "Beratna" Kwak to fall in eighth place, and then Joseph "ShoeGoat" Walters followed him out the door in seventh losing ace-five all in preflop to the ace-jack of Chance "BingShui" Kornuth.
Troy "troyrlee" Lee lost his short stack with king-nine to the ace-seven of Lapka to fall in sixth and moments later WSOP.com bracelet winner Jason "TheBigGift" Gooch hit the rail after running pocket sevens into Kornuth's two black nines.
Despite knocking a couple of players out early at the final table, Kornuth saw his run at a third career bracelet come to an end in fourth place. He lost most of his chips in a race holding pocket fives against the ace-king of Uke "ooopsmybad" Dauti, who turned a Broadway straight.
Kwak then lost a big flip with ace-king to Lapka's pocket eights, and that allowed the latter to take a more than 2:1 chip lead into heads-up play against Dauti. Lapka set about whittling away at his opponent until a cooler hand saw Dauti get it in with the nut flush only to see Lapka roll over a full house.
2021 WSOP Online Bracelet Winners Thus Far
| Date | Tournament | Players | Re-entries | Total Entries | Prize Pool | Winner | Prize |
| --- | --- | --- | --- | --- | --- | --- | --- |
| 1-Jul | Event #1: $500 NLH BIG 500 Kick-Off | 837 | 440 | 1277 | $574,650 | Jose "deposit" Nooa | $105,161 |
| 2-Jul | Event #2: $600 NLH Monster Stack | 727 | 311 | 1038 | $560,520 | Manig "Ohio77" Loeser | $104,313 |
| 3-Jul | Event #3: $500 NLH Turbo Deepstack | 641 | 309 | 950 | $427,500 | Donnell "Spreezy52" Dais | $90,801 |
| 4-Jul | Event #4: $500 NLH Super Turbo | 608 | 242 | 850 | $382,500 | Jeffery "Steelvikes7" Hoop | $73,861 |
| 5-July | Event #5: $1,000 NLH 8-Max | 459 | - | 459 | $648,700 | Jeremiah "freestylerr" Williams | $139,600 |
| 6-July | Event #6: $2,000 NLH Deepstack | 312 | 104 | 416 | $769,600 | Tyler "ShipTheShip" Denson | $175,700 |
| 7-July | Event #7: $777 NLH Lucky 7's | 576 | 312 | 888 | $621,600 | Michael "stiltwalk" Mercaldo | $123,574 |
| 8-July | Event #8: $888 Crazy Eights Hold'em | 514 | 268 | 782 | $625,600 | Carlos "CarlosWelch" Welch | $124,369 |
| 9-July | Event #9: $400 NLH 6-Max | 788 | 429 | 1,217 | $438,120 | Philip "wingsuiter" Beck | $81,534 |
| 10-July | Event #10: $333 NLH | 986 | 531 | 1,517 | $455,100 | Michael "njnj17" Leib | $81,645 |
| 11-July | Event #11: $400 No-Limit Hold'em Ultra Deepstack | 1,078 | 339 | 1,417 | $510,120 | Vijay "Eclypzed" Para | $86,210 |
| 12-July | Event #12: $500 NLH Turbo Deepstack | 654 | 305 | 959 | $431,550 | Bryan "Pellepelle" Piccioli | $83,332 |
| 13-July | Event #13: $1,000 NLH Freezeout | 561 | - | 561 | $504,900 | Ryan "Adopt_aDogg0" Leng | $108,654 |
| 14-July | Event #14: $500 No Limit Hold'em | 673 | 363 | 1,036 | $466,200 | Gionni "COLDWARKID" Demers | $90,023 |
| 15-July | Event #15: $5,300 No-Limit Hold'em High Roller Freezout | 188 | - | 188 | $940,000 | Justin "Jsaliba2" Saliba | $253,800 |
| 16-July | Event #16: $600 PLO8 6-Handed | 293 | 295 | 498 | $268,920 | Allen "Acnyc718" Chang | $61,394 |
| 17-Julu | Event #17: $400 NLH 8-Max | 747 | 378 | 1,125 | $405,000 | Justin "LappyPoker" Lapka | $75,371 |