Denis Strebkov Wins His Second WSOP Gold Bracelet in Event #74: $2,500 Big Bet Mix

Level 26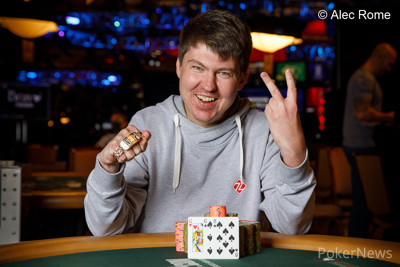 Russia's Denis Strebkov defeated Jerry Wong in heads-up play to win his second World Series of Poker title in Event #74: $2,500 Big Bet Mix at the 2021 WSOP. Strebkov outlasted a field of 212 entries to win $117,898 and the gold bracelet.
This is Strebkov's second WSOP title, the first coming in 2019 in the $3,000 H.O.R.S.E. event. Strebkov found a great deal of success in 2019, making three final tables in mixed formats and winning one.
"I like the mixed format because I play a lot of games," Strebkov told PokerNews after the win. "I play a lot of mixed. I don't like to play hold'em but I like some other games where you can play a lot of hands and have more fun."
Strebkov was eager to build on his 2019 success, but travel restrictions related to COVID-19 made the 2021 WSOP a complicated trip that required a stop in Croatia to get the necessary vaccines.
"This is fantastic. I am glad I can play. I had a problem because the Russian vaccine is not approved here."
Strebkov is taking a moment to celebrate, but after going through the trouble to get to the United States, he plans to make more noise at the 2021 WSOP.
"I am just speechless right now. The second bracelet is very good! I am going to go to the Razz event right now. I am already thinking about the next one. I might play another Omaha tournament, but we will see how it's going."
2021 WSOP Event #74 Final Table Results
| Place | Name | Country | Prize (USD) |
| --- | --- | --- | --- |
| 1 | Denis Strebkov | Russia | $117,898 |
| 2 | Jerry Wong | United States | $72,868 |
| 3 | Pearce Arnold | United States | $48,864 |
| 4 | Richard Bai | United States | $33,583 |
| 5 | Shanmukha Meruga | United States | $23,670 |
| 6 | Patrik Ciklamini | Slovakia | $17,119 |
| 7 | Hooman Nizad | United States | $12,715 |
Day 3 Action
Noah Boeken was the first to hit the rail on Day 3 when Strebkov drew the fourth ten in Five Card Draw High to send him home in 14th place. Amnon Filippi followed right behind in a Pot-Limit Omaha hand where Strebkov made two-pair to beat Filippi's pocket aces.
Shortly after the re-draw to two tables, Asher Lower hit the rail in 12th place in a hand of Pot-Limit 2-7 Triple Draw when he caught a pair of fives on the last draw to lose to the ten-nine of Anthony Ribeiro.
Jordan Siegel was next to go after he got it in with pocket nines against the ace-king of Richard Bai. Bai flopped a straight and Siegel was out in 11th place. Jon Turner went home with a 10th-place finish after he got it in with ace-jack but Patrik Ciklamini looked him up with pocket aces.
Ciklamini went on to bust Scott Bohlman in ninth place when he called Bohlman's shove and caught a pair of twos score the elimination. Riberio was close behind in eighth after running into Wong's two-pair in Five Card Draw.
After the final table re-draw, Hooman Nizad fell in seventh place in a Big O hand when Bai made a pair of aces to beat his pocket kings. Cinkamini was out in sixth after shoving with ace-eight against Strebkov's ace-queen. Shanmukha Meruga managed to ladder up in the process, but he ran out of time after being forced all-in on his big blind, and Bai stepped in to finish the job with tens full of nines in a hand of Pot-Limit Omaha 8 or Better.
Bai was the next out after tangling with Wong in a hand of Pot-Limit 2-7 Triple Draw. The fourth-place finisher got it in and drew to a seven, but a queen on the third draw lost to Wong's eight-seven. Pearce Arnold finished third after running into Strebkov's nut flush in a hand of Big O.
Heads-up play started with both players close to even, but Wong took a big hit early when he made a failed attempt to bet Strebkov off of a flush. The big moment came just a short time later when Strebkov made three eights in Pot-Limit Omaha 8 or Better and Wong missed his last chance at a low draw.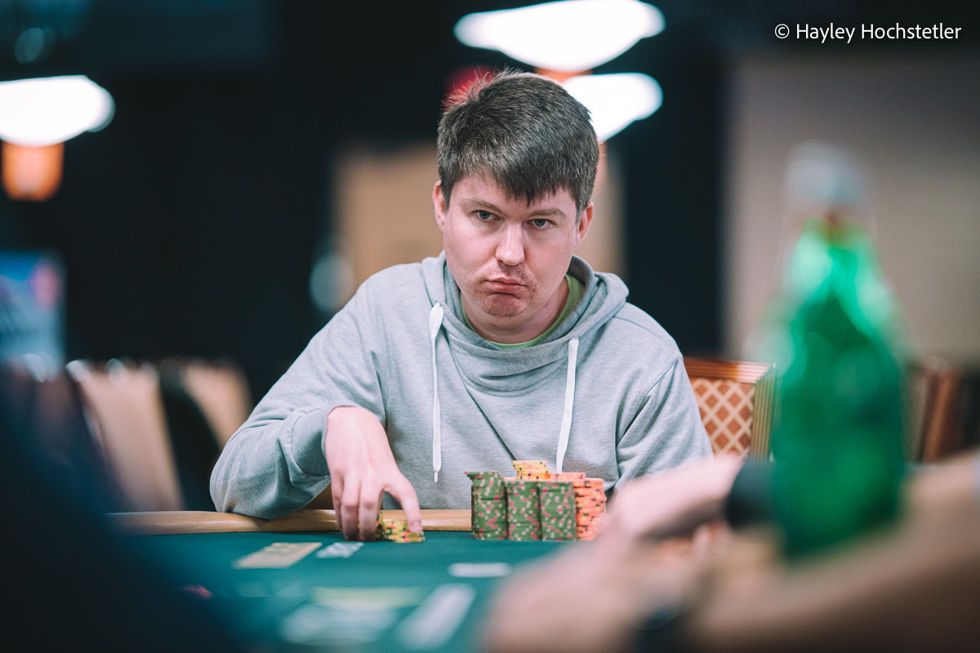 Congratulations to Denis Strebkov for winning his second bracelet in Event #74: $2,500 Big Bet Mix. Be sure to keep it here throughout the rest of the series for updates on all of your favorite events from the PokerNews live reporting team.