Event #78: $10,000 Razz Championship
Days: 4
Event #78: $10,000 Razz Championship
Day 4 Completed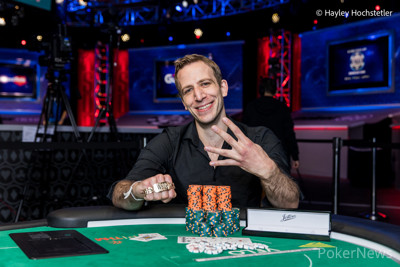 The 2021 World Series of Poker (WSOP) Event #78: $10,000 Razz Championship attracted 109 players who generated a prize pool of $1,016,425. After four days of play, the UK's Benny Glaser emerged victorious to capture a $274,693 top prize and the fourth gold bracelet of his career.
It was the cherry on top of a solid series for Glaser, who kicked things off by finishing runner-up to Jesse Klein in Event #2: $25,000 H.O.R.S.E. He would go on to take ninth in Event #40: $10,000 H.O.R.S.E. Championship for $31,110 followed by third in Event #49: $10,000 NL 2-7 Lowball Draw Championship for $132,685. So, was the victory a redemption of sorts?
"Absolutely, yeah. I was disappointed with the second and third," Glaser admitted. "I was a big chip leader in both of those and it seemed like the win was in sight for both, which made it kind of more disappointing. Makes this win more enjoyable after tasting that recent disappointment."
Glaser, who prior to the win had $2,670,003 in tournament earnings according to The Hendon Mob, won his first bracelet back in 2015 when he took down Event #33: $1,500 Limit 2-7 Lowball Triple Draw for $136,215. His other two came the following year within a few days of each other. First, he won the 2016 WSOP Event #26: $1,500 Omaha Hi-Lo 8 or Better for $244,103 followed by Event #32: $10,000 Omaha Hi-Lo 8 or Better Championship for $407,194.
"I'm feeling amazing. There were a couple of rough hands where he took the lead and it started to feel less enjoyable, but in the end, I think that made the win even more enjoyable," Glaser said.
2021 WSOP Event #78 Final Table Results
| Place | Player | Country | Prize (USD) |
| --- | --- | --- | --- |
| 1 | Benny Glaser | United Kingdom | $274,693 |
| 2 | Everett Carlton | United States | $169,773 |
| 3 | Yuri Dzivielevski | Brazil | $123,254 |
| 4 | Erik Sagstrom | Sweden | $90,859 |
| 5 | John Monnette | United States | $68,025 |
| 6 | Yehuda Buchalter | United States | $51,739 |
| 7 | Erik Seidel | United States | $39,987 |
| 8 | Phil Hellmuth | United States | $31,411 |
Others to cash the tournament were Roland Israelashvili (10th - $20,374), John Racener (14th - $16,299), and Brian Rast (17th - $16,299), just to name a few.
Final Table Action
The final table was a stacked with 34 bracelets represented between eight players. The vast majority of those were hardware won by Phil Hellmuth (16 bracelets) and Erik Seidel (9 bracelets). The former was at his sixth final table of the 2021 WSOP, but his quest for a 17th bracelet ended when he became the first casualty at the final table. Seidel followed him out the door soon thereafter.
After Yehuda Buchalter bowed out in sixth place, five-handed play proved to be an extended back-and-forth match. Eventually, four-time bracelet winner John Monnette grew short and was eliminated by Everett Carlton, who in turn eliminated Erik Sagstrom and Yuri Dzivielevski in fourth and third place respectively.
At the start of heads-up play, Glaser held a more than 3:1 chip lead over Carlton, who would drop as low as four big bets before mounting a comeback. As the duo played late into the night, Carlton closed the gap to less than 2:1 before play was halted and a fourth day added to finish things out.
On Friday, the final two players returned to battle it out in what proved to be an hour-long rollercoaster affair. Glaser began with the lead and lost it to Carlton, who pulled out to a big lead of his own. It looked as if Carlton was going to claim his first bracelet, but then momentum swung back in Glaser's favor.
The experienced mixed game pro won pot after pot until Carlton was down to crumbs and ultimately succumbed. Carlton, a former high-stakes golf player, learned poker back in 2003 after he was diagnosed with malignant melanoma from exposure to the sun, and while he was recovering he began watching poker on TV and decided to take his gambling indoors. Hailing from Minnesota, he is one of the most accomplished players on the Mid-States Poker Tour (MSPT) with eight final table appearances.
Prior to the win, Carlton had $1,274,921 in lifetime earnings according to The Hendon Mob. The runner-up score of $169,773 marked the thirteen cash of the series for Carlton, who took a break from caring for his elderly mother to compete in the 2021 WSOP.
"I hadn't played with him before. It was interesting," Glaser said of his opponent. "He seemed to want to do more creative or unorthodox things that most people don't tend to do, which in some ways made him more difficult to play against."
As for how his fourth bracelet compares to the other three, Glaser said: "I don't really know. It feels amazing right now. I think my first is probably the most special then this is a close second."
Congratulations to Benny Glaser, the 2021 WSOP Event #78: $10,000 Razz Champion!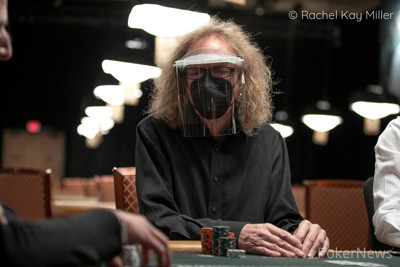 Benny Glaser:
/

Everett Carlton:
/
Benny Glaser brought it in and called when Everett Carlton completed. The former then check-called bets on every street until showdown.
Carlton showed a ten-eight but it was no good as Glaser had made a nine-six. Carlton was left with just 180,000 after the hand.
He folded the next hand after bringing it in and facing a completion and then doubled the next.
In the hand after that, the tournament came to an end.
Benny Glaser:
/
/

Everett Carlton:
/
/
Glaser brought it in for a full completion and called when Carlton raised all in for 200,000. Glaser made a ten-five on fifth street and he locked it up on sixth after Carlton caught a jack, meaning he was drawing dead headed to seventh.
Benny Glaser:
/

Everett Carlton:
/
- folded
Glaser managed to sneak into a small chip lead after winning a series of small pots, and he kept the momentum rolling in this hand.
Everett Carlton brought it in with a three up and Glaser completed. Carlton raised it and Glaser called.
Glaser then called a bet on fourth while Carlton called one on fifth.
On sixth, Glaser bet and Carlton announced a raise. Glaser paused for a few beats before making it three bets and Carlton thought for about a minute before folding.
"That's an unexpected one," Glaser said as he was pushed the pot.
Benny Glaser:
/
/

Everett Carlton:
/
/
Benny Glaser brought it in and called a completion. Carlton then bet fourth and Glaser called before the latter took the lead on fifth and bet. Carlton called and then check-called a bet of 200,000 on sixth.
Carlton checked again on seventh and folded to a bet from Glaser, who showed
.
"I couldn't beat a king," Carlton claimed. "Two kings, two fours."
Benny Glaser:
/
/

Everett Carlton:
/
There was roughly 1.1 million in the pot after sixth street when each player received their final card.
Carlton tossed out a bet of 200,000 and Glaser wasted little time in making the call.
"Sixty-four," Carlton said fanning out his hand. Glaser simply scoop up his cards and sent them to the muck.
Benny Glaser:
/
- folded
Everett Carlton:
/
Benny Glaser brought it in and Everett Carlton just called. Carlton bet on fourth and called a raise from Glaser, who bet on fifth after his opponent checked.
Carlton called and then bet after Glaser checked on sixth. That did the trick as Glaser released.
Benny Glaser:
/

Everett Carlton:
/
With approximately 600,000 in the pot by fifth street, Everett Carlton bet and Benny Glaser called. The former paired on sixth but still called a bet from the latter.
Glaser checked on seventh and quickly called a bet while saying, "Nine."
"Eight," Carlton replied while tabling his hand.
"F***," Glaser let slip upon discovering the bad news. With that pot, Carlton nearly evened up in the counts.
Benny Glaser:
/
/

Everett Carlton:
/
/
After several small pots that either ended with a completion or on fourth street, a decent pot finally brewed when Glaser brought it in with a seven and Carlton called with a six.
The former bet on fourth, the latter called, and then Glaser bet 200,000 on fifth. Carlton raised it to 400,000, Glaser called, and it was off to sixth.
Glaser caught a deuce and bet, which Carlton called. Both players then checked seventh.
"Nine," Glaser said while tabling his hand.
"It's good," Carlton conceded.
Level: 25
Ante: 20000
Bring-In: 30000
Completion: 100000
Limits: 100000-200000