Hands #157-161: Aldemir Loses Some; Gets Almost All of It Back

Level 39 : 800,000/1,600,000, 1,600,000 ante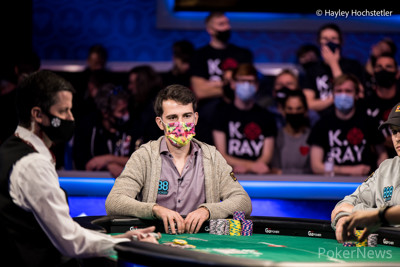 Hand #157: Jack Oliver raised to 4,000,000 on the button and Koray Aldemir defended the big blind to see the
flop. Aldemir's check was followed by a bet worth 3,000,000 by Oliver and Aldemir then check-raised to 8,300,000. The call by Oliver led them to the
turn on which Aldemir mulled over his decision for 56 seconds and checked.
Oliver opted for a bet worth 8,000,000 and earned the pot without resistance. "Show the bluff," his rail demanded.
Hand #158: George Holmes opened to 3,600,000 on the button and Aldemir flat-called in the small blind. The
flop was checked around and the
appeared on the turn. Aldemir now bet 3,800,000 and that won the pot.
Hand #159: Aldemir raised to 3,400,000 on the button for Holmes to call out of the big blind. The
flop went check, check, and the
followed on the turn. Holmes bet 4,200,000 and Aldemir folded.
Hand #160: Aldemir received a walk.
Hand #161: Aldemir limped the small blind and Oliver raised to 5,000,000 in the big blind. The limp-raise to 15,000,000 by Aldemir then brought a quick fold from Oliver and the
was revealed.
Player
Chips
Progress

Koray Aldemir

255,300,000

-3,100,000

George Holmes

89,300,000

-1,000,000

Jack Oliver

54,700,000

4,100,000