Dan Cates Makes History; Wins Back-to-Back $50,000 Poker Players Championship ($1,449,103)

Level 28 : 150,000/300,000, 300,000 ante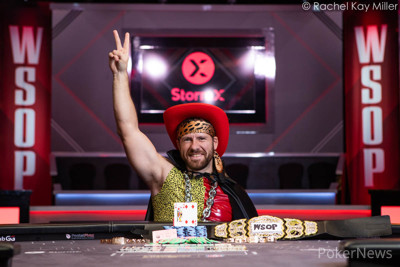 In the end it was a win by submission for Macho Man Dan eight minutes after sunrise.
Having announced he'd "basically already won" the $50,000 Poker Players Championship ahead of the penultimate day's play, Dan "Jungleman" Cates backed up his words with actions and secured his second WSOP bracelet along with $1,449,103 in prize money after defeating Brazilian Yuri Dzivielevski heads-up.
Dzivielevski was looking for his third WSOP bracelet win in four years, and had opportunities in a marathon topsy-turvy heads-up battle in front of a raucous Brazilian rail. However, he fell just short and would have to settle for second-place.
$50,000 Poker Players Championship Final Table Results
| PLACE | WINNER | COUNTRY | PRIZE (IN USD) |
| --- | --- | --- | --- |
| 1 | Dan Cates | United States | $1,449,103 |
| 2 | Yuri Dzivielevski | Brazil | $895,614 |
| 3 | Naoya Kihara | Japan | $639,257 |
| 4 | Benny Glaser | United Kingdom | $464,420 |
| 5 | Johannes Becker | Germany | $343,531 |
| 6 | Koray Aldemir | Germany | $258,812 |
Day 5 Recap
Five players returned for the final day of the Poker Players Championship, played in the Bally's Event Center and streamed on PokerGO.
Overnight chip leader Dan Cates was soon surpassed by Benny Glaser, looking to win his fifth WSOP bracelet, while Johannes Becker headed in the opposite direction. He finally got his last chips in the middle in No-Limit Hold'em holding ace-ten against the ace-queen of Glaser to bust in fifth.
Cates had enjoyed a brief spell back in the chip lead, before Glaser returned to the top of the chip counts, but after a hot streak during Limit Hold'em Cates started to open up a considerable gap.
That gap grew wider still after Cates outdrew Glaser in a hand of No-Limit 2-7 Single Draw. With Glaser standing pat with a ten, Cates drew one to make an eight. Glaser called off for half of his remaining chips to fall to the bottom of the counts.
And in the same round of Single Draw, Glaser was out. It was a battle of the pat hands between Glaser and Kihara, with Kihara patting an eight and Glaser unable to break his nine and patting behind to bust in fourth.
Rough ending for @BennyGlaser, his day ends with a fourth-place finish. Love the respect he has for this tournamen… https://t.co/fiPj0UuZ9Q

— Jeff Platt (@jeffplatt)
There was still clear water between Cates and the other two players, with the gap remaining consistent for an extended period. In the end, it was Kihara who blinked first after check-raising river when his straight draw missed, only to get picked off by Cates' trip jacks.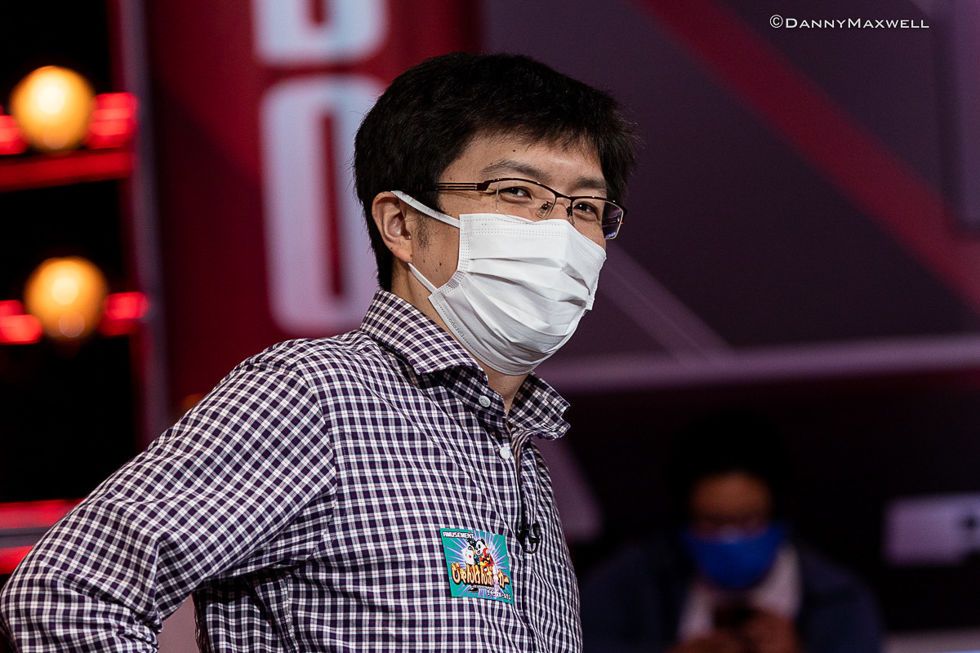 Three doubles for Kihara would follow — in Limit Hold'em, 2-7 Single Draw and Stud Hi-Lo — but he was eventually eliminated in 2-7 Triple Draw by Dzivielevski who found himself out-chipped by over 3:1 to start heads-up play.
And so, in front of a raucous rail of vocal Brazilians and vociferous Americans trading chants back and forth, as well as the assembled TV personnel and poker media, the two players settled in for an entertaining back and forth heads-up battle that produced many stand-out moments over the course of seven hours.
An early wheel for Dzivielevski in 2-7 Triple Draw along with catching Cates bluffing in No-Limit Hold'em saw him almost draw level in the chip counts, but back came Cates after winning a series of Pot-Limit Omaha hands that had Dzivielevski scrambling to stay alive. In the last hand of the PLO round the chips went in with Dzivielevski dodging straight, flush and even backdoor quad outs to stay alive and prolong the battle.
Cates still held the momentum and, aided by a straight flush in Limit Hold'em, he worked hard to again hold a 2:1 chip lead.
Dzivielevski is a two-time WSOP bracelet winner, and this was the Brazilian's sixth WSOP final table and fifth in two years since the WSOP returned from its coronavirus-induced hiatus. So when Cates opened up another lead he didn't blink and worked steadily to close the gap once more.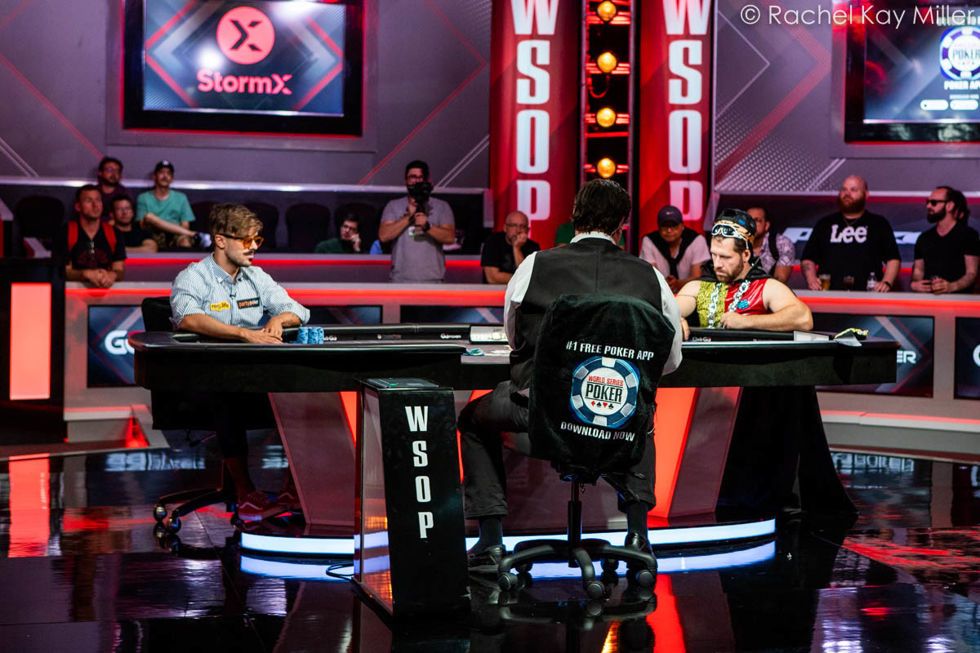 Then it was Dzivielevski's turn to put his foot on the gas. It felt like he had Cates right where he wanted him and finally had the measure of his opponent. But that's where the Jungleman is most dangerous, and in a blink of an eye — aided by the steadily increasing blinds and limits — the tables had turned and it looked like Cates was inches away from victory.
The two traded pots almost as often as they traded the chip lead. A double for Cates was the first called all in for several hours after Dzivielevski had again had Cates inches away from the exit.
Then the limits simply became too much. Dzivielevski was short after a 2-7 Triple Draw hand, and despite several No-Limit Hold'em doubles to stay alive, Cates was finally able to close out victory shortly before 6 a.m.
Former Poker Players Championship Winners 2006-2022
| YEAR | ENTRIES | PRIZE POOL | WINNER | PRIZE |
| --- | --- | --- | --- | --- |
| 2022 | 112 | $5,362,000 | Dan Cates | $1,449,103 |
| 2021 | 63 | $3,016,125 | Dan Cates | $954,020 |
| 2019 | 74 | $3,552,000 | Phil Hui | $1,099,311 |
| 2018 | 87 | $4,176,000 | Michael Mizrachi | $1,239,126 |
| 2017 | 100 | $4,800,000 | Elior Sion | $1,395,767 |
| 2016 | 91 | $4,176,000 | Brian Rast | $1,296,097 |
| 2015 | 84 | $3,696,000 | Mike Gorodinsky | $1,270,086 |
| 2014 | 102 | $4,896,000 | John Hennigan | $1,517,767 |
| 2013 | 132 | $6,336,000 | Matthew Ashton | $1,774,089 |
| 2012 | 108 | $5,184,000 | Michael Mizrachi | $1,451,527 |
| 2011 | 128 | $6,144,000 | Brian Rast | $1,720,328 |
| 2010 | 116 | $5,568,000 | Michael Mizrachi | $1,559,046 |
| 2009 | 95 | $4,560,000 | David Bach | $1,276,806 |
| 2008 | 148 | $7,104,000 | Scotty Nguyen | $1,989,120 |
| 2007 | 148 | $7,104,000 | Freddy Deeb | $2,276,832 |
| 2006 | 143 | $6,864,000 | Chip Reese | $1,716,000 |