Small Pots and a Double on Table 144

Level 24 : Blinds 25,000/50,000, 50,000 ante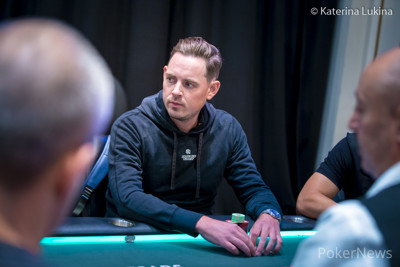 In a limped battle of the blinds, Thair Kallabat bet the
flop for 100,000 and Jered Bettencourt called out of the big blind. The
followed on the turn and Kallabat made it 200,000 to go, which Bettencourt called.
Both checked the
on the river and Kallabat announced two pair, to which Bettencourt exposed the
. However, Kallabat had that beat with the
to win the pot.
Toby Lewis then raised to 175,000 and Nitesh Rawtani called in the cutoff. They got it in after the
flop on which Lewis jammed for 325,000 and Rawtani called.
Toby Lewis:

Nitesh Rawtani:
The
turn gave Rawtani a flush draw as well but the
river improved Lewis instead.
Shiva Dudani then raised to 175,000 and Rawtani defended the big big blind to check-raise a
flop from 150,000 to 500,000. Dudani let go and Rawtani mentioned in table chat he had the
.
Player
Chips
Progress

Shiva Dudani

4,360,000

660,000

Tom Hu

3,075,000

-705,000

Thair Kallabat

2,700,000

820,000

Jered Bettencourt

2,470,000

-380,000

Nitesh Rawtani

1,650,000

-200,000

Toby Lewis

1,000,000