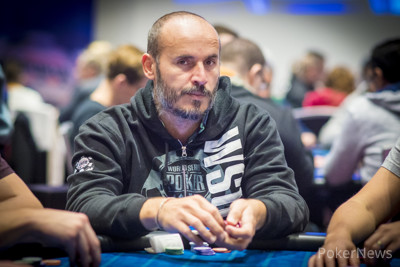 Alex Foxen had just sat down when he faced a raise to 200 by Salvatore Camarda. Foxen three-bet to 600 and Muhamet Perati as well as Camarda called. On the
flop, Camarda checked and Foxen bet 900, which saw Perati raise to 2,900. That forced out Camarda, while Foxen called.
After the
turn a second flush draw arrived and Foxen checked, Perati bet 5,600 and Foxen moved all in to see Perati call with a near identical stack.
Muhamet Perati:

Alex Foxen:
Foxen's two pair were in the lead but he had to dodge plenty of cards in order to double up. The
river was a blank and the stacks were counted, Perati was covered by a mere 100 chips.