Hands #42-46: Maguire Four-Bets Milliard-Feral

Level 30 : 75,000-150,000, 150,000 ante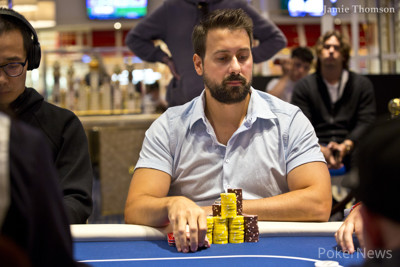 Hand #42: From middle position Clayton Maguire raised to 325,000. In the hijack, Julian Milliard-Feral put out a plaque for a three-bet to 1,000,000, It folded back to Maguire who four-bet to 2,200,000. Milliard-Feral thought a few moments and gave it up.
Hand #43: Under the gun, Jaime Cervantes raised to 350,000. Philip Shing then three-bet to 1,025,000 from under the gun plus one. Cervantes folded when action got back to him.
Hand #44: Milliard-Feral raised to 300,000 from early position. Cervantes defended from the big blind. The flop came
. Milliard-Feral continued for 400,000. Cervantes called. Action went check-check on both the
turn and the
river. Cervantes tabled the
for the winning pair.
Hand #45: Lion Yiming Lee raised from the button which forced out the blinds.
Hand #46: Shing limped from the small blind. Maguire raised to 475,000 and Shing called. The flop came
. Maguire bet 525,000 and Shing mucked his cards.
Player
Chips
Progress

Clayton Maguire

11,975,000

1,850,000

Jaime Cervantes

8,425,000

350,000

Julian Milliard-Feral

7,325,000

-1,700,000

Philip Shing

4,250,000

250,000

Lion Yiming Lee

2,375,000

375,000