2012 World Series of Poker: A Tale of Two Phils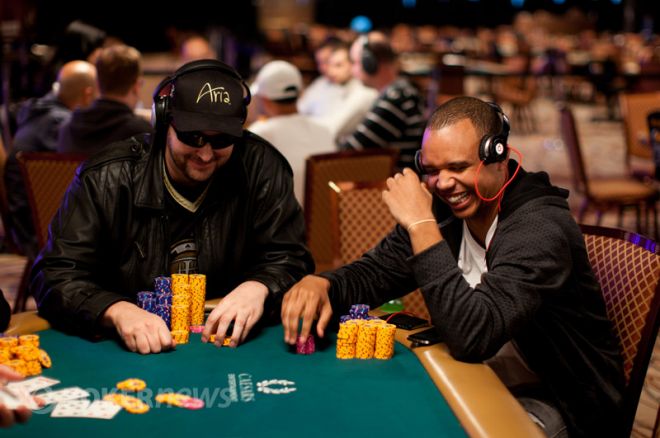 The atmosphere was completely electric as everyone in the poker community had their eyes on two men — Phil Hellmuth and Phil Ivey — Sunday night. Thousands tuned into the WSOP.com live stream, hundreds gathered around both rails, and there was no shortage of visits to the PokerNews Live Reporting Blog. In the end, one Phil would walk away with yet another bracelet, and one would fall just short of glory. Phil Hellmuth was able to defeat Don Zewin heads-up for his 12th bracelet, and Phil Ivey would fall to Andy Frankenberger; Ivey narrowly missing his ninth.
Everyone in the poker community was either at the event or streaming the events from home on their computers. Hundreds of tweets flew out regarding both heads-up matches, both excited and ecstatic for the two Phils:
Orly captain obvious? RT @Donnie_Peters: It's pretty obvious who 98% of the people on the @ESPN Main Stage wanted to win.

— Maria Mayrinck (@Maridu)
Ugly finish for Ivey and at the same time Zewin wins a big pot at the same time to claw back into it. Being a poker fan tonight.

— Daniel Negreanu (@RealKidPoker)
Congrats @Phil_Hellmuth on winning his 12th bracelet. I agree @RealKidPoker, he definitely needs new hats, old1 for sure won't fit anymore:)

— John Juanda (@LuckBoxJuanda)
Watched as Phil Hellmuth received his 12th bracelet from his oldest son... @ WSOP http://t.co/sDKDGlXq

— Marie♠Lizette (@MarieLizette)
The rails at both feature tables were jammed, elbow to elbow, which is a sight that has not been seen so far at this year's World Series of Poker: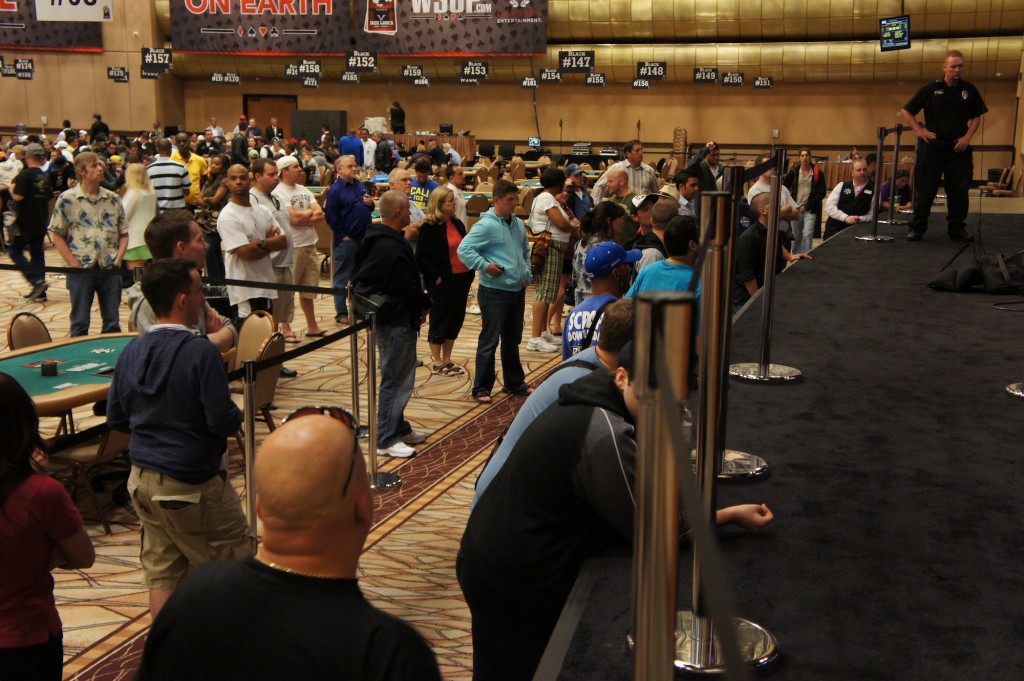 The room was mostly silent between pots in the Event #17: $10,000 Pot-Limit Hold'em to the point where you could only hear the very very quiet whispers of the rail and the air conditioner. The room would explode with excitement when Ivey won a pot. When Frakenberger won a pot, a select crowd would cheer, but it was nothing like when Ivey scooped a big one.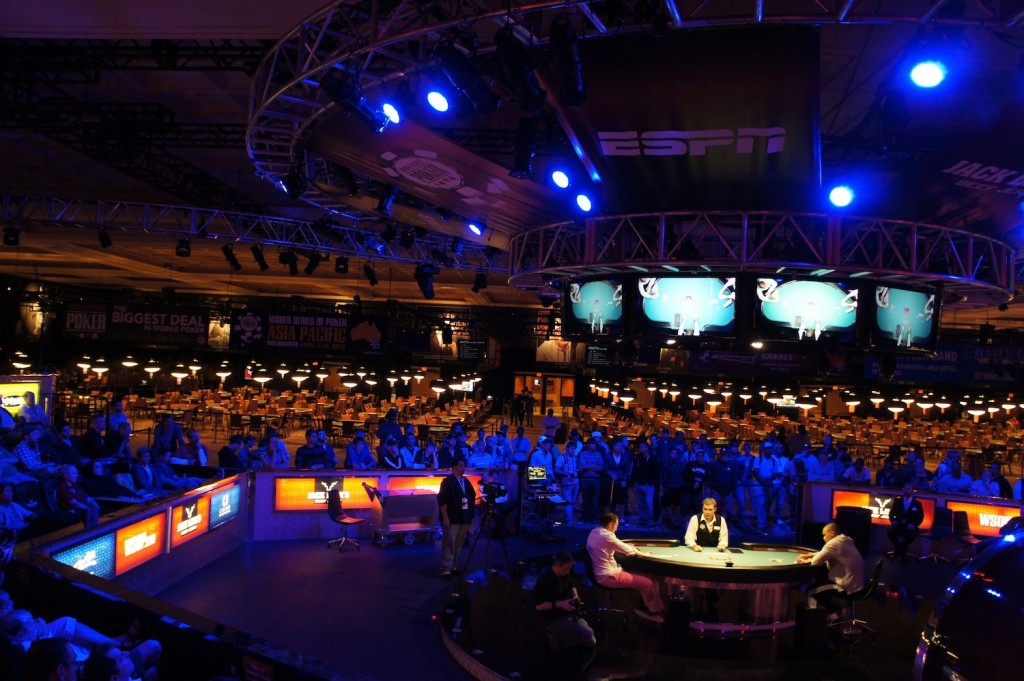 In the end, Ivey could not close the deal, he fell short of his ninth bracelet, and after shaking hands with Frankenberger, and wishing him congratulations, he quickly left the Amazon room, not wanting to be interviewed, or even to talk to anyone.
The rail died down quickly as only fans and friends of Frankenberger stuck around to see the ending ceremony. Ivey fans quickly made their way out of the building, and within minutes, the mothership was quiet once again. Ivey's face showed visible frustration, and one could tell he was very upset to have not been taking home his ninth bracelet.
The same could not be said for Phil Hellmuth's rail at Event #18: $2,500 Seven Card Razz. The room would jump and shout with excitement whenever Hellmuth won a pot, thanks in part to his good friend Mike Matusow.
"I don't think I could handle it if Phil came runner-up in a second one," the Mouth joked. The two would hug and fist bump between pots as Matusow really brought the crowd to life.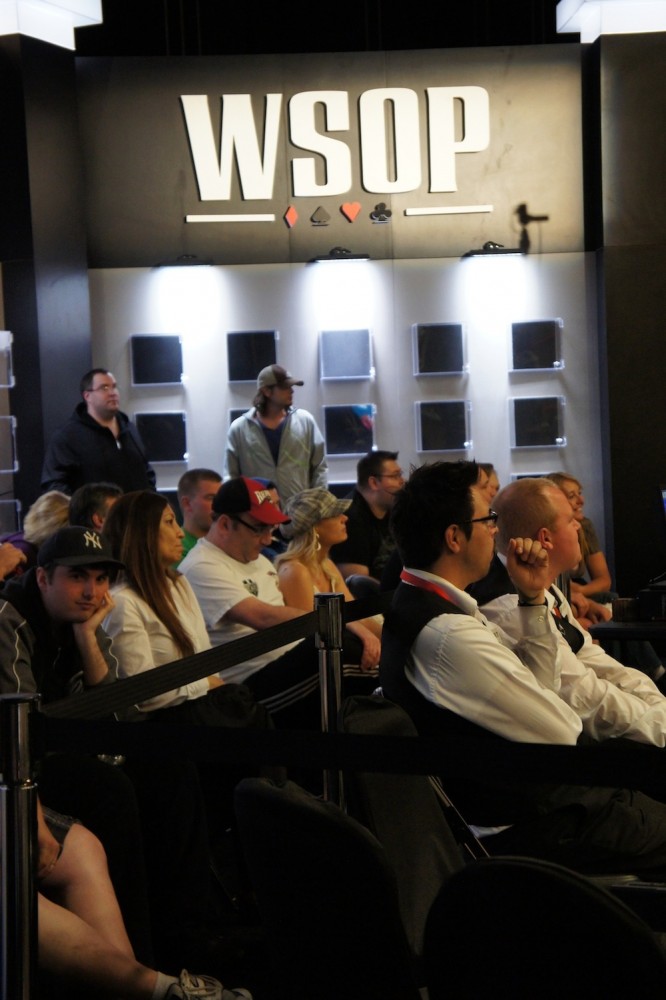 Just before Hellmuth won, he found out that Frankenberger had won the $10,000 Pot-Limit Hold'em Event.
"Andy won?" Phil asked. "Who was the runner up?" We still don't know whether we was joking or not.
When Phil finally chipped Don Zewin down to the wire, and the final card was dealt, Hellmuth jumped for joy in pure excitement. He then fell to the floor in happiness, and tears could be seen in his eyes. Tears of joy of course.
Phil's son, Phillip Hellmuth III presented the bracelet to his father.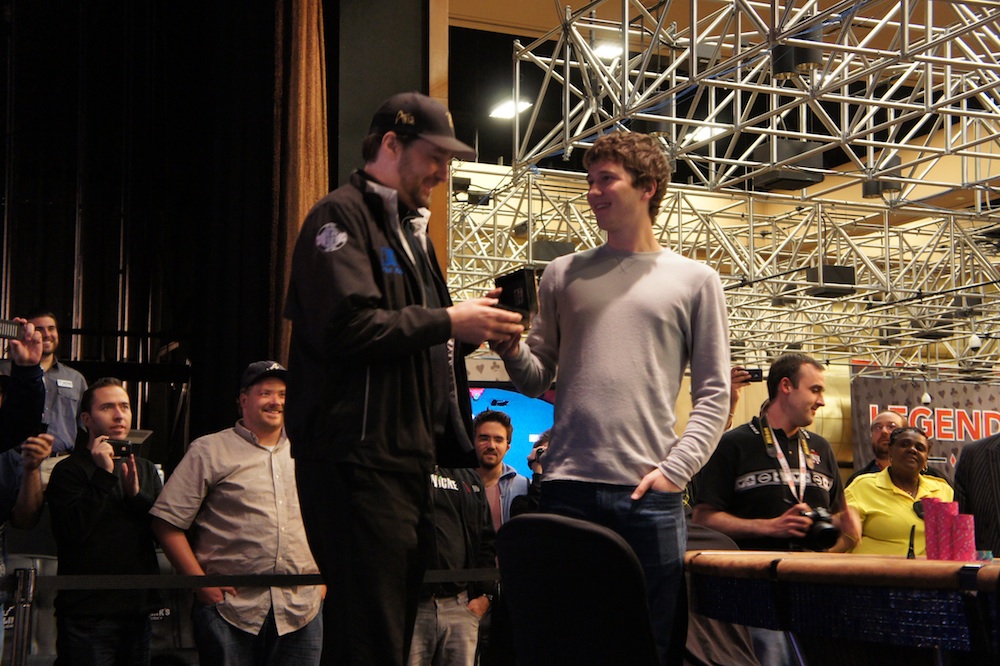 Complimentary bottles of Dom Perignon were brought to the table in honor of his win.
Toward the end of the night, Media Executive Director Nolan Dalla asked Phil Hellmuth one question:
"Phil, I have a serious question for you," Dalla said. "Ivey is 35, and you are 47. When Ivey is 73, and you are 85, who is gonna have more bracelets?"
"Hmmmm," Hellmuth pondered.
"I have a better question," Mike Matusow piped up. "Are any of us going to have money then, or are we all going to be broke?"
Truly, with this win, his first in a non-hold'em bracelet, Hellmuth has once again reinforced the fact that he is one of the greatest poker players in the world, and who has ever lived. Ivey's runner-up finish, while not as glamorous will also be remembered forever in the poker world as an integral part in the night of the Phils.