All Mucked Up: 2012 World Series of Poker Day 13 Live Blog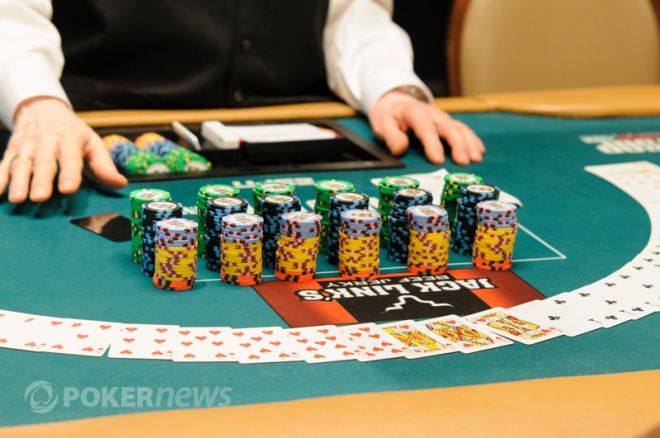 All Mucked Up is a live blog of all the stuff you want to know at the 2012 World Series of Poker, besides hand histories and bad beats. Well, we might add a few in here, everyone loves a good bad beat story — unless it happened to you. Check back often for polls, soundbites, celebrity sightings, and who knows what else!
It's Morning
Wandering the halls of the Rio this morning we can see that this is going to be one of the busiest days of the World Series of Poker yet. The corridor is jammed with people making their way to their seats and the line for late registration has never been longer. As noon approaches we spy some big name pros among all the hopeful amateurs, such as former main event winner Joe Cada, the always prepared Randy "Nanonoko" Lew and Dan "djk123" Kelly.
Not everyone will be playing in Event #19: $1,500 No-Limit Hold'em though. With an interesting final table, starting at 1 p.m., and some big name sightings such an Viktor "Isildur1" Blom and Phil Ivey in the last few days, many will be here just to rail the big games.
The Day Of Rest
So far today the field for Event #19: $1,500 No-Limit Hold'em looks fairly inexperienced, with not a lot of big names gracing the felt in the Brasilia room. It may be that the grind — 12 days so far — has been overwhelming and some players are using their time this Saturday morning to relax elsewhere. That's certainly the case with Daniel Negreanu, as can be seen on his twitter this morning.
Skipping the $1500 NLH event today to focus on the 5pm 5k limit Holdem. My last two bracelets were LH plus I could use a day of rest.

— Daniel Negreanu (@RealKidPoker)
Of course, it may just be the usual lazy antics of the stereotypical, poker player, ambling in hours after the event was down to begin! We'll keep you informed either way.
What's With The Hats?
This isn't the first time we've seen Bryan Devonshire in an interesting hat, nor do I suspect it will be the last. With this consistent but diverse choice of eye-catching head gear not being the norm for most humans, we'll have to catch up with Bryan later on and find out if there's a story behind it. For now, you can enjoy what will surely win the coveted PokerNews "Hat Of The Day" award for Day 13.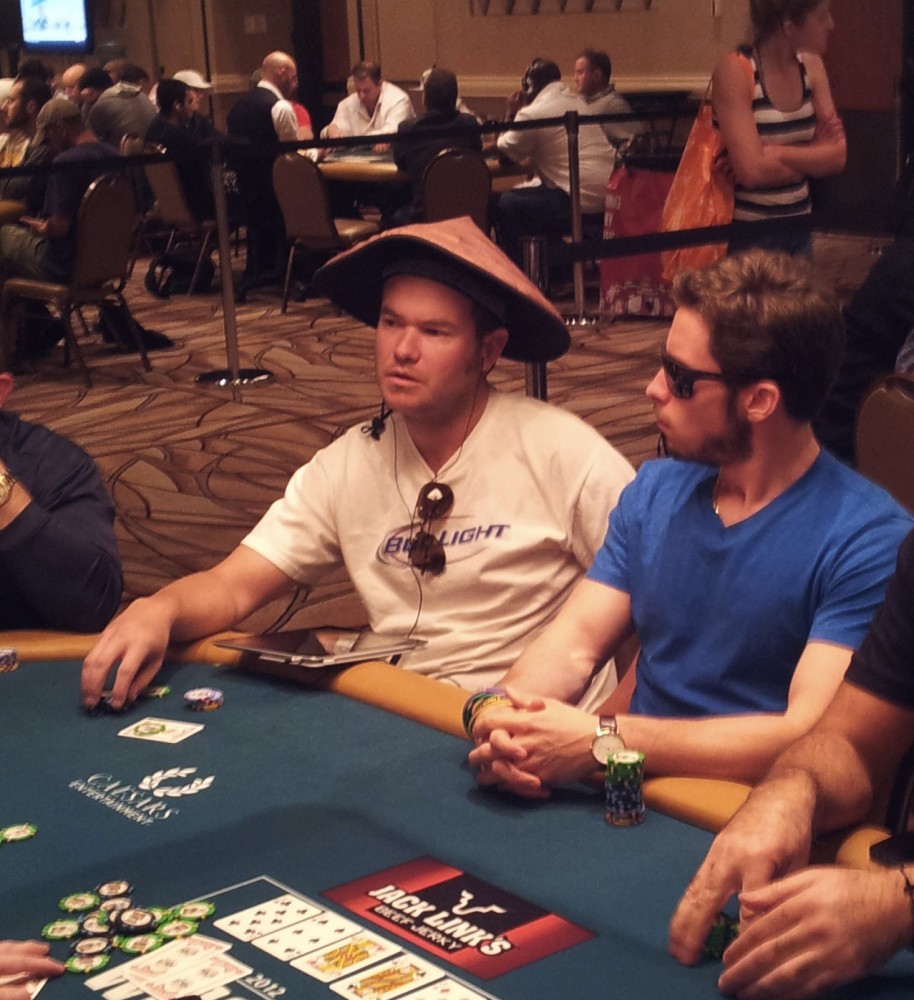 Thinly Veiled Brag
$10K Heads-Up bracelet winner Brian 'Stinger' Hastings has been conspicuously absent from the Rio the last few days, but has been active on Twitter announcing his participation in the Big One for One Drop and that he was selling pieces at no mark-up.
Today we saw these gems from Hastings. According to the times of the Tweets, he had the bracelet stuck on for about forty minutes!
Can't get my WSOP bracelet off my wrist, anyone know how? #firstworldproblems #nonhumblebrag #butseriouslytho

— Brian Hastings (@brianchastings)
Got the bracelet off, thanks @MichaelBerra! #alliswellnow #sunrisecafetimesgo!

— Brian Hastings (@brianchastings)
Who Wore It Better?
Stop the presses! It looks like awarding Bryan Devonshire hat of the day may have been a bit premature. These two gentlemen were spotted in today's Event #19: $1,500 No-Limit Hold'em. Both are wearing similar rainbow clown hats. Our question: who wore it better?
Drawing Thin Day 13
We met Joe Cada on his break from Event #19: $1,500 No-Limit Hold'em and spoke to him about his life style during the World Series Of Poker.
"I try to eat right, of course," the 2009 Main Event champ told us. "To be honest though I've been slacking on going to the gym and that stuff. I usually just try to do some press ups and some sits up in the morning if I can't do anything else".
"I think more important even is just getting your mind off poker in your spare time. We love to play X-Box in our down time, anything that's not poker related."
"This is only my second event but I plan on planning a lot more and grinding it out this summer, so I'll have to work hard on this stuff in the next few weeks," Cada concluded, before racing back to his event.
Greg Raymer Busted
Joe Tehan just busted Greg "fossilman" Raymer in Event #18 $2,500 Seven Card Razz and Raymer gave him this consolation prize.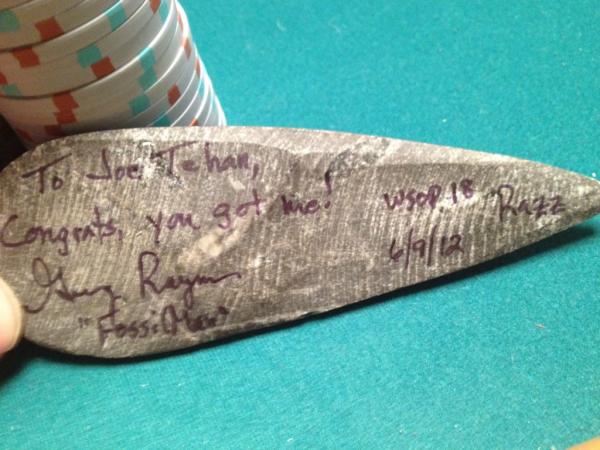 That's better than a bracelet any day!
Separated At Birth?
Heard on the rail of Event #16 $1,500 No-Limit Hold'em / Six Handed this afternoon was a comparison between Gordon Vayo and Fuller from Home Alone. The comment was well received on the rail, and we thought you would like to see for yourselves.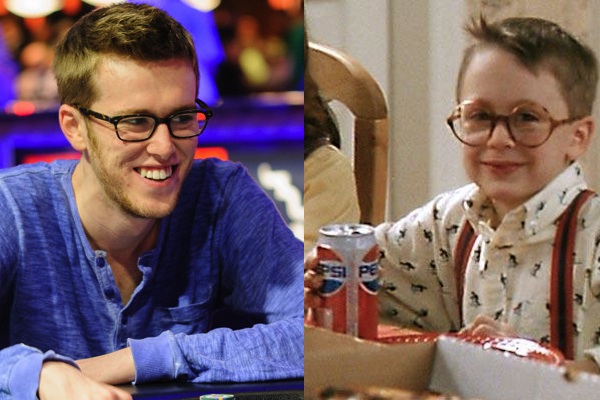 Brian Hastings On The Rail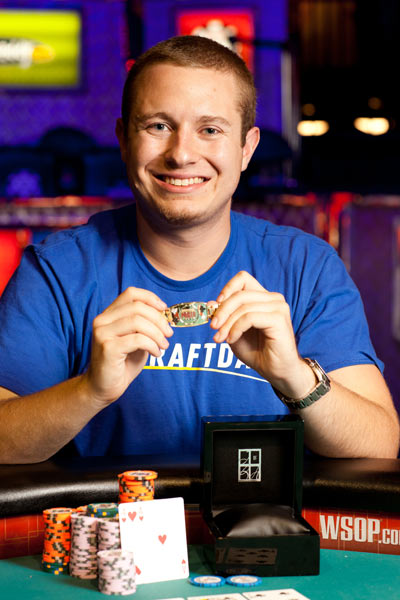 In amongst the rail for Event #17 $10,000 Pot-Limit Hold'em was Brian 'Stinger' Hastings, sweating some of his fantasy drafts for the 25k fantasy draw that everyone's talking about. We caught up with him and found out what he's been up to the last few days.
"I'm just coming in today to see how my friends are doing, give some money to some of my horses and catch up with that's going on. I'm sweating Timex and he's doing great" Hastings tells us. "I've been out of the loop you know, I've just been partying. I'm going to Electric Daisy Carnival tonight".
We also asked Stinger about finishing school and what the future holds for him.
"Well, I'm getting really involved in DraftDay. I'm going to get more involved in the coming months. I finished up school in late 2010 majoring in Economics in Cornell. I don't know if I'll go back into that field, but I'm sure I can apply some of that stuff to DraftDay".
"If I didn't play poker, this is the kind of stuff I would be interested in, start-ups and entrepreneurship. I'll also keep playing poker too, I'm going to try to grind lots of tournaments in the next year".
Always Be Prepared
This man is taking the scout's motto to an extreme. He came fully dressed for work, with jeans and dungarees... and even what appears to be a leather tool kit in his back pocket! Ready for any eventuality...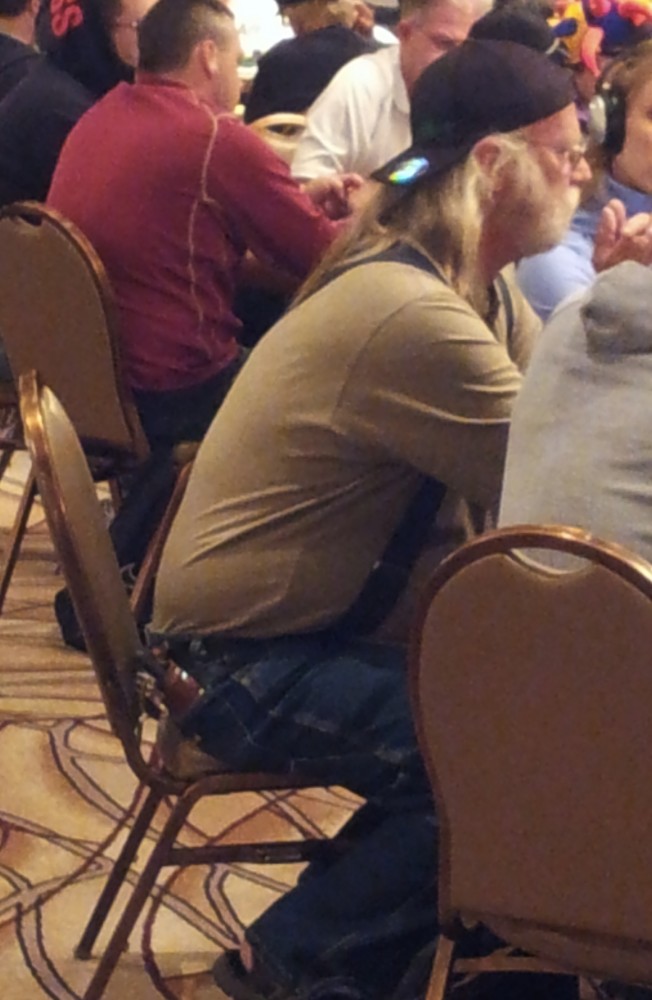 The Big Fight
Jason Mercier is advertising on twitter trying to book action for the big boxing match tonight at the MGM Grand. If anyone's interested feel free to direct message him, although knowing Mercier it's likely to be a several thousand-dollar minimum.
Still trying to get a little more down on bradley ... Who wants pacquiao

— Jason Mercier (@JasonMercier)
Still that doesn't seem to have scared away Bertrand 'Elky' Grospellier from booking some action.
@JasonMercier ok cool, how much u wanna bet? My 7640$ to your 2k?

— Bertrand Grospellier (@elkypoker)
Fashion Faux-Pas Of The Day
Twitter has been alive with pros tweeting and re-tweeting this pic. The man who needs no introduction...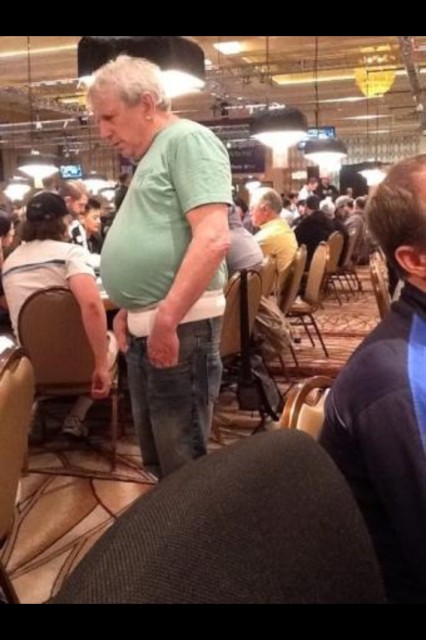 Electric Daisy Carnival
The huge electronic music festival is in full swing this weekend in Vegas. We'll be keeping tabs on who's going. It looks like PokerStars Pro Vanessa Selbst is ready to go. No word yet if our "Fashion Faux-Pas Of The Day" winner will be making the trip.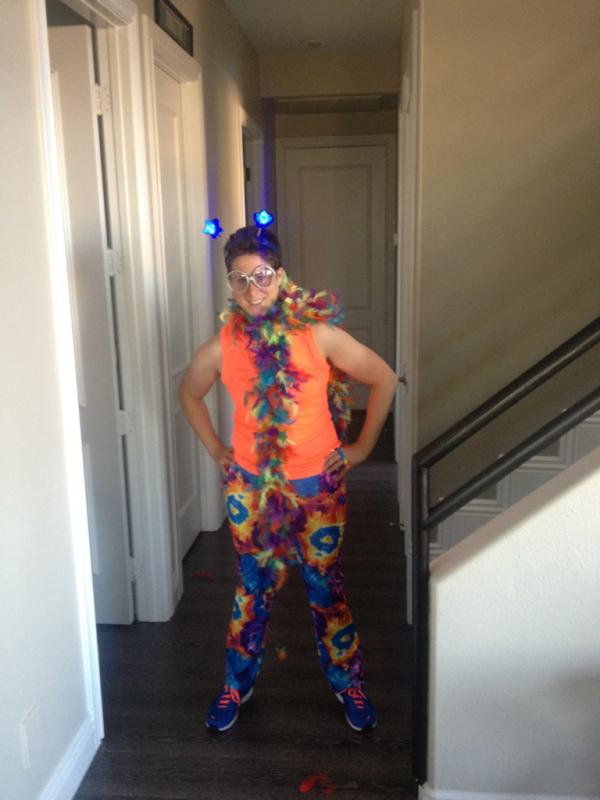 Will Reynolds made the trip yesterday.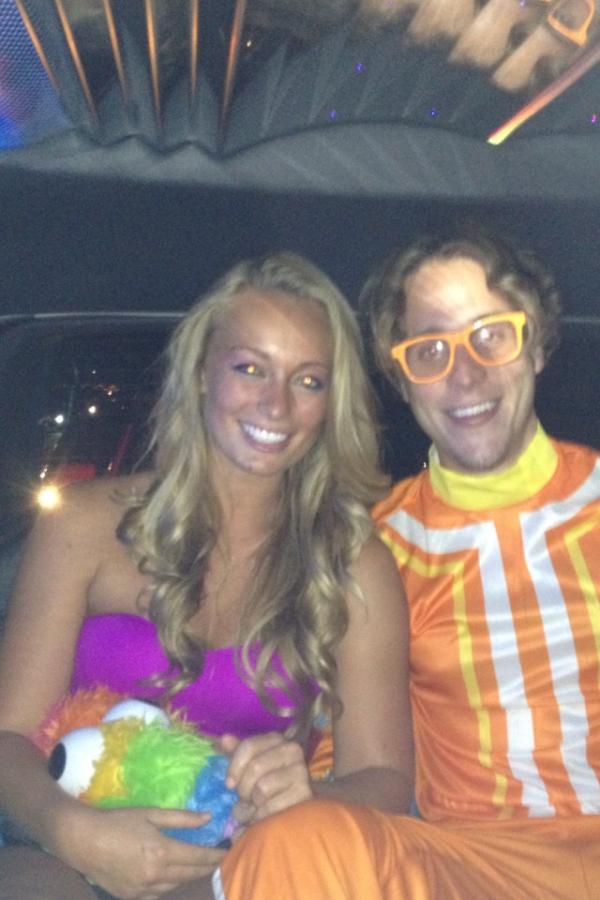 Back-To-Back-To-Back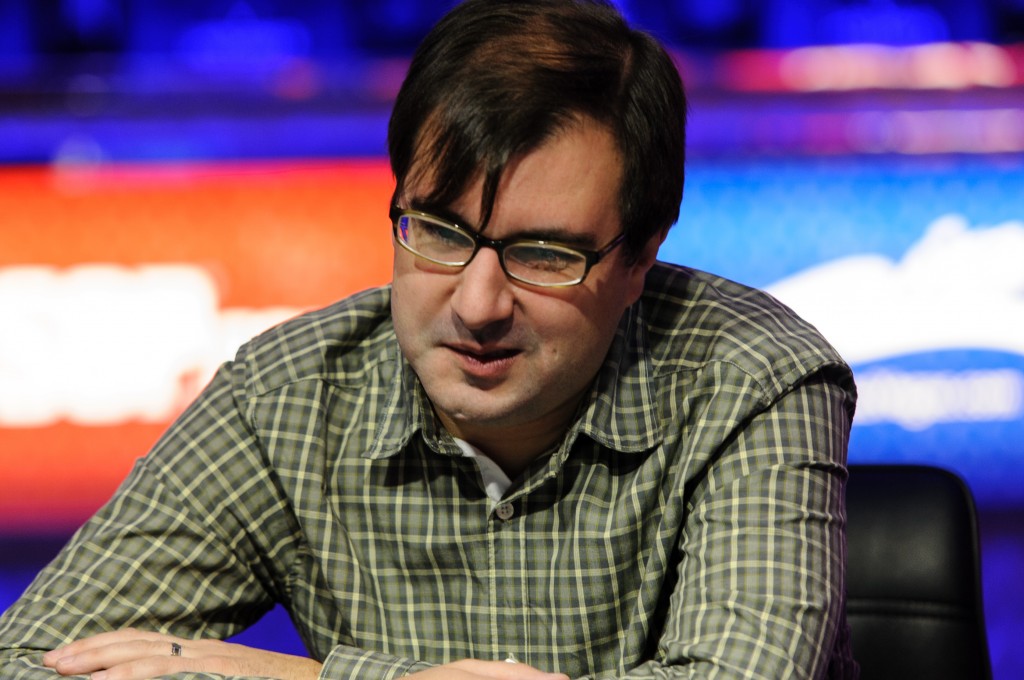 We spoke toMatt Matros after he won his third bracelet inEvent 16: $1,500 No-Limit Hold'em- Six- Handed. This is Matt's third bracelet in as many years. Matros will take home $454,835 for the win.
Who was the first person you called?
Well, actually my dad called me. He had a 3% sweat.
Any plans for tonight?
Oh God, I'm so tired. I'm probably just gonna grab some dinner with my friend Rob Wang. He's been here for all of my bracelet wins.
What was the first thought that went through your head after winning?
I was a little embarrassed. I don't like bad beating someone, but I was happy with my overall play.
What song would you wanted to be played at your bracelet ceremony?
Oh wow, I love music, that's hard. Since my friend Rob is from New Jersey I'll go with "Born to Run."
She Got Game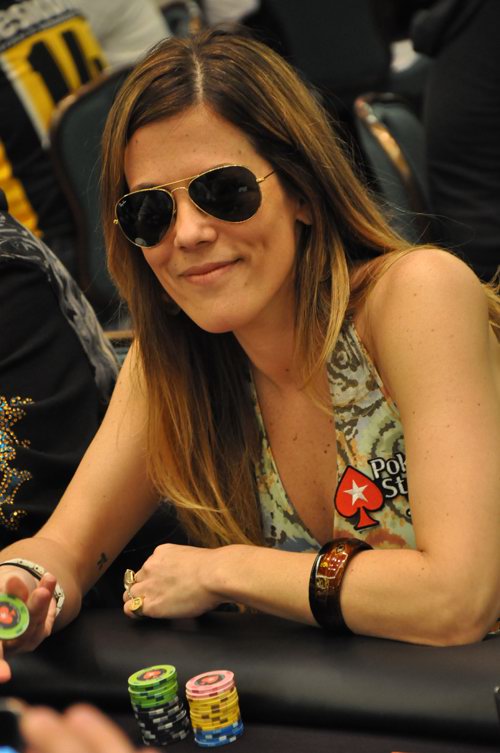 When you think of trash talkers at the poker table, a few names come to mind. For example, Phil Hellmuth, Mike Matusow, andSam Grizzle. However, Maria 'Maridu' Mayrinck is representing the females in the talking trash department quite well.
We couldn't help but eavesdrop on her table in the $1,500 No-Limit Hold'em tournament. Here's a few snippets jokingly directed at her tablemates.
"I hope you all get roids, "Mayrinck said.
The table replied in bewilderment.
"Roids?!"
Mayrinck fired back.
"Yeah, hemorrhoids!"
She didn't stop there.
"And if any of you try to bust me then you're gay."
The table erupted in laughter as the banter was as all in good fun.
Hey Man, You Know That Song Is About Aliens!?
Do you remember the 1993 film Dazed and Confused? If so, then you'll probably remember the scene stealing stoner hippie,Ron Slater. We found a player in the $1,500 No-Limit Hold'em tournament that looked a bit like him. What do you think?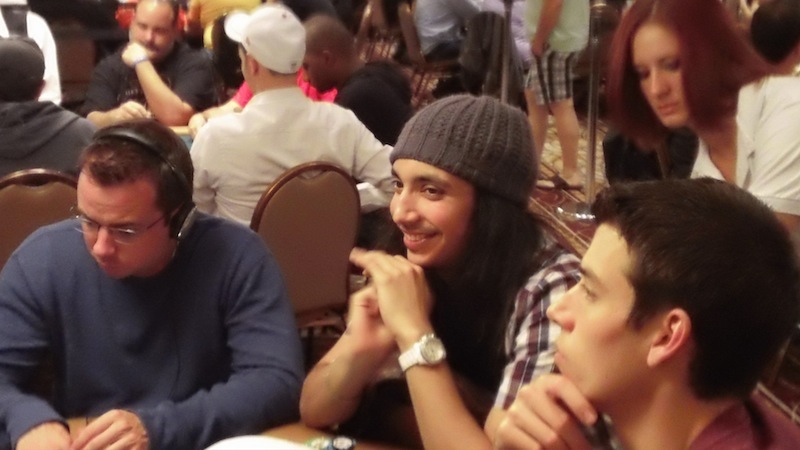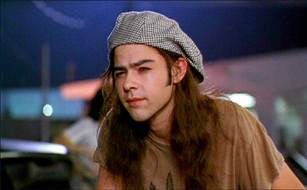 The Color Purple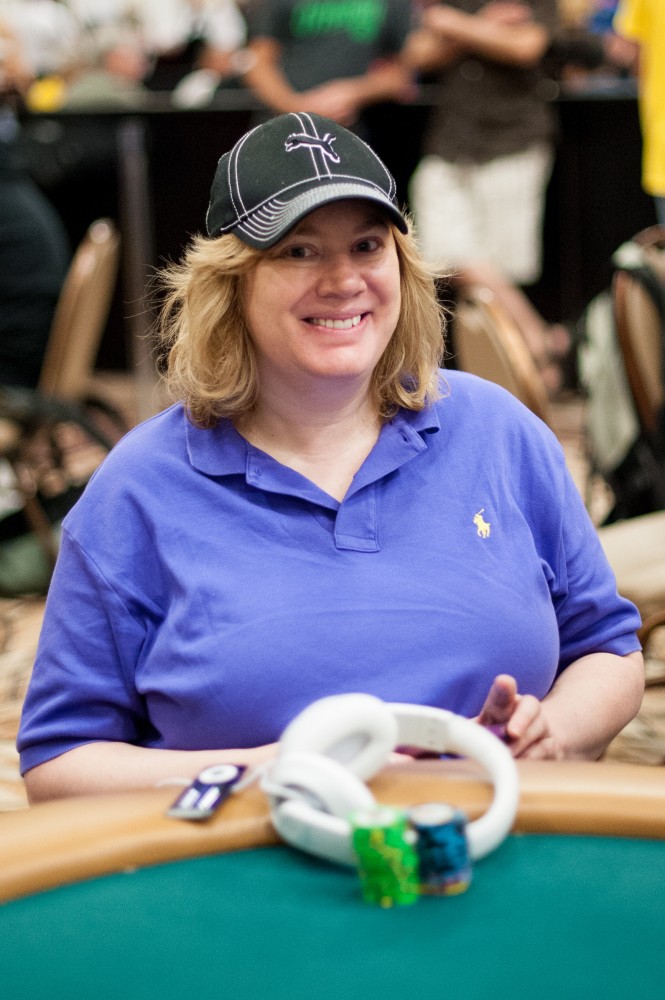 We spotted Kathy Liebert, dressed in her trademark purple outfit, and chatted about NBA, WSOP, and Annie Duke.
How are your NBA picks doing?
I was rooting for Boston, but had money on the Heat, but I got a last longer between OKC (Oklahoma City Thunder) and Miami, so thats still going.
How's your WSOP going so far?
Well, I have two cashes so far, but I played the $10K (Event #17: $10,000 Pot-Limit Hold'em) last night so I'm slightly down. I'll be playing the $1K (Event 21: $1,000 No-Limit Hold'em) tomorrow.
What are your thoughts on Annie Duke playing in this year's WSOP?
Well, she really didn't do anything wrong. She has a right to play, but I'm not a fan.
EDC Updated
PokerStars pros Vanessa Rousso and Liv Boeree just tweeted a photo from the Electronic Daisy Carnival.
Hitting up EDC tonight full costume style w @liv_boeree @vanessaselbst and friends!! http://t.co/d2GbQdWU

— Vanessa Rousso (@VanessaRousso)

[TWITTER="https://twitter.com/MattGlantz/status/211693882327564288"][/TWITTER]
Manny Pacquiao Bad Beated?!
There's been outrage over the, Manny Pacquiao, Timothy Bradley, fight tonight. Bradley won via a split decision. Many poker notables took to twitter to voice their displeasure.
Why doesn't everyone realize that Pacquiao losing that fight was #JustBadLuck

— Matt Glantz (@MattGlantz)
It makes me sad to know that boxing is a dying sport. Instances like tonight just give no one a reason to be excited anymore :/

— Jason Koon (@JasonKoon)
Manny vs Bradley. Clear cut win for Manny. Uh oh, what was that? Ha ha ha ha

— Doyle Brunson (@TexDolly)
didnt se the fight but all over the news everyone says fight wasnt even close and there was def fixed or cheating involved#wow

— Mike Matusow (@themouthmatusow)
This fight marks the end of Pacquiao's seven year unbeaten run.
Ivey Double Dipping
We just discovered that Phil Ivey is double dipping in Event# 20: $5,000 Limit-Hold'em and Event# 17: $10,000 Pot-Limit Hold'em
Here's his empty seat in Event# 20.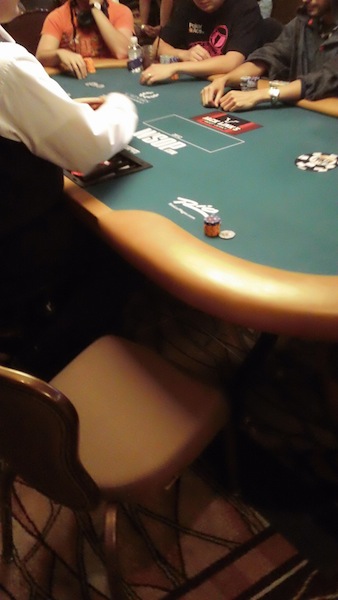 Outfit Of The Day
This isn't the first time that Squeak has been featured in the Muck for his wardrobe choices. We think it's a dinosaur. Hopefully, for his sake, he won't go extinct in the $5,000 Limit Hold'em event.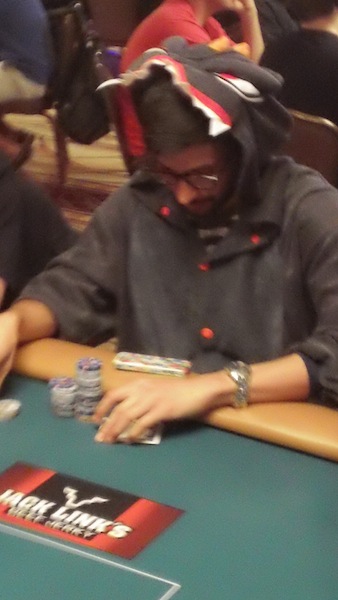 Blue Moon Bubble
So what do you do after bubbling a tournament? Xian Liu bubbled theEvent 18: $2,500 7 Card-Razz, but the pro took her misfortune in stride and enjoyed a Blue Moon afterwards.
"It takes the sting away a little," said Liu.
Gutted to be the bubble girl, 73A6k5T< @BigRiskky's wheel on 7th in 3way pot w/ @Philhelmuth. #edc is punishing me #wsop18

— Xuan Liu (@xxl23)
We encourage everyone to get involved with "The Muck." See something you think is Muck worthy? Send it to themuck@pokernews.com. We accept all media including photos and videos.