All Mucked Up: 2012 World Series of Poker Day 12 Live Blog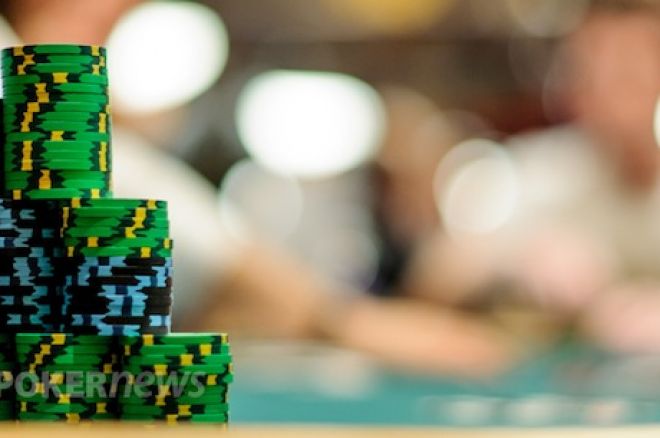 All Mucked Up is a live blog of all the stuff you want to know at the 2012 World Series of Poker, besides hand histories and bad beats. Well, we might add a few in here, everyone loves a good bad beat story — unless it happened to you. Check back often for polls, soundbites, celebrity sightings, and who knows what else!
Drawing Thin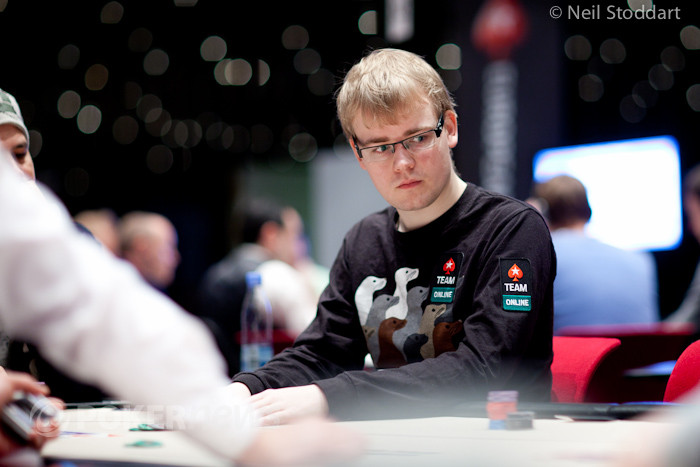 We caught up with Mickey Petersen this morning in the halls of the Rio to ask if he's doing anything different this year to stay in shape for the WSOP.
"I'm going to the gym everyday now," said Petersen. "Eating healthier now, trying to eat meals outside of the Rio. But it may get harder as the series goes on."
Watch for Petersen in today's $10,000 Pot-Limit Hold'em event. This will be Petersen's fifth event of the series.
Big Names In the Brasilia
Event 17: $10,000 Pot-Limit Hold'em is under way and there's no shortage of big names in the field.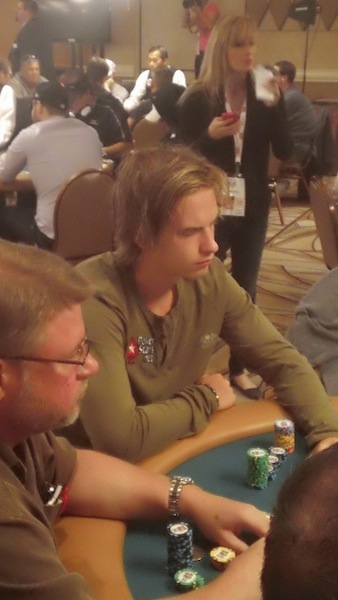 We spotted Team PokerStars Pro Viktor"Isildur1" Blom getting a late start.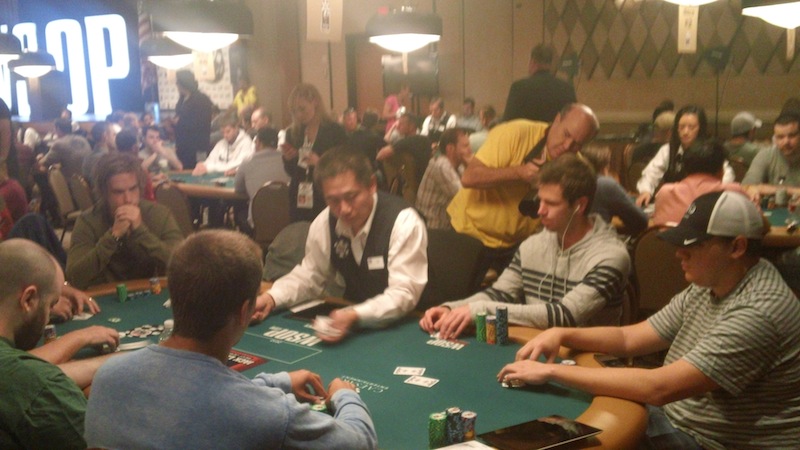 Here is Blom at a table with Shaun Deeb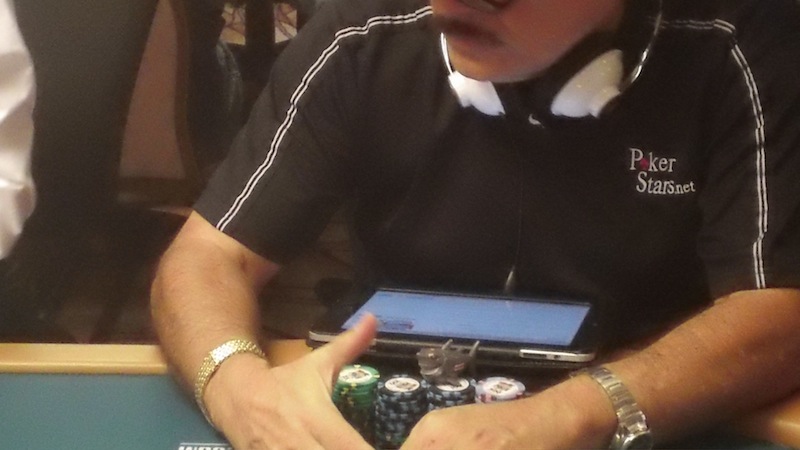 Here is Team PokerStars Pro Humberto Brenes. Players need to watch out because the "Shaaarrrkkk is coming."
On The Rail With Bond18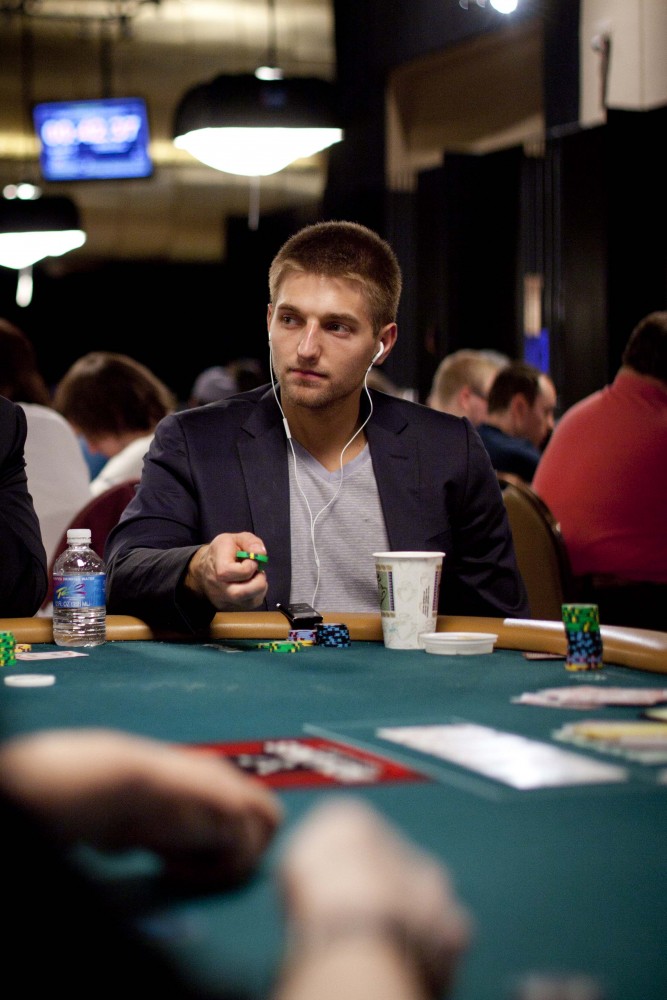 WPT commentator Tony Dunst was spotted after he busted Day 2 of Event #16: $1,500 No-Limit Hold'em- Six handed.
We chatted with Dunst to see what were his plans for the day.
"Well, I came into Day 2 of the $1,500 6max short and busted, so gonna go relax the rest of the day. Gonna play some tennis, maybe watch a movie later."
Phil Hellmuth and Phil Ivey start day three today of Event 15: $5,000 No-Limit Hi-Low Split 8-or-Better. We asked Dunst his pick for a last longer and eventual winner in the event.
"If you're talking last longer than I'd go with Hellmuth cause he's the biggest nit ever," said Dunst. "But if you're asking my pick to win it, then it's gonna be Ivey."
Rast Intends to Play One Drop
Two-time WSOP bracelet winner Brian Rast took to Twitter to announce his entry into Event 55: $1,000,000 Big One for One Drop.
The Tale of Two Phils
There's 15 left in the $5,000 Stud Split 8-or-Better and Phil Hellmuth just moved to Phil Ivey's table. The railbirds are swarming as the remaining players fight for the $269, 037 first place prize.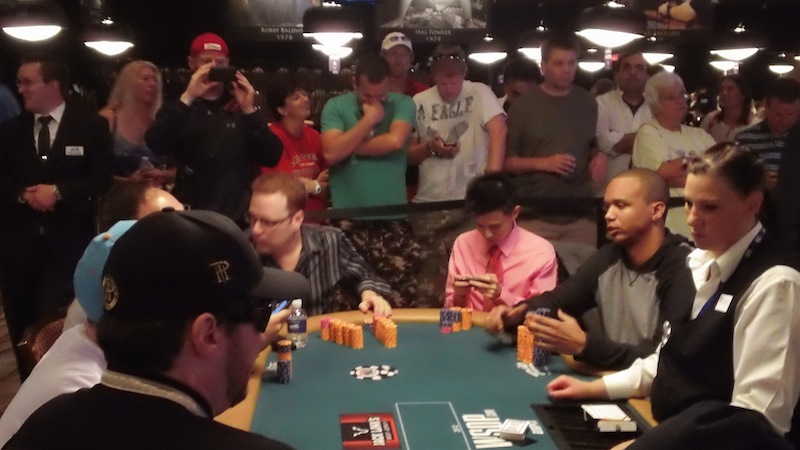 We talked to railbird, Piper Kassela, to find out who is she rooting for.
"I'm for Todd Brunson and Phil Hellmuth; they're both on my fantasy team," Kassela said. "But I want Brunson to win it all."
Catching Up With Cantu
Roaming thought the Pavilion we came upon the feature table of Event #14: $1,500 No-Limit Hold'em Shootout. Among the spectators was Brandon Cantu. We chatted with him at break to see what he was up to.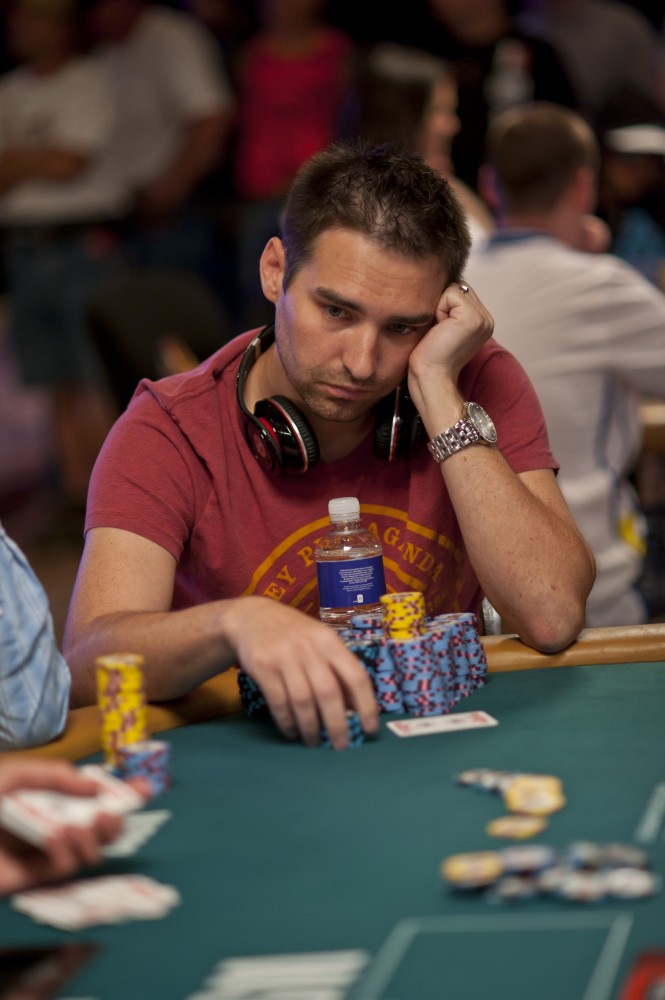 "Sweating Jeff [Jeff Madsen] and Layne [Layne Flack] today," Cantu said. "I'm playing the Razz (Event #18 $2,500 Seven Card Razz) game later."
Cantu feels good about his chances in Event #18.
"My razz game is good, I play all the games pretty good."
We had some fun with Cantu and asked him if he had to play someone in a heads up match for eternity, who would it be?
"JRB [Jean-Robert Bellande], I've never lose to him."
What's In Your Ears?
We spoke to Aaron "AeJones" Jones in the hallway of the Rio this afternoon to find out what he likes to listen to when he's playing poker.
"This year, I'm not listening to anything. I'm trying that out," Jones told us. "I'm trying to be more involved with the whole table this year".
"It depends on the event really. I'll listen to music in a $1,500 event, but if it's a mix max $5,000 event or something where I'm a big favorite to know a lot of the players at the table, then I'll just chat away and pay attention to the table talk."
"If I am listening to music, I'll just listen to whatever I like at the time. I always go back to some older stuff though, like Bob Dylan, Bob Seger and Billy Joel, stuff like that."
Bromances of the World Series of Poker
We met up with a crowd of players on break from Event #17: $10,000 Pot-Limit Hold'em to find out who they consider themselves closest to in the poker world.
"Can you define a bromance," asked Aaron Jones, eyeing the author suspiciously. "Just the poker player I'm closest to? Well, I've known LuckyChewy forever so I've got to say him. I'm close to him. We did that podcast together a while back and we always talk poker. He's my best poker friend."
We gotAndrew "LuckyChewy" Lichtenberger's answer to his poker bromance.
"Aaron picked me? Yeah I mean we're brahs," said Lichtenberger, watching his friends laugh from the corner of his eye. "He's been my friend forever"
"I'd like a definition of bromance before I was comfortable saying yes for sure though," he laughed. "If we go for dinner nobody pays, we usually just credit card roulette the bill"
We also caught up with Tom Marchese to see who he considered his bromance in poker to be.
"It's definitely William Reynolds, he's my best friend. We met at Turning Stone casino in upstate New York when I was 19 and he was 18. It used to be like the only 18+ casino around."
Where Have All The Kids Gone?
With much talk of the strong infusion of young players in todays games, Bill Chen's latest tweets indicates that this trend has yet to spread to the Razz games. For reference, Bill is in his early forties.
In keeping with this trend, Bertrand 'Elky' Grospellier expresses his delight at being too busy tonight with other tournaments to play the Razz.
Post-River Play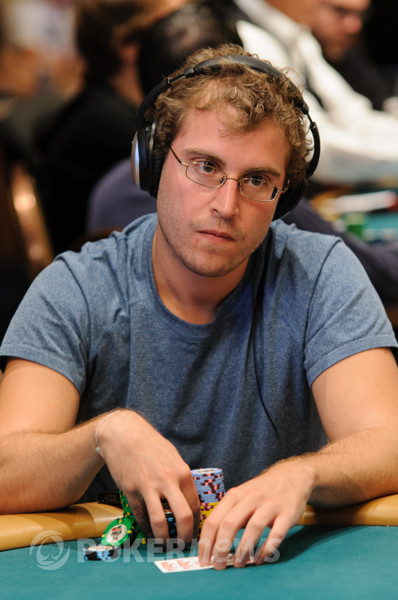 After seeing this tweet from Daniel Negreanu:
About his night out in Surrender, we decided to ask around and see what players favorite hang out spot in Las Vegas is.
Aaron Jones and Mickey Petersen both agreed that they love to hang out in 'Stoneys' on Las Vegas boulevard south. This seems to be a popular spot for players, with Randy Lew tweeting that he was going there last night.
Tom Marchese told us his favorite hang out spot is Red Rock Canyon.
"You can go up there, go hiking or climbing or camping, it's all fun". Tom told us
Has Any One Ever Told You That You Look Like...
We saw this gentleman in the field today and he just broke our Achy Breaky Heart. Is it just us, or does he have an uncanny resemblance to Billy Ray Cyrus?
You be the judge.
Tired Much?
We caught this player sleeping in the hallways today. It wasn't even a tournament break. We were going to go and ask for his name, but he was a heavy sleeper.
The best part was that he had his shoes off and everything. Looks like everyone is making the Rio their home this summer.
Chainsaw the Spider with Joe Tehan
We caught up with Joe Tehan in the hallway as he was walking over to joinEvent #18: $2,500 Seven Card Razz. We asked him what song in the hallways tilts him the most, and while he said he also doesn't listen to much of the hallways music, he did say that his favorite song is currently "Chainsaw the Spider."
"I love that song," Tehan said. "It's just talking about Allen Kessler. You know how they call him the chainsaw."
We also asked Tehan who his favorite World Series of Poker Bromance was.
"Allen and Jason is a good one," Tehan said talking about Allen Bari and Jason Mercier. "Me and John Kim are always together too. We just opened up a training website together. He goes by Nicolak online."
We'll keep checking in with players as we see them to hear who they think they best World Series of Poker bromance is as well as what hallway song tilts them most.
E-Dog Sighting!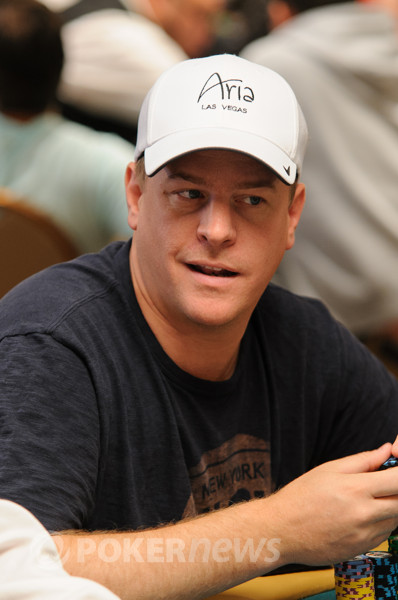 Today, we saw Erick Lindgren for the first time at World Series of Poker 2012, playing in Event #17 $10,000 Pot-Limit Hold'em. Much has been made of E-Dog's finances in the last year, with speculation and accusations of him not being able to pay sports betting debts.
We tried to catch up with Erick to find out what he's up to these days, and how many events he plans on planning, but he politely refused an interview this afternoon on his way to Event #17.
We'll try catch up with him in the next few days as wherever E-Dog is, the action is never far behind.
Trading Cards Flying Amuck
Over the last few days we've seen several players with large stacks of trading cards with themselves on them. So far we've seen Jason Mercier, Phil Hellmuth, and Mike Matusow each holding a stack of cards with their own face on it.
One of our live tournament reporters was able to get his hands on two of these cards: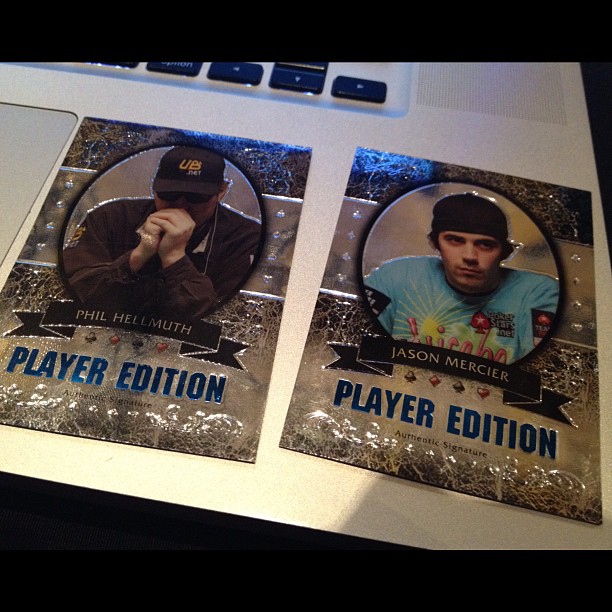 From what he told us, there is a man walking around giving huge stacks of cards to players with their faces on them. We're hoping we can catch up with this man and find out who he is, and why he's doing this.
Until then, we were able to find the site where these cards are sold. Apparently, the cards are manufactured by Leaf Trading Cards who make a variety of other sports trading cards. We'll see if we can get our hands on a couple as well.
"This Game Sucks!"
There's been a slew of tweets coming in with complaints about razz in lieu of Event #18: $2,500 Seven Card Razz. Here is just a few of them:
We're sure there will be more, but until then, we'll try to catch some players in the halls and see what they think the worst part about playing razz is.
Ivey Is The King Of Cards
We saw this funny tweet from Tom 'KingOfCards' Marchese this evening. Swapping action is a way poker players try to reduce variance – hardly surprising Phil Ivey's not interested given his total disregard for money!
On the Rail of Event #18: $2,500 Seven Card Razz
We happened to be perusing the Amazon room, looking for anything Muck worthy when Phil Hellmuth called us over. "Do you boys know who's still in the Stud 8-or-Better?" he asked us. Of course we obliged and told him thatJohn Monnette, Todd Brunson, Adam Friedman, and Nikolai Yakovenko were still in.
"What about Ivey?" he asked. "Is he still in?"
Sorry Mr. Hellmuth,Phil Ivey busted in 7th. "What about that Hellmuth guy," he asked jokingly. "Is he still in?"
"We heard he busted in 16th, but that he's going to make a final table in this razz event," we joked back.
Either way, Hellmuth is still alive in Event #18, and could easily go the distance once again.
What If You Could Only Play One Tournament?
Elio Cohen has locked himself at least a five-figure payday with how deep he has gone so far in Event #16: No-Limit Hold'em Six-Handed. Cohen is an Israeli citizen that is currently working as a body guard for an important Mexican businessman.
Cohen could only play one WSOP event and saved his money all year to play this event.
Matt Glantz asked him, "Why did you pick this one?"
Cohen replied, "Since I only had one event to play I might as well see some hands. It was worth it."
We hope to see Cohen change his mind now that he can afford couple more buy ins.
Electric Daisy Carnival Anyone?
We snapped this picture of Brandon Schaefer's shorts while he was playing heads-up in Event #14: $1,500 No-Limit Hold'em Shootout.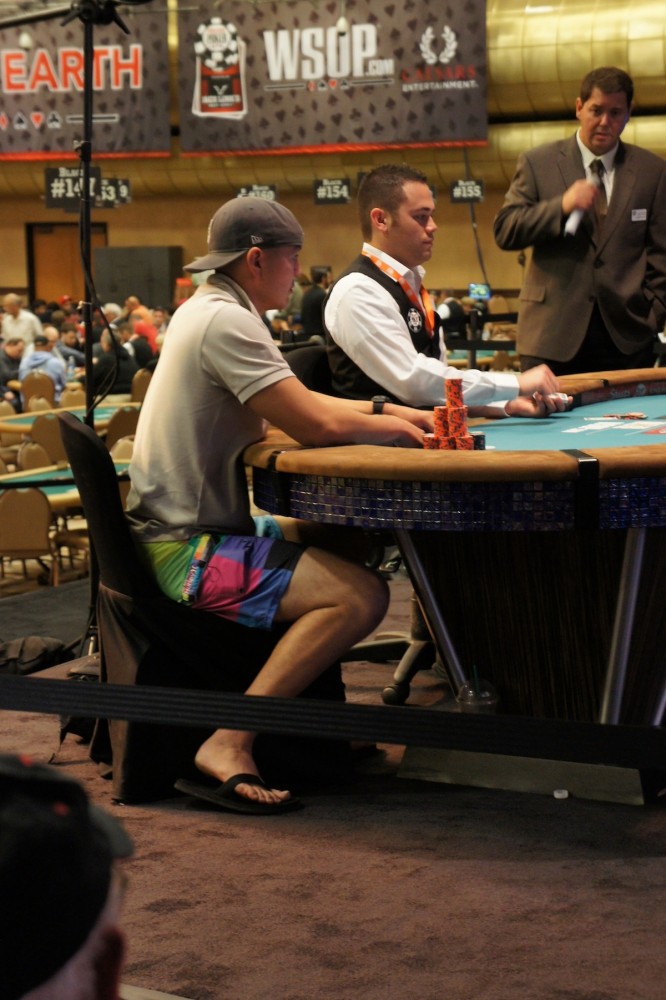 He told us after he won the event that he was going to Electric Daisy Carnival, otherwise known as EDC, as soon as he was done and that was his outfit. "Those are your lucky shorts," someone on his rail shouted. Not only do those shorts function as Schaefer's dancing shorts, they were also his run good shorts tonight.
More Razz Torture Tweets
We saw some quality razz torture tweets from Team PokerStars Pros Daniel Negreanu andJason Mercier that we had to share:
It doesn't get much better than that folks.
Mercier Runs Bad
Speaking of running bad, Jason Mercier was in the PokerNews office earlier to partake in our PokerNews Podcast.
While on the show he made a bet with Global Live Reporting Manager Donnie Peters about the spelling of poker player Mike Gorodinsky's name.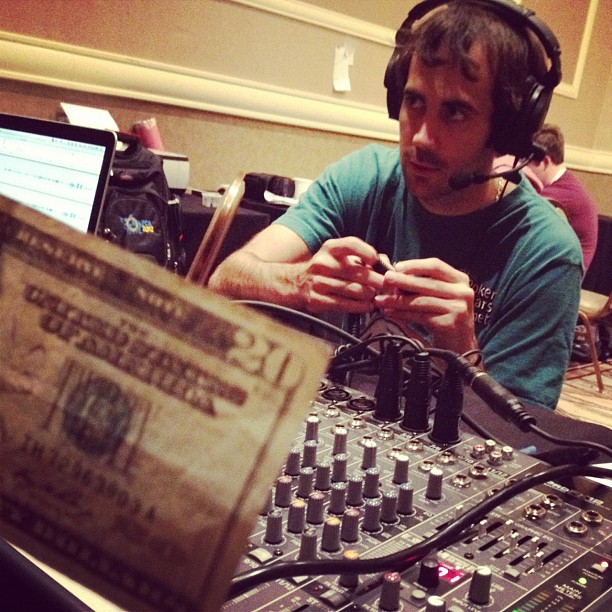 The podcast has not been posted yet, but you will be able to check it soon, along with the other PokerNews Podcast on the PokerNews Podcast page.
The Dealer With Three Bracelets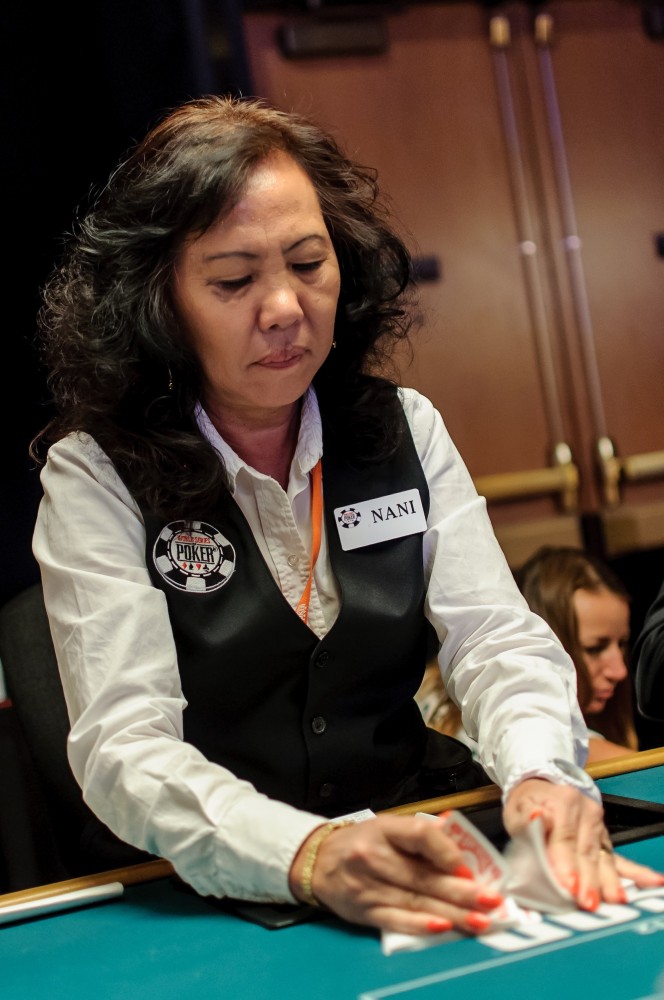 During the dinner break we couldn't help but notice an interesting tweet by George Lind:
Lind is referencingNani Dollison, who has three gold bracelets for victories in the 2000 $1,000 Ladies Limit Hold'em & 7 Card Stud ($53,200); 2001 $2,000 Limit Hold'em ($441,440); and 2001 $1,000 Ladies Limit Hold'em & 7 Card Stud ($41,130). In the open-event win, Dollison actually defeated a final table that included Eli Elezra (6th-$41,760), Hung La (4th-$71,585) and Chau Giang (3rd-$113,345).
All told Dollison has eight WSOP cashes totaling $600,515.
We'll see if we can catch up with Dollison on her break to find out why she's still dealing, and what it's like to deal to players with less bracelets than her.
Mike "The Mouth" Going Deep, Still Chirping
We were perusing the Amazon room and we were lucky enough to catch a few poker lessons from Mike "The Mouth" Matusow, who has reached the final 12 players of Event #16: $1,500 No-Limit Hold'em Six-Handed.
"You know these young kids keep winning?" Matusow said to Gordon Vayo who was sitting on his right. "They've all got a chip on their shoulder. They want to prove to everyone else that they can win, and they do it. If you want to win, you have to want it bad."
"You think having a chip on your shoulder helps you?" Vayo asked Matusow.
"Of course it does," Matusow replied. "Why do you think Phil Hellmuth runs so deep all the time. He wants to win more than anyone else wants to win. He puts his heart and soul into every tournament he plays. The man would sell his soul to the devil for his twelfth bracelet."
Later, we caught Matusow talking to and needlingMatt Glantz, who had just recently moved to his table.
"Didn't you know?!" Mike joked. "Matt Glantz is one top 20 all around poker players in the world! That's what it says on his website, www.MattGlantz.com. Hahahaha. Just kidding with you Matt."
The Mouth always manages to add an interesting dynamic to any table he's at, so we'll be keeping an eye on him as he moves towards the final table.
Who's At EDC?
So far we've only seen one tweet about it because anyone who matters is here at the Rio playing poker, but we know that cab lines are incredibly long and William Reynolds is joining the party. Check out his tweet:
With this picture attached: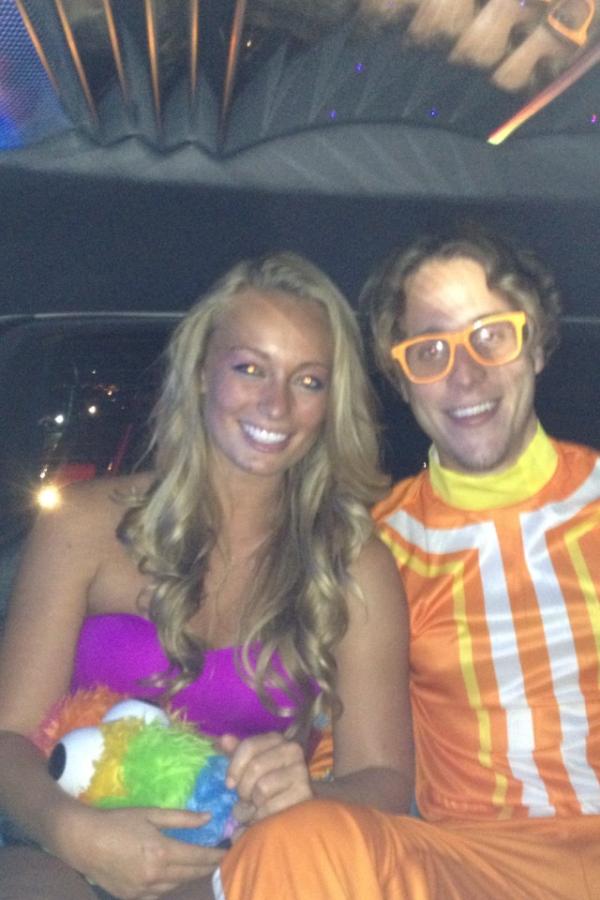 Smashing outfit Mr. Reynolds. We'll let you know who else is going to EDC, and what players who go are saying about it.
Doyle on the Rail & Double Vodkas Chilled
Now that Todd Brunson is heads up in Event 15: $5,000 Seven Card Stud Hi-Low Split 8-or-Better, we've noticed that Doyle Brunson has joined in on the festivities, that is of course after he participated in some commentary with David Tuchman in the booth for the WSOP.com live stream. Also on the rail is Todd's sister, Pamela Brunson, Allen Kessler, and Marco Traniello.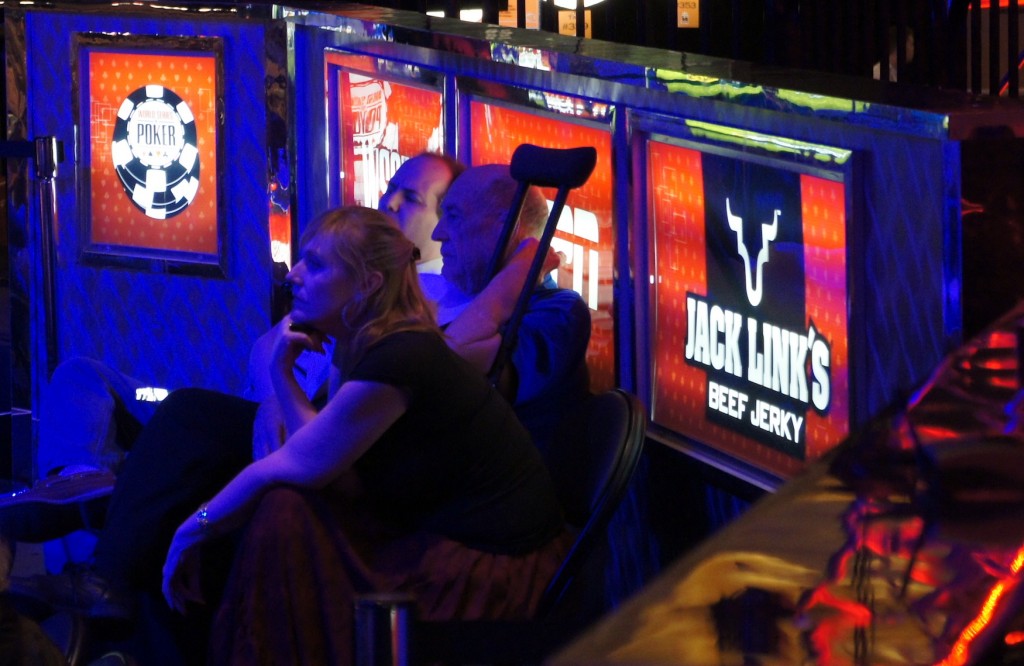 In between hands, Todd and Adam Friedman found time to order double shots of vodka, chilled. We managed to get a quick picture of that.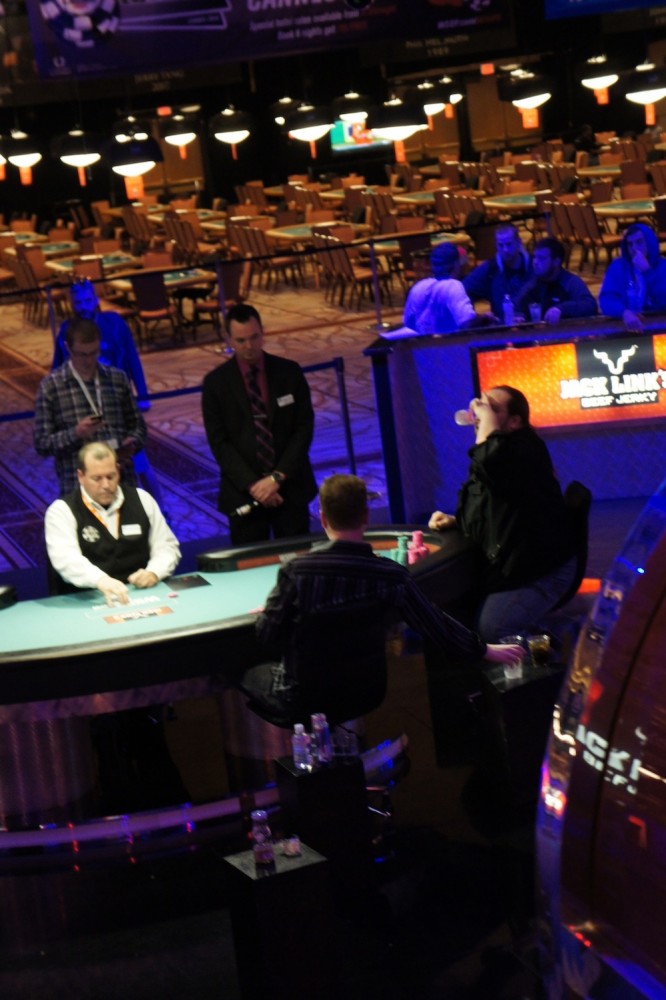 Seems like it's all fun an games right now on the rail of event #15.
Jason Mercier, it's #justbadluck
Seems like Jason Mercier just got carded while trying to go bowling at the 18 and up Gold Coast Hotel. Naturally, he's on life tilt.
Don't worry Jason, it's #justbadluck. #whenwillitend
We encourage everyone to get involved with "The Muck." See something you think is Muck worthy? Send it to themuck@pokernews.com. We accept all media including photos and videos.