All Mucked Up: 2012 World Series of Poker Day 11 Live Blog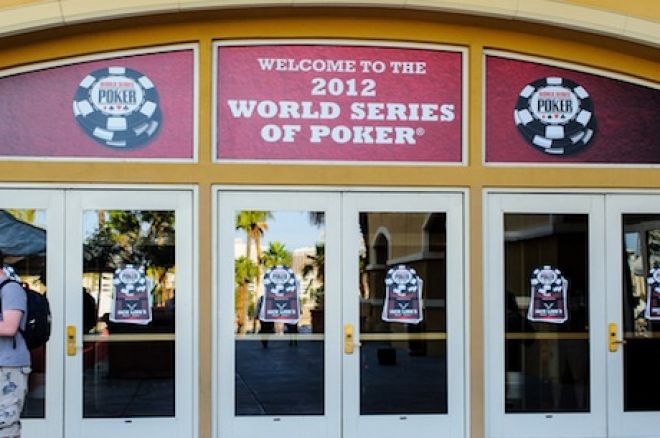 All Mucked Up is a live blog of all the stuff you want to know at the 2012 World Series of Poker, besides hand histories and bad beats. Well, we might add a few in here, everyone loves a good bad beat story — unless it happened to you. Check back often for polls, soundbites, celebrity sightings, and who knows what else!
The Straddle
Kristy Arnett is introducing a new video series this summer called, The Straddle. Like all of our videos, it's going to be a must-watch, but this series is going to be bringing the funny instead of your standard player interviews. Check out the video below for an introduction to the series, a sample of what's to come, and an appearance from two of your favorite Muckers.
Morning Grind
Sightings early this morning in the Rio included Phil Collins, Jerry Yang, Andreas Hoivold and Randy "Nanonoko" Lew. Seems to be the same faces every morning who arrive early and well prepared for each tournament. A lot of the more notable players tend to arrive late for the big field tournaments, but today, in Event #16: $1,500 No-Limit Hold'em Six Handed, late attendees will be blinded out faster than the usual full ring structure!
One person who can't be late is Brian Hastings, who is in the final four of Event #12: $10,000 Heads Up No-Limit Hold'em this afternoon. Fortunately, that doesn't kick off until 1 PM, so Hastings has an extra hour in bed.
A real early riser, Chance Kornuth was seen at Starbucks at 11:20 AM this morning in a long line for coffee. Kornuth has played in all the biggest side games so far in the series, but looks to be turning out for Event #16 today — either that or he's gearing up for another 12 hour $500/$1,000 PLO session.
Isildur1 : Second Chance At A Bracelet
We saw Viktor 'Isildur1' Blom arrive at the Rio today at 12:40PM. Himself and his friend proceeded into the Poker Kitchen here at the Rio and played Rock/Paper/Scissors to decide who paid for the others smoothie. Looks like Blom lost as he was left at the smoothie stand to foot the bill.
Blom is media shy, but we approached him and managed to get it out of him that he was playing Event #16: $1,500 No-Limit Hold'em Six Handed, that he was excited to play and that he was going to "try his best" to win a bracelet at the second time of asking.
The below photo is the authors attempt to not annoy Blom too much. Perhaps if we stay in his good books, the next interview will be longer...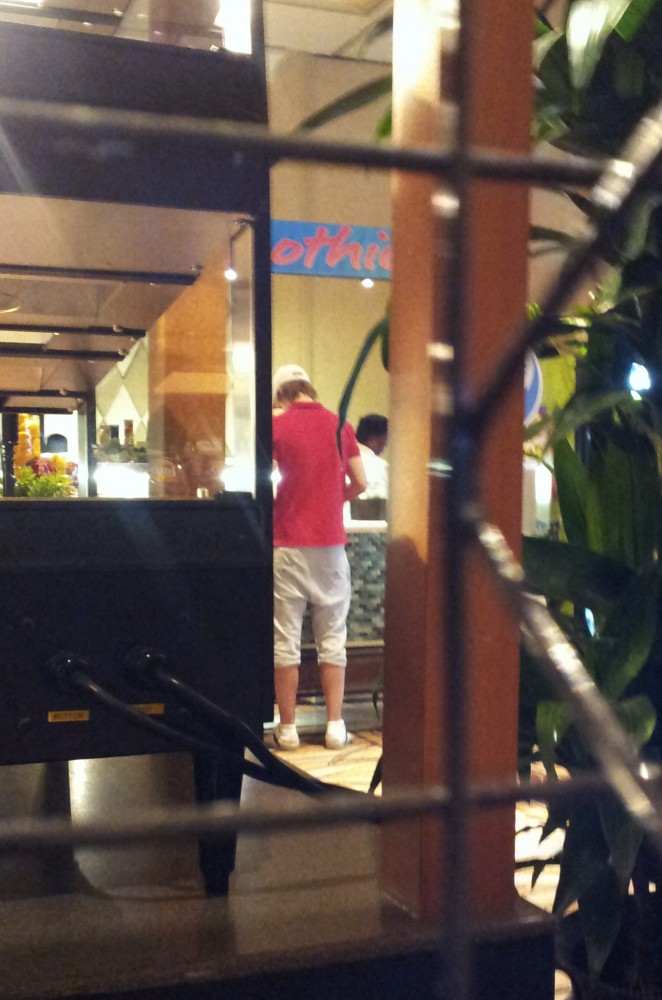 To The Left
We met players as the arrived late in to the Rio for Event #16: $1,500 No-Limit Hold'em Six Handed and asked them who they definitely don't want to see to their left today. It turned out to be a very one dimensional interview…
First person we caught was Mike 'Timex' McDonald.
"I don't want to see Phil Ivey. I know that's an obvious answer. He hasn't played the World Series Of Poker in a year, but I played with him a bit in Monte Carlo and he's tough".
Another person wandering in late was Aaron 'AeJones' Jones. He seemed stuck for an answer, so we told him Timex said he didn't want to see Ivey.
"Timex! That's definitely a guy I want to see to my right", Laughed Aaron. "And you can print that. As for players I don't want to see to my left, Ivey is the person who stands out".
Finally, we met up withScott 'iRockhoes' Augustine outside the brazilia room and asked him the same question.
"Ivey would suck a lot. I would like to see anyone who looks like they're under 17, is that answer?"
We know Scott is living with Brian 'Stinger' Hastings this summer, so we asked him about Brian's chances in Event #12: $10,000 Heads Up No-Limit Hold'em today.
"I think he's got a great chance. He played great yesterday and me and him took some time and went over a bunch of hands last night. If I'm not playing tonight I'm gonna go and rail him for sure".
Finally, we saw former main event champ Joe Cada looking for the Amazon room. He was in high spirits as he told us he was playing day two of Event #14 $1,500 No-Limit Hold'em Shootout.
"I have a really tough table actually.Doc Sands is a good player, I hope he's not seated to my left for sure" Joe told us.
Who Wore It Best : Fisherman Edition
We spotted two players at Event #16: $1,500 No-Limit Hold'em Six Handed today sporting fisherman hats! They look somewhat out of place in land-locked Las Vegas, but full marks for effort.
My vote is for the camo hat.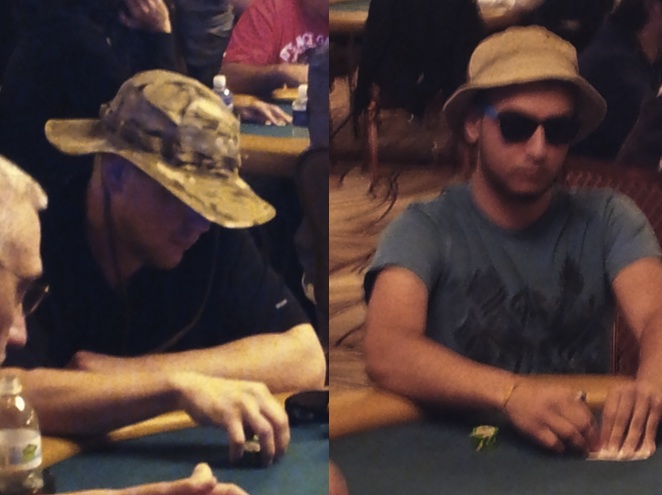 Guess Whose Car?
We saw this Jaguar in the parking lot. We had a pretty good idea of who's car it was, and the Valets confirmed that it belongs to Scotty Nguyen.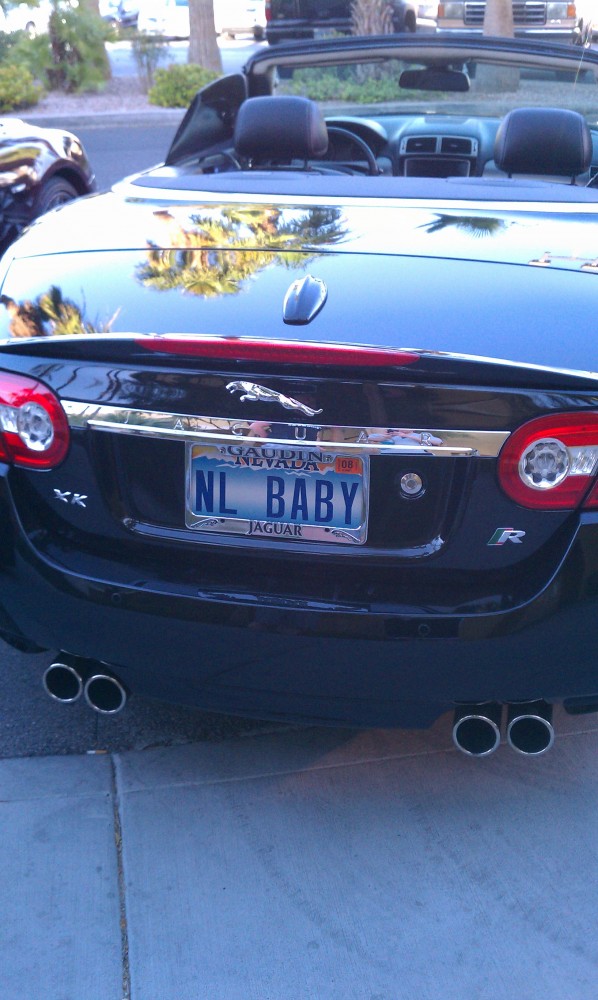 Who Ya Got?
This morning we spoke to the usual suspects, Ashton 'Ashman' Griffin and Aaron 'AeJones' Jones, about how they were enjoying the Boston Celtics and Miami Heat basketball series.
"I kind of want Heat to win tonight" Ashman told us. "I hate the Heat, but I really want OKC to beat them in the final more than anything. That would be sweet".
"I think the Celtics will win it. I hate the heat too, and I think the Celtics have been good so I'm betting Celtics. A lot of my friends are from Boston so it's fun sweating them".
Both Ashman and AeJones are sweating Brian 'Stinger' Hastings at the featured table in Event #12: $10,000 Heads Up No-Limit Hold'em.
Hat of the Day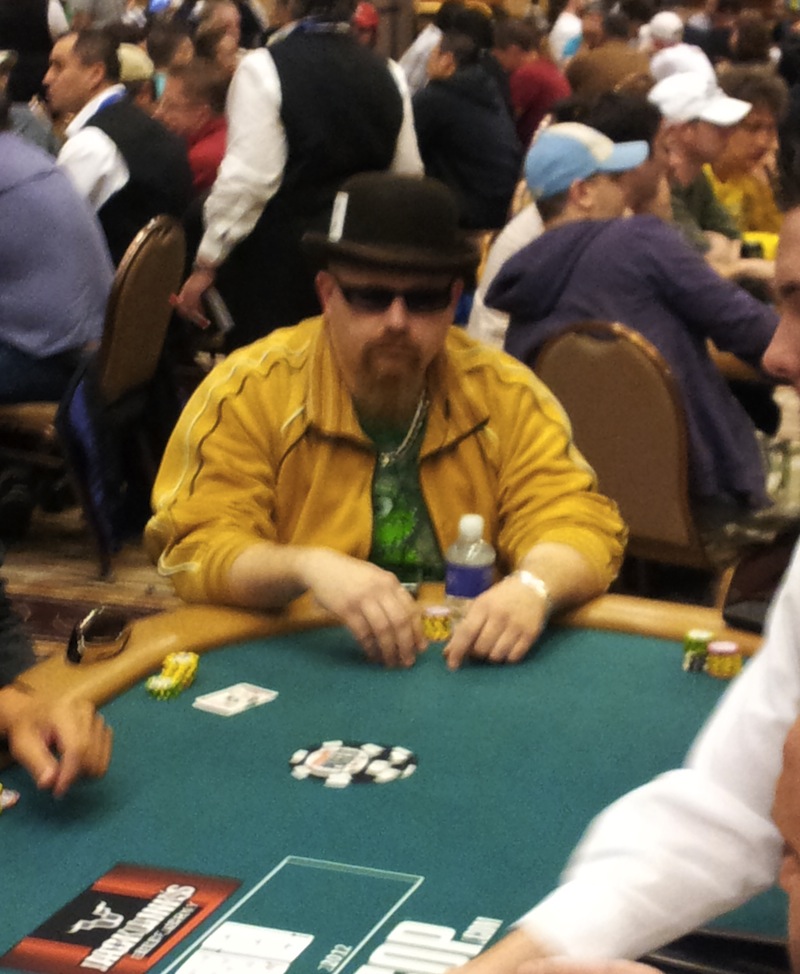 It's stiff competition, but this player in the Deep Stack tournament had an outfit that was surely muck worthy, blending a mustard track jacket and mustard track bottoms with a brown bowler hat. The bowler hat an elegant feather on one side and a playing card on the other - definitely a custom made WSOP hat.
Like Father Like Son
Jason Mercier is stuck between Todd Brunsen and father Doyle Brunsen in Event #15 $5,000 Seven Card Stud Hi-Low Split-8 or Better. Todd and Doyle know each others games very well, must make for some interesting table dynamics for Jason!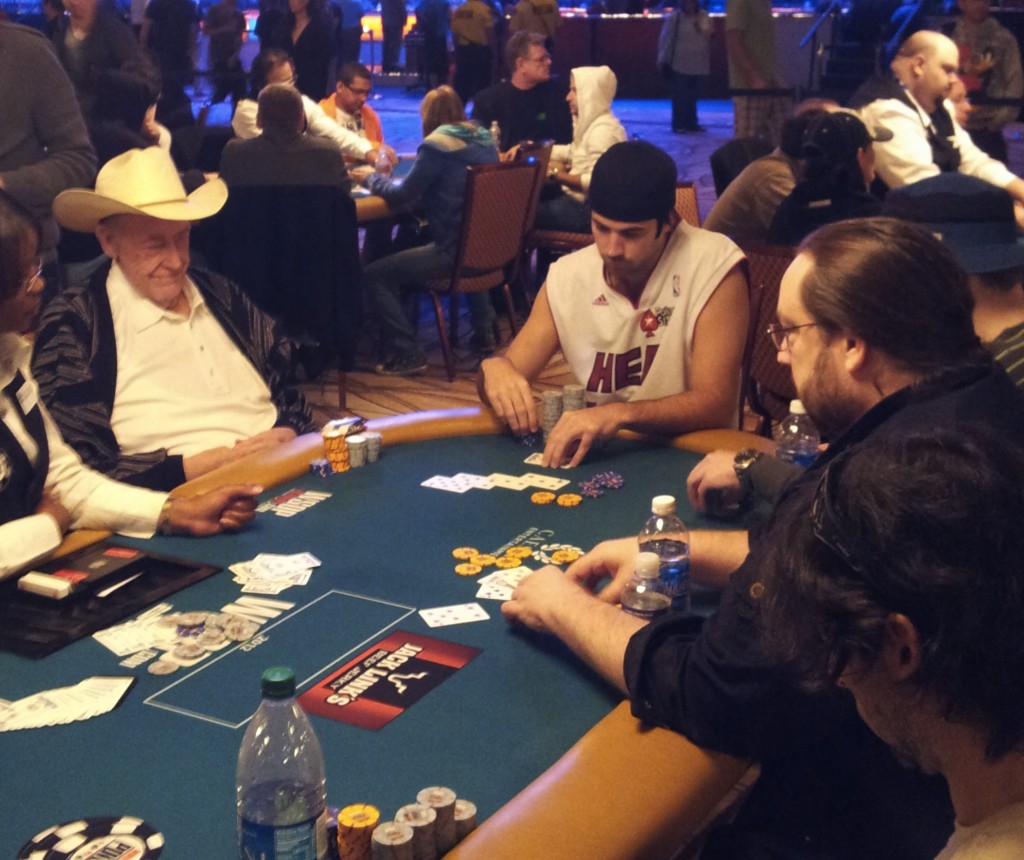 Unpopular Annie Duke
Annie Duke is around the Rio again today, and making a lot of headlines.
Late last night, when she was knocked out of her tournament, Todd Brunsen tweeted this:
Awwww. Poor Annie duke got knocked out. @RealKidPoker looks so sad for her.

— Todd Brunson (@ToddBrunson)
Daniel Negreanu and Annie's rivalry has been well publicized in the last few months, what are the chances of them landing right next to each other in Event #15 $5,000 Seven Card Stud Hi-Low Split-8 or Better.
Here is a tweet about Annie's post- tournament complaints about someone cursing at her table:
Annie Duke in the hall complaining to TD because someone cursed her out at the table. She's asking about a penalty, but it's been ~90 mins.

— Julio Rodriguez (@JRodriguezCP)
Annie is not getting much sympathy around the Rio these last few days. Here is PokerStars pro Mickey Petersen's reply to the above tweet.
lol at @AnnieDuke complaining bc someone cursed at her, you are delusional. You are a disgrace to the poker community, please just stay away

— Mickey Petersen (@mickeydp)
On The Final Table Rail
We swung by the Amazon room to check out the final table rail for Event 12: $10,000 Heads-Up No-Limit Hold'em where Brian 'Stinger' Hastings and Jason Mo battle it out for their share of the 1.4 million prize pool. Among the on lookers, on the side of Brian, is Vanessa Selbst.
Jason Mo seems to feel quite at home, sporting sandals and yellow and blue pajamas. Presumably he will change his attire before the bracelet ceremony?
Stinger has the bigger and more active rail and people flock to watch the dregs of this exciting final table.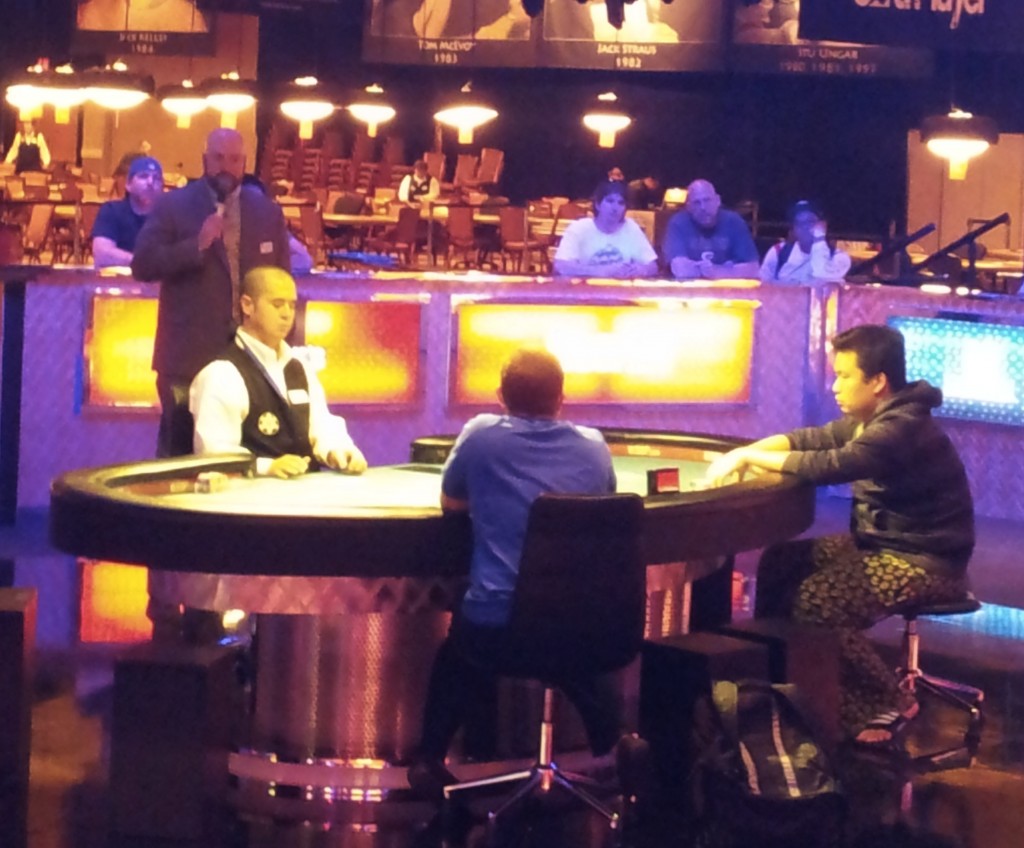 Spot the Difference
We've already seen Richard Iler (AJ from Sopranos) on the felt this summer. Today we spotted this colorful character in Event #16: $1,500 No-Limit Hold'em Six Handed, decked out in the new york gangster style green tracksuit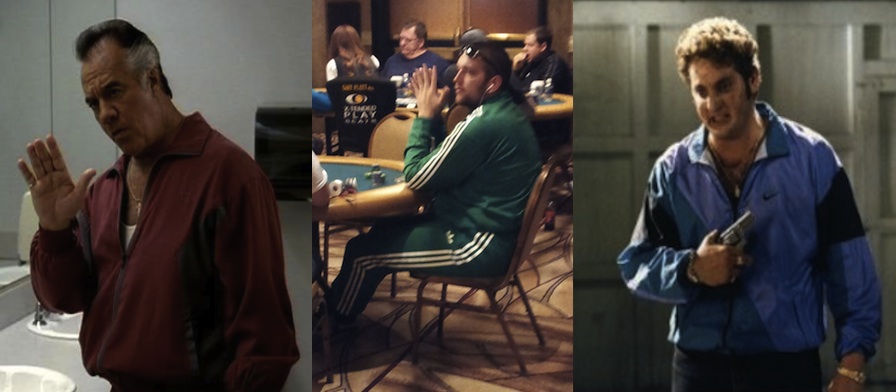 Poll
Who Wasn't In A Gangster TV Show Or Film?
Drawing Thin Day 11
For today's Drawing Thin, we spoke to Yevgeniy Timoshenko on the dinner break of Event #16: $1,500 No-Limit Hold'em Six Handed . We asked him first about how he says fit during the World Series of Poker and second how he eats.
"To stay fit, I play basketball with my room-mates Galen Hall, Greg Gokey andCalvin Anderson. That's good for the cardio"
"As far as eating goes, I do make an effort to stay healthy. I mix it up a bit, but for breakfast I might have something like Egg's Benedict".
We ask Yev where he's going for dinner on his 90 minute break.
"Right now for dinner I'm not sure where I'm going to eat, somewhere on the strip maybe. I want to watch Celtics/Heat, so if there's somewhere showing that I'd be interested in eating there".
"I'm up for Miami. I don't sports bet ever so I don't have money on it, but they're my team".
How'd They Do?
We wandered around the Rio halls asking poker players trivia questions. Take a look at the video below to see how they did.
A Fantasy Update
We're about 1/4 of the way through the series so far, so we thought it might be time for a fantasy poker update. The draft in question we're looking at is Daniel Negreanu's $25,000 Fantasy Poker Auction Draft, where players bid on the fantasy players that they wanted.
Currently in the lead is Daniel Negreanu's team with 136 points who is thriving on the performances of Vanessa Selbst, with 70 points thanks to her 4th place finish in the $1,500 No-Limit event and her 9th place finish in the $10,000 Heads-Up No-Limit event. Also doing well on that team is Negreanu himself who has a 5th place finish in the $1,500 Pot-Limit Hold'em Event.
Second in points is Jason Mercier's with 115 points. Mercier seems to have lucked out by taking John Monnette who recently won the $5,000 Seven Card Stud tournament. Monnette is currently holding up the team with 88 points. Another player on Mercier's team who is bringing in just a few points is Allen Bari with 14.
Some of the players who are standing out so far in fantasy poker are Scott Seiver, with 39 points, Bryn Kenney with 32 points, Barry Greenstein with 48 points, and Michael Mizrachi with 36 points. Points are calculated as follows, 50 points going to a first place finish, 45 points for second, 40 points for third, 35 points for fourth, and so on and so forth with 1 point going for a cash. There are also multipliers for a $10k and $5k buy-ins and a field size bonus.
We'll be sure to keep updating these standings at the half-way point as well as the 3/4 point so you can see how your favorite players are doing as fantasy picks. Click here to check out Negreanu's draft board, point standings, and payouts.
Happy Birthday To You! Happy Birthday Times Two!
After turning to twitter for some brief investigative work, we found out that not just one, but two pros in the building had birthdays today.
The first was Jeff Madsen:
Madsen won his table today in Event #14: $1,500 No-Limit Hold'em Shootout, so we hope he doesn't party too hard as he'll have to return for the final 12 tomorrow. We'll try to catch up with him tomorrow to see how he's feeling and if he'll give us a birthday rap verse.
The second birthday boy today was Shannon Shorr:
Birthday today! It turns out I'm 27 already. jafkciandkdakwkdjzwkdixjawksk.

— Shannon Shorr (@ShannonShorr)
For his birthday, Shorr busted earlier in the day in Event #16: $1,500 No-Limit Hold'em Six-Handed when his
could not outrun his opponents
Oddly enough, both Shorr and Madsen turned 27 today. It's tough not to wonder if they are partying together.
Bromances of the World Series of Poker
Today in Event #15: $5,000 Seven Card Stud Hi-Low Split 8-or-Better friends Allen Bari and Jason Mercier were seated right next to each other. Live Reporting Global Manager Donnie Peters was able to snap a picture of them before they were split apart.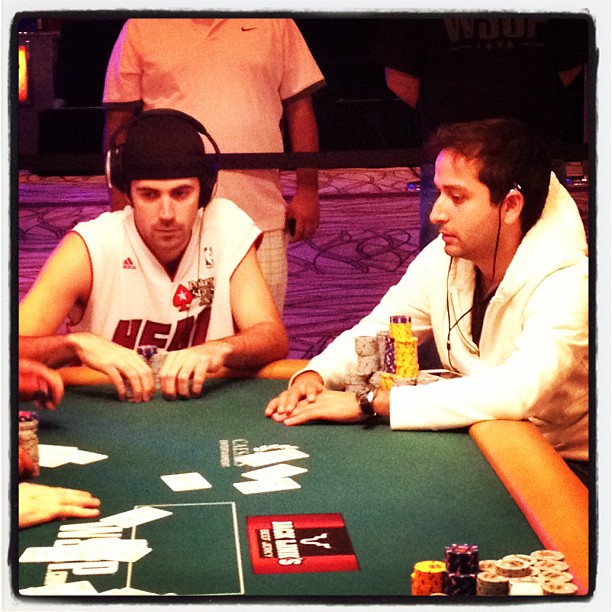 We'll try to catch up with Mercier and Bari later to see how strong their friendship is and how it feels to be seated next to each other in a tournament.
Maria Maridu Mayrinck and Diablo III
Maria "Maridu" Mayrinck stopped by the PokerNews office tonight to chat with PokerNews Hostess Lynn Gilmartin. Topics ranged anywhere from citizenship in their respective countries, Brazil and Australia, to food, exercise, dieting, and even boyfriends.
But the topic that perked our interest was Diablo III. Mayrinck explained that for the past week since players have been in town for the World Series of Poker, Joseph Cheong, Michael 'Benvo' Benvenuti, and Mayrinck's boyfriend David Baker have done nothing but play Diablo III after their tournaments.
"They don't do anything!" Mayrinck frustratedly explained. "They just play Diablo. They don't eat. They don't sleep. They don't poop. They don't pee. I have to spoon feed David just to get him to eat. Sometimes I think they are busting tournaments just to come home and play Diablo. They are even playing Diablo during the dinner breaks. ElKy is in on it too. It's crazy."
We'll try to catch up with some of these players when we see them to see if Mayrinck is exaggerating or not. On Saturday,PokerNews Hostess Sarah Grant is slated to do an "In Bed" interview with Mayrinck, so we're sure to hear more from her soon.
That's Not What I Asked For, Durrrr
Tom 'durrrr' Dwan has been missing from action at the World Series of Poker as of late, but his latest couple tweets help to explain his disappearance. He's been getting haircuts in Macau!
Just had a weird haircut experience in macau, guy tried to give me a goofy peak in the front (I never request stuff in haircuts except

— Tom Dwan (@TomDwan)
"shorter" and "sides even"), then tried to tell me he couldn't fix it without pinning my hair up. He was nice so it eventually worked out

— Tom Dwan (@TomDwan)
Maybe Dwan is just too embarrassed about his new haircut to show up. Don't worry durrrr, it's just hair. It'll grow back.
This Should Be Interesting
We recently saw that 2007 Main Event Champion Jerry Yang had moved to the same table as young poker phenom Viktor 'Isildur1' Blom in Event #16: $1,500 No-Limit Hold'em Six-Handed. The two present quite a contrast to each other in appearance, but both are still very aggressive players who could tangle with each other at any time.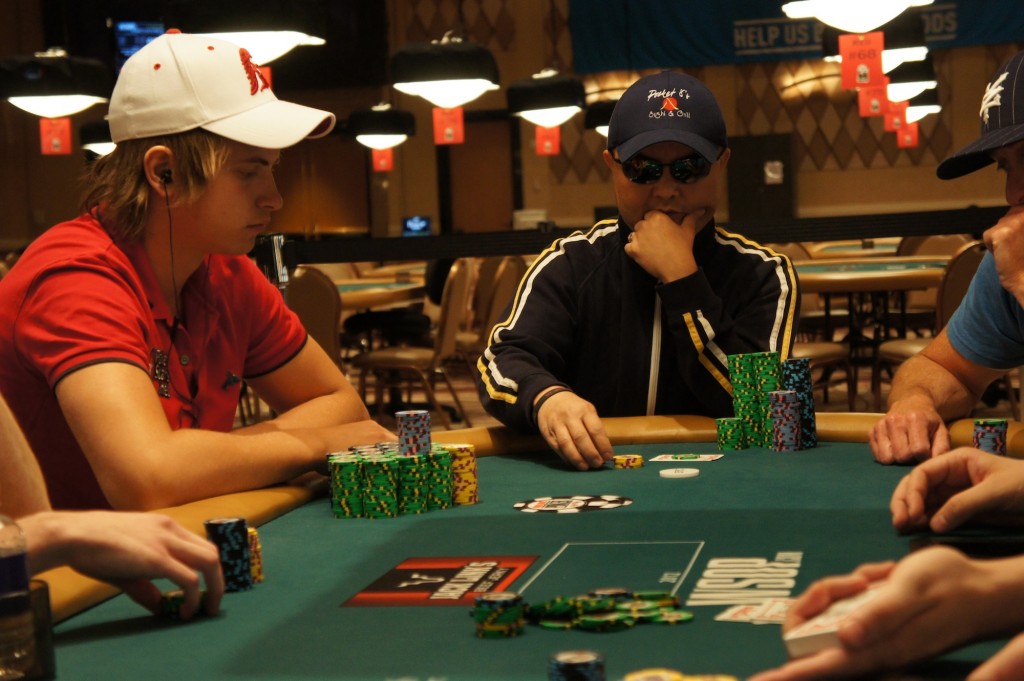 Neither player is too talkative, but it's hard not to wonder what the two would talk about. We know Viktor is not to keen on interviews, but if we can we'll catch up with Yang later to see his opinions on playing with Blom.
You Want A Piece Of Me?
We recently saw Brett Richey come over to Event #15: $5,000 Seven Card Stud Split Hi-Low 8-or-Better and hand Tom Koral a fat stack of cash. We were curious, so we asked if Richey had lost some kind of prop bet to Koral.
"No," Richey said. "We all had a piece of someone in the limit hold'em event and he just finished 6th. We had 20 percent and that's Tom's share. I'd never lose a prop bet to Tom."
The 6th place finisher in Event #13 was Ben Landowski who made $34,620. Twenty percent of that would've been $6,924, quite a large sum to have sitting on the table. We caught a picture of Koral and his stack of money, who happened to be sitting right next to ESPN commentator Norman Chad.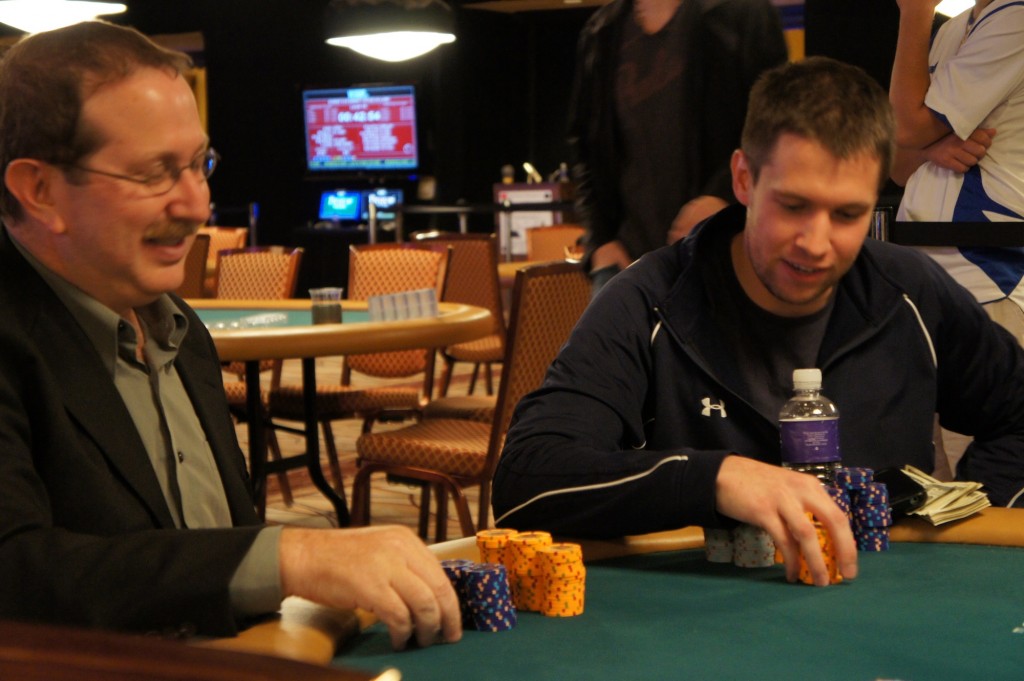 Koral is still alive in Event #15 with 65,000 chips. "I just got handed a bunch of money, and I'm sitting next to Norman Chad," Koral said at the table. "I must be running good." Must be nice to be Tom Koral right about now.
On Break in the Stud 8
We caught up with Allen Bari during the break in Event #15: $5,000 Seven Card Stud Split Hi-Low 8-or-Better who was describing a beat thatEli Elezra had put on him right before break started.
"He says to me, 'I know you had three sevens.'" Bari explained. "Ok so you knew, but then why are you calling me with two 9s drawing to the case 9? I don't know what he's doing. I know he has some kind of last longer bet with someone for a lot of money. I think it's John Monnette. $50k."
If that's true, Elezra could be in a world of hurt because as it stands now, Monnette has over 100,000 in chips and Eli just has 45,000. But as we all know, in the game of poker anything can happen.
Also on break, we caught Bryan Devonshire, Joe Tehan, Ben Yu, and Christopher George in a heated Achtung battle as well. We're not sure, but we think Devonshire won.
The 22 Bracelet Table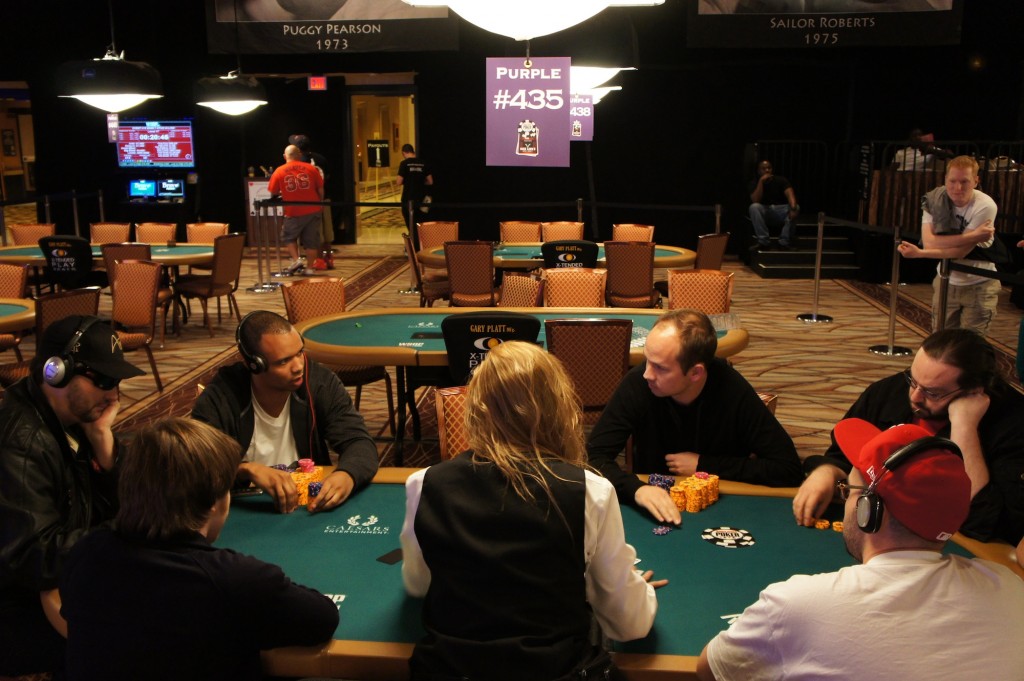 Recently, our live reporting team did the math and inEvent #15: $5,000 Seven Card Stud Split Hi-Low 8-or-Better, we have 22 bracelets sitting at one table. They are split between Phil Hellmuth, Phil Ivey, John Monnette andTodd Brunson. We wanted to see what it was like to be at a 22 bracelet table so we went and watched for a bit. Things seem to be all quiet at the table with both Ivey and Hellmuth wearing headphones. Also at the table isBryn Kenney and Michael Binger, who has 23 World Series cashes.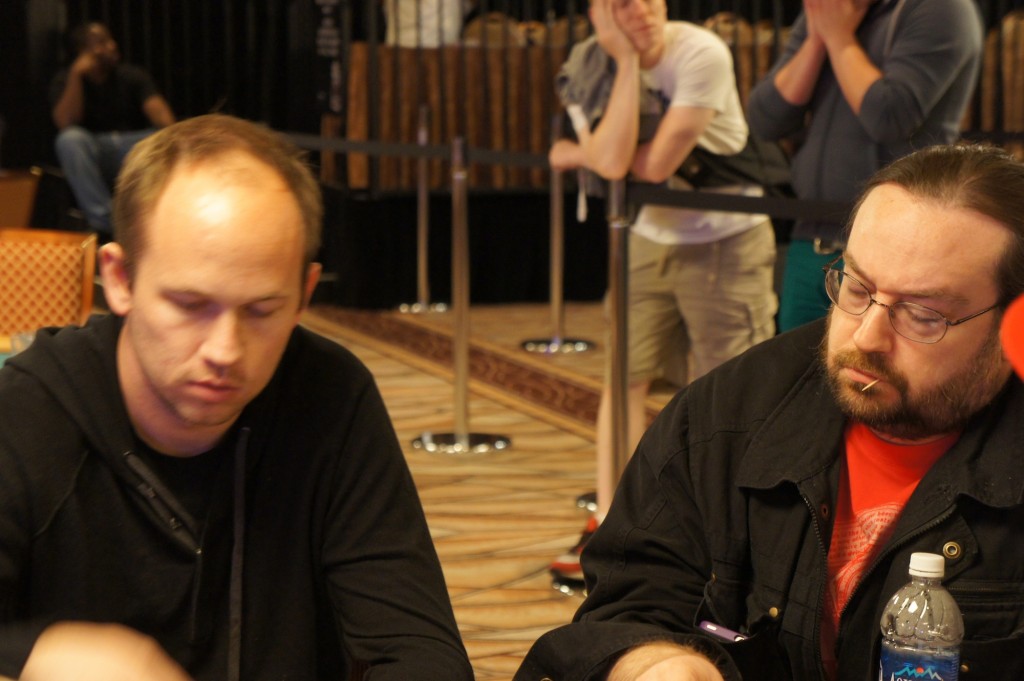 Truly, this is one of the most stacked tables the World Series of Poker has ever seen, and might even be the most stacked one we see all year.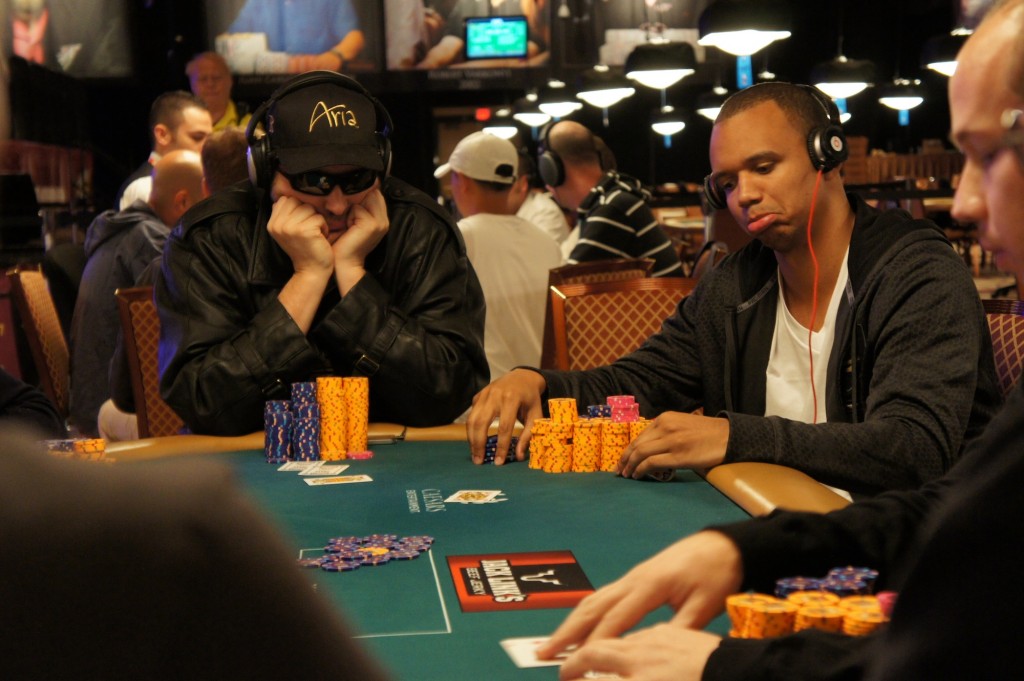 We encourage everyone to get involved with "The Muck." See something you think is Muck worthy? Send it to themuck@pokernews.com. We accept all media including photos and videos.