Interviews, Traveling, and UFC with PokerNews Hostess Sarah Grant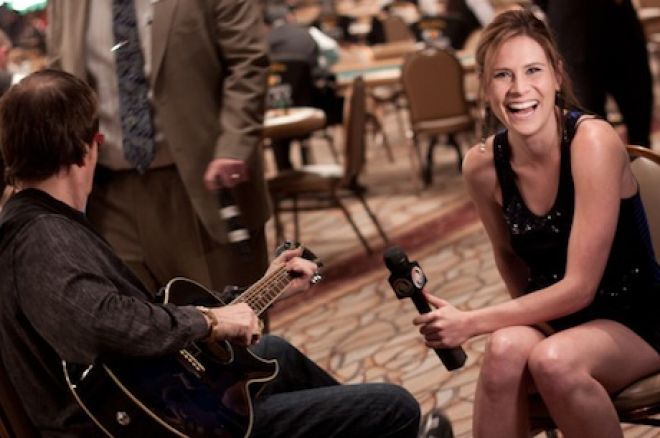 To get latest news on your favorite poker pros, Sarah Grant's interviews are a must-see. We sat down with the jet-setting, PokerNews hostess and producer, to discuss interviews, traveling, and UFC.
Tell us who your favorite people to interview have been?
It has been so amazing how welcoming the poker community has been. When I first started, I would get so nervous to approach people, and honestly, sometimes I still do. But most everyone is super cool. I would say someone that I was nervous to talk, to who is so easy to interview and super chill is Team PokerStars Pro Daniel Negreanu.
Team PokerStars Pros Bertrand "ElkY" Grospellier and Eugene Katchalov are the sweetest things. Team PokerStars Pro Vanessa Selbst, and Melanie Weisner are so intelligent they can talk anyone through their thought process in any hand. Jason Mercier is always fun to interview because he has such a great sense of humor. I love dry sarcasm. Maria Mayrinck can make any video. I could call her for any crazy thing.
Who haven't you interviewed yet that you would love to interview?
In poker it would be Tom Dwan. We seem to always miss each other. I've watched him play high stakes cash a lot and would love to just chat him up. If I could interview anyone in sports it would be Tim Tebow! In music it would be Jeff Buckley (but he is dead) and in film, Robert Downey Jr., because he is crazy and skilled.
What are some of your favorite destinations when covering tournaments for PokerNews?
I love places when I can spend some time in the morning enjoying myself or even go a day or two early.
PokerStars.net EPT Vilamoura in Portugal was incredible. We were right on the ocean and the hotel was having a 'soft' opening, so PokerStars basically had it all to itself. We had two early days to play volleyball in the pool and build sandcastles.
PokerStars.net APPT Cebu was amazing. I used to live in Thailand, so I'm kind of partial to the South Pacific. The staff was so welcoming and helped me so much since it was my first APPT. And there is always a special place in my heart for Florianopolis. It was my first event. Everyone was super helpful and warm. Everyone was giving me hugs and smooches right away. And the party was so cool!
Do you play poker at all?
Yes, I love poker, but I prefer it when drinking. I like to talk trash and I think it helps me loosen up a bit. Someday I might take it more seriously. For now, it's for fun and I don't want to have everything poker related in my life to be work.
Did you meet your boyfriend, Heath "Texas Crazy Horse" Herring, through poker?
I met Heath four years ago on a film set. I used to be an assistant director on film sets. We basically build the schedule and run the set so that the director can deal primarily with the actors. I was doing the film as a favor to a friend of mine. It featured a bunch of UFC fighters. But, Heath actually had a starring role so we got to know each other a little bit. I had written off all the fighters as dumb. (I know I'm so bad.)
One night I ended up dropping him off at his hotel. Due to LA traffic we spent a few hours together chatting and it turns out he is super smart. He speaks several languages, is a history buff, and was a computer programmer before he got into fighting.
Follow Sarah on Twitter for the scoop on videos from PokerNews, and for up-to-the-minute news, click the follow button for PokerNews on Twitter.