World Series of Poker Acquires New Chairs: An In-depth Review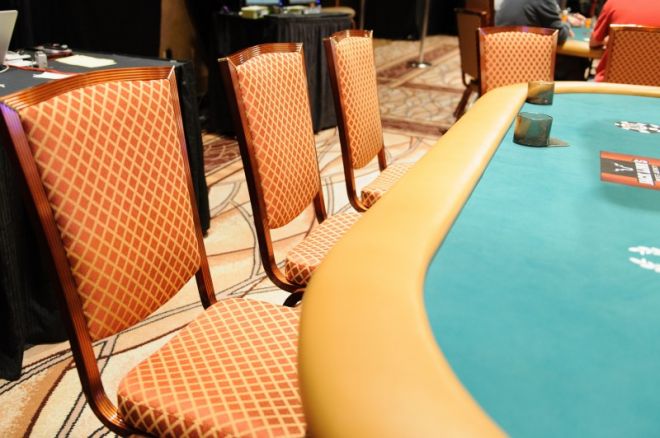 If you're sitting for long hours at a time, besides a comfortable outfit, and comfortable room temperature, there's one thing that you definitely need — a comfortable place to put your bottom. The World Series of Poker can't control what you wear, and the staff does its best to keep the temperature comfortable (it's still a little cold in there guys), but the one thing they have complete control over is what you're sitting on. On Monday, a slew of expensive, new chairs were brought into the Rio, giving players a more comfortable place to rest while they're playing for gold.
The brand new MTS/Burgess Collection has replaced the old, oval back leather chairs that have adorned the room since 2005. The new chairs are firm, but provide a good cushion for sitting. They also offer the flexibility to lean back quite a way without falling down. This was not the case for Allen Bari though. Tournament reporter Eric Ramsey told us that he enjoys the chairs very much for that reason alone. "I've seen Allen Bari almost fall down four or five times already, that was great," Ramsey said.
According to the MTS Seating website, the chairs should provide the "perfect balance of functionality," and an "uncommon design sensibility." The patterned burgundy color is a nice change from the bland tan color that the chairs formerly had.
There are still no arm rests and the back is still quite stiff as most chairs are before you break them in a bit. Some players argue that they could've used a massage chair, while others complain that the dealers still get the best seat in the house.
Recent bracelet winner Andy Bloch was very happy about the new chairs though. "I love them," Bloch said. "I've been saying for a long time that we needed new chairs and that with the rake from just one tournament we could get some. They are more comfortable, studier, that have a higher back, they are cleaner, and of course, they're new. We've been sitting on the same chairs for six or seven years now."
Several of the older model chairs seem to have rips, tears and wobbles, the new chairs are definitely an improvement from that. Also, after sitting on the old chairs for too long, you can get a little pain in your bottom from sitting where the cushioning has worn out.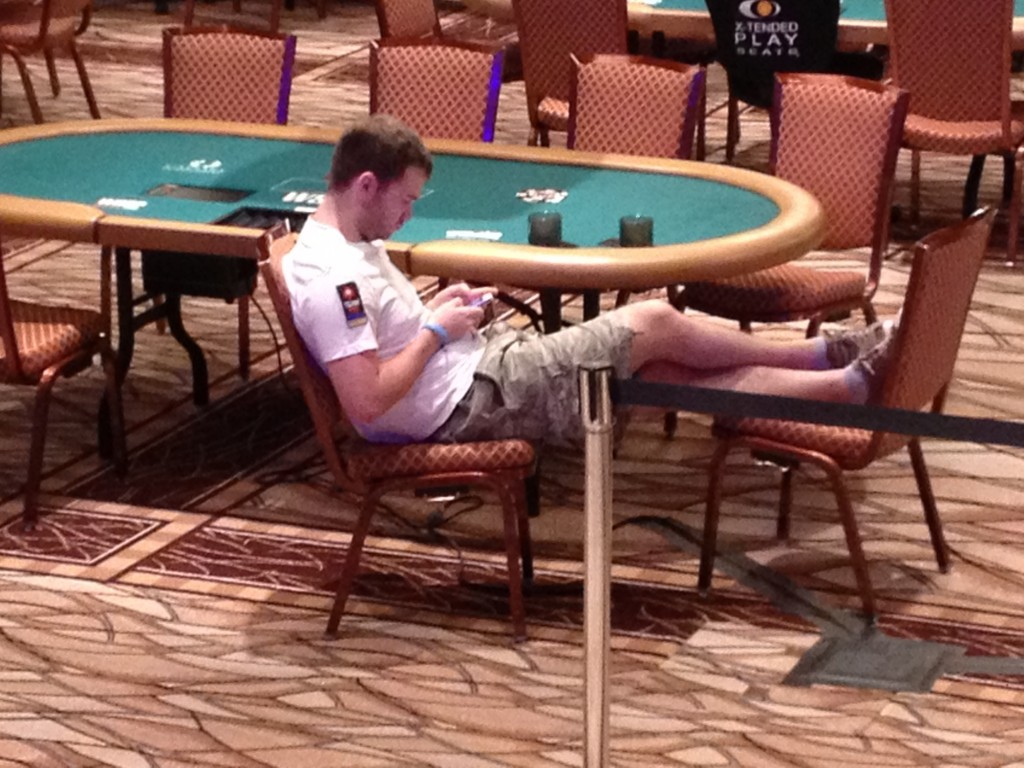 We also caughtEugene Katchalov relaxing on the new chairs, and testing them out, so we wanted to get his opinion. "I guess these are new, yeah," Eugene said. "They seem alright. They seem to be more comfortable than last year."
Team PokerStars Pro David Williams also seemed to like the new chairs:
As an extended bonus, the new chairs are eco friendly as marked on the bottom of the chairs that are printed with soy ink, can stack up to 14 chairs high, and they also meet all requirements for flammability.
Final grade for the new chairs: 7.9 stars out of ten. Players seem very happy about the decision for new chairs. The chairs are studier, nonflammable, and ecofriendly making them are a much welcomed sight in the Rio, but there are still improvements that could be made, including armrests, soft padding for the back, and maybe even some sort of bottom heating device.