All Mucked Up: 2012 World Series of Poker Day 7 Live Blog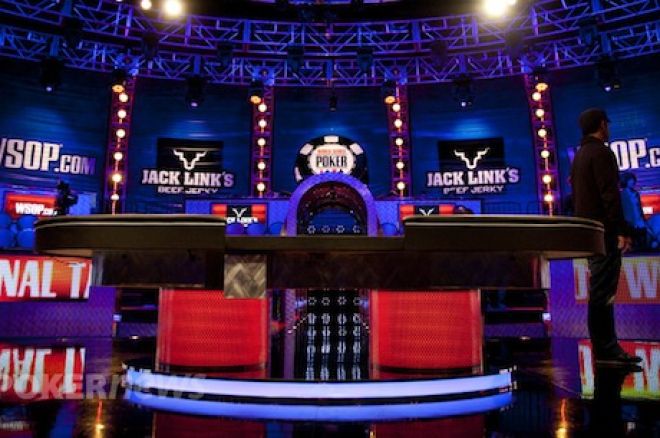 You want to know everything that's happening at the 2012 World Series of Poker and we're going to do our best to keep you in the know. Here we'll answer the hard-hitting questions like, "Are there any celebrities in the field?" Check back often, you never know what you'll find.
Morning Grind
The foot traffic in the Rio is picking up as players prepare to start day seven of the WSOP. We spotted a few this morning getting ready for Event #9, Day 1b, $1,500 No-Limit Hold'em Re-entry.
Lock Pro, Chris Moorman, will be firing a second shell today after a short run in day 1a.
"Gonna try to make it past the antes this time," said Moorman.
Doug Lang and Matt Sterling were spotted having a pre-game meal at Starbucks in preparation for day 1b as well. Both players were pumped to get another crack in the re-entry tournament.
"Oh yeah, can't wait to get it going again today," said Lang.
Final Four
Joseph Cheong (pictured on the right) and Hugo Lemaire (pictured on the left) are heads-up in Event 6: $5,000 No-Limit Hold'em Mixed Max. They're at the feature table, which will be streamed live. Four players remain. First place is $480,564.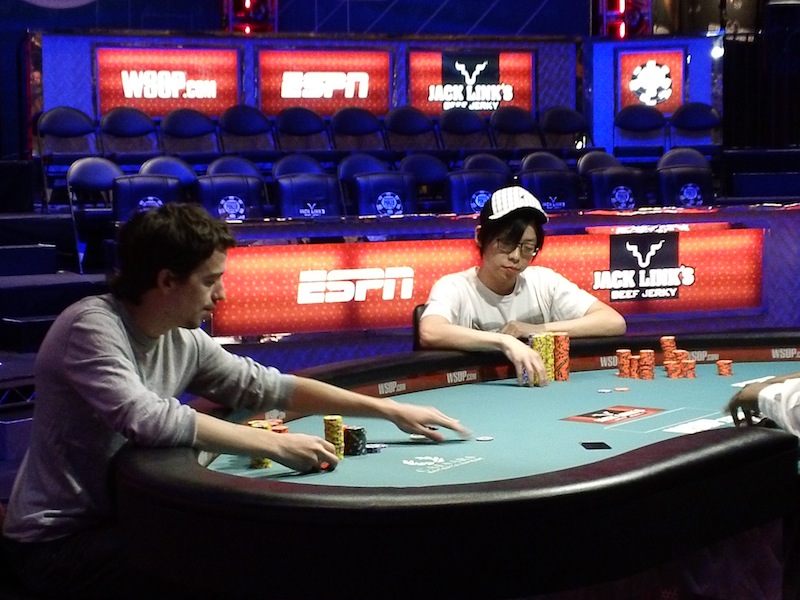 We spoke to Hugo moments before he took his seat for the start of the match. We asked him what he does to mentally prepare himself.
"I chill with friends," said Lemaire. "I don't put pressure on myself and just try to have fun."
On the other table, Warwick Mirzikinian and Aubin Cazals, are squaring off. The winner of that match will face the winner of the Cheong/Lemaire match.
Patrick Antonius Spotted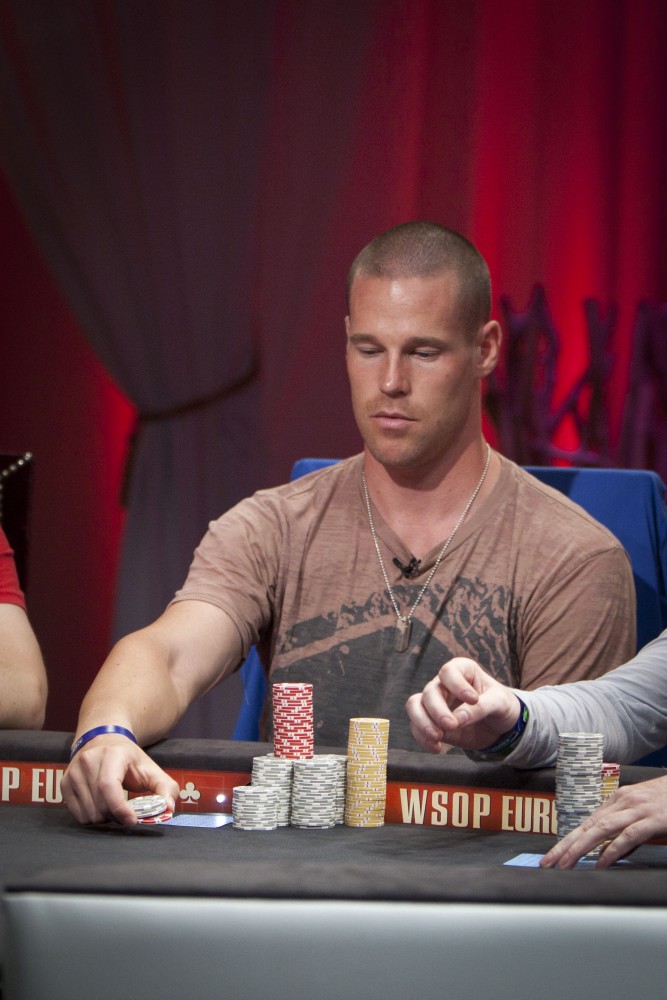 We found Patrick Antonius in the Pavilion. He was seated at a dormant cash game table, with JC Tran, Nam Lee and Michael, "The Grinder," Mizrachi.
We asked Patrick was his plans were for the day.
"Just cash today, no tournaments."
Patrick has his sights set on some of the bigger buy-in tournaments.
"I'll be playing the Main Event (Event 61: $10,000 No-Limit Hold'em Main Event), the $50K (Event 45: $50,000 Poker Players Championship), and the One Drop (Event 55: $1,000,000 Big One for One Drop)."
The Finnish pro expressed some reservations though about the $1 million dollar buy-in tournament.
"Investors need to solve the tax issues with the One-Drop."
Patrick declined to elaborate on the pending tax issues.
"Actually, I better not talk about that right now."
Patrick Antonius update
Looks like Patrick found a live cash game. Here he is seated at a $500-$1000 Pot Limit-Omaha table.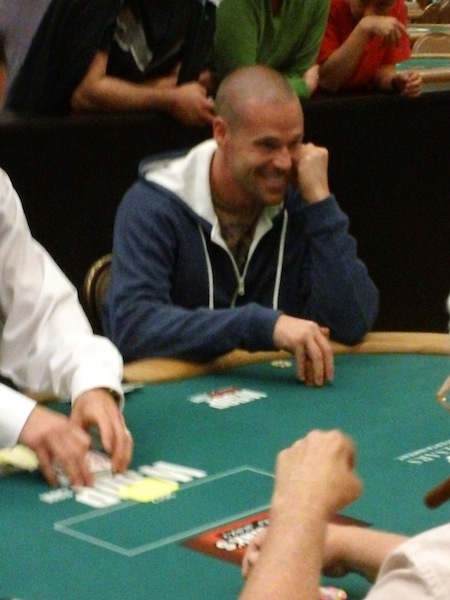 Andrew Robl is playing as well.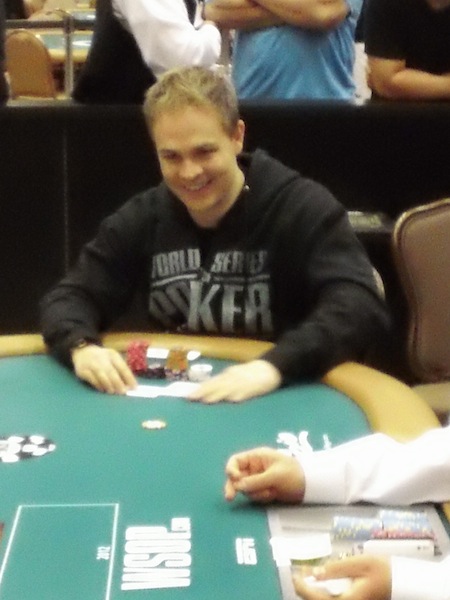 According to a bystander, there's around $2million dollars on the table.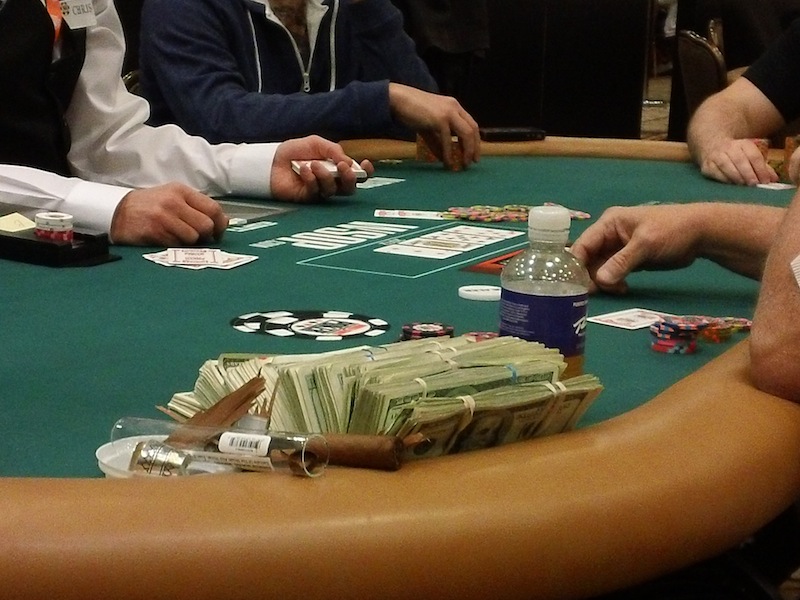 Get Your Vegan On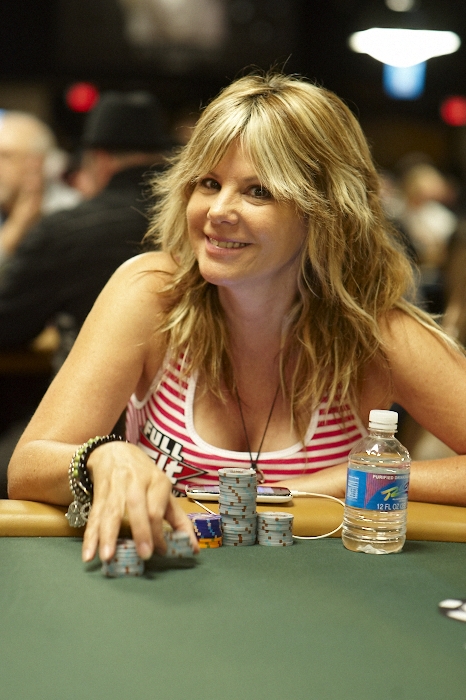 We caught up with Cindy Violette, railing a friend inEvent 8: $1,500 Omaha Hi-Low Split 8-or-Better.
The stud specialist will be in today's $5,000 Seven Card Stud tournament.
"I'm really excited for it, said Violette. "It's my specialty."
Violette is scaling back her tournament schedule this summer. She'll be busy with the opening of her new restaurant, Violette's Vegan.
"We're gonna be opening in August. It's gonna have a drive-thru and an indoor seating area too."
When asked what will make her place stand out, the pro answered, its gonna be "fresh food…fast."
Deja Vu All Over Again
According to tweets by Doc Sands and PokerStars pro Jason Mercier, Will Failla was allowed to re-enter day 1b for the second time today, after busting earlier. Event 9: $1,500 No-Limit Hold'em Re-Entry is a two day re-entry event, but only one entry per day. Stay tuned, as we'll do our best to get a reaction from Failla.
Hanging Tough
It was reported yesterday that PokerStars pro Liv Boeree injured her ankle at Vanessa Rousso's house warming party Friday night. We passed by Rousso's table in Event #9 and asked how Liv was doing.
"She's doing better. She's on crutches today."
Sure enough, we found the PokerStars pro seated at her Event #9 table with her crutches.
Antonius' Table Drawing Crowds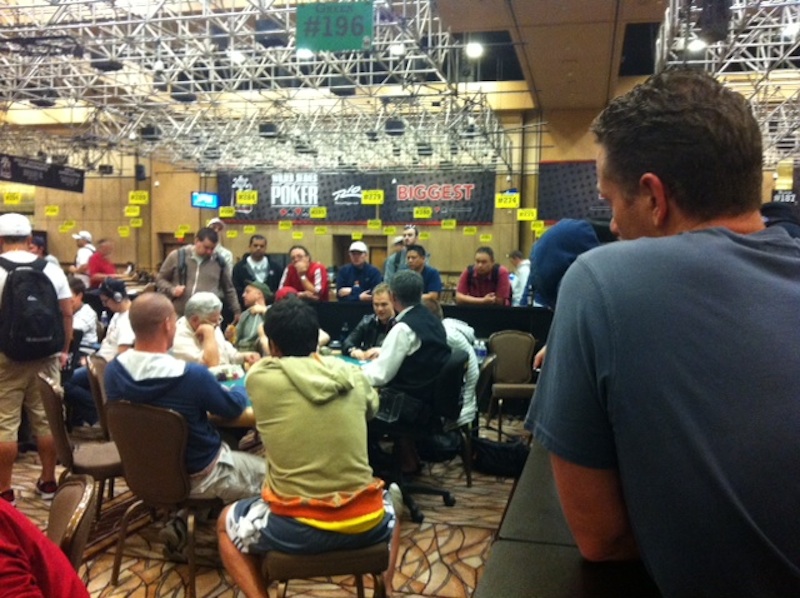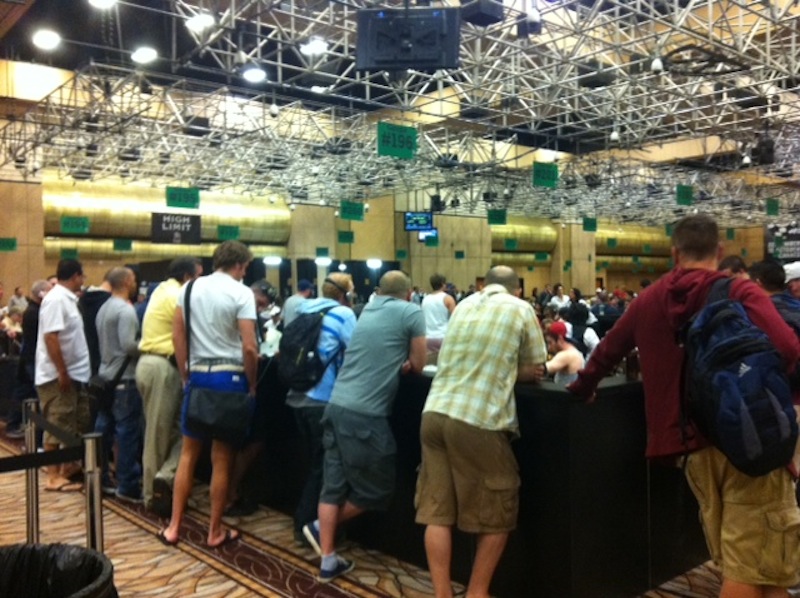 The crowd continues to grow at Patrick Antonius' high stakes Pot-Limit Omaha game. We just found out that Ashton Griffin and Chance Kornuth have also been playing in the game.
Drawing Thin, Day 7
We spotted Jennifer Harmon speaking with a masseuse in the halls on a break from Event #10 $5000 Seven Card Stud. We know Jen likes to keep in shape, so we wanted to ask her about how she fares during the World Series, what she eats, how she gets exercise.
"The truth is I have no time to exercise" She said simply. "When all this starts everyone just forgets about exercise, everyone has to".
"I mean, the best you can do is eat good, which is doable, and sleep good, which is pretty much impossible" Laughed Harmon. "It's just a grind"
"In the morning I have a Berry juice usually, I don't drink coffee. I eat much healthier normally, and I go to the gym between 5 and 7 times a week. During the WSOP I just don't go at all".
We spotted Annie Duke in the Stud event and wanted to see what Jennifer thought about Annie, and what she was up to these days.
"Annie's actually at my table. I don't want to comment on what she does away from the table though" Said Jennifer, diplomatically.
Railbird Heaven
Playing in the same 500-1000 PLO game as Patrik Antonius, Ashton 'Ashman' Griffin and Andrew Robl tonight is a mystery gentleman who goes by the name 'Larry'. At his request, we won't post any pictures of him in this blog. However, as mentioned above, these games are drawing big crowds, and speculation is rampant as to who this older gentleman is.
We ventured into the crowds of railbirds to find out more.
"I think he's Cadillac1944 online. He's some huge whale that lost millions on Full Tilt playing the big games"
One railbird on Two Plus Two mentioned that he loves speaking to the rail. He said he knows he doesn't have an edge in the game, but just loves to play. It is speculated that Cadillac's money comes from oil. Perhaps this Audi's Texas license plate from the car park belongs to him?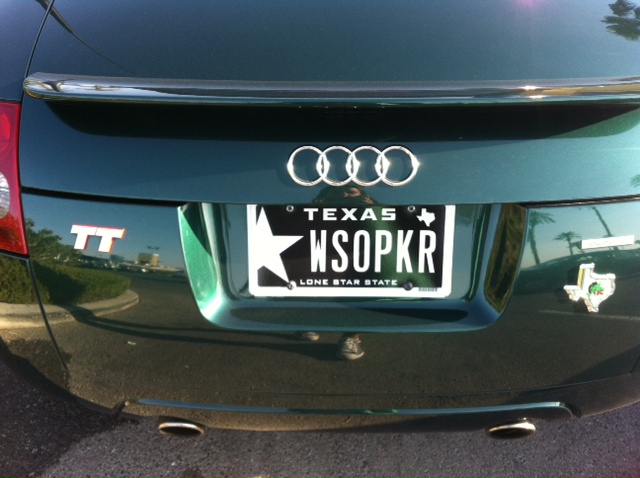 We will keep you updated on any new developments in the big PLO game as the night goes on. Who knows, they might play until tomorrow? It's happened before.
The Re-Re-Entry Fiasco
Earlier today Jason Mercier tweeted that Will Failla had entered Event #9B $1500 No-Limit Hold'em twice. He followed this up a few hours later tweeting that 11 players had actually been allowed to re-enter twice on day two of the event.
Guess the thrill wasn't the only one... 11 people apparently played twice today... Wonder how many played twice yesterday and no one noticed

— Jason Mercier (@JasonMercier)
This is directly against the rules of Event 10, but many players didn't seem to know that. Will Failla tweeted an apology after he busted, claiming that he thought you could re-enter within the first 4 levels.
I want to apologize to the poker Community. I thought u could rebuy in the first 4 levels in today's event. I was extremely embarrassed!

— Will Failla (@WILLFAILLA)
WSOP responded quickly, conditionally agreeing that any player who was busted by one of the eleven re-re-entries would be refunded their enter fee. You can't say fairer than that!
If we can verify you were busted out by one of these players (through video surveillance) we will issue refund.

— WSOP (@WSOP)
Post-River Play: On the Strip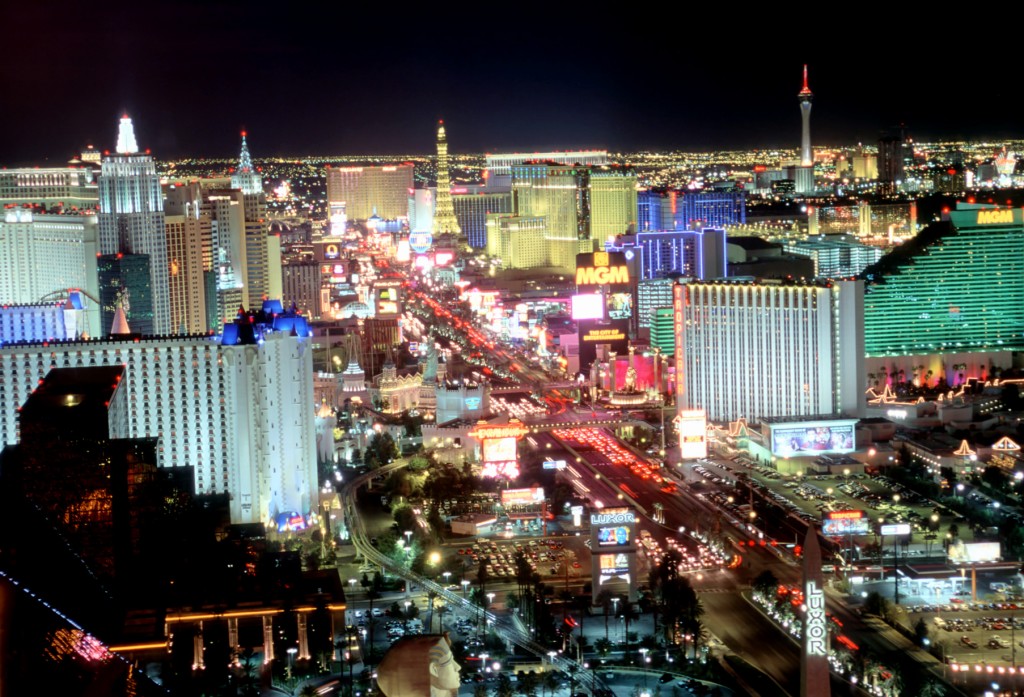 With a lull in the action as we wait for Event #6 $5000 No-Limit Hold'em Mixed Max Heads up Final table to begin, we walked around the halls to see who was around.
We met up with Barry Greenstein on his break to find out where he likes to do on the weekend, and what his favorite bar is in Vegas during the WSOP.
"I don't drink at all. I guess that doesn't mean I don't go to bars though. I like the Fontana bar in the Bellagio. They used to have tournaments there. It's really nice"
We asked Vanessa Selbst the same question as she took a break from playing cash in the Pavilion room.
"I really like Surrender, it's at the encore"
Finally, we bumped into Huck Seed and Allen Cunningham chatting in the hallways on their break from the stud event. We steered the conversation in the way of popular clubs and venues during the WSOP.
"I wonder what venue would pay me to say I go there?" Joked Huck. "I really like Insert Coins"
Allen interjects "I dunno. The machines in Insert Coins never work for me"
"I think it's great" continues Huck. "It's just a bar based on old video games, there's not many places like that".
"I also like Beauty Bar, downtown too. It's good the first Friday of every month, but I missed it this month. We'll have to wait until next month".
"Great question by the way" Laughs Huck, as he returns to his event and we part ways.
Better Late than Never
Wandering through the Amazon room, one table is very noticeable compared to the others.
While the entire tournament is contained within the 'Tan' area, this table is set-aside in the 'Orange' arena since it hosts the late registrations. Also, unlike the other tables, photographers and railbirds surround this table. What sets this table apart the most though is the host of huge names sitting around it.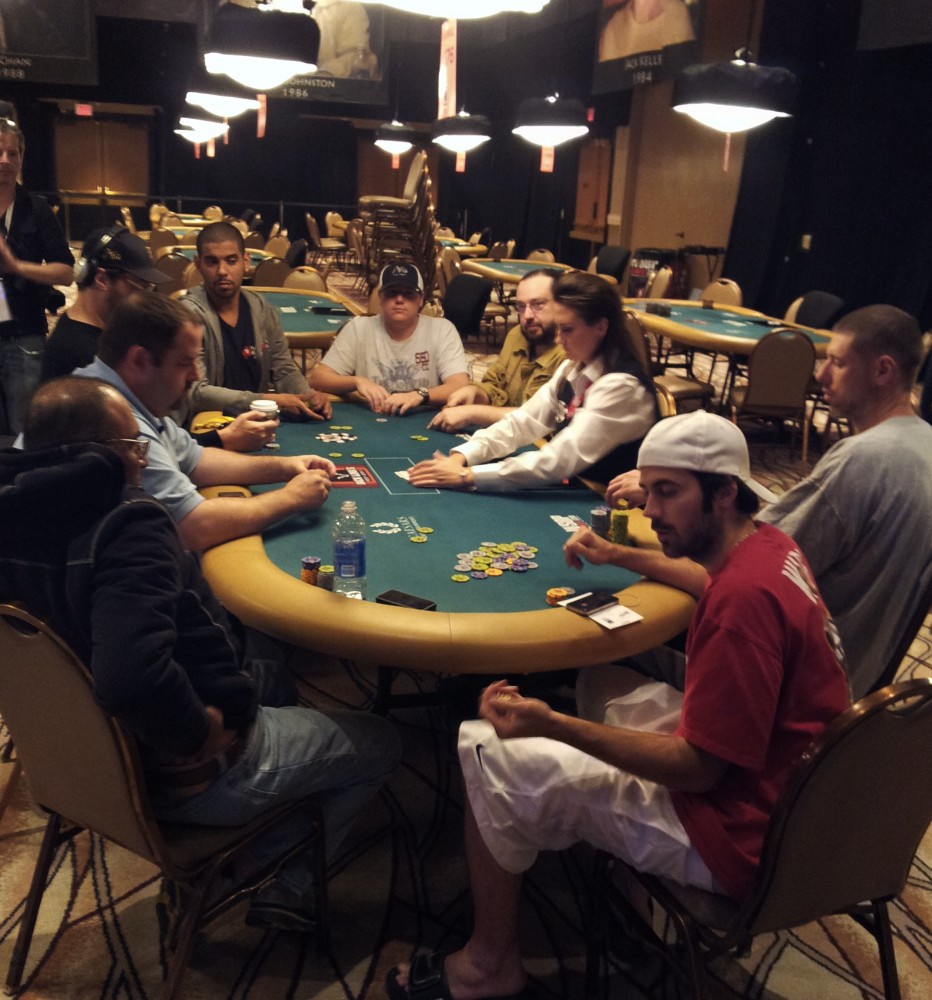 These players can't be happy that they've drawn the worst table in the whole field. Seen above are Huck Seed, Jason Mercier, Phil Hellmuth, Todd Brunsen and David Williams.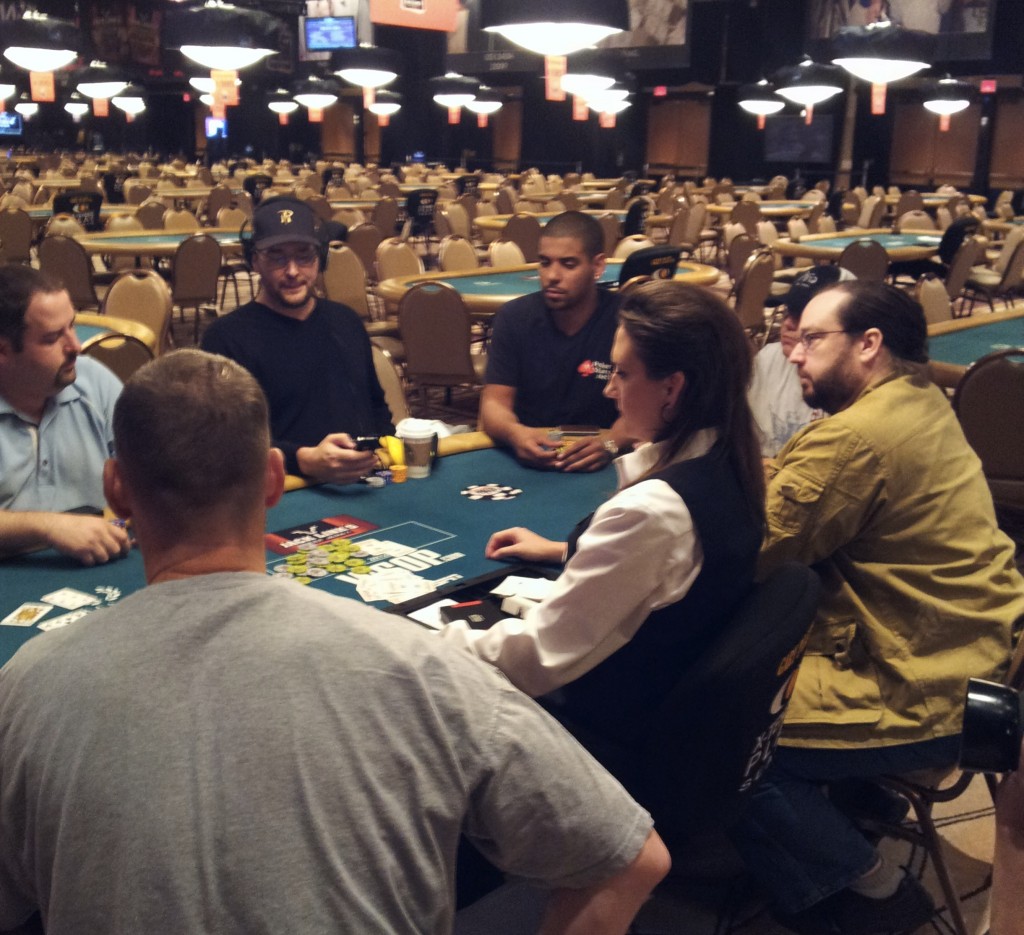 We bet if anyone was looking for some extra prop bet action this summer, this would be the table they would hang around.
Creative Railbirds
With the other final table player decided hours before, Event 6: $5,000 No-Limit Hold'em Mixed-Max Heads up battle between Aubin Cazals and Warwick Mirzikinian was dragging on for everybody. These creative railbirds found a fun way to stay amused - making balloon animals… Looks like a Frog to me?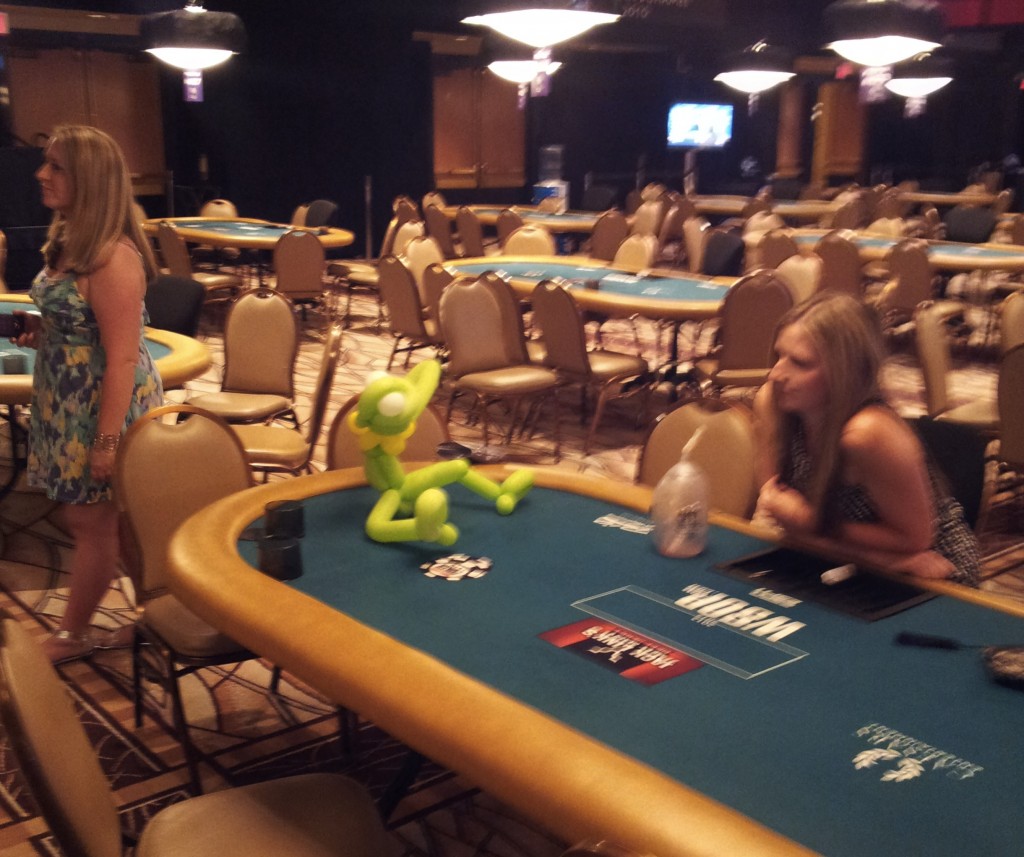 Joseph Cheung is currently still running in Event 9: $1500 No-Limit Hold'em Re-entry, so the Heads up final table between him and Aubin Cazals will likely be postponed until tomorrow at 9am. You have to feel sorry for whoever has to get up to cover that game.
Prop Bet Day 7
Apparently 25-50-100 PLO isn't enough action for the players in the Rio cash game. Luis Velador reportedly just bet an unknown grey-sweatered player in the PLO game that he couldn't throw a water bottle into a bin about 25 feet away.
Velador gave our hooded hero 7-1 on the bet. Grey-sweater, who is sitting in seat 9 in the high limit cash game section in the Pavilion room, wanted to put up 500 but Ben Lamb took half his action to make the bet 7k – 1k. Grey-sweater (pictured below next to JC Tran) made the shot in one and shipped the bounty.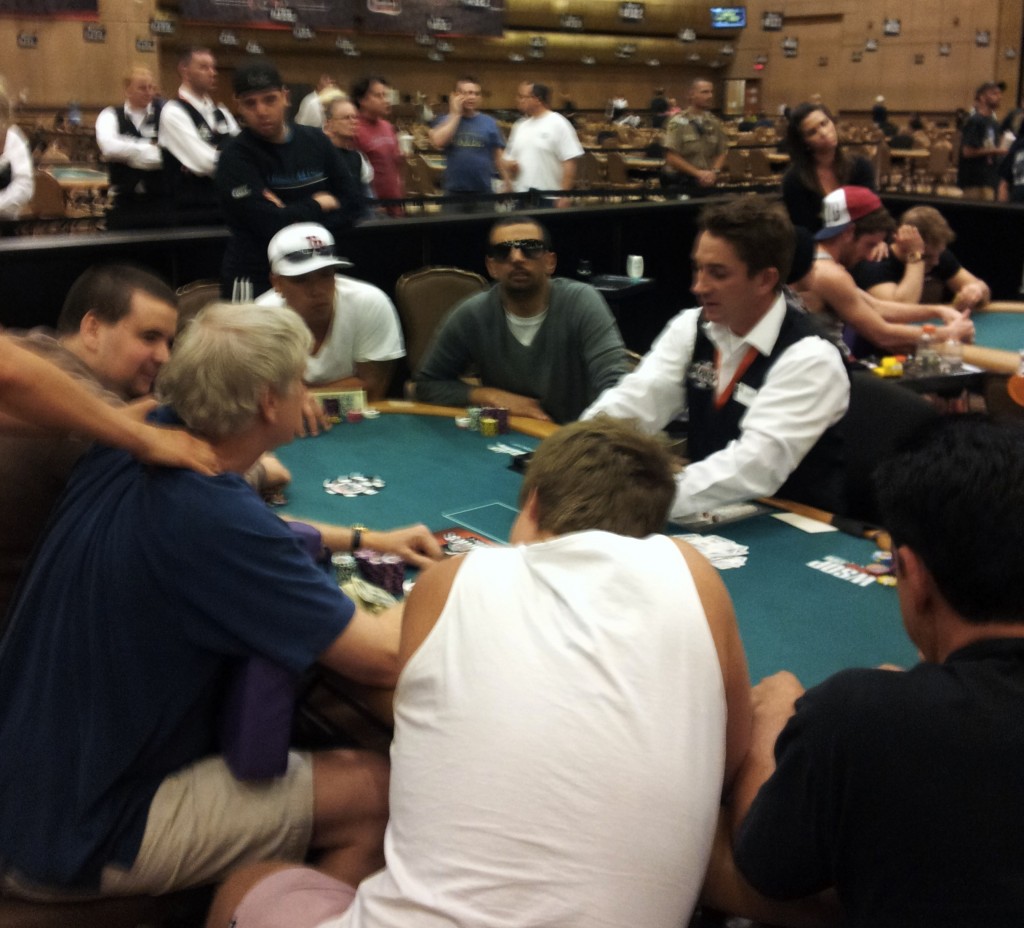 The Witching Hour: A Monster Pot
Right on the stroke of 12, after a several hour long session in the high limit area in the Pavilion, Ashton 'Ashman' Griffin stacks our mystery player 'Larry', thought to be Cadillac1944 online, for a 6 figure pot.
After a long, tense hand between Ashman, 'Larry' and Ben Lamb, Ashman scoops the pot comprising of a handful of chips and a huge bundle of cash bricks. Ashman is pictured below with a smile on his face, and the huge wads of cash resting in front of him.
We will see if the game breaks in the next few hours. Hopefully we will see this mystery man on the felt again sooner rather than later – he has created the most side action we have seen so far this year.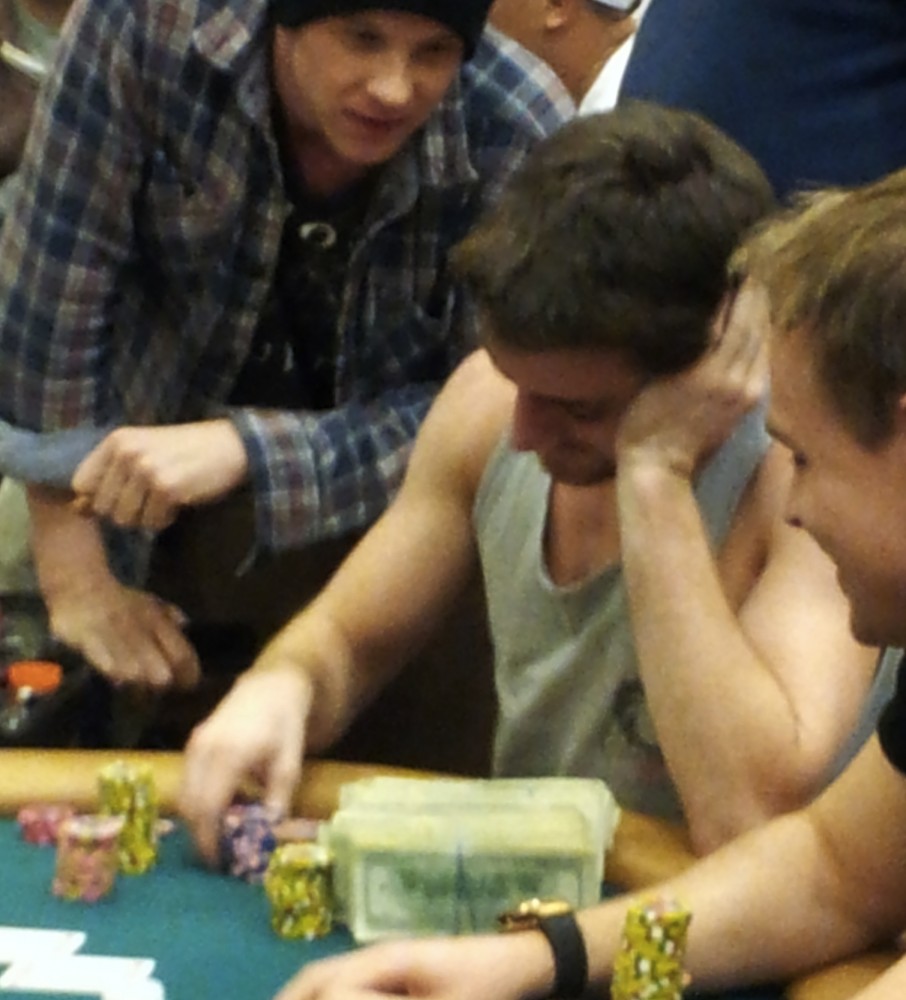 End of Days
With Event #9B $1500 No-Limit Hold'em finished up for the day, Event 6: $5,000 No-Limit Hold'em Mixed-Max Final Table postponed until tomorrow and Event #10 $5000 Seven Card Stud's atmosphere tense and serious, most of the fun and action can be found in the Pavilion room on the Sunday night shift.
Vanessa Selbst just tweeted a picture of her chip stack, with the following message.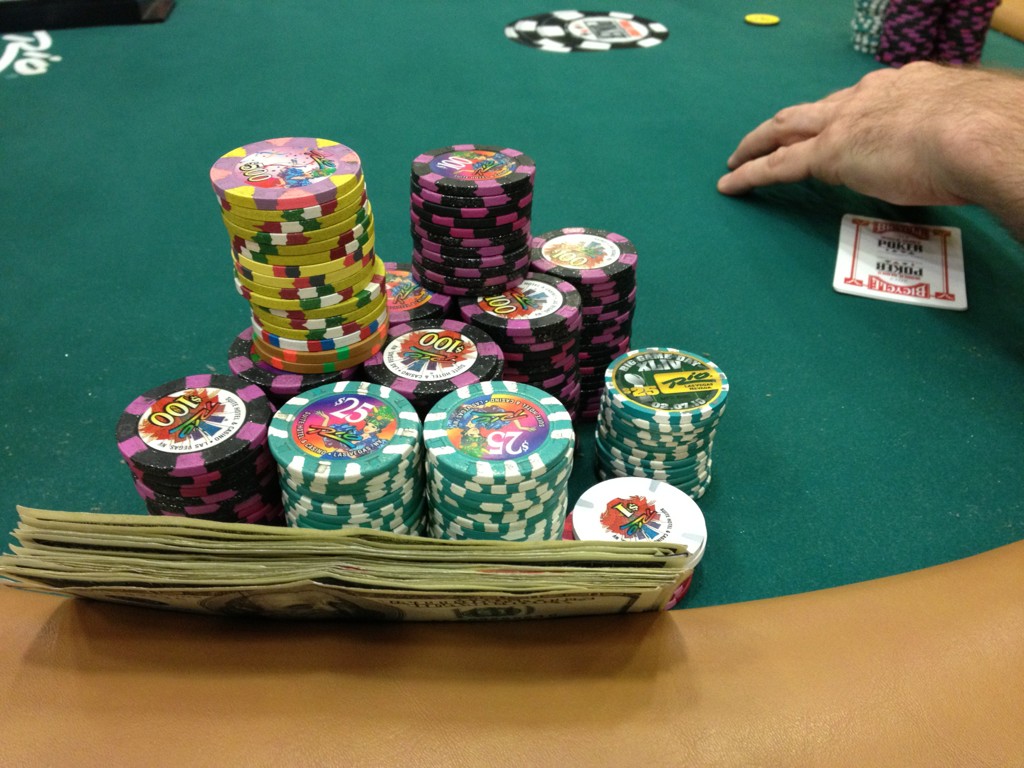 With Ashman and Vanessa having already booked big wins, we spoke to JC Tran as he looks to do the same.
"I'm playing in the 25-50-100 PLO game with Vanessa" JC Told us. "It's a good game, it's been good, but I hope the games get better as summer goes on. The bigger game (500-1000 PLO) looks good, yeah"
We asked JC who he would like to see join the cash game frenzy in the coming weeks.
"I don't care. Someone drunk and rich would be great. Yeah someone really rich" Said JC with a mischievous smile.
We encourage everyone to get involved with "The Muck." See something you think is Muck worthy? Send it to themuck@pokernews.com. We accept all media including photos and videos.