The World Series of Double Dipping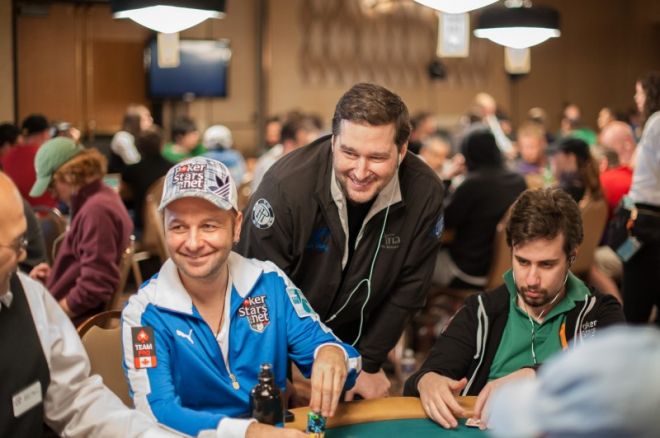 At the Rio All-Suite Hotel & Casino, it takes roughly 40 seconds to walk from the Amazon Room to the Brasilia Room. It's a 35-second trip across the hall from the Brasilia Room to the heart of the Pavilion Room. And, if you go the back way, past the dealer break room, you can make it from the Pavilion Room back to the Amazon Room in less than 30 seconds.
Of course, if you're running, like Jason Mercier, Phil Ivey, and Daniel Negreanu are, then you can probably make each trip in less than 20 seconds.
When sharing a plate of mozzarella sticks with friends, it's taboo to double dip. But, at the World Series of Poker, it's become a norm. With fantasy poker, bracelet bets, and cross-bookings abound, players feel the need to squeeze every ounce out of the schedule — even if that means playing two tournaments at the same time. Tom Dwan is one of the pioneers of live multi-tabling. In 2010, when he famously booked massive amounts of action on bracelet bets, he could be seen sprinting around the Rio daily. This small hand, captured by Eric Ramsey, is a perfect example of how dedicated Dwan was to playing as many hands as possible.

On Thursday, Ivey and Mercier were sitting at the same table in Event 6: $5,000 No-Limit Hold'em Mixed Max. After their final break of the day, the dealer was getting ready to pitch the cards, when both Mercier and Ivey came sprinting back to the table at the same time. The pair had been in the Amazon Room grinding Event 7: $1,500 Seven Card Stud.
Late Regged the 1500 stud bc I'm short in the mix max.... 8300 at 250/500. #2tabling #bracelethunting

— Jason Mercier (@JasonMercier)
Mercier mumbled something to Ivey about not being able to win a pot in stud, but Ivey was more focused on the playlist on his iPod. When Mercier was finished telling his story, Ivey responded with a very short tale of his own. It was Mercier's turn to half-listen, and he did so while sweating his cards, mucking, and then whipping out his iPhone.
I'm still uncertain as to whether or not they heard each other. Nevertheless, according to Mr. Mercier's Twitter account, the two have a yearlong bet against one another.

Negreanu was also live multi-tabling on Thursday, but, unlike Ivey and Mercier who busted from both of the events they were playing, Kid Poker made the final table of Event 5: $1,500 Pot-Limit Hold'em and made Day 2 of Event #6 as well.
I actually made day 2 of #wsop6 also. That starts at 1pm #wsop5 starts at 2pm so that helps out a bit. #doubledipping

— Daniel Negreanu (@RealKidPoker)
The question still remains: is live multi-tabling a good idea? Is it profitable? It's hard to argue against the likes of Mercier, Ivey, and Negreanu — the three men have a combined 14 WSOP bracelets and nearly $40 million in career tournament earnings — but it has to be extremely difficult to put forth a full effort when you're running back and forth from tournament to tournament. Likewise, the WSOP is a long grind, and live multi-tabling can only make it more grueling. On a recent episode of the Strategy With Kristy Podcast, Eric Froehlich told Kristy Arnett that he would never double dip because he feels like he'd be giving up too much equity.
It all comes down to the side action — if the bracelet bets are big enough, then increasing your volume is probably worth running around like a maniac. Likewise, when these players grind out a marathon cash session, they don't take a twenty-minute break every two hours. They grind, and grind, and grind, and then grind some more. There's no stopping them.
It's rumored that during Ivey's 2009 Main Event run, he played in the big game at The Bellagio nearly every night after bagging and tagging. Apparently there was a French whale in town, and the game was too profitable to miss. Perhaps that's why he forgot to recheck his cards, and folded the winning flush during a showdown with Jordan Smith.
Whether it's profitable or not, live multi-tabling is here to stay. So if you plan on traversing the hallways of the Rio during the next few weeks, be mindful of where you step. One of the world's top poker players just might come barreling into you while literally trying to chase down their next bracelet.
Follow PokerNews on Twitter for up-to-the-minute news.