All Mucked Up: 2012 World Series of Poker Day 5 Live Blog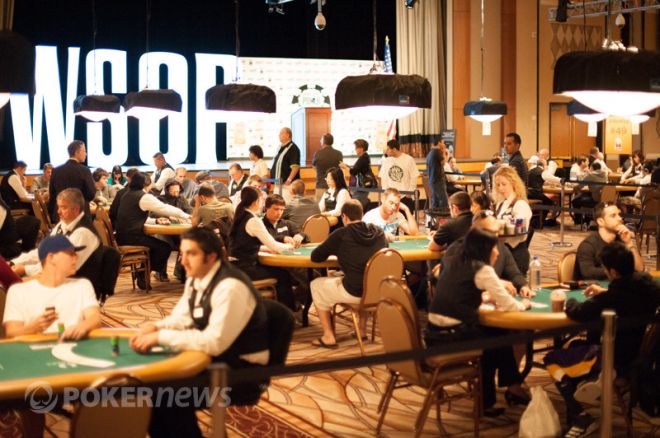 You want to know everything that's happening at the 2012 World Series of Poker and we're going to do our best to keep you in the know. Here we'll answer the hard-hitting questions like, "Are there any celebrities in the field?" Check back often, you never know what you'll find.
PokerNews Podcast
Our day started off with Allen Bari coming into the Rio to record the PokerNews Podcast. He came in complaining that he needed some chapstick, which one of our kind bloggers eventually got him. We have to give it to him though he was right on time this morning.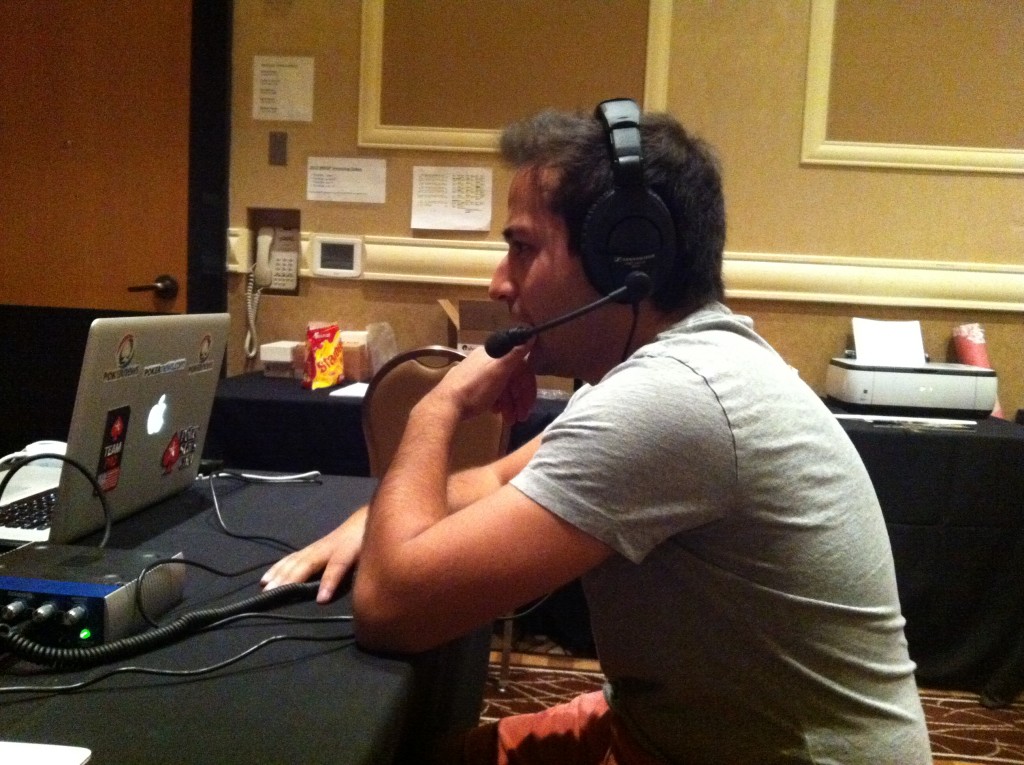 Tournament Warm Ups
We caught recent bracelet winner Leif Force with his girlfriend in Starbucks this morning, but oddly enough he wasn't drinking coffee. "No caffeine," Force said. We asked him if he has a special diet, or if he eats anything special. "Just fruit and coconut juice," Force said.
So we asked Leif what he does to warm up for tournaments and how he tries to stay focused. "I play cash games through and after the tournament," Force said. "During the one hour breaks in the heads-up I was playing pot-limit omaha, $5/$10 in the live area."
Force said the next time we'll see him in a tournament is in Friday's Event #8: $1,500 Omaha Hi-Low Split 8-or-Better, which will begin at 1200 PDT (2000 BST).
On the Lot with the WSOP Valet Team
We talked to the World Series of Poker Valet Team today to see who drives the nicest cars and who are the best tippers.
The valet team has seven members working nearly 24 hours a day, a team member told us. There are 120 spots on the lot that are constantly filled.
We asked the team member what his favorite car to drive was. "Definitely the Fisker," he said.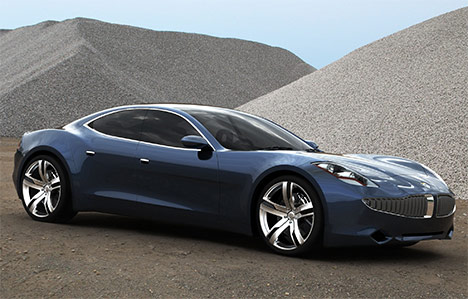 We also asked them who their favorite player was in the valet area. "Scotty Nguyen definitely," the team member said. "He talks to all of us like we were family, and I like the way he calls me baby."
The team unfortunately couldn't tell us who drives what kind of car though or who is the biggest stiff on the tip due to company policy. We'll be sure to keep an eye out on the parking lot though as pros are constantly coming in and out between tournaments and during break.
Whioutfit of the Day
We caught Brandon Garrity registering for Event #9A No-Limit Hold'em Re-entry wearing a little white on white. On the complete other end of the fashion spectrum we caught Phil "USCPhildo" Collins in the hall outside of the Amazon Room looking pretty snazzy in a suit.
Drawing Thin, Day 5
We caught up with Chad Brown in the hallway to see what he does to stay in shape and how he adjusts his diet for the World Series of Poker.
"I make sure to have my morning coffee and a protein shake," Brown said. "If I don't get a chance to go to the gym, then I make sure that I get a couple of push ups in to get my blood flowing.
Brown is a firm believer in caffeine before a tournament too. "Studies have shown that students improve their test results with caffeine," Brown said.
We wanted to get a sense of Brown's diet and workout plans as well. "The key is not to have simple carbs and sugars," Brown said. "If you do that, then you feel alert for a little while and then you crash. I always make sure to have complex cards and proteins and then I feel well rested through the day."
Brown said that it's a little difficult to keep up with his workout regiment while being at the series, but he always tries to get as much in as possible. "Usually I make sure I do cardio at least five times a week and weight training three times a week. Things get a bit clouded during the world series, but I make sure to get in as much as I can."
Prop Bets, Day 5
Allen Kessler tweeted about a prop bet between Will Failla and Mike Leah. Apparently the two men bet on how many players would be showing up to today's Event #8: Omaha Hi-Low Split 8-or-Better.
Worst @wsop prop bet so far, @willfailla bet @goleafsgoeh $5000 todays Omaha 8 field would be under 750. True over under around 950.

— allen kessler (@AllenKessler)
If you were to walk into the Brasilia room today, it would be easy to see who won.
Sexton on Diet, Fitness, and Double Dipping
We caughtMike Sexton in the Poker Kitchen today and we wanted to give him a shakedown after his double cash Thursday. Sexton was eating a personal cheese pizza from Pizza Hut and drinking a Pepsi, so we thought it would be good to see what Sexton's typical diet was like.
"I'm not the healthiest eater in the world," Sexton said. "If i'm running late, and I want to get something to eat, I'll go and get fast food." We wanted to get a sense of whether of not Sexton kept up with a fitness routine as well. "I have a membership at the Life Time Fitness club, and I wanted to start going every day or every other day, but I just haven't had the time. I've been putting in too many hours," Sexton said.
Finally, we wanted to get Sexton's thoughts on double dipping, since yesterday he was playing Event #3: Heads-up No-Limit Hold'em/Pot-Limit Omaha and Event #4: Seven Card Stud Hi-Low 8-or-Better.
"I only did it because I knew there would be breaks between the matches," Sexton said. "I wanted to enter the stud, and I thought the the matches on the second day weren't until 3PM. I've probably cashed more in the stud event than any other player at the series."
Sexton also said that it was in part because he didn't know if he wash going to win his heads up matches. "I just figured that at least if I got knocked out I could play in the stud event," Sexton said. "But I didn't get knocked out in the fourth or fifth round, but the stud tournament kept me busy between the breaks. It really worked out well for me. I was only blinded for a little bit in the stud."
Who Wore it Better?
The Micros t-shirt craze has hit the Rio.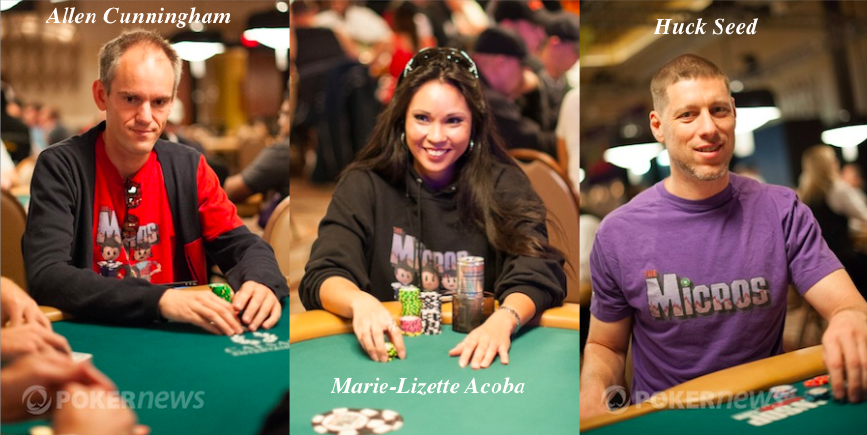 Overheard on the Event #5: $1,500 Pot-Limit Hold'em Rail: The Eames Railbirds
There is some great banter going on between John Eames and his railbirds. Here are a few gems we picked up while sitting on the rail.
"Ah, John Eames, come to have a word with the common people."
"No, he's come to throw hundred dollar bills at us!"
"Just wait the commentator is about to do some magic right now. He's going to pull a rabbit out of his hat."
"It would be better if he could pull Chris Ferguson out of his hat."
After Eames lost a pot holding
"I told him to show a deuce and he just went f****** crazy!"
Finally, Prop Bets Day Five, Part 2: The Eames vs Daniel Bet.
Some of the railbirds wanted to know who had more money in their wallet, Eames or Negreanu. Negreanu just pointed at Eames and said, "I'll bet on him."
A Game Within a Game
While walking around the Pavilion Room we saw Eli Elezra and Robert Mizrachi sitting next to each other in the Omaha Hi-Low Split-8 or Better tournament. When we got a little closer we saw they were playing Chinese Poker on an iPad during hands.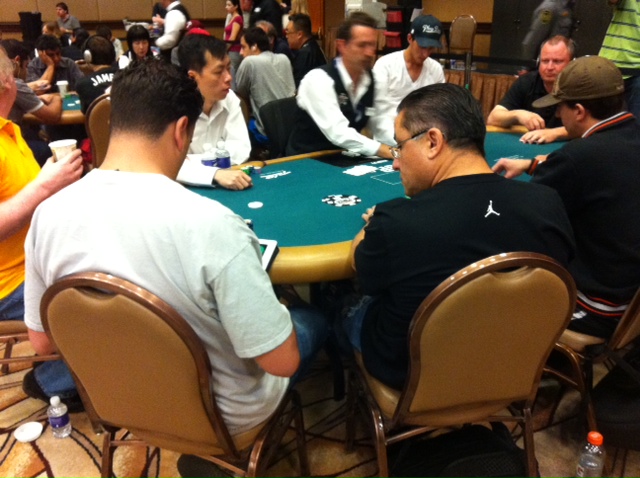 More from the Eames Rail: Eames Goes Busto
We thought it would be a good idea to catch back up with the Eames rail. Just as we were walking in, a player was eliminated, Eames moved up the pay ladder, and the Eames rail began to cheer joyfully.
"We just went from Pizza to steak!" could be heard throughout the Amazon room.
"We'll be drinking a bit more expensive beer tonight!"
Some of the John Eames railbirds had shirts made up for final table. We made sure to get a picture of the shirt.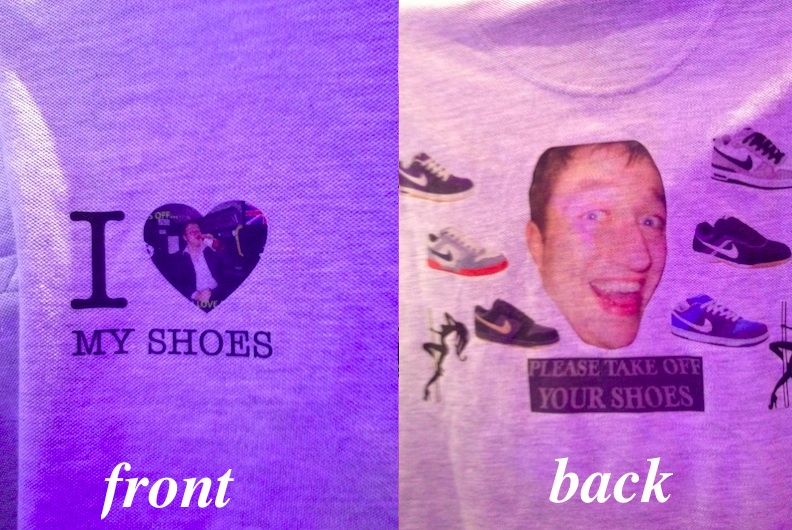 "See if you can get Daniel to wear this Eames," one of the railbirds said as he tossed the shirt over to Eames.
"I look pretty good in what I'm wearing now," Daniel said.
Some of the other spectators were complaining about not being able to see any of the cards on the screen above the final table.
"Maybe we could get some graphics or something," someone said.
"I'm more interested in cards with flames on them," an Eames railbird said. "Maybe they could get like moving pictures, and they could be medieval themed. You know, like the two of gargoyles that would look at you and stuff, or the four of dragons that breathes fire on screen."
"They should just play with nudie cards to make it interesting," another railbird said.
Finally, Eames was eliminated in 8th place for $18,529.
"I can't believe I turned down listening to the air conditioner alone in my room to come out to this," One of the birds said.
Action has calmed down in the Amazon room after Eames' elimination, so if you want to catch more action from Event #5, you'll have to check out the live reporting blog.
Jimmy Fricke on the rail of Event #5: Pot Limit Hold'em Final Table
In the hour before his Omaha 8 game began, Jimmy Fricke was spotted on the rail for the final table of Event #5, getting behind CardRunner pro Bryan 'PrimordialAA' Pellegrino. Jimmy doesn't have any action booked on Pellegrino but "plays a lot of 'Heroes of Newerth' online with him."
Jimmy's a very receptive guy, but be careful to get his name right when you speak. As man walked past and greeted him with "What's up Frippy?" Jimmy sarcastically remarked "That was pretty close, and he said it with enough confidence that I can't be mad".
Bad Beat Stories From The Dealer Break Room
We caught up with some Rio dealers who were hanging out in the break room and we asked them about some of the baddest beats they've ever dealt. The first dealer we spoke to told us about a pot he dealt in a $5/$10 Omaha cash game.
"There was a preflop raise and both players were in for $180 each. The flop came out
. The first player, guy in seat five, bet out for $600. The guy in seat nine raised to $1200. The turn came a
. The guy in seat five goes all in for over $3,000, and the guy in seat 9 called pretty quick. The river came down
. Seat 5 had a set of Jacks, and seat 9 had turned a set of Kings. That pot was over $8,000."
"I can top that," another dealer said. "I was dealing a $5/$10 No-limit cash game, both players get all the money in before the flop. There's over $10,000 in the pot. The first guy had
, the other guy had
. The flop comes down
. The turn is a
. The river is a
."
There is currently around 1,200 dealers working at the Rio, so there must be a tons of bad beat stories floating around. We'll be sure to add more as wel hear them.
How Are the Sales?
We spoke with an employee, who asked that we didn't include her name, at theCardoza Publishing booth today to see how book sales are going and to see if there are any pros buying books.
"We usually sell about 20 books a day," the employee said. "The most popular, I would say, are Ed Miller's books and the Harrington collection."
At the booth, the Ed Miller books, Playing the Player and How to Read Hands at No-Limit Hold'em go for $50 each, and each of the Harrington on Hold'em books goes for $32.
We asked the employee if there are any pros who come by and buy books too.
"Yesterday there was a pro who came by and bought a book," the employee said. "I can't think of his name, but he was kind of a short stocky guy, with tight curly hair wearing an Aria hat. Barry Greenstein also comes by every day to check in and see how his book is doing."
We asked the employee if Barry has ever bought a copy of Ace on the River to give to the player he knocks out, and she said no.
Next Saturday, June 9, Ed Miller will be at the Cardoza Publishing booth in the Rio signing autographed copies of his book, so be sure to be there.
Ashton Griffin: On Basketball and Prop Bets
We caught Ashton Griffin watching the NBA Finals: Miami Heat vs. Boston Celtics Game #3. We wanted to see if he had any money on the game and if he had any prop bets going on for this years World Series of Poker.
"No money on the game," Griffin said. "But I'm rooting for Boston, because I don't like the Miami fans. I'm from Florida."
We asked him what he thought aboutJason Mercier, since Mercier sports his Heat t-shirts and jerseys on a daily basis.
"I know he has a lot of money on the series," Griffin said. "Me and him have always got along, so I'm rooting for him, but I'd like to see Boston take it to game seven, because they are the only team that I think has a chance to beat San Antonio."
We asked Griffin if he had any prop bets going on for this years series as well. "Nothing crazy," he said. "I'm just a grinder now."
Finally, we asked Ashton which poker players he would pick to be on his basketball team if he had one.
"Aaron Jones is pretty good, and I hear he has a good shot," he said. "I'd probably take Mercier too. And Jason Koon is really big and strong looking so I'd take him too."
5k Mixed Max Bubble
Event #6 No-Limit Hold'em Mixed Max is down to the final 45 players and that means we are hand for hand here until the bubble is burst. It can get kind of boring waiting around for other tables to finish so some players are filling that time by playing games. We caught Kyle Julius wearing a groutfit and playing Whale Trail.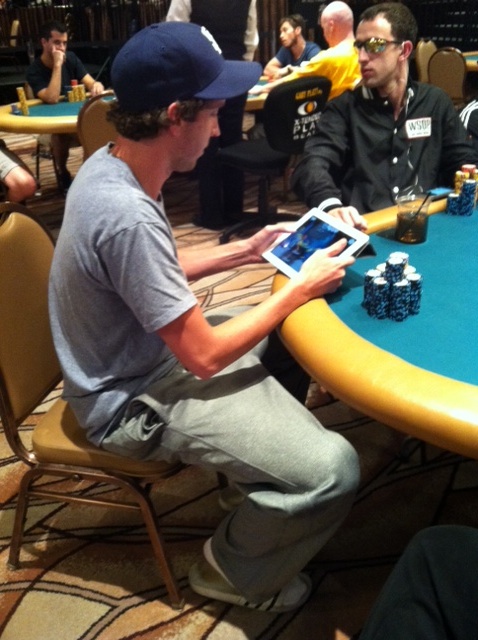 Aaron "aejones" Jones and Olivier Busquet Talk Basketball
Since Ashton Griffin talked up how good a basketball player Aaron Jones was, we had to ask him about it. We also asked who he'd pick for his fantasy poker basketball team, and here's what he and Olivier Busquet had to say.
Santana tosses a "no-no"
Johan Santana threw the first no-hitter in New York Met's history today to the delight of several poker pros.
Been way too long. Congrats to Johan Santana for pitching the 1st no-hitter in the history of the Mets #Finally

— Cliff Josephy (@JohnnyBaxPoker)
Been waiting 35 years for a #NYM no hitter!!!! #loveit #Santana #ThanksJohan

— Peter Lubrano (@petegotaplan)
LG's Favorite Destinations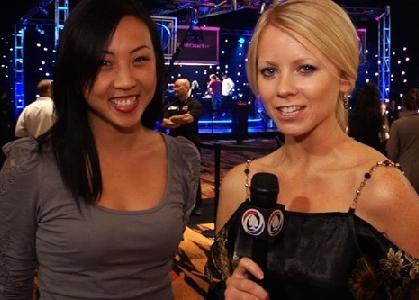 We asked, PokerNews' own, Lynn Gilmartin, what her top three favorite tournament stops are around the globe. The jetsetter just returned two days ago from covering the PokerStars.net LAPT in Uruguay.
"Queeenstown, New Zealand," said Gilmartin. "The ski resort is amazing. Melbourne, for the Aussie Millions, and Berlin, for the Pokerstars.net EPT."
Make sure to tune in to PokerNews.com for the latest on LG as she'll be covering the WSOP.
If They Didn't Play Poker
Imagine a parallel universe…a world where poker didn't exist. What occupations would the pros pursue?
"Pool player, " said PokerStars pro Victor Ramdim.
"Something with music, said Marvin Rettenmaier. "I sing, play guitar, and piano. I would want to be like P Diddy."
"Become part of a movement for a new form of media, said Olivier Busquet. "Too much of it is corporate controlled. I would like to challenge the status quo."
Stay tuned, as we'll be posting the reactions of other pros during the WSOP.
Plan B
Did you bust a tournament? Looking for something to do? There's plenty of action to be had at the Rio cash games. We spotted a few notables playing tonight.
Teddy, "The Iceman" Monroe, was spotted at a $20/$40 Limit Hold'em game.
Cindy Violette, grinding a $50/$100 Stud-8 game.
PokerStars pro David Williams, was waiting for a $10/$20 No-Limit Hold'em game to start.
WPT champ Dwyte Pilgrim was seated at a $5/$10 No-Limit Hold'em game.
Midnight Run
The clock struck midnight when we caught up with Robert Iler. Rob was taking a break from the cash games. He played A.J. on the HBO show The Sopranos.
What cash game are you playing?
Just some 1-3 (No-Limit Hold'em) right now. I'm saving my money for the events (WSOP).
How the cash games going for you?
Great! I haven't walked away a loser yet so far.
How's the WSOP going for you?
Made a run in the 1500 the other day but went out on a bad beat.
What happened?
It was the last hand before break. I look at my first hole card and it's a deuce. I was like, cool, as long the next one isn't a deuce I was gonna hang with Antonio (Antonio Esfandiari), since we live in the same building. Sure enough the next card was a deuce. So, under-the-gun raised. I called. Flop comes
. I bet out 800. Guy raises to 2600 and I re-raise to 5400. We get it all-in for 15k stacks effective. He turns over
. Turn is an
and the river is a
Watch for Rob on Saturday. He plans on playing Event #9, No-Limit Hold-em Re-Entry.
Last Call
Need a drink after a bad beat? There's a bar located in the hallway of the Amazon room, which is open all night. We spoke to the bartender, Hal, to see if any notables stopped by the watering hole today.
"Phil Hellmuth stopped by earlier and had some Glenlivet," said Hal. He stops by "every once in awhile for a shot."
We encourage everyone to get involved with "The Muck." See something you think is Muck worthy? Send it to themuck@pokernews.com. We accept all media including photos and videos.