All Mucked Up: 2012 World Series of Poker Day 8 Live Blog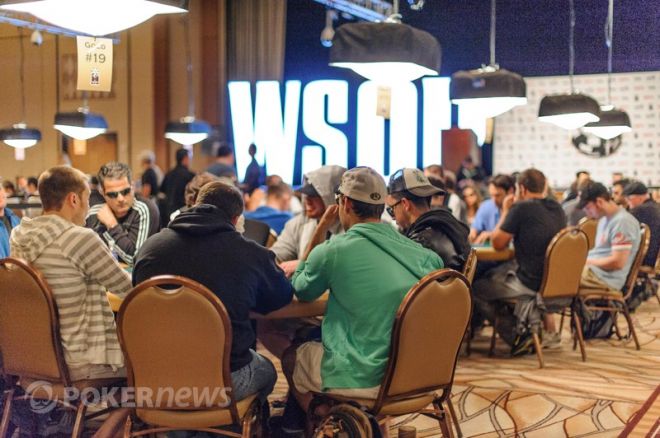 You want to know everything that's happening at the 2012 World Series of Poker and we're going to do our best to keep you in the know. Here we'll answer the hard-hitting questions like, "Are there any celebrities in the field?" Check back often, you never know what you'll find.
The Morning Grind, Day 9
We caught up with Matt Glantz on his way out of Starbucks too see what his morning grind is like and how he prepares for long tournament days.
"I don't usually do much," Matt said. "I usually have stuff to do in the morning, family stuff or work stuff. And today i'm doing some stuff with the media. I'm going to be on the Dennis Phillips radio show."
We asked Matt if he has anything special for breakfast before a tournament, or if he has a special workout. "I'm not really a breakfast guy," Glantz replied. "But I liked to go to the gym and hop on the treadmill if I can."
We also saw that Matt was carrying a Starbucks cup with him, so we wanted to see if he was drinking anything special. "Black iced tea," he said. Glantz will return today for Event #10: $5,000 Seven Card Stud, but told us that he was one of the shortest stacks in the field.
All Quiet on the Western Rail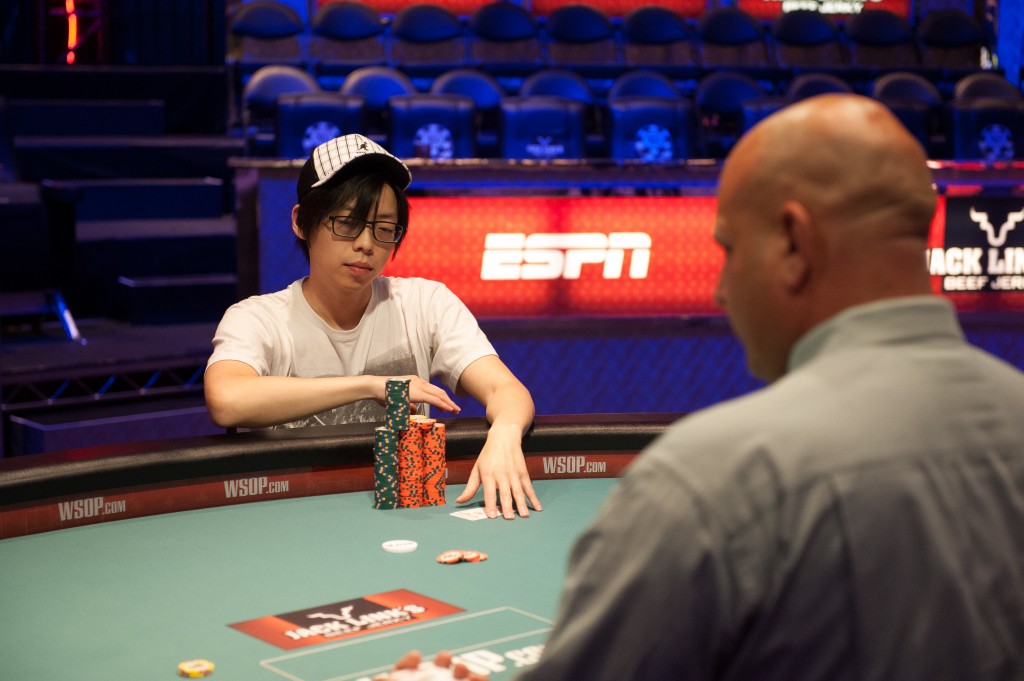 We went to check out the rail for Event #6: $5,000 No-Limit Hold'em Mix-Maxed event only to find that there was hardly anyone there. There were only 10 seats in the Thunderdome filled up and everyone was quiet as Joseph Cheong andAubin Cazals unbagged their chips.
Even Cheong and Cazals were even quiet as they whispered to each other across the table. No one is drinking, clapping, or cheering when someone drags a pot.
It must be a Monday.
The players are stating at 4000/8000 levels with a 1000 ante and over 3,000,000 chips each, so this is set to be a long match up. We'll be sure to catch up and see if the rail is any livelier later.
New Chairs in The House
If you are familiar with the Rio and the World Series of Poker set up, you will remember these old beat up chairs: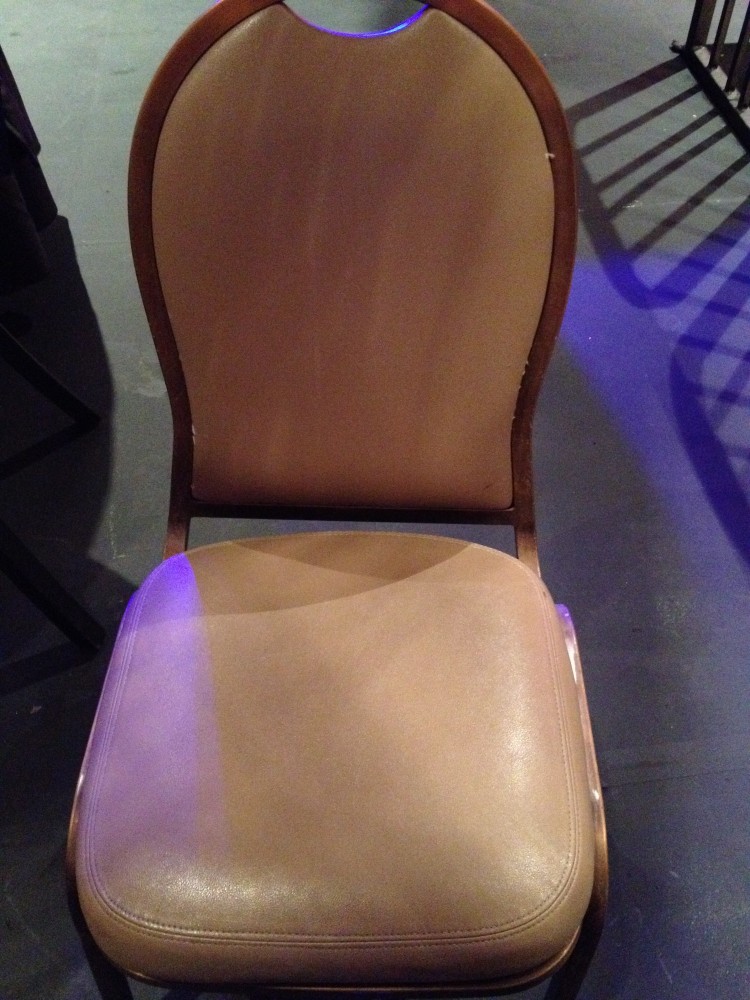 Yesterday over 800 new chairs were delivered to the Amazon room. We managed to get a few pictures so you could take a look at them: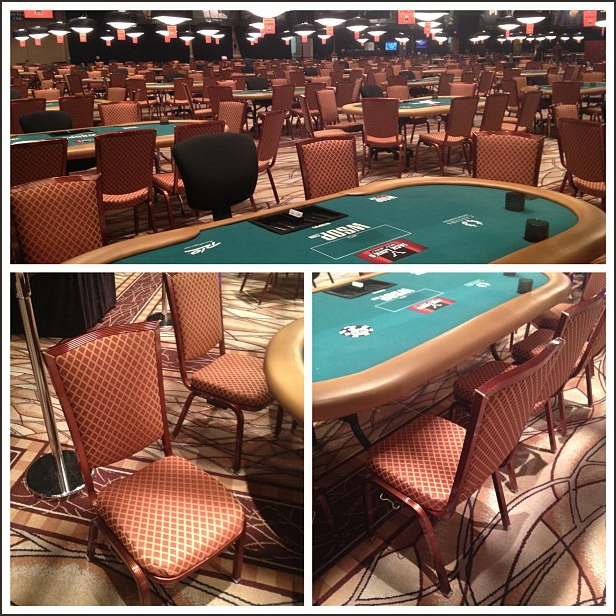 We'll be sure to get a few reactions from players about the new chairs to see how they're liking them.
What's On Your Head?
We saw this hat today while wandering through the Amazon Room in the Event #9: $1,500 No-Limit Hold'em Re-Entry restart.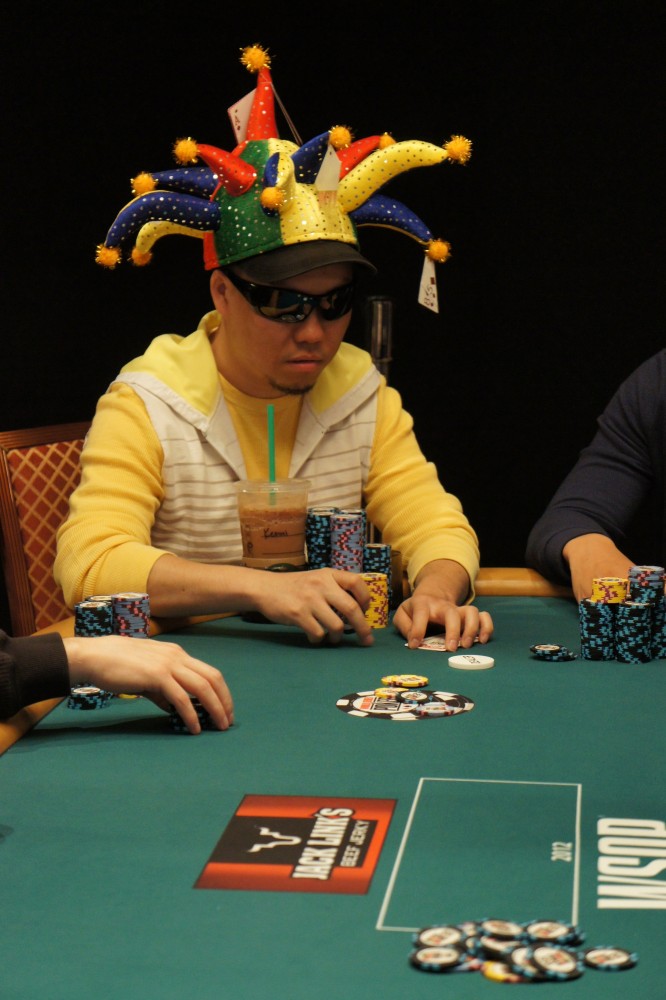 The hat belongs to Kennii Nguyen. When we asked him if he was wearing the hat for any special reason, Nguyen simply replied, "I love the hat. And people can see what hands I win with."
Are These The Biggest Games You Have?
We talked with Live Game Supervisor Michael Bickford today about the giant $500/$1000 cash game that sprung up in the Rio Sunday.
"Usually on weekends the games get pretty big," Bickford said. "So far this year, that's the biggest one."
We also asked Bickford what the biggest game ever played in the Rio was. "Last year we had a $1000/$2000 Pot-Limit Omaha game. All I can really say is that every year PLO is getting bigger, there is more and more games, and more and more players."
3bet Poker Clothing Hopes to Be the New Face of Poker Clothing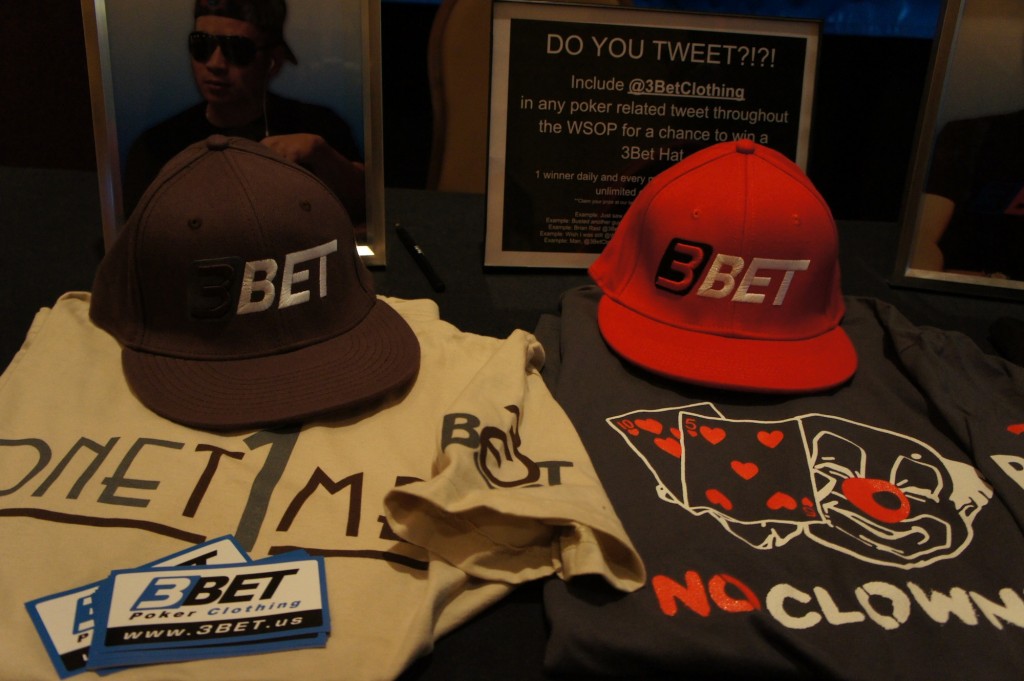 With Full Tilt out of the mix and many players playing unsponsored and patchless, 3bet Poker Clothing hopes to open up a new market for poker players. We found 3bet Clothing had a table set up in the Rio today, so we went to find out what the deal was.
"We've been doing this for about 6 months," an employee told us. "We're based in Los Angeles."
The booth is not selling any products, because it would create competition for the World Series of Poker brand clothes, so they are just raising awareness about the brand.
The company also sponsors several pros such as Jonathan Little, Brian Rast andJohn 'The Razor' Phan, who are also co-owners.
Currently 3bet is also running several promotions linked to their mailing list and to twitter. One lucky person on their mailing list will receive $500 cash, another will receive a one hour coaching lesson from Jonathan Little. Also, anyone who has a tweet mentioning @3betclothing has a chance to win a free hat.
The 3bet table is set up just outside the Brasilia Room so if you're in the area make sure to check it out or you can check out 3bet Poker Clothing's Website.
Who Wore it Best?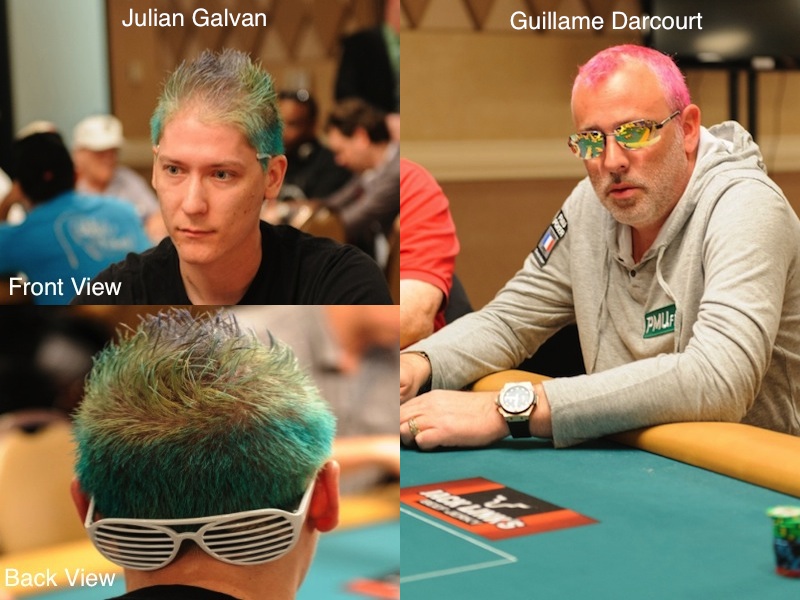 Prop Bets And Bad Beats From The Dealer Break Room
We caught up with some dealers in the break room to see if there were any interesting prop bets going on.
"Yesterday I saw a guy get bet $150 dollars to get up and do the worm," one dealer said. "The guy was like 375 pounds though, so it was pretty fun to watch."
We also asked the dealers about any bad beats they've dealt.
"The worst one I've seen so far, I dealt three diamonds out on the flop and three people flopped a flush. And I deal a lot of aces vs kings, and set over sets."
What's In Your Cup?
We stopped by the Rio's only cash bar right outside the Pavilion room to see if any pro's ever stop by and what drinks are the most popular.
"Scotty Nguyen stops by sometimes," one of the bartenders said. "Beers are the most popular, but when people start getting crazy they all like to do Jäger bombs."
The bar is most popular between the hours of 8 P.M. and 2 A.M. at the late hours of the night. If we catch any pros stopping by the bar, we'll be sure to see what they're drinking.
Bad Beat Stories We Didn't Want To Hear
As we were roaming the Amazon room searching for some stories, a player approached us and asked if we were poker media. We told him we were.
"I have a good story for you," the man tells us with a mediterranean accent. "You want to hear this."
The man takes out his ID card and insists that we take down his name letter-perfect. He even pronounces it for us, incase this makes the evening news.
"Flam-inio Mal-a-guti," he enunciated for us. "Ok so I was playing and I had AK, both diamonds"
At this point the writer was confused, but dutifully scribbled down the details of the story.
"Flop comes AA2 and another player moves in on me. I call of course and he shows A7. Turn comes a Queen I believe."
At this point the master story teller pauses dramatically and gives the writer a knowing look, as if to say 'This is where it gets outrageous.'
"The river comes... a seven."
After a long pause to take it all in we breathlessly thank the man and scurry back to PokerNews HQ to write up the scoop.
"Good S**t eh?" He calls after us, through the Amazon room.
Floor!
We missed drama unfold, but we saw what might be the most interesting floor call so far at the World Series of Poker. Here's the story from Todd Brunson's twitter:
So David singer is in the 7 seat. The trash can is on the opposite side of the table. He throws his gum and it lands on a chair where.....

— Todd Brunson (@ToddBrunson)
A guy is eating in the 2 seat. The guy calls David a mf and says davids gonna catch a right cross after the wsop. Now David actually calls..

— Todd Brunson (@ToddBrunson)
The floor and wants the other guy to have a penalty. When the floor refuses, David asks for security... Lol

— Todd Brunson (@ToddBrunson)
And now David is following the floor man around demanding he do something... If I ever throw my gum into someones food, please punch me asap

— Todd Brunson (@ToddBrunson)
If I ever need to learn manners as bad as he does I would be grateful for a punch in the face

— Todd Brunson (@ToddBrunson)
Drawing Thin Day 8
We met up with David 'Raptor' Benefield in the hallway outside Event #11 $1500 Pot-Limit Omaha to discuss how he likes to stay fit during the series.
"Well exercise is important, so we played some flag football last night. Myself, Hac Dang, Jason Koon and a ton of other poker players".
"I'm staying at Durrrr's house so there are loads of us around. Durrrr isn't there though, he's in Macau still".
"I played basketball with Jason Mercier and Aaron Jones last week too; I think we'll do that a lot. I've also been to the gym a few times"
We asked Raptor what kind of food he ate as well.
"I try to eat clean all the time so nothing different. Let me think, I eat shakes in the morning, nuts and beef jerky. A lot of people get All American Dave's food and that looks really good, I might try that. It's so ridiculous that he's not allowed deliver to the casino now though"
Return of the Mystery Man
While wandering through the 'poker kitchen' in the Rio we spotted the big cash player, 'Larry', from yesterdays game. The media shy PLO player was playing 500/1000 PLO with Patrik Antonius, Ashton 'Ashman' Griffin and Andrew Robl from early in the day until late in the evening before going broke.
Thought to be 'Cadillac1944' online, the mystery high staker politely refused our request of an interview, and yesterday requested that we don't take any pictures of him and post them online. With him back in the building, we may see some big cash action go down this evening in the Pavilion room. We will keep you posted as to who is playing in the games.
On Break in Event #10: $5,000 Seven Card Stud
We caught a couple players sitting and standing around the T.V. near the event watching the Oklahoma City Thunder and San Antonio Spurs Game. Among them was Huck Seed, Mike Sexton, Nacho Barbero, Cyndy Violette, and Annie Duke.
Duke and Sexton were talking about how Duke's daughter wanted to audition for the X-Factor. Seed and Barbero were both trying to watch the game.
Then Duke and Violette began to talk about each other's daughters. Violette told Duke that her poker book is the only one that her daughter will read. Duke then offered to give her a signed copy from her car.
Violette was standing in front of the T.V. in a way that no one could see the game, and finally Seed said, "Cyndy you're pretty and everything, but you're not that pretty." Violette was confused at first, but finally realized she was standing right in front of the television and moved.
We'll be sure to see what other kind of interactions the pros have during their breaks here at the World Series of Poker.
Timex on the Jared Bleznick challenge
We spoke to Mike 'Timex' McDonald on dinner break from Event #11 $1500 Pot-Limit Omaha about how he was doing today.
"I'm actually doing really well; I think I'm in good shape. I just lost a big pot but everything's going well".
We asked Mike about Jared Bleznick's tweeted challenge from before the World Series began, shown below, and whether he would take Jared on if he won the PLO event today.
Anyone who wins a bracelet this year i will play heads up in the game that they won the bracelet in. And give 10 pct back on there losses.

— Jared Bleznick (@harrington25)
Mike Told us:
"No way. He's one of the best in the world at Heads Up PLO cash".
"Honestly, I'm not that good at PLO. In a tournament like today, I think I have a good edge, because I can apply tournament concepts so well and adapt them for PLO. It's not because I'm necessarily great at PLO".
"I think whoever wins the 10k Heads Up No-Limit Hold'em tomorrow should play him though. I think that person is likely to, and whoever wins the HORSE will be likely to".
Timex went on to tell us about why Jared put the bet up, and what games he might take the bet in.
"Most people that win bracelets aren't going to be that good at Heads Up cash" Mike told us. "Jared is counting on that. I think if I won the 10k Heads Up then I could play him, but I think I'd still pass".
"I'm not that good at Heads Up Hold'em either, but I think if I had some time I could learn it. I think I could get to his level. I also think 10% juice is too much to give up when playing Heads Up Hold'em."
"I'm probably not playing the 10k Heads Up tomorrow, but if it was and I won I most likely wouldn't play Jared. It's a cool challenge though, and I'm going to follow it to see who takes it up".
We're going to be following it too, and get some other players reactions to the Jared Bleznick challenge.
Return of the Mystery Man, Part 2
Players are on dinner break, so we took a stroll through the cash games to see what was going on. Yesterday we reported a $500-$1000 Pot-Limit Omaha game that included, Patrick Antonius, Andrew Robl, and a "mystery man."
The "mystery man," armed with his trademark cigar, was just seen sitting alone at a cash game table. Is he waiting on another big game? Stay tuned for updates.
Return of the Mystery Man, Part 3
We spoke to a big name player in one of today's 25/50/100 PLO games in the Pavilion room. He told us he overheard 'Larry' talking with Ben 'Ben86' Tollerene about playing some Heads Up later on in the Rio. Rumour has it that Ben56 will be giving 'Larry' back 15% on his losses and that the game will go down this evening once 'Larry' picks up some money.
We'll make sure to get you the latest scoop when we have it.
JRB Slowroll?
On Saturday, Jean-Robert Bellande tweeted that he'd be making a "sic" announcement regarding the One-Drop.
I have a sic announcement to make regarding the million dollar buy-in tourney. I will tweet it at 5p tomorrow.

— Jean-Robert Bellande (@BrokeLivingJRB)
The announcement never came, but he tweeted yesterday to expect a statement tomorrow.
Tweeps! I sincerely apologize for not making my announcement yet. A meeting got delayed. I'll announce regarding 1-drop on tues at 5pm.

— Jean-Robert Bellande (@BrokeLivingJRB)
Just as the dinner break concluded we had a quick chat with Jean-Robert Bellande as he was taking his seat in the $1,500 Pot-Limit Omaha tournament.
When asked if we can count on an announcement tomorrow, JRB replied, "Probably."
People have taken to twitter wanting answers.
the @BrokeLivingJRB twitter slow-roll, this is new way for him to announce being broke

— jamie (@fatcat5000)
Will he be playing in the One Drop? We can't say for sure, but we'll keep you posted.
JRB and Raptor on Jared Bleznick's Challenge
We're getting more reactions to Bleznick's challenge. We asked JRB if he would accept.
"That's a good question…certainly not in PLO," said Bellande.
Jared is a heads up PLO specialist, but Bellande would consider it if concessions were made.
"Providing he coughs up five cards, said Bellande.
He's referring to a heads-up match in 2010 when Bleznick allowed JRB five hole cards. In Pot-Limit Omaha players are dealt only four. You can view the YouTube video where JRB recall the game.
We asked David, "Raptor," Benefield as well. He's up for the challenge.
"I'm playing the 10k No-Limit Hold'em Heads Up tomorrow and I think I would play him if I won that," Raptor told us. "I would definitely take it with 10% back. I think Jared's really good at PLO and really good at mixed games, but you can't challenge people to any one of ten games giving 10% back and expect that to be a good bet."
When asked what he thought of JRB's chances?
"I heard about Jared spotting JRB an extra card at PLO too. I don't think that's as bad, I think JRB might not be very good at PLO."
Who Ya Got?
Players were huddled by the TV in the Brasilia room, watching game five of the Western Conference Finals between the Oklahoma City Thunder and the San Antonio Spurs. Among those watching was high stakes pro, Chau Giang.
We asked him if he's got any bets on the series.
"Not on this game. I'm a big fan of Boston. Boston is my favorite," said Giang, while wearing a ball cap with a shamrock on it.
Giang does have action on the Eastern Conference Finals.
"If Boston wins I'll get 20k."
Let's Order Chinese Tonight
It seems we always find something interesting when cruising the Rio cash games during break. We spotted PokerStars pro Barry Greenstein and Phil Hellmuth playing Chinese Poker at a $100/point with a minimum $500 buy-in.
Hellmuth Canned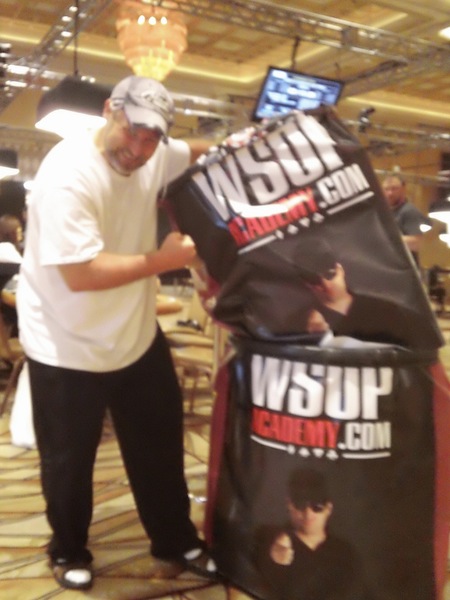 Revenge is a dish best served cold for poker pro Chris Tryba. The Boston native knocked out Phil Hellmuth from Event 11: $1,500 Pot-Limit Omaha. Tryba's
beat Phil's
all in pre-flop after a
flopped.
Chris has been waiting eight years to return the favor. "The Poker Brat" knocked out Tryba in the 2004 Foxwoods Main Event, No-Limit Hold'em tournament on a bad beat.
"I was at a table with Allan Cunningham, Phil Hellmuth, Phil Ivey, Jeff Schulman, and Bob Stupak. I was crushing the table," said Tryba. "I raised with kings and Hellmuth flatted from the blinds. The flop came k56 or whatever."
According to Tryba, Hellmuth led out on all streets; Chris called him down only to lose to a rivered gut-shot. Chris said he lost all momentum after that hand.
"Phil was all pumped and excited and did this whole dance. It really affected me."
When asked how he felt after returning the favor to Hellmuth, Tryba replied "F**k him!"
Big Names With Big Stacks
There's 51 left in the $1,500 re-entry, No-Limit Hold'em tournament and the railbirds are chirping on one particular table. Two-time bracelet winner Brian Rast, Ari 'Bodog Ari' Engel,Bryan 'theczar19' Piccioli, and PokerStars pro Jonathan Duhamel are battling for the $781,398 first prize.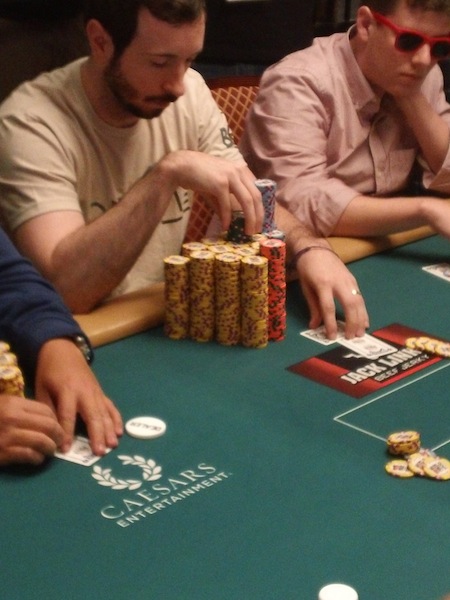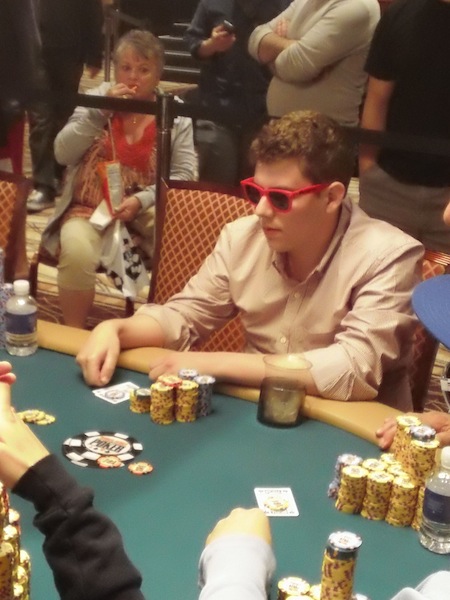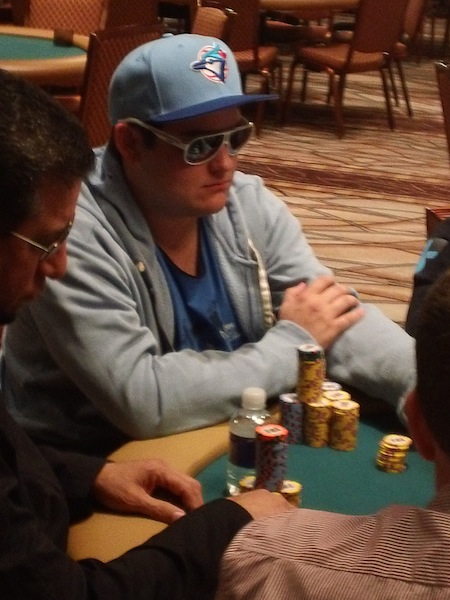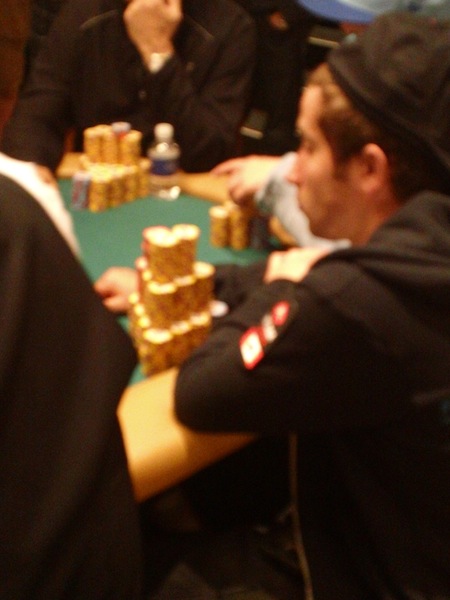 Return of the "Mystery Man" part 4
Ben 'Ben86' Tollerene was spotted at 1:23 am, playing $500-$1000 Pot-Limit Omaha, heads up against 'Larry.' There's no telling how long the game will go.
More Prop Bets
We're always on the lookout for prop bets and we happened to find one. PaulGees81 took a short break in his heads up cash game to take one on.
The bet? To sink a water bottle from a distance of about 30 feet into a trash can. It only took Paul two attempts to sink one. The bet was $100 at 9-1.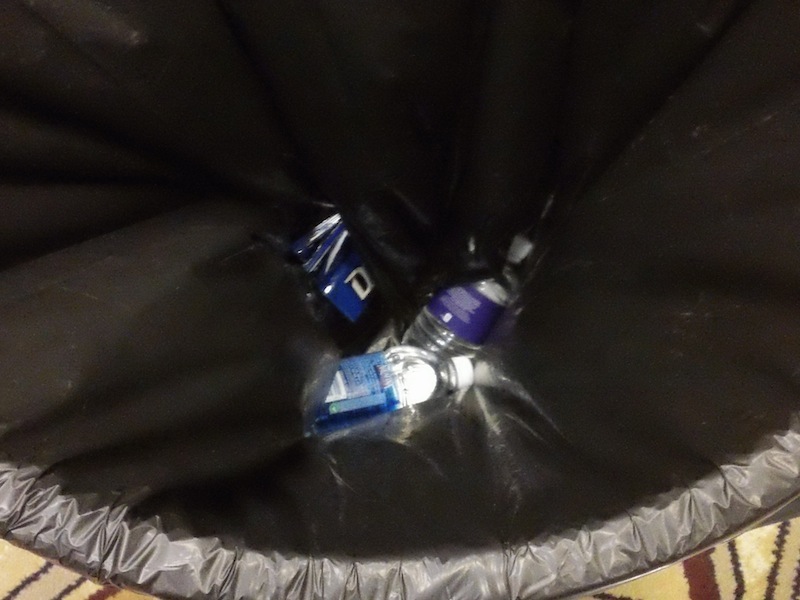 Double Cash for Nick Schulman
The money bubble in the $5,000 Seven Card Stud Event broke just before 3 am. It wasFreddie Ellis who fell short of the money. Ellis won a bracelet in the same event back in 2009.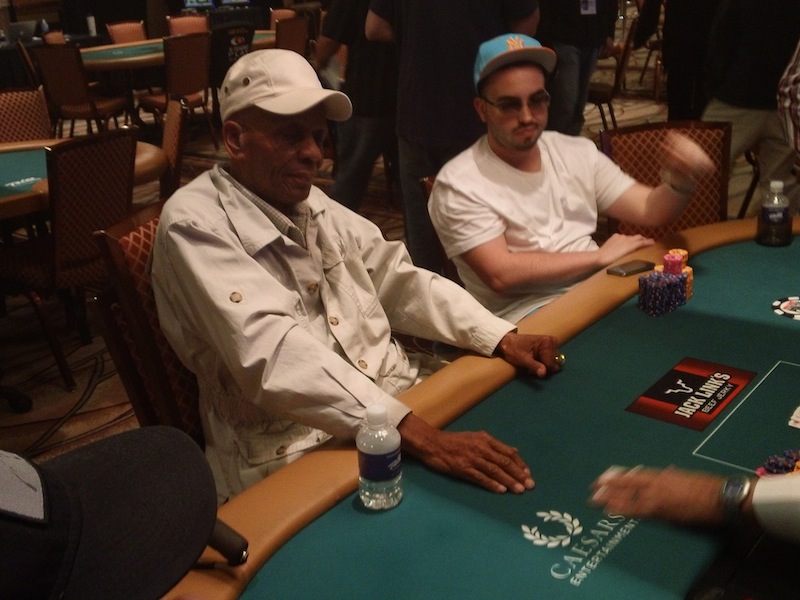 Nick Schulman managed to squeak through despite being short on chips.
"I'm so excited to cash with only 1.4 big bets," said Schulman.
In addition to locking up the min cash, Nick picked up some extra money by outlasting a friend.
"I won a 20k last longer bet," said Schulman. He declined to reveal the identity of his friend.
We encourage everyone to get involved with "The Muck." See something you think is Muck worthy? Send it to themuck@pokernews.com. We accept all media including photos and videos.