Dealing Up a Storm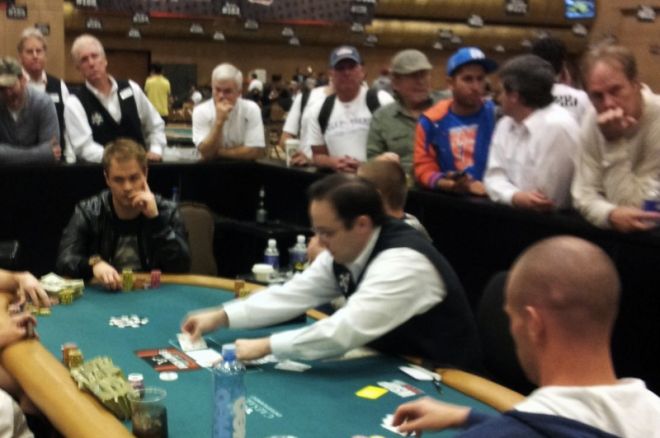 As the dinner break on Day 7 of the WSOP draws near, all eyes are on the cash games in the Pavilion room where Patrik Antonius, Ashton Griffin and Andrew Robl are battling it out at $500/1,000 Pot-Limit Omaha. After a slow start to the Series' legendary cash games, it seems to really have kicked off these last few hours. Antonius, conspicuous by his absence this last week, seems to be a big catalyst for this action; The railbirds are now flocking to the big PLO game, and spirits are high around the table.
One person who is not having such a fun time on this sultry Vegas Sunday is well known Cash grinder Dany Georges. The PokerNews team met up with Georges shortly after 6:00 PM today to hear his story.
"We're playing the $10/25 No-Limit and I'm involved in a hand with another player in Seat 3," Dany explains. "There's eight thousand dollars in the pot and Seat 3 moves in on me, so I have about four thousand to call all in.
"While I'm deciding, the actual dealer calls time on me," Says Georges. "I looked around to see who called time on me and I see that it's the dealer. I just went berserk, I flipped out."
At this point in the interview, Dany's voice was quivering and you can see the real frustration he is feeling. He has been very enthusiastic to do this interview with us and you get the sense he wants someone hear his story.
"First, I lost all focus. There's eight or 10 thousand in the pot, so I went crazy and mucked my hand because I lost focus, I didn't want to make the wrong call. Then I called the floor.
"Everybody at the table was going crazy. Some people were laughing, but not laughing in a bad way, just because they had never seen anything like this before," he continued.
We asked Dany what the floor did about it once he calmed down and spoke to them.
"The floor tells [the dealer] 'well, just don't do that again.' So then I called the higher floor manager and he said, 'I assure you, all our dealers are well trained, we train them for two months.' How can I argue with the guy at this point?"
We asked Dany why he thought this happened, if he had any history with the dealer or if he thought he had been taking a long time on subsequent hands.
"No, no, I'm the nicest poker player you'll ever meet; a lot of people know me, you can ask around. It was the first hand I played. I had been sitting for an hour and I was just mucking hands. There was no issue with how long I was taking.
"I understand if they are busy and they don't have enough dealers, but this was a big game. There was 10 thousand dollars in the pot. If they have a less experienced dealer, then they should be dealing in the smaller games.
"I'm just disappointed because there was no discipline from the floor manager, or from the floor manager's manager. They all protect each other."
Hopefully Georges can get back into the swing of things in the coming days and regain his focus. For now he seems pretty adamant that something needs to be done about this.
"This is the [World Series of Poker]. They are supposed to have the best dealers."