All Mucked Up: 2012 World Series of Poker Day 10 Live Blog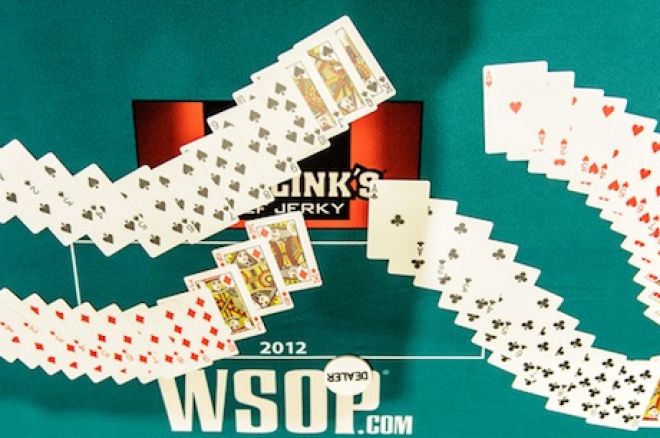 Are there any celebrities playing in a World Series of Poker event? What are the crazy prop bets being made, and who's making them? We aim to answer all that and more in All Mucked Up. It's a live blog of all the stuff you want to know besides hand histories and bad beats. Well, we might add a few in here, everyone loves a good bad beat story — unless it happened to you.
Ready to Go
This morning while we were getting ready for the PokerNews Podcast, we spotted Annette Obrestad coming out of registration. She stopped by PokerNews HQ to say hi. She's ready to roll today, so if you're at her table in Event #14, then you better watch out!
Team PokerNews recording today's podcast:
Make Yourself at Home
While walking through the 10k Heads Up tournament area we saw Antonio Esfandiari making himself at home right at the table. Esfandiari had his lunch set up on the table in the middle and had slipped his sandals off to get comfy. Hopefully the match lasts long enough for him to finish his meal.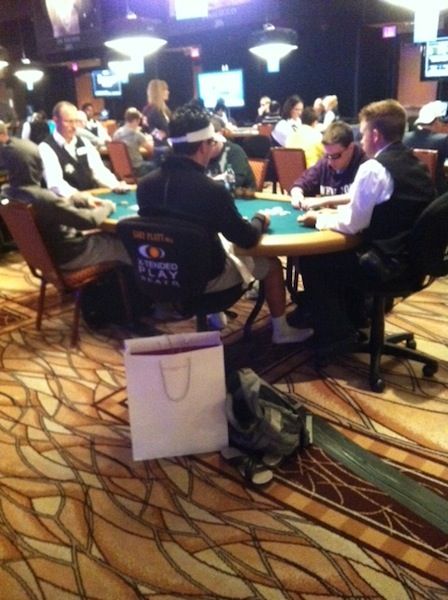 Seen on the Rail
The final table of the $1,500 Re-Entry has gotten under way here in the Amazon room. We walked by to see if there were any pros on the rail and we saw Faraz Jaka sitting in the front row.
We also saw Brent Hanks on break from the $2,500 Shootout and he gave us a little lesson about Pileated Woodpeckers, which are the largest woodpeckers in North America.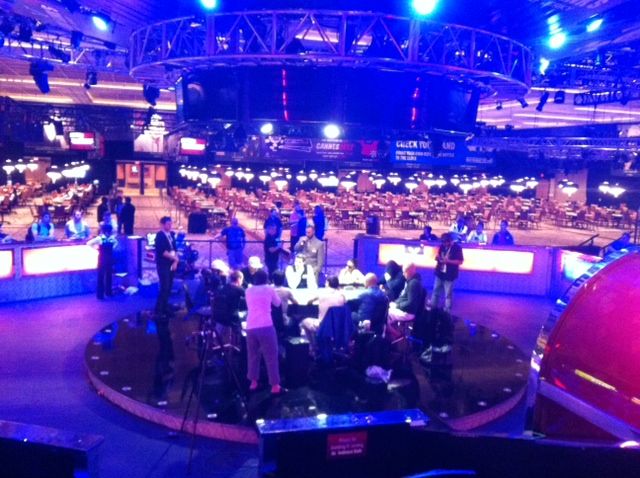 Hat of the Day
Today we caught Daniel Weinman in Event #14: $1,500 No-Limit Hold'em Shootout wearing a Patrick Star hat from the Nickelodeon cartoon, Spongebob Squarepants.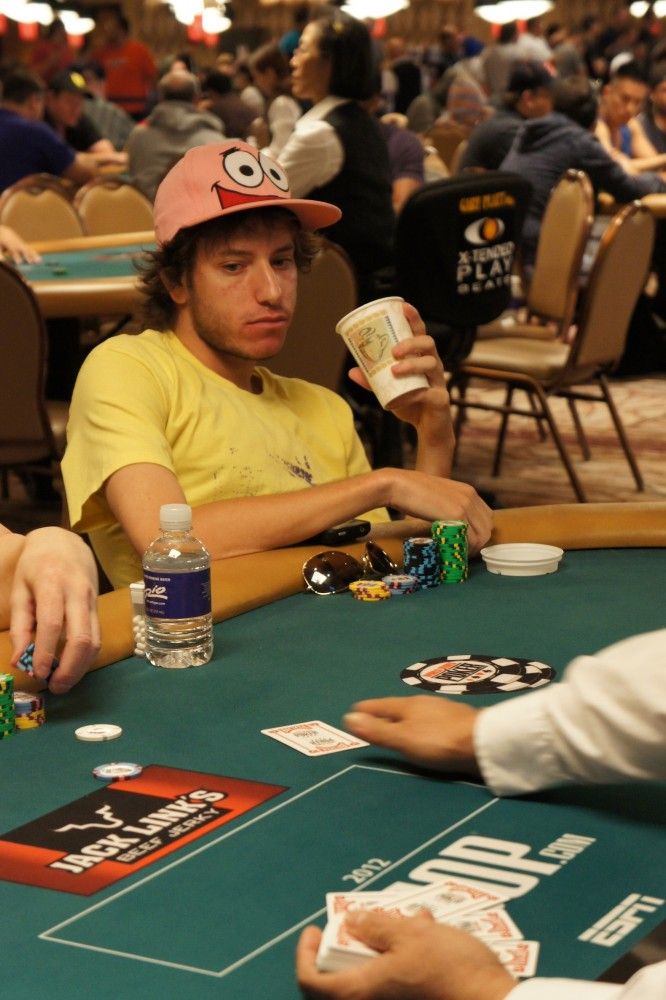 We'll be sure to keep adding more and more hats as we come across them.
Celebrity Look Alike Spotted
We caught this player in Event #14: $1,500 No-Limit Hold'em Shootout as well. We weren't able to catch his name but we thought he looked a little bit like someone we knew. If you've ever seen Rob Dyrdek's Fantasy Factory, we thought this gentleman looked a bit like Scott "Big Cat" Pfaff.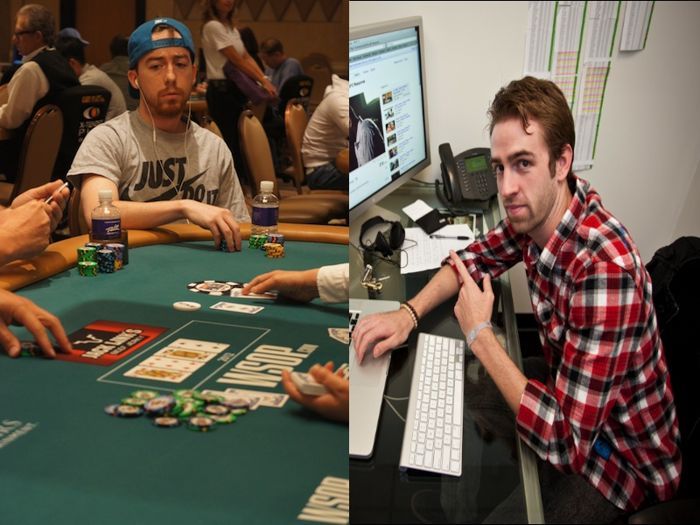 You be the judge.
Tough Table Draws
We caught two rather tough table draws today that we would not want to be a part of. The first was in Event #14: $1,500 No-Limit Hold'em Shootout. The table was headlined not only by Daniel Negreanu, but also at the table was Jason Mercier and Tommy Vedes. Considering the table is a shootout, only one will survive, and we expect it to be one of those three.
The second tough table we saw today was in Event #13: $1,500 Limit Hold'em. Sitting down at this table means sitting down with Michael Mizrachi, Matt Glantz, JC Tran, Issac Haxton, and the current chip leader, Eric Buchman. Trust us, this is not a poker table you want to be sitting at.
We'll be sure to keep you updated on any other killer table draws through the rest of the series. But to keep an eye on these tables, or any other, make sure you check out our live reporting blog.
Cutest Couples: WSOP 2012
Both Jennifer Harman and Marco Traniello are deep in Event #13: $1,500 Limit Hold'em. There are only 135 players left and both members of one of poker's most notable couples are still alive and kicking. We'll try to catch up with the both of them later and see how they'd feel if they went heads-up for the bracelet.

The Liv Boeree v. Doyle Brunson Epic Scooter Race Is On!
We caught up with Liv Boeree today and we asked her about the tweets between her and Doyle Brunson regarding the epic scooter race we talked about the other day.
"100 percent i'm serious," Boeree said. "If I see him I genuinely will race him. I would like my ankle to get a bit better first, because there will be some dirty driving going on but I definitely will race him."
Liv told us that she thinks she will definitely win in a race against Doyle. We don't know yet if the two will put any bets on the race, but it's hard to bet against either on. Doyle has experience on his side, but Liv has youth and agression on hers. If the scooter race does go down then we'll be sure to get a video of it for you.
Star Studded Stud Game
The $5,000 Seven Card Stud Hi-Low Split 8-or-Better has some big names and we'll be hanging around to get reactions from them. Among those playing are JohnnyBax, Bryan Devonshire, PokerStars pro Daniel Negreanu, and ESPN commentator Norman Chad.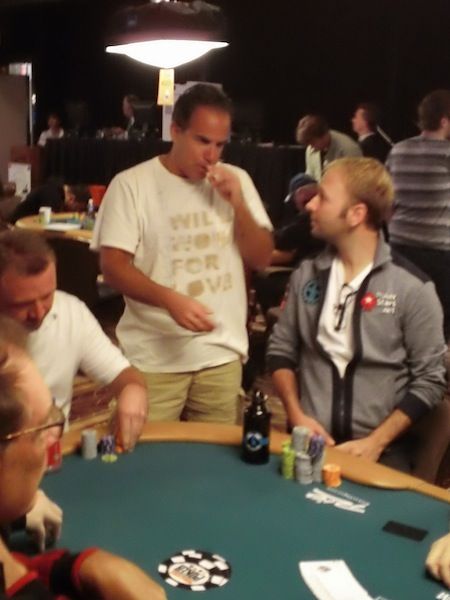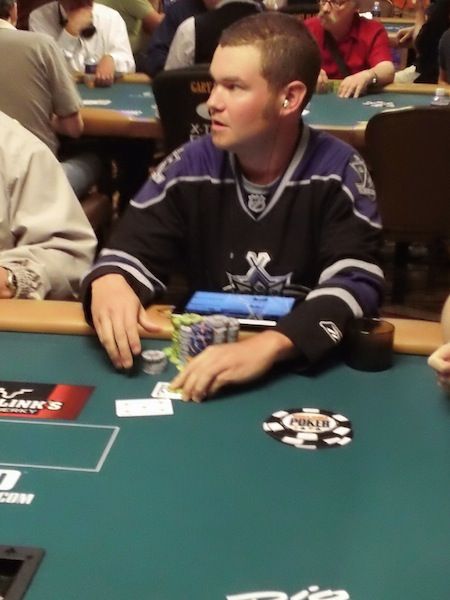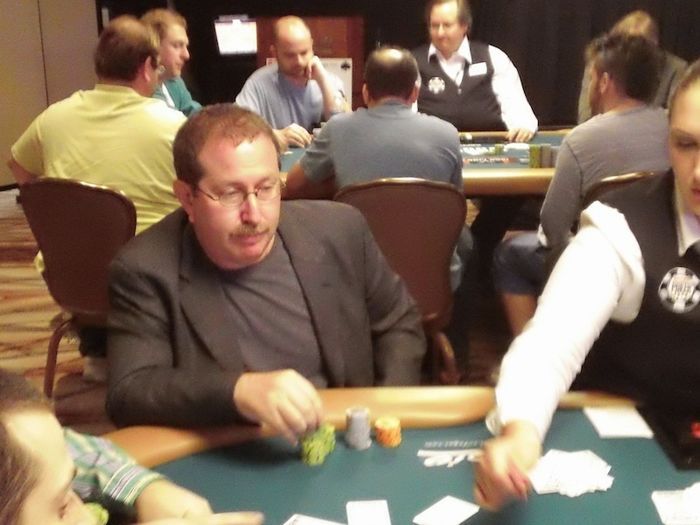 Hawaiian Shirts Are All the Rage
We caught Men 'The Master' Nguyen wearing one of the most flamboyant Hawaiian shirts we've seen all series so far. We snapped a picture and moved on to Event #14: $1,500 No-Limit Hold'em Shootout where we caught another player wearing a Hawaiian shirt. We didn't catch his name.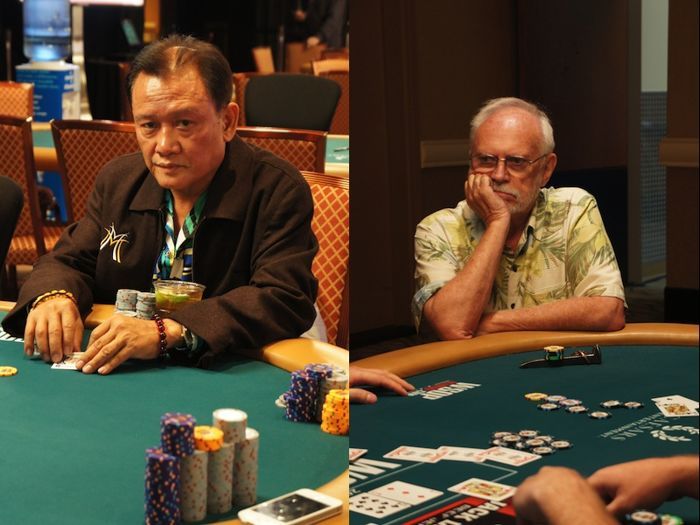 What we want to know is who you think wore it better!
Poll
Who Wore Their Hawaiian Shirt Better?
Doyle In The Building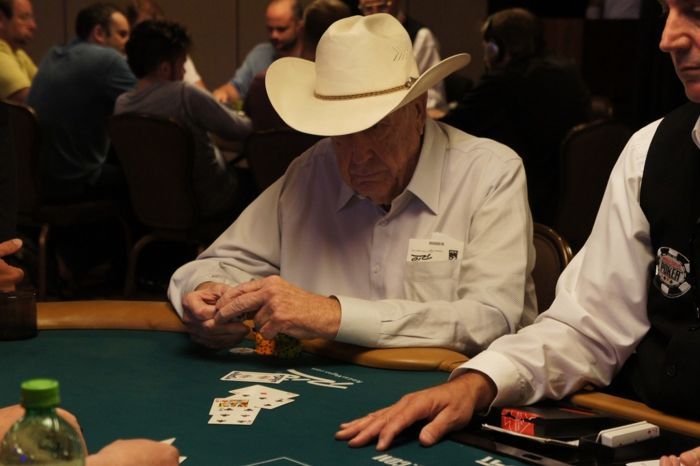 It was just announced that Doyle Brunson is in the building for his first event of the 2012 WSOP. His arrival was met with a round of applause from players, fans, and the Rio staff. He's playing the $5,000 Seven Card Stud Hi-Low Split 8-or-Better.
Prior to his arrival, we chased down Doyle as he scooted his way through the Brasilia room. He was exchanging fist bumps with Phil Ivey and Mike Matusow before making a beeline to the TV for the Oklahoma City Thunder, San Antonio Spurs, game.
Who's Doyle rooting for in tonight's match up?
"Oklahoma," Doyle said emphatically.
And his pick in the Eastern Finals?
"Boston! And Oklahoma to win it all!"
Oklahoma ended up winning the game and the series and will face the winner of the Heat v. Celtic series in the NBA finals.
What Song Tilts You Most?
It's no secret that the music in the Rio is tilting. From the PokerNews office we hear the same five songs on repeat throughout the entire day, including Justin Beiber's "Boyfriend" and Gotye's "Somebody That I Used To Know." We know that listening to the same five songs over and over can be tilting so we asked pros what song tilt's them the most.
"I don't usually listen to anything they play here," Bryn Kenney said. "It's too tilting for me to listen to any of it. Usually I just pull out my phone and listen to something on there."
We also talked to Ylon Schwartz who said he tries to ignore the music they play in the hallways. "I don't usually listen to it," Schwartz said. "But I guess if they played an excess of Celine Dion that would be pretty tilting."
Finally we caught up with Liv Boeree and asked her what song they play tilts her the most. "That one song, 'Hey I just met you!'" she sang to us. "'And this is crazy! So here's my number. So call me maybe." Liv was talking about Carly Rae Jespen's song, "Call Me Maybe." We'll try to catch up with some other pros and get their responses. Until then, here's hoping the Rio finds a new set list.
The Cool Kids Table
Walking through the Rio Poker Kitchen at dinner break we saw several tables filled with an assortment of poker pro cliques. It resembled a High School lunch hall, where you could tell who the "cool" kids were.
One table had Doyle and Todd Brunson along with Andy Bloch, and Matt Savage. Seated at an adjacent table were Huck Seed and Paul Volpe. A few tables away were Xian Liu, Scott Seiver, and Andrew Robl. And nestled in a corner were married couple Jennifer Harmon and Marco Traniello enjoying soup.
As we made our way around the hall, feeling like the new kid in school, we were greeted by Stud player Ivan Schertzer on break from the $5,000 Seven Card Stud Hi-Low Split 8-or-Better. Ivan final tabled two WSOP Stud events in 2006 and 2009.
What was Schertzer's fondest memories of his final table runs?
"Crippling Johnny Chan in the 2006 stud event."
We'll be keep an eye Ivan as he hopes to make another final table and maybe the third time will the charm for the Miami lawyer.
Bombardment Of F-Bombs in the Brasilia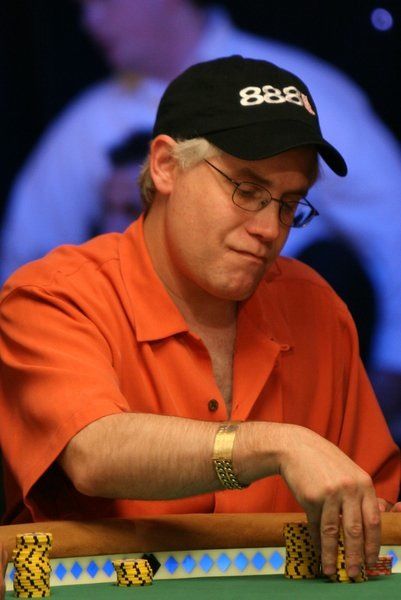 Bracelet winner Burt Boutin just busted from Event #14: $1,500 No-Limit Hold'em Shootout and quickly exited the Brasilia room, but not before unleashing a profanity laden tirade.
It went a little something like this: F**k! F**k. F*****k! F**king f**k me. F**king, f*****k!
Tagged with the moniker "Red Bull Burt," for his propensity to consume the energy drink at the tables, Boutin is known for his nervous energetic behavior.
Name the Pro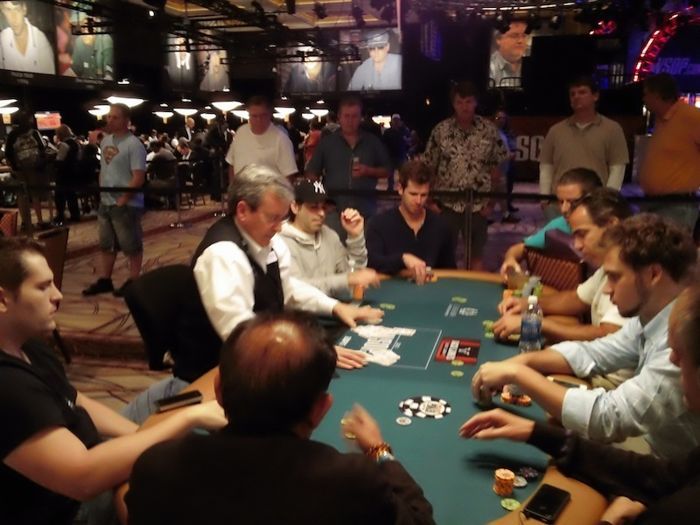 We came across this star studded table in Event #15: $5,000 Seven Card Stud Hi-Low Split 8-or-Better. We labeled many of the pros in the picture above, but wanted to see if you guys can guess who's in seat-8.
Who's Drawing Thinner?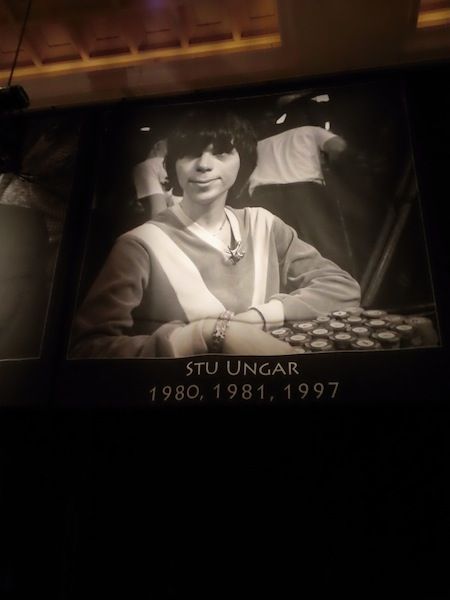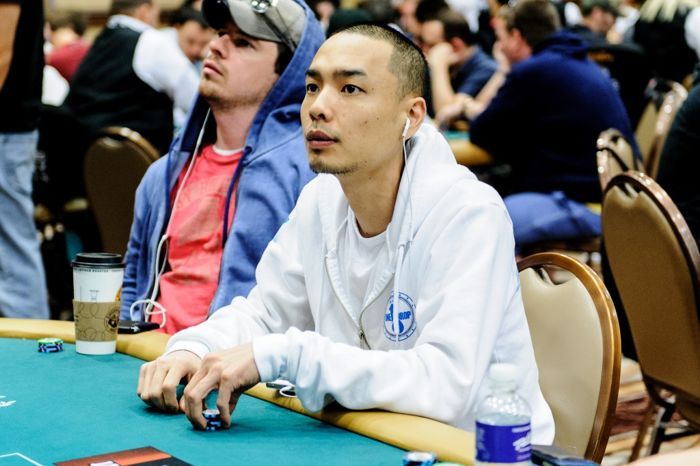 We over heard bracelet winner and Stud specialist Cory Zeidman debating with a tablemate about who's skinnier, poker legend Stu Ungar, at the time the above picture was taken, or Chino Rheem? Laughs broke out at the table but we didn't get any definitive answers. So we figured we'd leave it up to the Muck faithful to decide.
Poll
Who's Drawing Thinner?
We encourage everyone to get involved with "The Muck." See something you think is Muck worthy? Send it to themuck@pokernews.com. We accept all media including photos and videos.