New School vs. Old School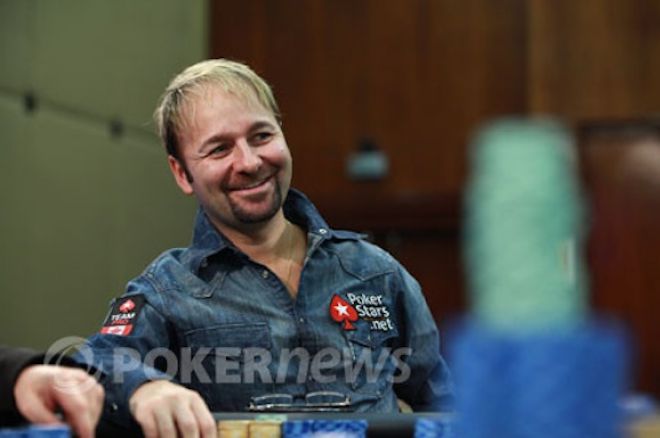 In the early-to-mid 2000s, professional poker players were larger than life. These titans of the game supposedly printed money on the felt, and for the most part we believed this because we only saw them through one lens — ESPN.
Were we duped? Sure, but the Worldwide Leader had a product to push, and we as fans welcomed it with open arms. For the first time ever, poker was widely accepted. It was almost considered a sport, and the players we saw on television practiced and trained the hardest, making them close to unbeatable.
Hell, if there weren't luck involved, they'd probably win every time.
We knew very little about the first batch of televised pros aside from the fact that they were supposedly good at poker. If you read Super System then you knew a little about Doyle Brunson, but apart from Texas Dolly, we basically knew this:
We knew that Daniel Negreanu was "Kid Poker." We knew that Barry Greenstein gave all his money away to charity. We knew that Mike Matusow had a big mouth. We knew that Chris Ferguson looked like Jesus and was good at math. We knew that Andy Bloch was good at math, too.
We knew that David "Chip" Reese was a legend, and so too was Stu Ungar, before he passed. We knew that Johnny Chan won back-to-back Main Events. We knew that Howard Lederer was a professor, and that Annie Duke was his sister. We knew that Jennifer Harman was a woman, as well.
We knew that Phil Ivey was one of the most feared players in the game (and a Steve Francis fan). And, most importantly, we knew that Chris Moneymaker was the 2003 World Series of Poker Main Event champion.
Those of us outside of the poker industry — which was very small at the time — didn't know about the negatives. We didn't know about the drugs, the women, or the sports betting. All we saw were legends of the game, winning bracelet after bracelet.
Fast-forward to 2012, where social media is king. Phil Hellmuth has the most unique hits in the last seven days on Hendon Mob, but not because he's an old-school player. It's because he won a side event at the L.A. Poker Classic — which would've never been covered to this extent a decade ago — and tweeted about it to his 115,000 followers. Three weeks ago, when Jason Somerville admitted to being a homosexual, he too had the most unique hits on Hendon Mob. In fact, according to Wicked Chops Poker, the traffic to his page increased by 3,049 percent.
The times they are a-changin'.
Unlike a decade ago, nothing goes unnoticed in the poker world today. If you make a mistake, you'll never hear the end of it. If you win, or do something positive, you'll be showered with praise until you make a mistake. You can't hide behind your results — the margin for error is tremendously slim, and we can always find new heroes.
---ReadMore---
And we have. Just look at Tom Dwan, Phil Galfond and Jason Mercier.
This isn't to say that the old school pros are suddenly undesirable (well, they are if they have any connections with Ultimate Bet, Full Tilt Poker, or have outstanding gambling debts), but the old school ways are no longer widely accepted. What used to be taboo is now standard, and vice versa. This holds true from complex issues like staking and backing to simple issues like showdown etiquette. Previously, nobody talked openly about who they were backing or how much makeup they were in. Likewise, in the past, when two players reached a showdown, if one player said something to the tune of "you win" or "you got it," the other player would simply show their hand to be polite. If you showed your hand today, you wouldn't be praised for being polite, you'd be flamed by your peers for (1) not protecting yourself from an angle, and/or (2) passing up free information.
Should every little issue become fodder for the forums? In a perfect world, no, but this is an imperfect world where information moves a mile a minute. Self-branding, image awareness, and damage control are more important than ever. Players who are more open tend to appeal more to fans. Look at Negreanu and Hellmuth. Nobody has transitioned as well as those two from the old school to the new, and neither player has won a bracelet since 2008. Results help (Hellmuth obviously had an amazing 2011 WSOP), but marketing is king. Negreanu's video blog is now a must-watch each week because his opinion really matters to us.
While the new-schoolers represent a more open and trustworthy future for the game, not all of them are perfect, either. There are a handful of very notable multi-accounters and scammers lurking around the industry — some of whom have been forgiven, while others remain shunned. Hopefully, as we move forward, these players will remain clean, and as they become old-school players, we won't have to feel like we were duped again.
There is no more hiding in the back of the saloon, or in the backroom at the Bellagio. Everything is public — the TwoPlusTwo police are on every corner — and players should always be wary of the decisions they make. One mistake can change everything.

Follow PokerNews on Twitter for up-to-the-minute news.