Off the Felt with Kenna James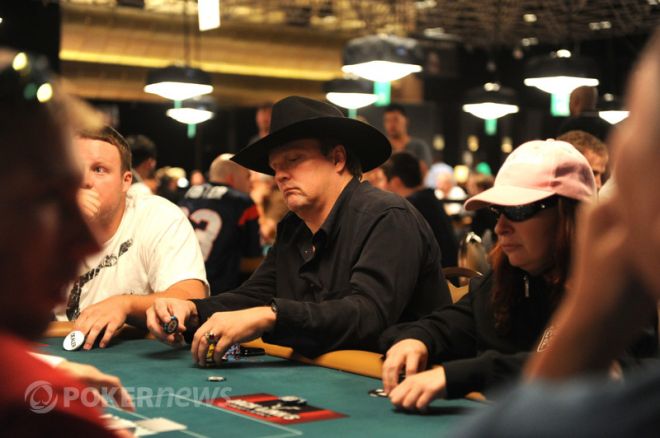 Off the Felt is interviewing your favorite people in the poker industry to find out more about their lives — you've got it — off the felt. We recently sat down with Kenna James to talk a little poker, radio shows, and a rodeo team.
How did you get started playing poker?
I got a job in the poker industry as a dealer at Hollywood Park Casino in Los Angeles in 1996. From there I got into directing tournaments and gradually developed myself as a player. I had a fascination and love for the competition of the game and an aversion to working a regular 9-to-5 job. So I pursued it with a passion and in five years I was playing it professionally.
What is your tournament schedule like for the next couple of months?
I just returned from the Aussie Millions and I'm in L.A. right now for the LAPC. I don't tour full time anymore, though, so this may be it until the WSOP. My cats miss me and I enjoy being home. In the past, I would follow up the LAPC with the Bay 101 tourney, then on to Europe before heading home to the WSOP.
---ReadMore---
Where is your favorite tournament stop?
Well, I've been fortunate to have traveled so many great places around the world that it's hard to pick just one. But the few that stand out in my mind are Aussie Millions in Melbourne, Australia; The Masters Classic of Poker in Amsterdam; and The Poker Championships in Baden, Austria. Any tournament in the Bahamas has also got to be included, simply because of the water element.
Which tournament stop has the best food?
I'm going to choose right where I live — Las Vegas — simply because of the variety once you get outside the casino. And I always have the choice of a good home cooked meal.
Last book you read?
The Prophet by Kahil Gibran. I'm also enjoying reading Mike Matusow's book right now, "Check-Raising the Devil." So there's a mix for ya.
You have your own radio show about poker. Can you tell us a little about it?
Yeah, it's simply called, "The Kenna James Hour," and it can be found on Mondays at 7 p.m. EST on www.ontiltradio.com. The last couple of shows have been me reporting from The Aussie Millions live in Australia. I also have shows where I interview guests like yourself and Annie Duke. Then there are shows simply about the challenges of living a poker life that are designed to help people with their game off the felt.
What is your favorite thing to do away from the table?
I like to play tennis and go to the movies.
Have you been involved in any ridiculous prop bets?
Unfortunately, yes. When I was still young in the poker world, I got mixed up with the "sharks" of prop betting and gambling. For some reason, I thought I could fit in and keep up with guys that have been doing it all their lives. I guess my ego got the better of me and one funky weight bet went wrong and it ended up costing me hundreds of thousands of dollars.
Do you have any superstitions when it comes to poker?
I think it's unlucky to be superstitious.
Any predictions on which team will win the Super Bowl?
Being in Australia the past month and due to the time changes, it was hard to keep up with the playoffs and who is even playing. By the way, what happened to Green Bay? I used to bet sports too, but now I couldn't tell you who would win the coin flip.
Do you have any advice for people who are just starting out in poker?
Yeah, find something else to do. Poker is a very self-serving journey, filled with much more pain and disappointment then most young players are prepared for. You have to be willing to go broke and be broke much of the time while learning the game. Coping with the financial ups and downs, as well as the emotions that go with the losses may be a challenge that people starting out in poker don't realize.
My advice is to choose poker as a second career, not as your primary one, and limit your financial exposure to that which you can afford to play. Learn to play and win at a certain level in a certain game. One level, one game at a time. Make sure you study and learn the game your playing.
If none of this persuades you to choose a different career and you're meant to be a poker player, then hire a good coach. If not me, someone with a proven track record that knows also how to teach the principles and concepts of the game.
What is your favorite thing about living in Las Vegas?
Las Vegas is a dynamic city. Live entertainment and shows are obviously a great aspect, but there is so much more to Vegas than The Strip. I love the scenic beauty of the mountains and places like Red Rock and Lone Mountain for hiking. Bottom line is there are always so many great things to do. It's like an adult Disneyland, but caution to those considering moving here: It takes some adjustment to living in Disneyland rather than just visiting.
Most memorable moment of your poker career so far?
Again, I've had so many that I must choose a few. 2003 Main Event at the WSOP, playing with Chris Moneymaker and being a part of the poker boom. Playing on the final table at the Casino de Monte Carlo with Phil Ivey was really special. Playing "The Grinder" heads up and winning the LA Poker Championship. And of course, my WPT Final table, finishing second at The Bike in LA in 2005 was awesome.
If you had to put together a rodeo team of professional poker players who would you want on the team and why?
If our purpose was to win then Erik Seidel would top the list. No explanation necessary. Kathy Liebert would be on my team, as would Jason Mercier and David Pham. As you can see, my team would be ethnically, age and gender balanced. All tough competitors with strong view points and approaches to the game. I've played against them all and have much respect for not only their games, but their approach to the game.
What would you be doing if you weren't playing poker?
Acting, writing, and directing movies. I started out as an actor before taking on the role of a poker player. I would get back into it or be involved in some form of entertainment. I also write music, so maybe I would be a songwriter. I have a poker song I co-wrote and produced which you can find on Youtube. It's called "Dream the Dream," and it's my personal story of my journey and the personal costs that people don't talk about involved in following your dreams.
Follow PokerNews on Twitter for up-to-the-minute news.