Off the Felt with Nick Schulman: The Future, Stu Ungar, and More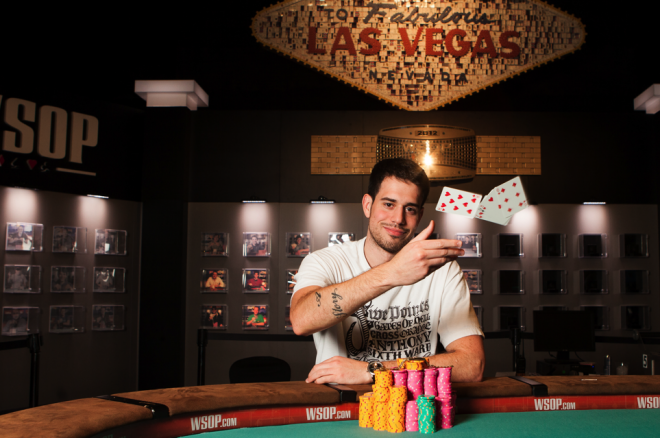 Off the Felt is interviewing your favorite poker players to find out a little bit about their lives off the felt. New York native, two-time World Series of Poker bracelet winner and World Poker Tour champion Nick Schulman recently sat down with PokerNews to tell us a little bit about his hopes for the future, Stu Ungar, and his love for no-limit hold'em.
What is your favorite tournament spot?
Las Vegas is probably my favorite location, but within Las Vegas, I would say Bellagio Poker Room. Just in general, I really enjoy playing there. The atmosphere is great, some of the biggest games in town are at Bellagio, the staff is top notch. Just overall it's a great vibe.
You're good friends with Eugene Katchalov, right? He travels a lot; do you ever travel with him?
No, I don't really play in Europe all that often. Maybe one or two times a year, so I haven't seen him all that much because that is where he has focused his game.
What is your favorite vacation destination, and what activities do you like to do while on vacation?
Unfortunately, I don't vacation often. Although, Hawaii would be at the top of my list, specifically Kona, Hawaii. The beaches are stunning with pearl white sand and clear ocean waters. The sites are fantastic with waterfalls, volcanoes, lush greenery and vibrant tropical colors. It's just a beautiful place. I've been twice, and it's just a great place to relax, but I do enjoy snorkeling also.
What are some of your hobbies away from the table?
I'm currently trying to learn golf. I took a few lessons in San Diego, but for the most part I'm just learning from a few friends of mine who teach me while out on the course. I read a lot and just like to relax when I can. I don't spend as much time away from the table while in Vegas as I'd like to, but during downtime, just relaxing at home is great for me. In New York I own a piece of a pool hall and I used to play a lot of pool myself, so pool still remains an avid hobby. I'm not part of a pool league myself, but I do gamble sometimes against people like Jean-Robert Bellande and John Hennigan.
Can you tell me the most ridiculous prop bet you have ever initiated or been involved in?
It was a no-shaving bet with Huck Seed. The bet was supposed to be who could resist shaving for a full year, but we both gave up like four months in. If I recall, $20,000 was on the line, but we both couldn't take it so no money was lost. It was hilarious because Seed's facial hair just grows straight out so it wasn't pretty (laughs). Mine was just really bushy, and my hair is jet black. It wasn't a good look for me and just got too thick for my comfort.
Do you have any hidden talents?
I can play pool really well. There's even a few trick shots I can pull off that tend to be real crowd-pleasers. I can also play the trumpet, but I hardly play anymore.
If you could pick anyone to play you in a movie, who would it be?
There is an actor named Adam Shulman who made some television appearances on "The West Wing" and "American Dreams." He is a fellow Shulman, tall, goofy and Jewish. I've been told I slightly resemble him, but I'm going to go with Denzel Washington. I mean he's 'Zel,' he's a badass. The "Nick Schulman Story starring Denzel Washington," I can just see it now.
What is your greatest poker achievement?
I think it was winning the same tournament twice. In 2009, I won the [WSOP] $10,000 2-7 Lowball event and then won it again in 2012. Winning it the second time is what I am most proud of so far.
What would you be doing if you weren't playing poker?
I've actually given it a lot of thought, but haven't come up with anything in particular. Poker just took over my life as a teenager without any indication as to where my life would have gone without it. I'm interested in a lot of things, but nothing else seems right. My father was a writer, and I thought I wanted to pursue that when I was younger, but I have a tough time maintaining a schedule. I don't know if a structured job would have worked for me.
Alongside of that, you'll soon be 30. What do you wish to see yourself doing in the next 10 years?
I just want to maintain balance in my life and keep growing as a player. If I can do that, I think good things will happen in poker. I am goal-oriented, but it's not necessarily to win a certain amount of money or win this tournament or do this or that. I just want to keep growing and continue being a student of the game. I don't think I'll ever fully quit playing, but to continue to stay competitive requires a lot of mental fortitude and work away from the table. So if I ever felt like I wasn't competitive anymore, then I would start playing quite a bit less.
What is next on your poker calendar?
I'm really gearing up for the World Series of Poker this summer. I really focus on the cash games and a few tournaments. I'm not yet certain of which events I'll be playing because I prioritize my schedule around the cash games being played. The stakes will be bigger over the summer, so I'll be seen playing any stakes from $150/$300 to $1,000/$2,000, just depending what the games bring. There isn't any stake I wouldn't play if the game was good. Before that, I think I will go to Monaco for the EPT Grand Final.
You play quite often in Bobby's Room at Bellagio. What is your favorite game to play?
In general, no-limit hold'em is still my favorite game. Despite the variety that is played in Bobby's Room, no-limit hold'em is more of an artistic game than any of the other games. There is so many different ways to play, and you can just always change your game and adapt and try so many new things that it just makes it more fun for me.
What advice would you give to anyone about anything?
Confidence is a good quality, but when it becomes arrogance, it doesn't work out. So try to remain humble, look at the big picture and keep being passionate, and continue trying to learn about whatever it is you are pursuing. From a work standpoint, never be satisfied.
If you were looking for a business partner, whom within the poker community would you want to partner with?
John Hennigan. He is one of my best friends, and I fully trust him.
Who within the poker community do you enjoy conversations with?
Again, John. I spend a lot of time with him. David Oppenheim is also a good friend of mine. I don't really have too many poker friends, but those two are just the best.
Which poker player can calm you down after a bad beat?
I did so much complaining throughout my 20s about bad beats that I'm really working on that. I've had at least two or three months where I haven't complained once, and I'm hoping to keep it going. I really try to calm myself down instead of looking to someone help calm me down. Discipline and patience within yourself is important.
You're usually sporting your headphones. What do you typically listen to?
Lately, I've been listening to the new Kendrick Lamar album titled, "Good Kid, M.A.A.D City." The album is just awesome; I really love it and recommend it to everyone. I like everything though from 60s, 70s, rock and current hip-hop.
In Las Vegas, what is your favorite place to eat?
It's The Henry at the Cosmopolitan. They have a really great breakfast, I know the staff well, and it's just a great place to sit and enjoy some quiet time. I usually go alone to read the paper while drinking my morning coffee. It's just become a regular spot for me.
What is your favorite daily wear attire?
Poker-wise, comfort is key. Shorts, sweat pants and T-shirts are a staple of mine.
If I came to your home and looked inside the refrigerator, what would I find?
You would find Greek yogurt, a half-eaten can of cat food, some vegetables, almond milk and eggs. I typically don't cook, but I really prefer breakfast, and once in awhile I'll have an urge to make fish or a steak.
Do you have any bad habits?
I really had a habit as a degenerate gambler back in the day, but I really don't think I am anymore. I think I have rid that habit from my life after making some poor decisions. I'm more disciplined today now than I was back then.
If you could meet anyone in the world dead or alive who would it be and what would you say to them?
Good question. I would say Stu Ungar although I don't know what I would say to him. He was considered to be a very powerful no-limit player really ahead of his time, and I would just like to have lunch with him. Gandhi would also be on the list, but honestly, with Stu, I would just love to pick his brain a bit and really see what he was like. Those who knew him are very fortunate.
Who is your inspiration or role model?
I had a role model when I was a teenager who unfortunately passed. His name was George San Souci. He was a world-class pool player, but more than that, he taught me a lot about life and gambling. He was just a big influence in my life. My parents also fit the title. They've done so much for me, supported everything I've ever done, and I appreciate them very much.
Last, what is the best part of your work?
Simply put, the freedom. I like being my own boss.
Get all the latest PokerNews updates on your social media outlets. Follow us on Twitter and find us both Facebook and Google+!