Off the Felt with Greg Mueller: Sporting Events, Steaks, and Advice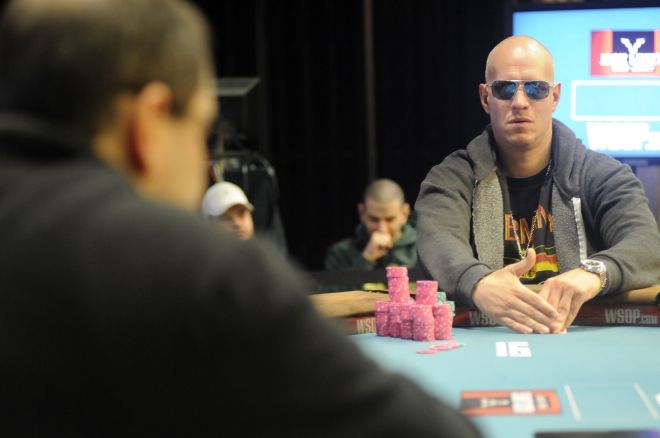 Off the Felt is interviewing your favorite poker players to find out a little bit about their lives, you got it, off the felt. Two-time World Series of Poker bracelet winner and former professional hockey player Greg Mueller recently sat down with PokerNews to tell us a little bit about his love of sporting events, his appreciation of a great steak, and more.
What is your favorite tournament spot and why?
I want to say Las Vegas and Los Angeles. In both places I can go to sports events like hockey and basketball. There are cash games I can play and sports books where I can take my bets. Both places offer things to do aside from playing poker.
Where is your favorite vacation destination?
I honestly don't take many vacations because I am so spoiled through poker. I know that I can go play a tournament anywhere I want that I actually don't go to any one specific place just to vacation. I used to play hockey in Europe, and at the end of the season guys would go holiday somewhere in Europe, but I couldn't wait to get home. I would never go because I knew that through hockey and poker I could travel anywhere to play tournaments. It's a catch-22. I don't enjoy going somewhere because I'm always going somewhere. For example, I'll go to the Bahamas and I don't even see the sun because I'm playing poker.
How has your hockey background helped with playing poker?
I would say both are competitive and require discipline. In hockey, you have to train really hard and stay fit and watch what you eat. Poker is the same sort of thing. You can't — or at least you shouldn't — get drunk the night before a big tournament or while you're playing a cash game. You have to take bad beats in stride and not go on tilt. As an ex-professional athlete, you are just taught to always be disciplined. So to me, it's natural whereas others have to practice to be disciplined. The competitive nature is the same — you don't like to lose, and you are battling for pots.
Do you still play hockey today? If so, who do you like playing with?
I play ice hockey between three and five times a week when I'm back at home in Vancouver. It helps me keep fit and I really enjoy it every time. It's funny because I play with 19-year old kids that are buzzing around so they keep me active while I'm home.
What are some of your hobbies away from the table?
I love to go to sporting events. So wherever I'm at, I make it a point to watch some type of sports game. For example, when I was in San Jose, California I went to a Golden State Warriors game and sat on the floor with Phil Hellmuth. When I am in Los Angeles, I usually go to the [Anaheim] Ducks, [Los Angeles] Kings, [Los Angeles] Dodgers and [Los Angeles] Lakers games.
I would like to go to Brazil to watch World Cup soccer in Rio in 2014. When we were in Australia in January for Aussie Millions, I went to the Australian Open to watch the finals — to watch Novak Djokavic and Andy Murray. I love to have greats seats and take in all the action.
Can you tell me the most ridiculous prop bet you have ever initiated or been involved in?
You know, I am always in some kind of dumb prop bet. I make my buddies do dumb things all the time back home. One friend of mine, we could be walking down the pier out by my place off the beach and I would ask, "How much to jump in the ocean?" Before you know it, I have a certain amount of money on the line, but the rule is he has to jump in with only his underwear on and do a belly flop. I mean, just dumb stuff. It becomes more about me having fun and betting small amounts of money.
Do you have any hidden talents?
Nothing I guess is hidden — I'm a pretty open book. I'm pretty good at sports betting, gambling and most sports. Although I do suck at basketball, even though I'm super tall.
What is something you want people to know about you?
Not to sound overzealous, but I can't eat a normal steak anymore. By that I mean my favorite steak has become Japanese wagyu from Prime Steakhouse at the Bellagio. It has nothing to do with money, although it is expensive, but the meat is just so tender that it melts in my mouth. It's the best thing I have ever eaten, and I want it all the time. It's just that good.
If you could pick anyone to play you in a movie, who would it be?
I'm definitely a big Will Ferrell fan, so I would say him. He would be funny, and he would be up to all my mannerisms.
What is your greatest poker achievement?
I would say winning two World Series of Poker bracelets 10 days apart. I won my first bracelet in June 2009 in the $10,000 World Championship Limit Hold'em event. Then 10 days later, I won my second bracelet in the $1,500 Limit Hold'em Shootout. The whole experience was just really rewarding.
What would you be doing if you weren't playing poker?
I don't know, and it is time I found that out because I don't want to be playing poker forever. I love to play tournaments and cash games, but the grind can be tough to deal with sometimes.
What is next on your poker calendar?
I'll be going home soon to Vancouver to play in my hockey team's playoffs. After that, my next stop will be the WSOP this summer. Some cash games in between, but mostly hockey and spending time with my nieces.
The weather is heating up a bit; do you have any beach trips planned in the future?
I love water skiing and doing other water activities, but I've been in Las Vegas for almost three weeks now and I haven't stepped into the sun once. It's terrible. So no, nothing planned.
You play quite often in Bobby's Room at Bellagio. What is your favorite game to play?
We don't play no-limit hold'em at all because we just stick to mixed games. My favorite mixed game then would be 2-7 triple draw.
What advice would you give to anyone about anything?
In relation to poker, always play within your bankroll. The key to being successful is to play, be jovial and have a good time, and to not the let money affect you. Obviously, you are playing to win, but you need to be okay with the bad beats. It's part of the game, it's going to happen, and you need to not let the emotional part of the game get to you. That gives you the edge. As a professional poker player, you should learn to play when the games are good and to stop when the games are bad. Be disciplined with your game selection and play within your means.
If you were looking for a business partner, who in the poker community would you want to partner with?
I would say Shawn Buchanan in a heartbeat. He's my roommate on the road, the greatest guy and my best poker friend. He is honest, so I don't have to worry about him screwing me over, but he's not very business savvy (laughs and smiles).
Who within the poker community do you enjoy having conversations with?
I like listening to Doyle Brunson. It's not so much a two-way conversation, but I just enjoy listening to his stories. He's experienced and always has some kind of entertaining stories. I also liked listening to Jerry Buss when he was alive. He was a very wise man, and when he spoke, you listened.
Which poker player can calm you down after a bad beat?
I'm pretty good at calming myself down, but my buddy Buchanan also helps. On my way to winning my second bracelet, I was a little flustered. I had the chip lead, but my opponent started running good so he took the chip lead. I was visibly upset and irritated so Shawn just talked some sense into me and really made a difference in my mental game. It helped me turn it around and win a bracelet.
Get all the latest PokerNews updates on your social media outlets. Follow us on Twitter and find us both Facebook and Google+!