Pawn Stars Shoot During the World Series of Poker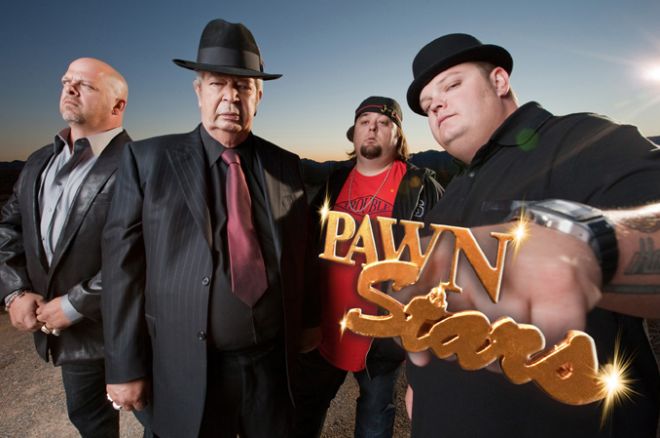 Preface: I had the opportunity to film for an episode of the History Channel's Pawn Stars over the summer. Although I can't reveal too much of the experience because of a nondisclosure agreement, here's everything I can tell you.
I've always been a fan of history and poker. I majored in the former while in college and almost went on to teach high school history, but my passion and career lies with poker. With that said, I'm always on the lookout for opportunities to combine the two. This past summer, I found the perfect opportunity — taking vintage poker memorabilia to the hit History Channel program, Pawn Stars.
Over the past three years, I've been fortunate enough to piece together an extensive collection of old poker memorabilia, most notably some one-of-a-kind photos from old Las Vegas and past World Series of Pokers. I've managed to do so through different outlets including online auctions, antique stores, and by contacting a few individuals who were looking to part with their collections.
In 2011, I applied to be on Pawn Stars through its website and was fortunate enough to get a call from one of the producers. I then had to submit more information on my items including what they were, how I obtained them, and how much I was asking. In this case, I had three unique photos from the 1972 WSOP featuring "Amarillo Slim" Preston, Puggy Pearson and Doyle Brunson. Upon showing the photos to WSOP Media Director and noted poker historian Nolan Dalla, he informed be that he had never seen the photos; in fact, he couldn't recall seeing a single photo from that particular final table.
Unfortunately, production fell behind in the summer of 2011 and my filming appointment got pushed back further and further until I had to leave Las Vegas. It was a missed opportunity, though not to any fault of my own. Not to be deterred, I decided to reapply this past summer before heading to Sin City for the 2012 WSOP. Much to my delight, the producer remembered me and made another appointment for me to go in and film.
Here's a part of the e-mail I got from the producer:
Just a reminder — You are on the schedule to film with Pawn Stars Friday June 1st from 7-9am. Filming runs according to schedule, so do not arrive any earlier - it will last approximately 1 to 3 hours. Sometimes the crew may run late, so let us know if there is a time you definitely need to leave the shop by.

The Gold & Silver Pawn Shop is located at 713 Las Vegas Boulevard South Las Vegas, NV 89101. When you arrive at the shop bypass the line if there is one, and let security know you are there for filming - they'll let you know where to go.

The director prefers that you bring sunglasses with you as some shots are taken outdoors. Please do not wear anything white as it does come across well on camera; dark solid color shirts are preferred. Hats and shirts with large patterns, prints, stripes graphics or labels of any kind are also not permitted.

You are required to be consistent with the item's asking price as per what we discussed. Unrealistic asking prices and/or raising the price immediately prior to filming for purposes of being on TV will result in cancellation of the scene and will never be aired on Pawn Stars. If you have previously posted an online auction listing for your item please remove it immediately. Unfortunately, we cannot guarantee that your item will be sold to the shop.

You will be required to fill out some paperwork prior to filming that will include an appearance release and a nondisclosure agreement.

Please note that you will be the only person to appear on camera. If you do not wish to be the seller, let us know the name of the person that will be appearing on camera. You are welcome to bring a friend or family member into the shop with you during the filming, but they will not appear on camera. They can stand off camera, near the production crew, only you will appear on camera during the taping.

The main focus of this is the hopeful sale of your item. We ask that you treat the guys as normal employees and hold off on any requests until after the scene has been completely filmed (e.g., photographs).

Lastly, but most importantly, be sure to bring your A+ personality — don't be shy or afraid to crack a few jokes in the scene, we want you to be comfortable and have fun with it!
By this time I had added some more great photos to my collection, including those from the estate of Frank Cutrona, the former tournament director of the Golden Nugget. Back in the 1980s, the Golden Nugget was a hotbed for poker, and Cutrona had dozens of photos from celebrity poker events that featured poker pros alongside stars like Dionne Warwick, Mr. T., and Willie Nelson, just to name a few.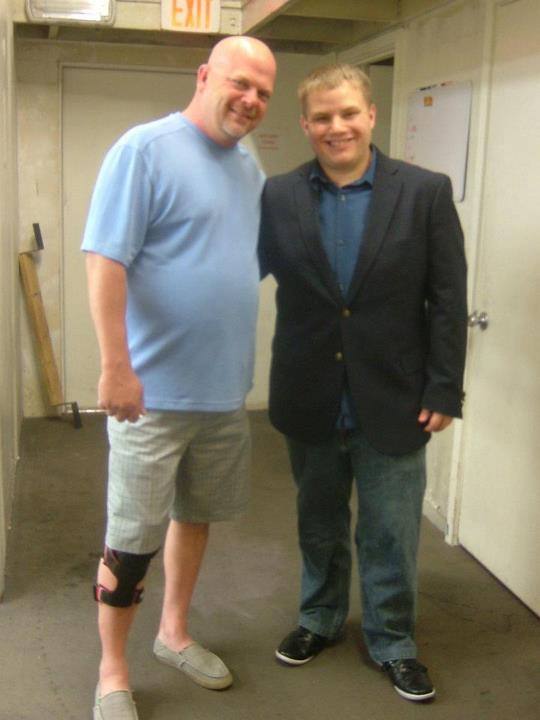 On the day of filming, which was postponed just once this year, I arrived and made my way to the door. The shop was busy that day, but an intern found me with ease and escorted me to the back. While the storefront is fairly small, at least compared to how they make it look on TV, the back area is huge. There are offices, storage shelves, garages and closets abound. Surprisingly, I was taken to a small area with no windows that was more akin to the set of a snuff film than anything else.
I may have been unenthusiastic with the holding area, but I was quite excited to film for the show, especially when one of the producers came in and informed me that I'd be filming with Rick Harrison and Chumlee, perhaps the two most well-known stars on the show. Eventually the store was cleared out, with the exception of a couple of dozen customers who were allowed to stay and serve as extras, which basically meant they browsed in silence and didn't look at the camera.
Sadly, I can't tell you too much more about my experience because, as the e-mail indicates, I had to sign a nondisclosure agreement. Rest assured that when the episode does air, which will likely be during the upcoming new season this fall (they don't give you an exact date), I will write a more intimate recap of my experience and break down just how the negotiations went.
Get all the latest PokerNews updates on your social media outlets. Follow us on Twitter and like us on Facebook now!
*Lead photo courtesy of Pawn Stars.