This is How We Troll: Joe Sebok Drama and Making the WSOP Main Event a Reentry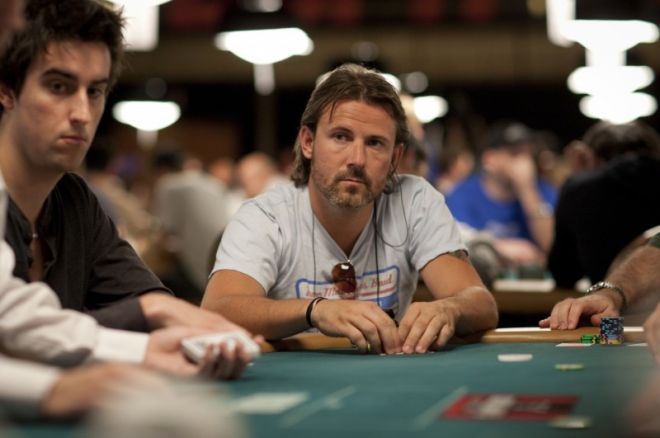 TwoPlusTwo can be scary. If you're a first-time visitor, it's hard to process all of the threads, and if you post you could be flamed. Badly. Posters have no mercy. So, if you're afraid to lurk, or you're just looking for the best threads at the moment, we thought we would lend a helping hand — and add our input.
Let the trolling begin.
1. WPT signs Joe Sebok (Edit: Not happening)
It all started when Jeanine Deeb, the daughter of professional poker player Freddy Deeb, tweeted the following: "Look who has joined the @WorldPokerTour teaaam!!!! @joesebok WOOHOO!! ❤"
The tweet also included a picture of Joe Sebok, but it has since been deleted.
*According to source close to the World Poker Tour, Sebok wasn't signing a sponsorship deal, rather he was going to run the live updates and the live stream. Not long after the thread was started, Kevmath announced that Sebok will not be joining the WPT, and perhaps it's because the majority of the TwoPlusTwo posters protested the alleged hiring. And, while News, Views, and Gossip can be flooded with white noise, numerous influential pros spoke up in the thread, including Isaac Haxton, who said the following:
It's not like he was an investigative journalist who tried his best to dig up a story and failed. He was a paid representative of UB, spun that role as some sort of "I'm gonna get to the bottom of this!" bull****, learned nothing, and then turned around and assured people that it was safe to play on UB.

The people who believed him lost every dime they had on the site when the **** hit the fan. He continues to tweet about his awesome life and his sweet house on Hermosa Beach that he pays for with money UB stole and gave to him to tell people they weren't crooks. He's never even made a proper public apology or admitted his role in helping UB rob more people.

If anything, he doesn't get enough hate. The fact that poker-related businesses continue to pay him money to use his name in association with their products is mind-blowing.
Haxton's view has received so much support that it's been included in the original post.
Since signing with Ultimate Bet in September 2009, Sebok's image in the poker industry has taken a significant hit because he was unable to uncover any evidence from the infamous UB/Absolute Poker scandal. In an interview with PokerNews, Sebok said: "I hope that fans and players rest easier knowing that I am a UB pro now. I will absolutely be keeping both eyes open and will be the first to call out any wrongdoing if any were to happen there."
In the year and a half before Black Friday, little significant information was released. When Black Friday hit, UB's funds were frozen, and the company has shown no interest in refunding the players.
Singling out Sebok for all of UB's wrongdoings is unfair, and I'm certain that he regrets some of his decisions while working with Paul Leggett and the gang, but unlike other members of Team UB, Sebok was "an intermediary between Ultimate Bet staffers and the site's all-star roster of players." While Eric Baldwin, Maria Ho, Brandon Cantu, Adam Levy and others simply represented the site on the felt, Sebok was speaking publicly on behalf of the entire operation, which carries significantly more weight. So, when the ship went down, the poker world didn't look to the players for answers, they looked to the two captains, Sebok and Legget. When Sebok couldn't provide any answers, the poker community vilified him.
Before signing with UB, Sebok was undoubtedly one the "good guys" in poker. PokerRoad, a multimedia poker site, which he created with his father Barry Greenstein, was very influential within the community, and being media friendly, Sebok was always portrayed in a positive light. Sebok also went deep in the 2009 World Series of Poker Main Event, finishing 56th ($108,047). However, once your image is damaged — whether it's deserved or not — it's very difficult to rebuild. The WPT put itself in a bad situation by publicly negotiating with Sebok, especially when there are so many entertaining people to choose from in the poker world.
No other news has surfaced regarding the position the WPT was interviewing for, and Sebok declined to comment on the matter.
2. View: Main Event a re-entry?
If they're not locked and deleted, the majority of "view" threads on NVG are short-lived. However, "camz2895's" thread about the WSOP Main Event being changed to a reentry event garnered nearly 5,600 views and 94 posts. The original poster gave an example that the WSOP Circuit main events are reentry events, but the majority of the posters disagreed with the idea.
Some of the posters in the thread confused reentry tournaments with rebuy tournaments, and there is a stark difference between the two. In reentry tournaments, the players literally have to reregister for the tournament once they're eliminated. Thus, they pay the juice again, and they get moved to a different table. In rebuy tournaments, players don't move from the table they're at, rather they simply reload their chips when they "add on" or lose all their chips. The WSOP staff questioned the integrity of rebuy tournaments a few years ago however, and eliminated them from the schedule because they didn't want players to be able to "buy a bracelet."
In general, I'm in favor of reentry events because they increase prize pools. Larger prize pools attract more players and create more buzz, which is good for the game. Most reentry events are smaller buy-in events however, and none of them generate $62 million prize pools. The Main Event is perfect as it is. The buy-in is perfect, the field size is perfect, and more importantly, the dichotomy of professional players and amateurs is perfect. Unless the value of the dollar plummets or rises exponentially, the format of the Main Event should never change.
If the Main Event became a reentry event, then two distinct things would happen: (1) Day 1a of the Main Event would become the biggest, craziest day of poker each year. Professional players with multiple bullets would emerge from the day with either half a million chips or none. In turn, (2) amateur players would be overwhelmed. The Main Event is great because everybody is on the same playing field, and everybody has an equal shot at winning millions of dollars and becoming the world champion. If professional players are suddenly given extra opportunities, then the tournament would become less special.
As much as we root for professional players to go deep, we love to see Chris Moneymaker, Greg Raymer, Dennis Phillips, and Darvin Moon at the final table — it gives us an opportunity to be able to sit on our couches and ask ourselves, "Why not me?"
From a pure money-making standpoint, then, making the Main Event a reentry event is a no-brainer. But it would simply ruin everything. Keep the tradition, protect the amateur players, and don't mess with a perfect tournament.
*Update: Additional information was discovered and added at 4:50 p.m. PDT
What do you think? Let us know in the comments section below, and as always, follow PokerNews on Twitter for up-to-the-minute news.