All Mucked Up: 2012 World Series of Poker Day 48 Live Blog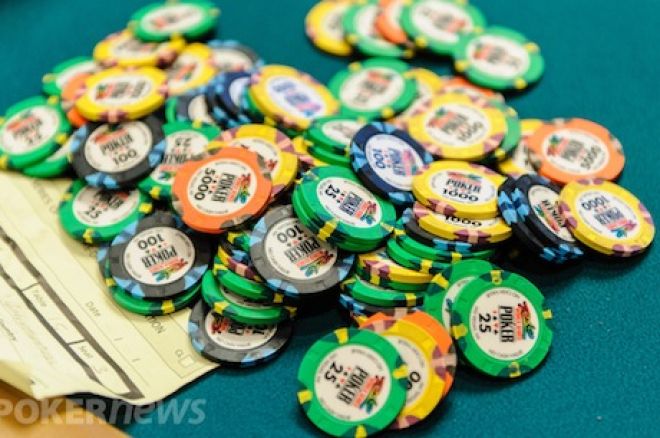 All Mucked Up is a live blog of all the stuff you want to know at the 2012 World Series of Poker, besides hand histories and bad beats. Well, we might add a few in here, everyone loves a good bad beat story — unless it happened to you. Check back often for polls, soundbites, celebrity sightings, and who knows what else!
Did You Even Go Home?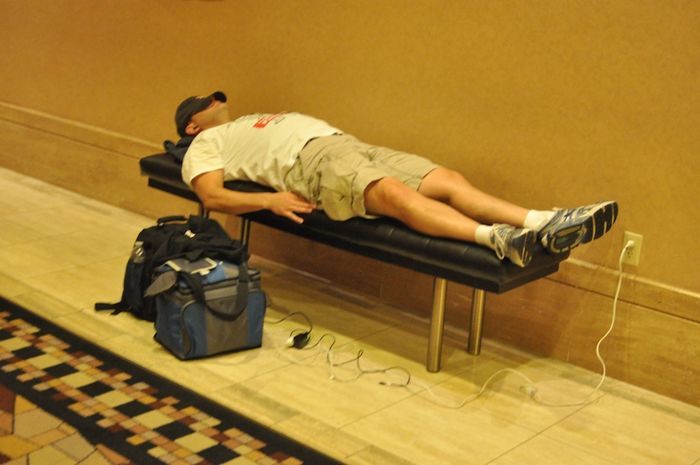 Here we are, day 5 of the Main Event and the grind is starting to wear on people. We stumbled up to this man asleep right outside the PokerNews HQ on the famous couch that has housed Gus Hansen and Jennifer Tilly naps already this series. It's 11:30 am, has he been here all night? It looks like his hotel room, he has the laptop plugged in to charge and an implicit 'do not disturb sign' hanging in thin air. We adhered to his wishes and were as quiet as we could be when he took this pic!
Old School Intro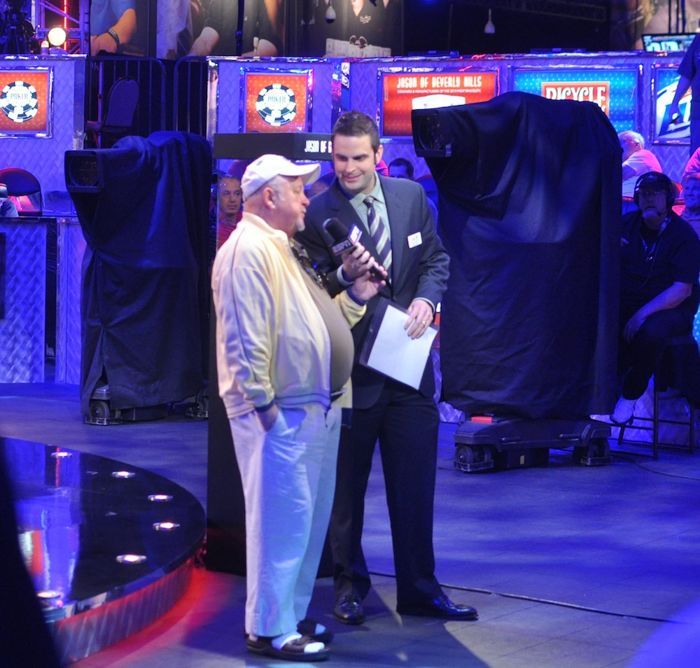 Yesterday we blogged about Perry Green, the 3 time bracelet winner and relative legend of the World Series Of Poker! Well PokerNews are always ahead of the curve, as today Green is getting big attention as the oldest contestant in the room at the ripe age of 72! Green did this morning's 'Shuffle Up And Deal' where he spoke about his 56 year long marriage and the time he lost to Stu Ungar heads up for a bracelet!
"The most common question people ask me about the old days is 'what was it like to play heads up against Stu Ungar?' Well the truth is it's no more difficult than playing against any of you guys remaining." Perry told the crowd, presumably in a shameless attempt at Main Event Metagame.
A Legend Will Rise: Day 48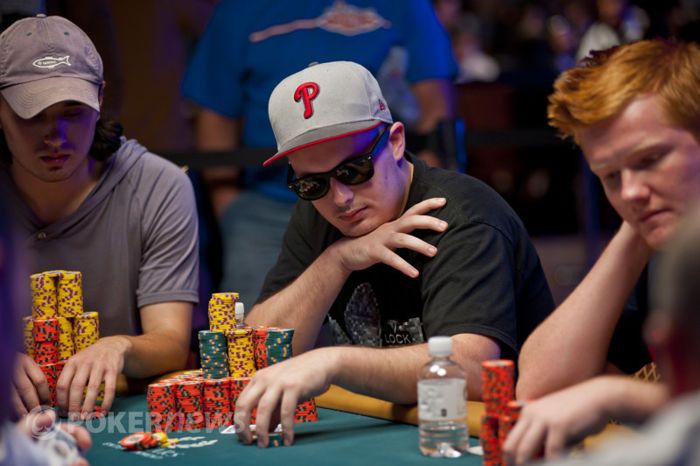 Last night's chip leader Paul Volpe was looking fresh this morning as he bids to fight his way to the final table. Volpe has over two million in chips, as does online tournament phenom David D'Alesandro, seated at the far end of the Amazon room. Unfortunately for D'Alesandro, he has a medium stacked Joseph Cheong directly to his left, one of the players people dread seeing the most this year.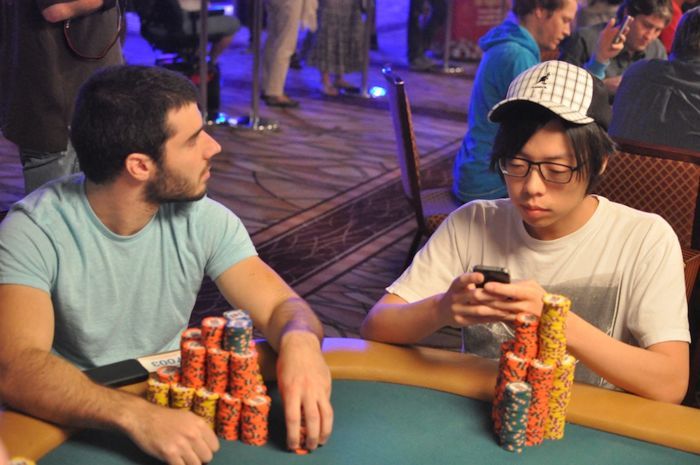 If anyone more huge battles come to our attention in the course of the day, we'll be sure to post them!
On Break With Paul Volpe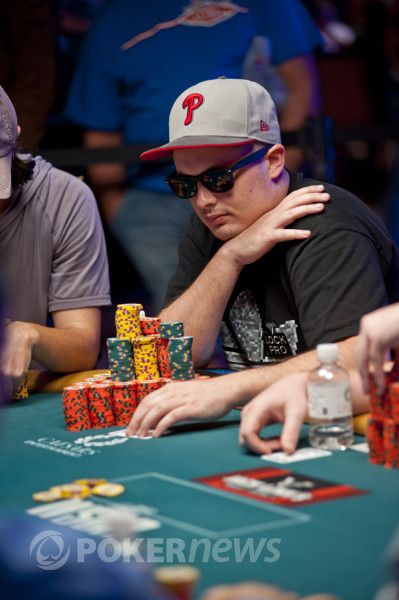 We caught up with current chip leader Paul 'paulgees' Volpe on break to talk about his tough table, some big hands and being in the limelight.
So your table's pretty tough, what do you know about these guys?
Yeah the tables awful, its defintely the worst I've played at. ADZ [Matt Marafioti] just got moved there right before break, there's a Malicious [David Randall], Taylor [Paur] and Joe Cheong too who I've played with a lot online and I know that they're three of the best around. It's been super tough, but I just have to get through the day, every day is different.
How has the day gone so far?
It's gone well, I have 3.5 million right now. To start the day I dropped down a bit. My 3Bs weren't working or I was getting shoved on, and I just chipped down a bit. I lost one bit pot where I bet the river on a four spade board to try to fold out pairs and I got called by two black eights.
I won a big pot then [At the table of death] where a young german kid opened first to act and malicious called and I squeezed with AQ of diamonds. German guy shoves 69 of spades and I call. Flop came A95 and I turned him dead with another A. That brought me up to 3.5 Million.
How are you feeling? Are you having fun going this deep?
I feel great. I really hope I can keep going and make the November Nine, or the October eight or whatever it's going to be called. I don't love all the cameras though, I'm not used to it. I don't mind talking to you, but there's cameras in my face every second. Hopefully I'll get used to it and deal with it better in the future though.
Strategy With Timothy Adams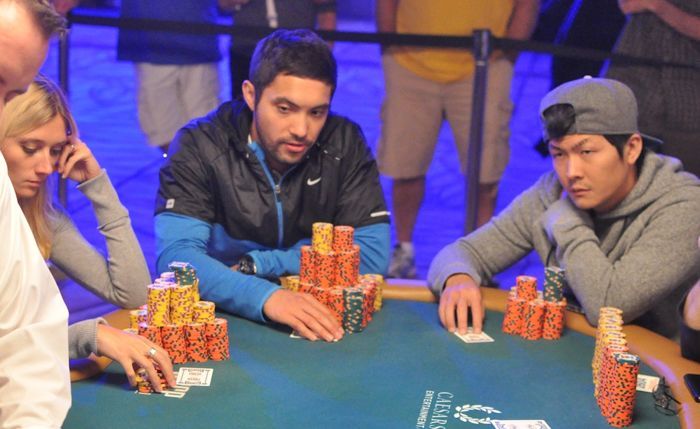 Timothy Adams secured his 5th cash of this years WSOP yesterday when he made the money in the Main Event. Timothy, or 'TimOthee' as he's known online, even won a bracelet in June's Event 28 - $2,500 No-Limit Hold'em Four Handed. Adam's secured a huge pot just before break to move up to the 2.5 million mark, and nearer to chip leader Paul Volpe. Here's what he had to say about that hand.
"So this guy called Dave [D'Alesandro] had just sat down and had been opening a lot of pots. We're pretty deep so I pick up 33 and decide to 3B it to retake some initiative. I think most people would call there but I think it plays better like this when we're deep. He calls. "
"Flop comes 722 with two spades and I bet 101,000. I bet here to protect my equity with a hand like JT, and also to get value from a hand like AQ high. I turn gin 3 of spades, so I'm pretty happy and I just bet 222,000. I get another call."
"The river is an offsuit Q so I just bet an amount that I would bet with my bluffs, which I thought was 392,000. He calls so I rocket up to 2.5 million in chips so now I'm super deep."
"Honestly, I'm so much more comfortable deep. I play all cash, I'm trying to transition to playing more tournaments but coming from a deep cash background I'm going to have a big advantage over people when we play deep. So I'm very comfortable moving into the next level."
---ReadMore---
Meet Jarrett Nash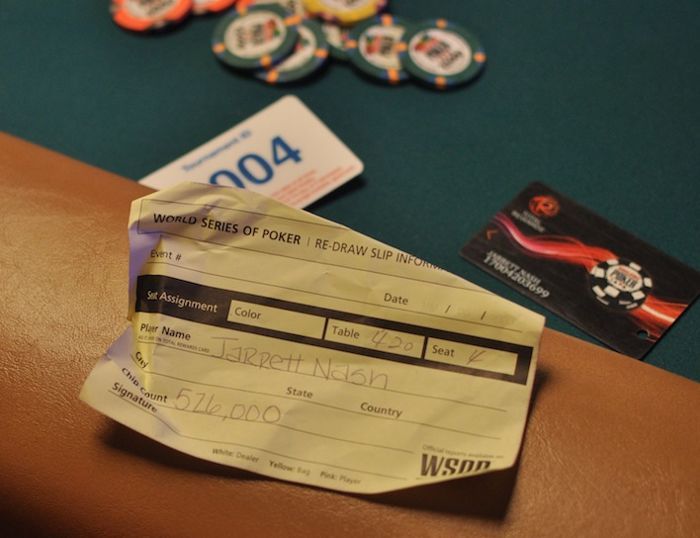 Jarrett Nash is making the headlines in the Rio today, and he hasn't even played a pot. Nash is reportedly sitting out the entire day because he doesn't want to play poker on the sabbath. We can't say if this is true or not, but Jarrett certainly hasn't sat down today and has blinded down from 525k to below 350k. With 8 hours left to play, there's no guarantee he's coming back to a stack tomorrow...
Ryan Daut told us he spoke to a friend of Nash's who told him he 'stopped playing at sundown last night' and that he 'doesn't roll on the Sabbath'.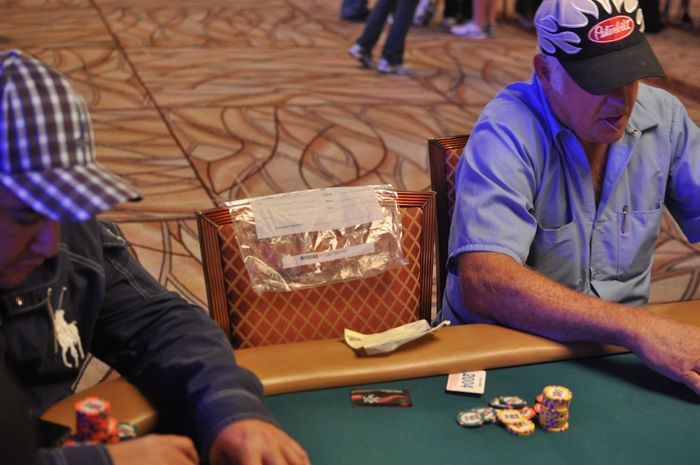 Featured & Murders Row
While some believe that it's a little difficult to get down to the featured tables to get pictures, we thought otherwise. We managed to get a shot of every feature table as well as murderers row, so we can tease the ESPN broadcast a little bit for you.
At the main feature table today are Daniel Negreanu and Chance Kornuth.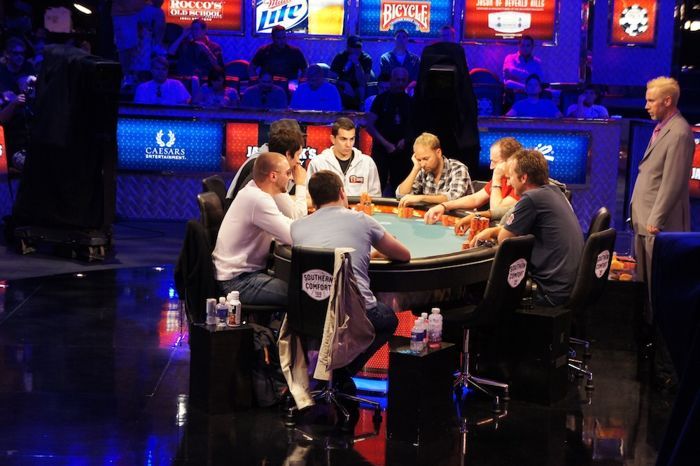 We were also recently informed that Hollywood Star Kevin Pollak has also just moved to the table. It should be a tough ride for the short stacked Pollak.
At the secondary feature table are Jason Somerville and Gavin Smith, along with day three chip leader A.J. Jejelowo.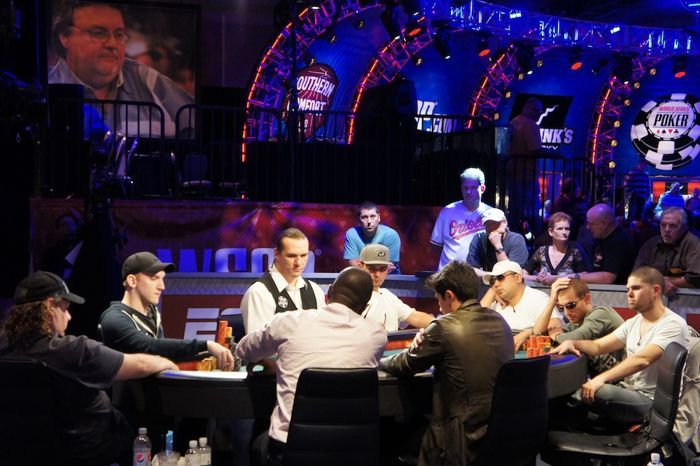 We had a piece today about the five toughest tables from this year's World Series of Poker, but we just found one that might have to be added to the list down in murderers row. At the table is chip leader Paul Volpe along with Joseph Cheong, Matt Marafioti, and Dan Shak. Truly, this is the most exciting table in the room right now, and the one table that you would not want to find yourself seated at.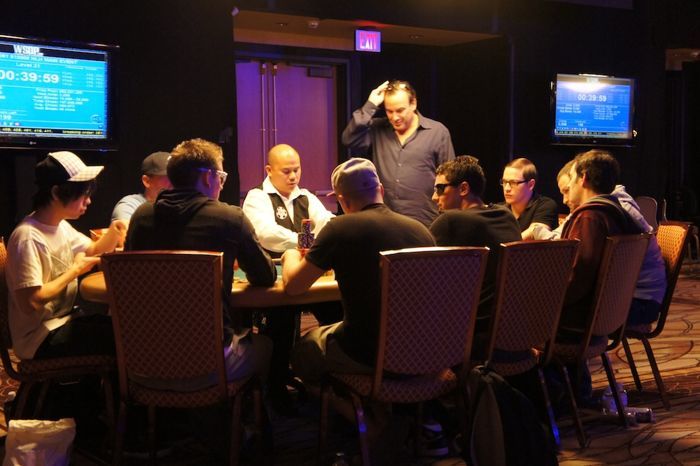 At the other side of murderers row was a table featuring Vanessa Selbst and Erik Cajelais. Both players have monster stacks so it should make for some interesting play and some great poker T.V.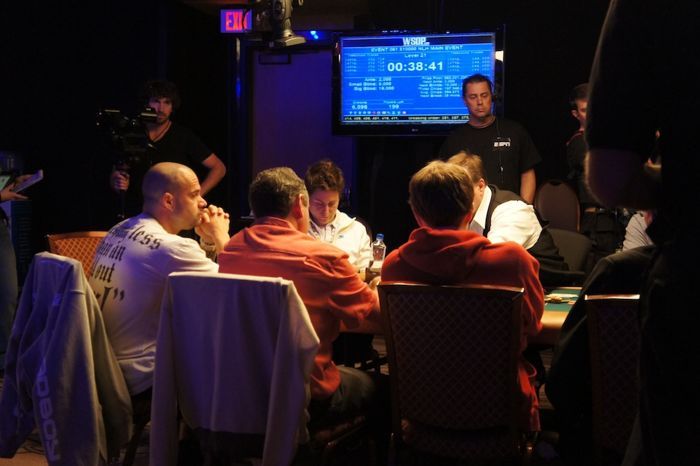 We'll be sure to update you if any players are added to the featured tables, or if the tables are broken, and new ones are formed.
Three Years, Three Day 5s
An interesting statistic arose today involving former November Niner Joseph Cheong.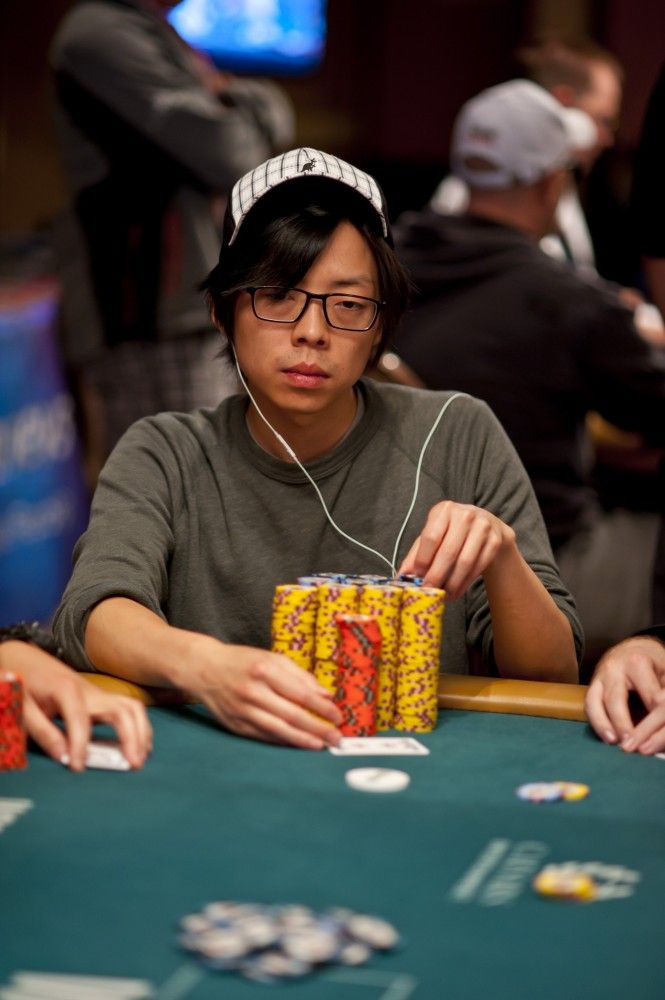 In 2010, Joseph Cheong finished 3rd in the Main Event behind John Racener and Jonathan Duhamel. In 2011, Cheong finished in 114th place. Now, in 2012, Cheong is still alive with an above average chip stack, making a run at it on day 5 one more time. That's three day fives in three years. Truly an amazing accomplishment.
Let's take a look at where Cheong started all three day 5s.
| Year | Start of Day | End of Day |
| --- | --- | --- |
| 2010 | 754,000 | 3,357,000 |
| 2011 | 862,000 | 1,988,000 |
| 2012 | 1,441,000 | ?,???,??? |
If Cheong makes it through the day, it will be three day 6s in a row. Truly an amazing accomplishment, and a feat not to be overshadowed soon.
CALLING JARRETT NASH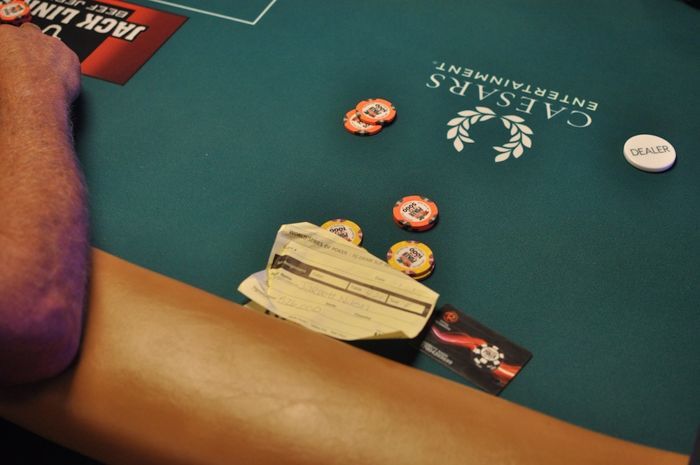 You are in severe danger of blinding out of a $10,000 dollar tournament!!! Report to your seat IMMEDIATELY!!
World Series of Facts
Another interesting stat from today's field: There is one November Niner from the each of the previous three years still alive.
2009: Eric Buchman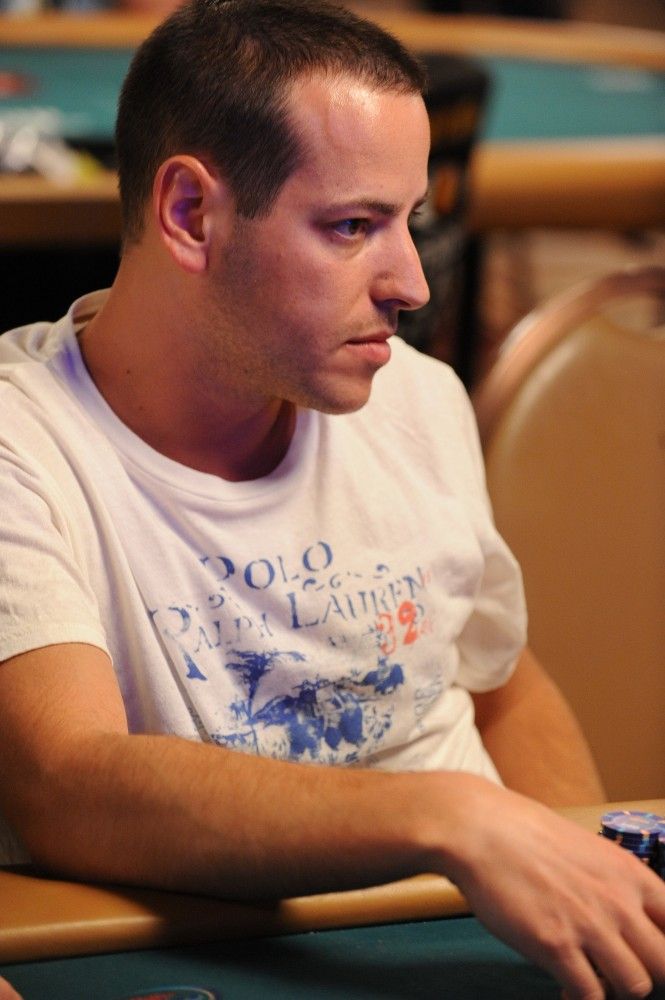 2010: Joseph Cheong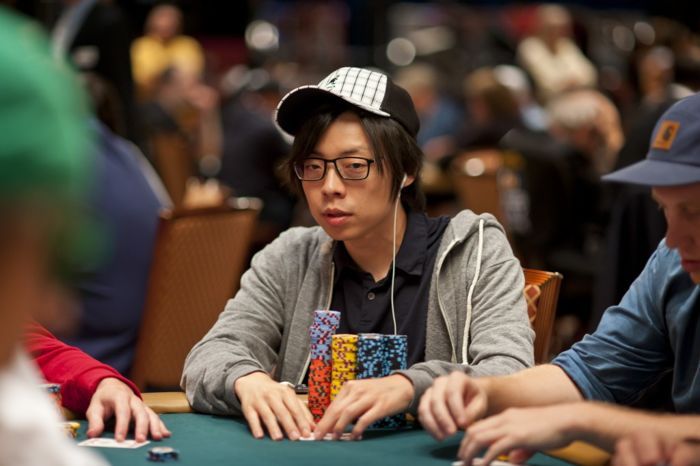 2011: Sam Holden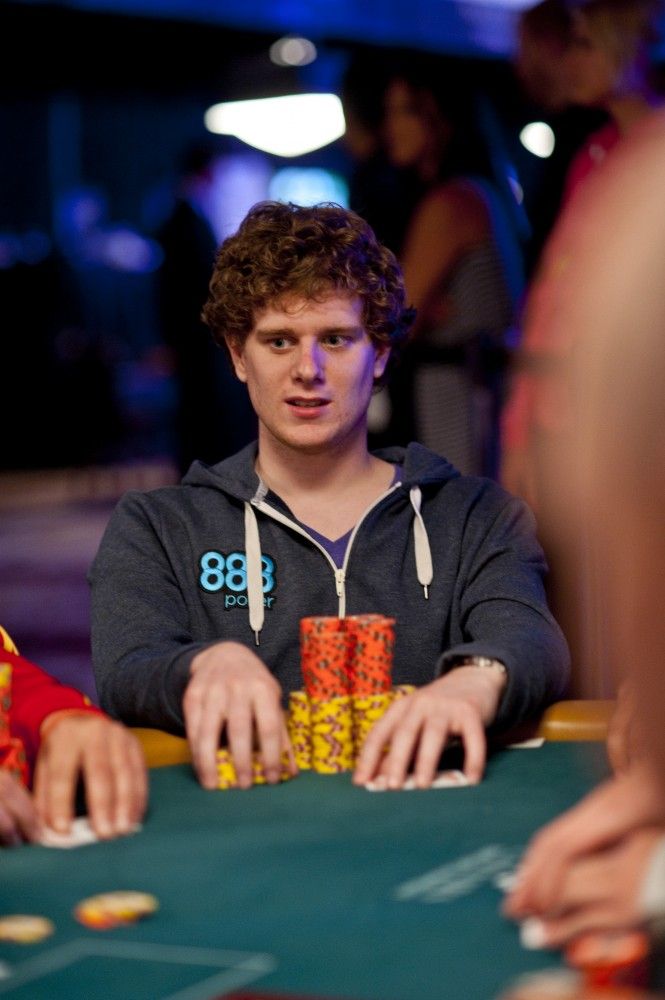 It could be the year someone makes their second Main Event final table.
Just Another Day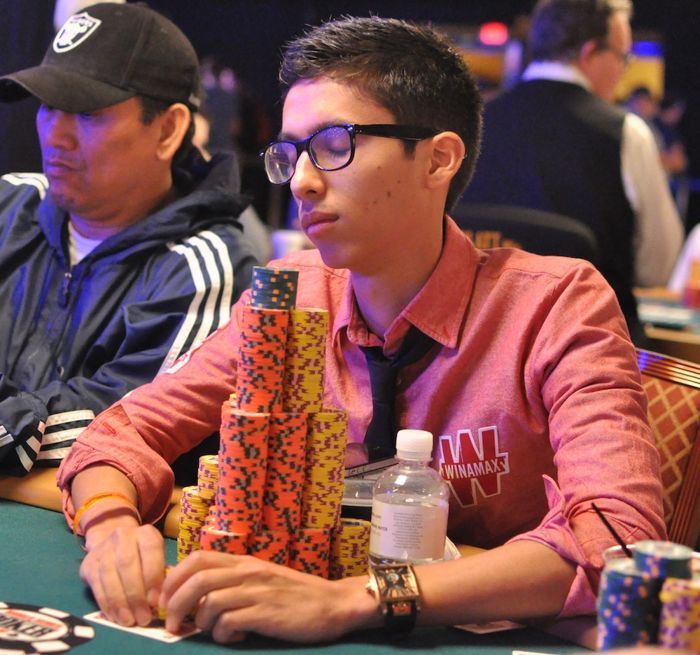 This may be day 5 of the worlds biggest poker tournament, but Jarrett Nash doesn't seem too impressed and nor does Tristan Clemencon. We caught Tristan having a quick nap right in the middle of a hand here. He obviously had nothing else to do after stacking his chips in a nice, neat castle.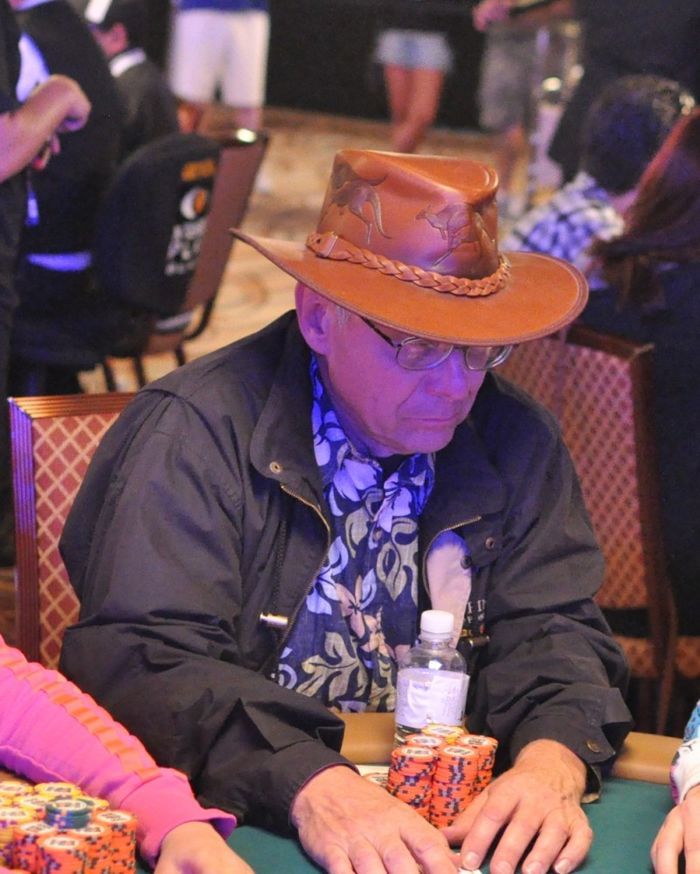 Elsewhere, we spotted the last cowboy standing in this years main event. Out of probably 80 cowboys hats between the 3 days 1s, this gentleman is the only player left who has graced one today. We think there should be a special award for that!
Dinner Break
It's dinner break for the final 139 players still left in Event 61: $10,000 No-Limit Hold'em Main Event.
Kyle Keranen is the chip leader with 5,662,000. Other notables, still in the hunt, include Joseph Cheong (3,100,000), Paul Volpe (3,866,000), David "ODB" Baker (2,050,000), Gavin Smith (1,330,000) and Team PokerStars Pro Vanessa Selbst (1060,000). You can view the total chip counts here.
The Amazon room is eerily quite at the moment. Stay tuned, as we'll be reporting back the fireworks that are sure to go off once action resumes.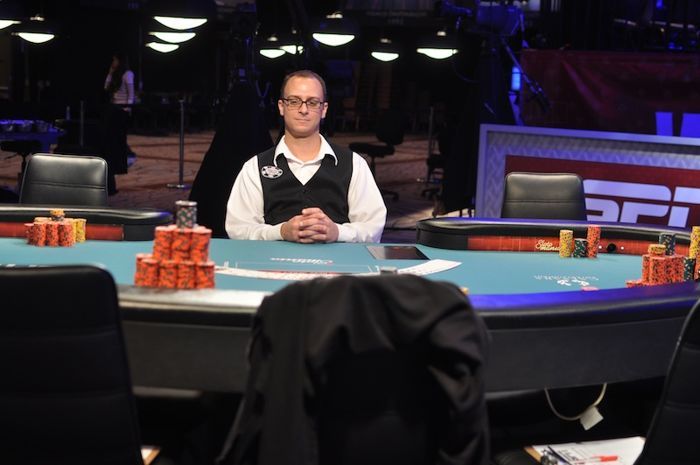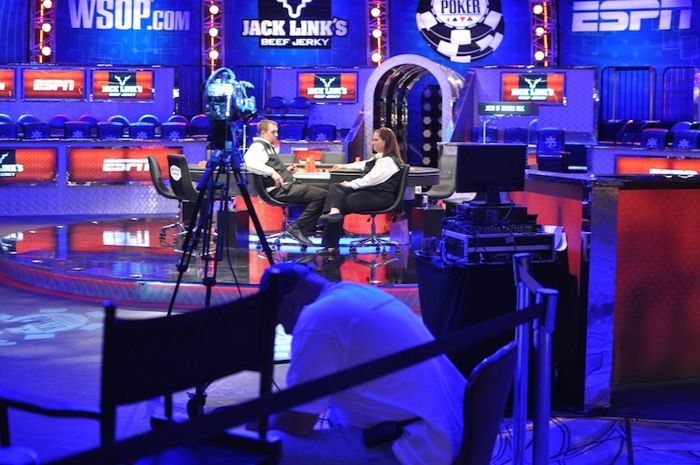 Girl Power
Of the 126 players left in the Main Event, five are women: Team PokerStars Pro Vanessa Selbst (2,700,000), Elisabeth Hille (3,360,000), Gaelle Baumann (4,080,000), Marcia Topp (2,860,000), and Susie Zhao (1,041,000). Will we have a woman at this year's Main Event final table? Barbara Enright is still the only woman to ever to do so.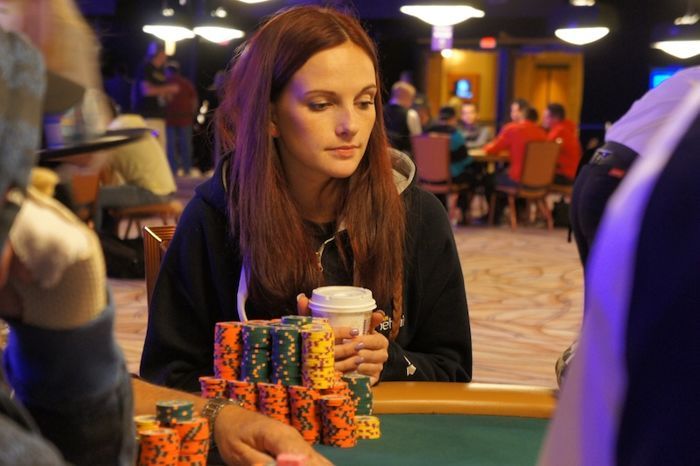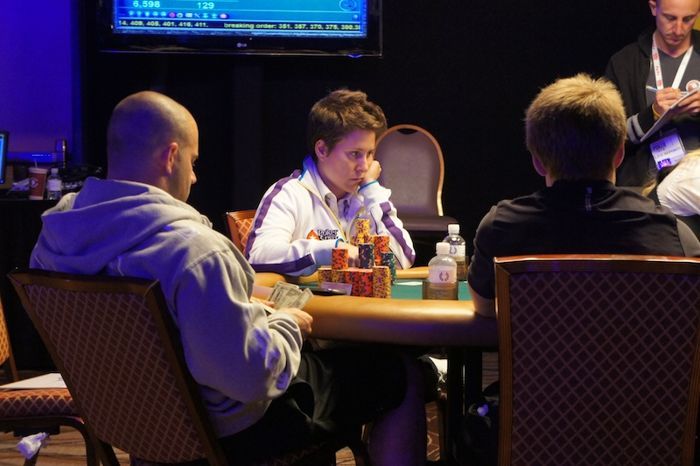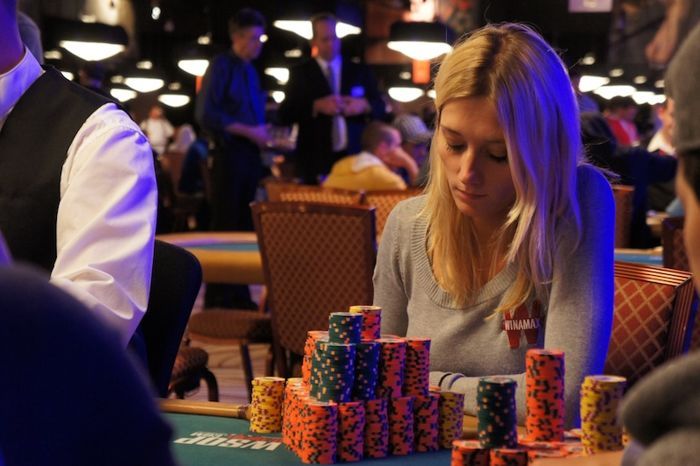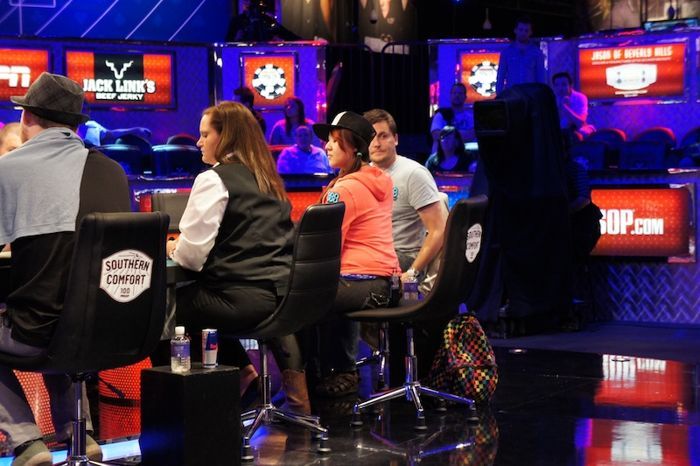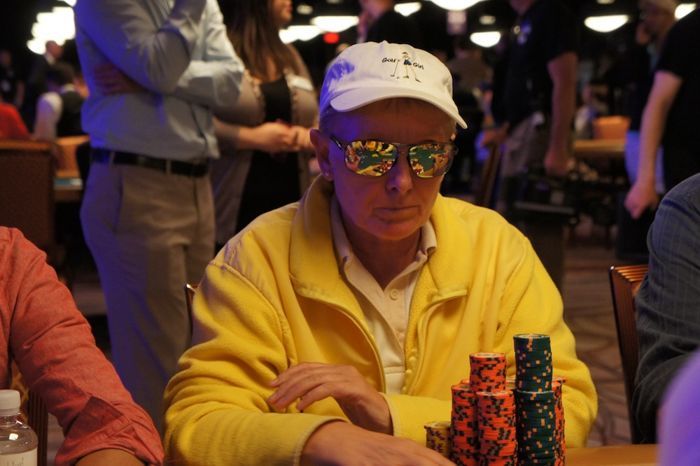 Poll
Who's Your Pick To Make The Final Table?
No Low Hanging Fruit Here
As the field dwindles--so do the soft spots--making each table tougher than before. We were fortunate enough to stumble across a hand involving Dave D'Alesandro and Gaelle Baumann. D'Alesandro flatted a 50,000 middle position open on the button only to be three-bet from Baumann in the small blind.
The original opener folded and D'Alesandro went into the tank for over five minutes, contemplating his next move. Except for shuffling their chips, neither player moved or spoke. D'Alesandro eventually mucked his hand, but you could sense the reluctance in his action.
We caught up D'Alesandro at break to walk us though the hand.
"I had a hand that I figured was ahead of the opener's range, and I had the button, so I was comfortable flatting, but then she (Baumann) makes it 165K to go," D'Alesandro said.
When asked him if he's noticed Baumann getting out of line thus far, D'Alesandro replied, "That's the thing, she has gotten out of line, so I wasn't sure what to do at that point. I've been very impressed with her play."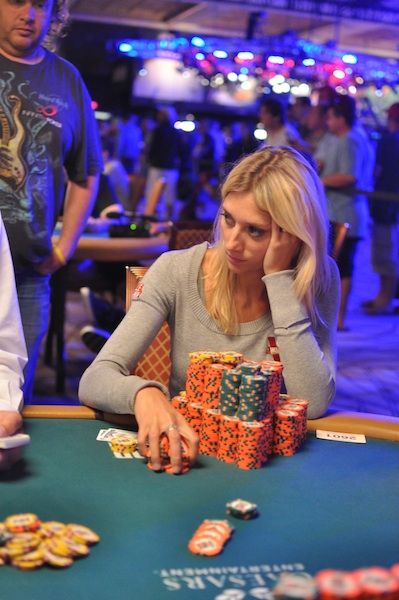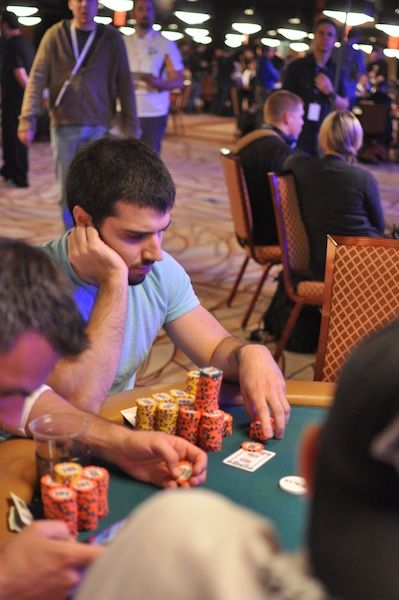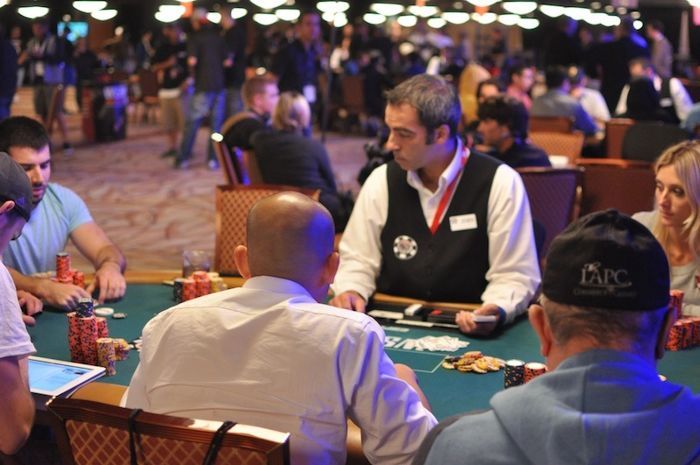 Best-Dressed
Our best-dressed award of the day goes to A.J. Jejelowo. Mr. Jejelowo is looking sharp in the shirt and tie. He's still in the thick of things with 2,600,000 chips.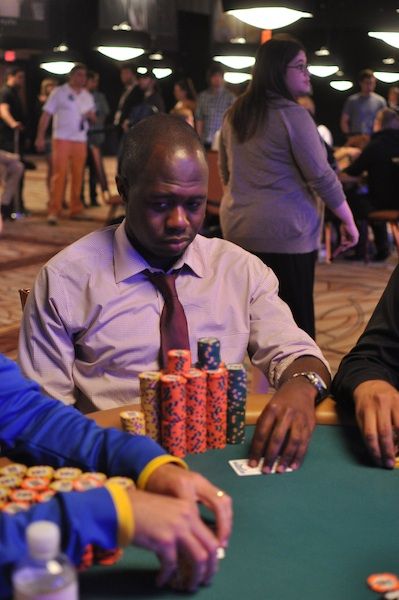 Ben Yu Sighting
We spotted Ben Yu on the rail sweating his friend Scott Abrams, who currently has 2,300,000 in chips. We're not sure exactly what it is that Scotty doesn't know.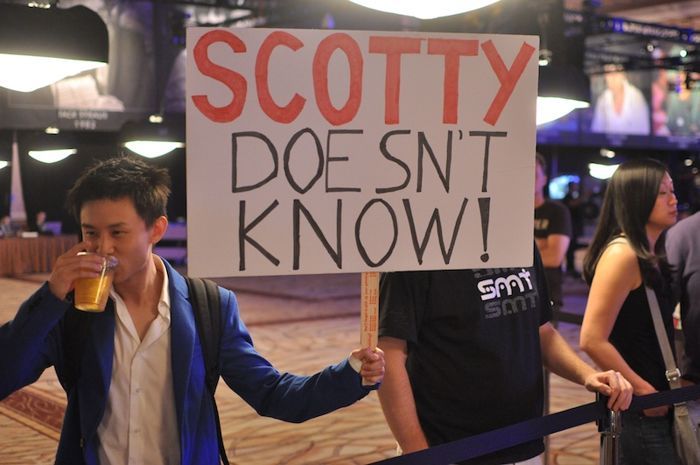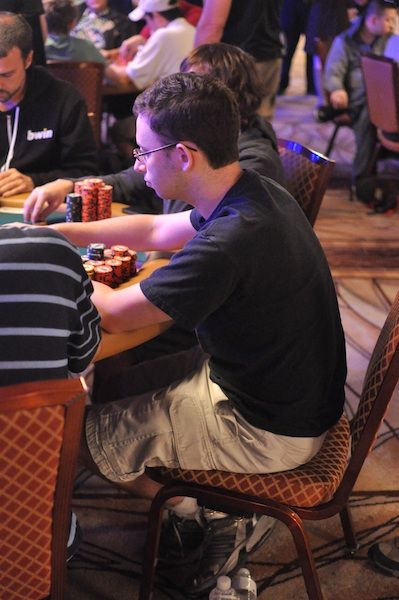 We encourage everyone to get involved with "The Muck." See something you think is Muck worthy Send it to the muck@pokernews.com. We accept all media including photos and videos.