All Mucked Up: 2012 World Series of Poker Day 50 Live Blog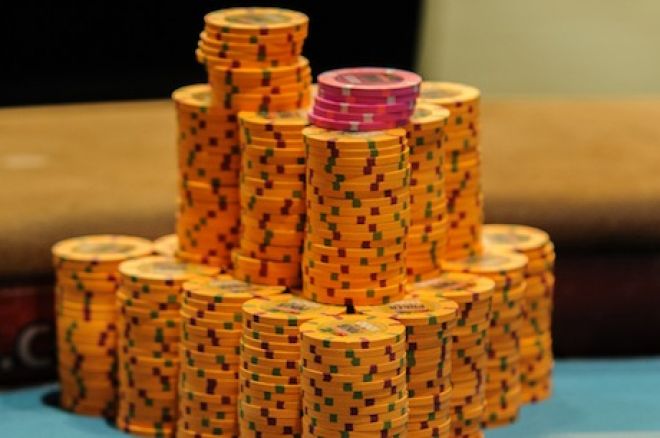 All Mucked Up is a live blog of all the stuff you want to know at the 2012 World Series of Poker, besides hand histories and bad beats. Well, we might add a few in here, everyone loves a good bad beat story — unless it happened to you. Check back often for polls, soundbites, celebrity sightings, and who knows what else!
A Legend Will Rise: Day 7
It's day seven of the 2012 WSOP Main Event. Of the 6,598 entries only 27 remain. Which players will make the Octo-Nine? We'll find out today. There are plenty of interesting story lines. Will we have a woman make the Main Event final table? Two still remain, Elisabeth Hille (9,7770,000) andGaelle Baumann (6,295,000). Can Marc Ladoceur (15,875,000) and Daniel Strelitz (12,790,000) ride their big stacks to October glory? WillGreg Mearson capture the top spot in the POY standings? Stay tuned, as PokerNews will be answering all those questions and more. Here are images of the three feature tables before the start of play: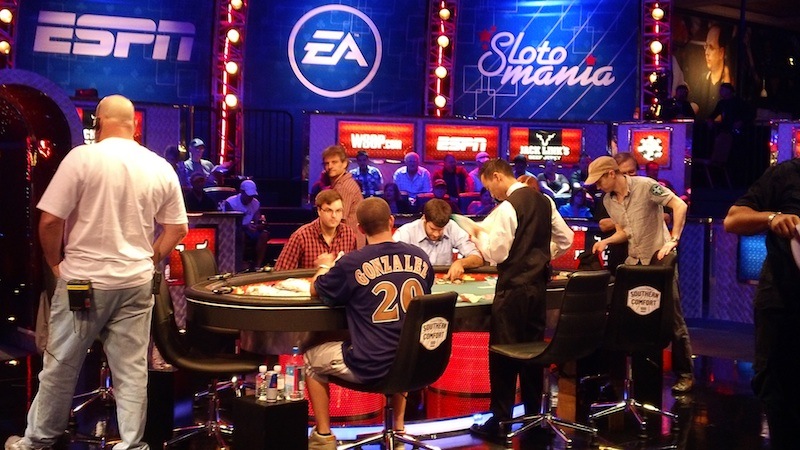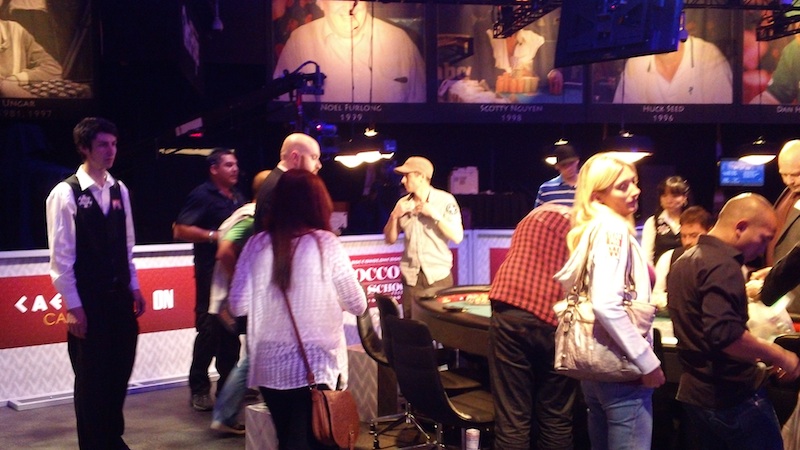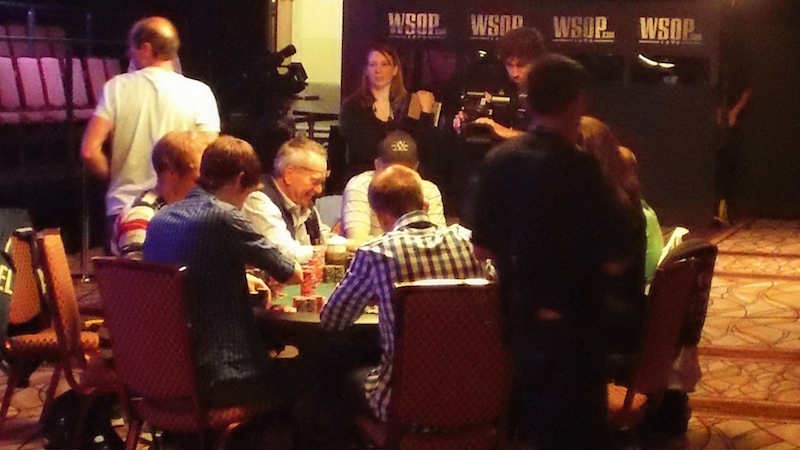 Views From The Rail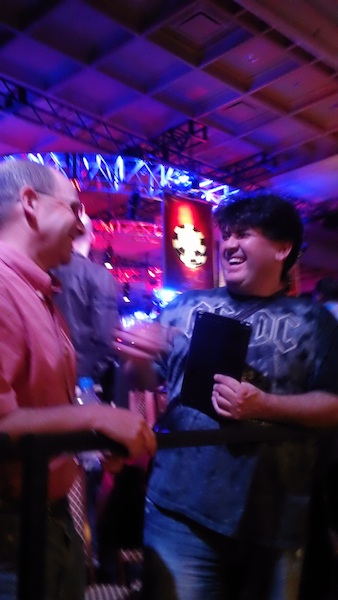 We spotted poker pros Andres Pereyra and Jamie Armstrong on the rail sweating Daniel Strelitz who got off to a rocky start during the first level of play today. An untimely bluff followed by a lost flip knocked him down to 3 million chips at one point, but he's managed to grind his stack back up to over 9.5 million chips.
We asked Armstrong if he had given any advice to Sterlitz before the start of the day.
"No, not really, I just told him to keep it going," Armstrong said. "He knows what to."
Pereyra has a financial interest in Strelitz.
"He's my horse, I have a piece. I'm excited for the rest of the day."
Also spotted was 2012 WSOP bracelet winner, Ronnie Bardah, sweating Paul Volpe, with chants of, "Lets go Paul V, lets go Paul V."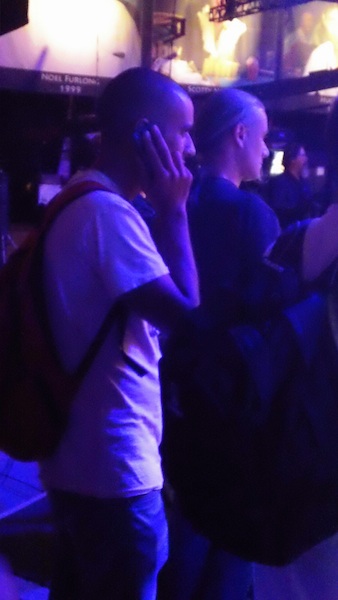 Prop Bet Update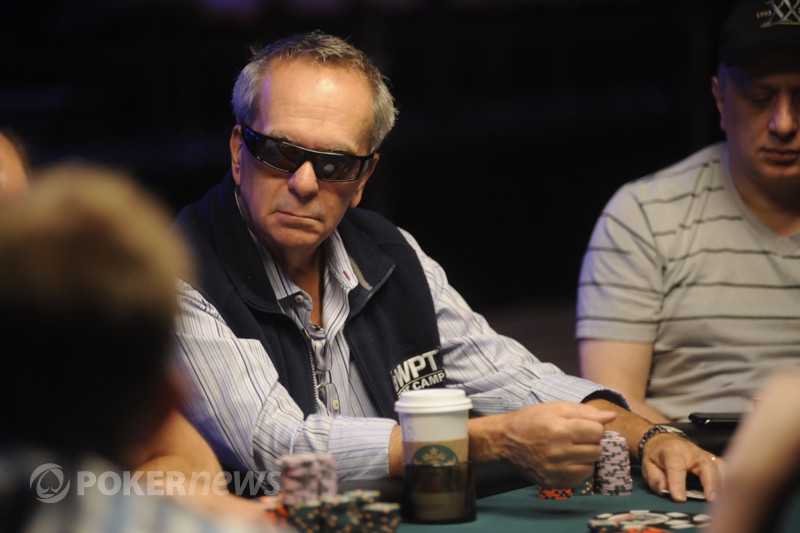 As 54 year old Roland Israelashvili was just eliminated from the Main Event, we thought we'd post a quick update of how the high stakes prop bet - whether someone over the age of forty would win the Main Event this year - was doing. Israelavili's exit means that there are only 3 Main Event contenders over the age of 40 left, and they're squaring up against 21 of the best young guns in the game! The 3 over 40s left are Steven Gee, Michael Esposito and the 67 year old Robert Buckenmayer. The players involved in this prop bet, Barry Greenstein, Mike Sexton, Doyle Brunsen and Brian 'stinger' Hastings among others, have been giving 10-1 that a player over 40 will win the bracelet. The youngsters currently outnumber the golden oldies 7-1! The youngest player left is Jacob Balsiger, who is 21 years old.
Sights In The Amazon
We spotted Antonio Esfandiari leaving the Amazon room in a rush. We caught up to him to ask who's his pick to win the Main Event.
"I don't even know who's in it," said a smiling Esfandiari. When you're the One-Drop champ you can afford to have more pressing worries.
Here's Daniel Strelitz being interviewed by Kara Scott after being eliminated in 24th place. He'll be taking home $294,601.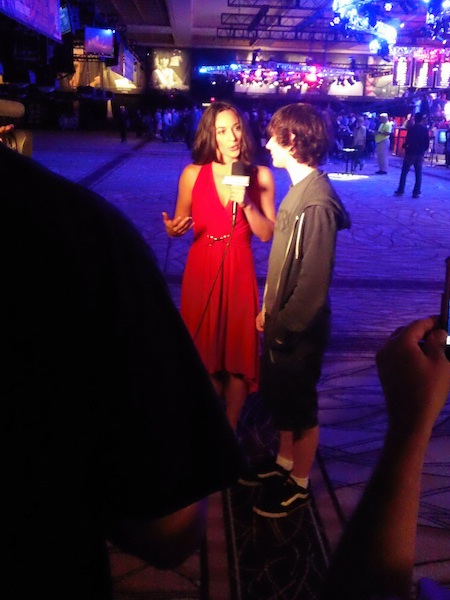 We Have A Winner!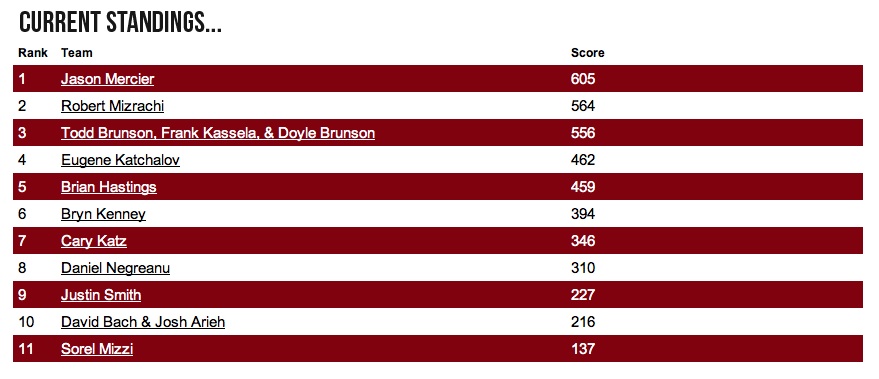 Jason Mercier was just announced the winner of the 25k fantasy draft for the this year World Series Of Poker. It was tight at the end, but Yuval Bronshtein's 23rd-place finish was enough to confirm Jason winning... Or was it?!?! New information tells us that if Paul 'paulgees' Volpe makes a push to finish 1st or 2nd in in chips for the October Nine then Bryn Kenney's team will actually steal the title from under Mercier's nose - it will all be decided today as the October Nine finish is not what matters, but what positions they finish in chips today.
So Bryn Kenney has an outside chance depending on Volpe's performance tonight, otherwise Jason Mercier will be winning $178,750 for his win! We'll keep you posted.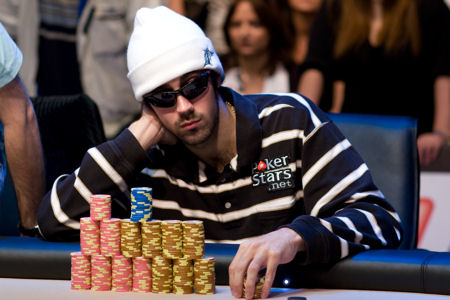 ---ReadMore---
Prop Bet Update: Part 2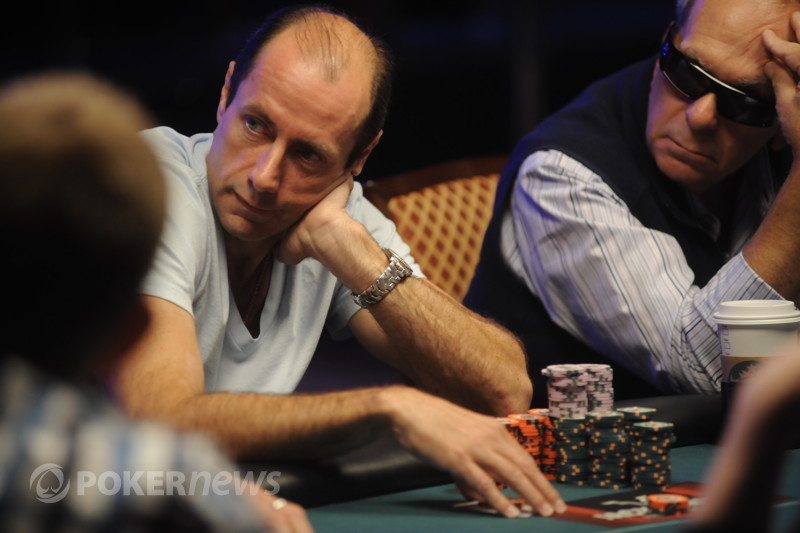 We're going to keep regular updates of the 'Over Forty Bracelet Winner' prop bet since we believe some people are sweat it. Since Robert Buckenmayer busted an hour ago, we now have 2 over 40's in the remaining field of 15 - Michael Esposito and Steven Gee. The two players have 17,570,000 and 11,860,000 respectively, counting for just about 15% of the chips in play. This means that Barry Greenstein, one of the bettors who sided with the over forties, is +EV since he's getting 10-1. If the 2 remaining oldies slip to only having 9% of the chips then Greenstein is breaking even - assuming the oldies play as well as the young guns!
We'll keep a close eye on Gee and Esposito's chip stacks moving forward tonight and bring you another update at the end of the next level! For now, let us know which way you would bet getting 10-1 on an over forty taking this down!
Poll
Would You Take This Bet at 10-1?
As for women in the Main Event, there are still two women left in the event - Gaelle Baumann and Elizibeth Hille. The ladies have in total only 6.2% of the chips in play at the time of writing. Who do you think is more likely to win - Team Female or Team Over-Forty?
Poll
Who's More Likely To Win, A Woman Or An Over-Forty?
Women Making History
Gaelle Baumann and Elisabeth Hille are making history today. This year marks the first time since 2000 that two women have made the final 27 at the World Series of Poker Main Event whenKathy Liebert finished 17th and Annie Duke just missed the final table by finishing 10th. Barbara Enright is the only woman to make a final table at the WSOP Main Event, finishing fifth in 1995.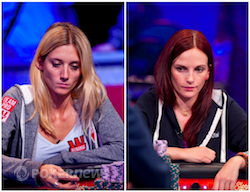 Here's a look at the highest finishes by women throughout the history of the WSOP Main Event:
| Year | Player (finish) |
| --- | --- |
| 1970-1985 | none cashed |
| 1986 | Wendeen Eolis (25th) |
| 1987-1992 | none cashed |
| 1993 | Marsha Waggoner (19th) |
| 1994 | Barbara Samuelson (10th) |
| 1995 | Barbara Enright (5th) |
| 1996 | Lucy Rokach (26th) |
| 1997 | Marsha Waggoner (12th) |
| 1998 | Susie Isaacs (10th) |
| 1999 | none cashed |
| 2000 | Annie Duke (10th) |
| 2001-2002 | none cashed |
| 2003 | Annie Duke (47th) |
| 2004 | Rose Richie (98th) |
| 2005 | Tiffany Williamson (15th) |
| 2006 | Sabyl Cohen-Landrum (56th) |
| 2007 | Maria Ho (38th) |
| 2008 | Tiffany Michelle (17th) |
| 2009 | Leo Margets (27th) |
| 2010 | Breeze Zuckerman (121st) |
| 2011 | Erika Moutinho (29th) |
Long List Of Goodbyes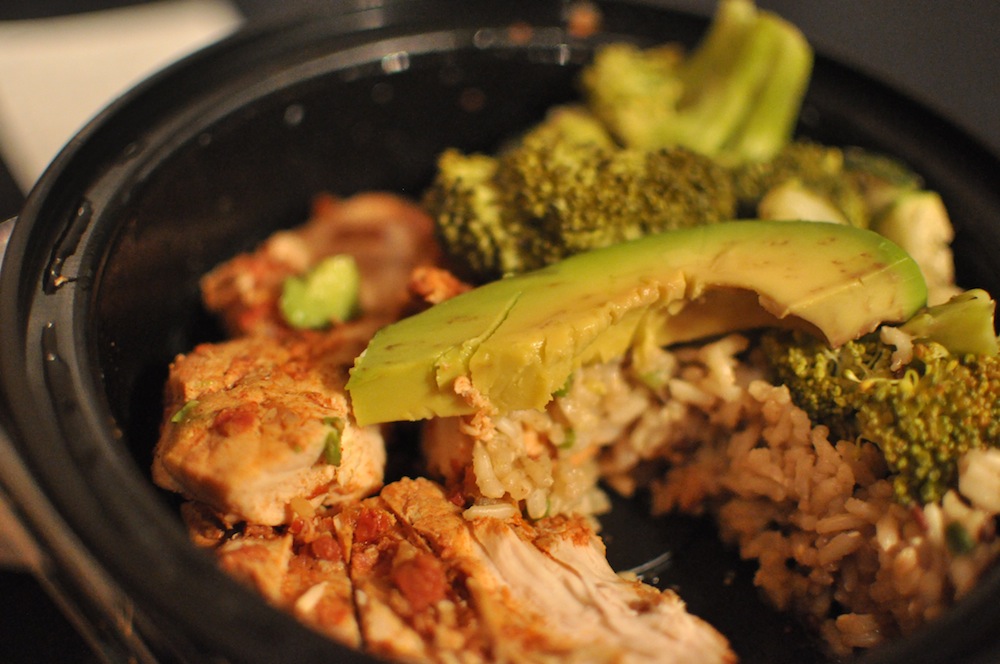 All American Dave swung by the PokerNews office with his last meal of the summer - and to start ticking names off his long list of friends at the World Series Of Poker this year! Dave told us he had over 300 clients year at WOSP, showing what a great idea his is and how you can build something so strong within a community like this. Dave's going to be here next year, but until then he's trying to open a restaurant in the Las Vegas area - keep an eye out for it! Pictured above is Dave's 'Esfandiari Chicken', named after client and One Drop winner Antonio Esfandiari!
It's A Real Production Here
The Rio is now completely empty in the convention center with all the tables cleared out except for the two remaining feature tables. Here's what it looks like down here in the Amazon room: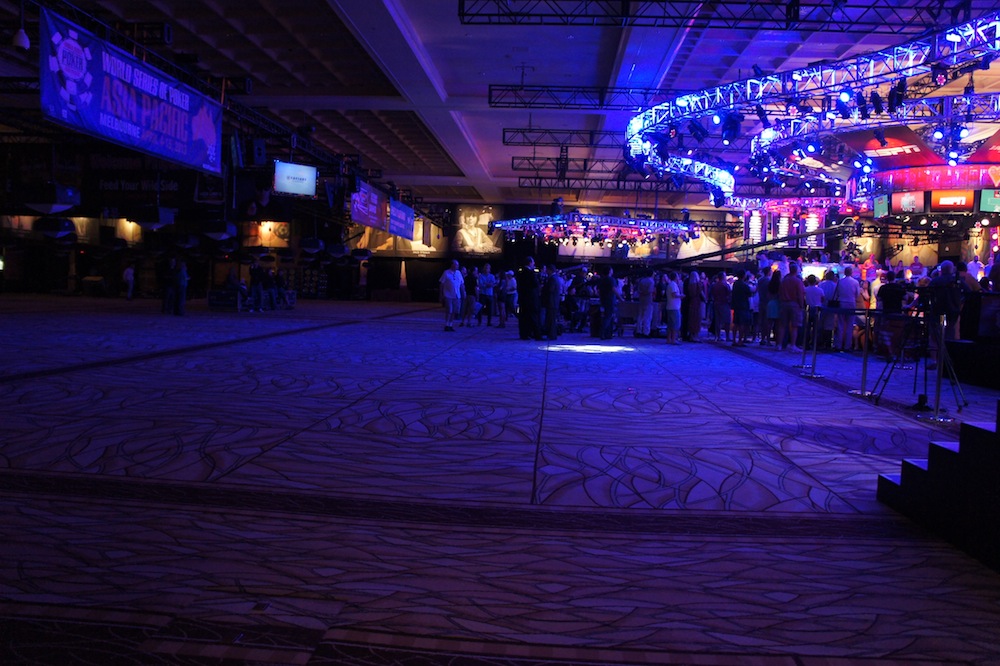 Everything is is dark and mostly quiet except for when someone wins a pot and there is a sort of tension and electricity in the air here as five more eliminations will solidify the final table here.
Here's a look at the feature table area: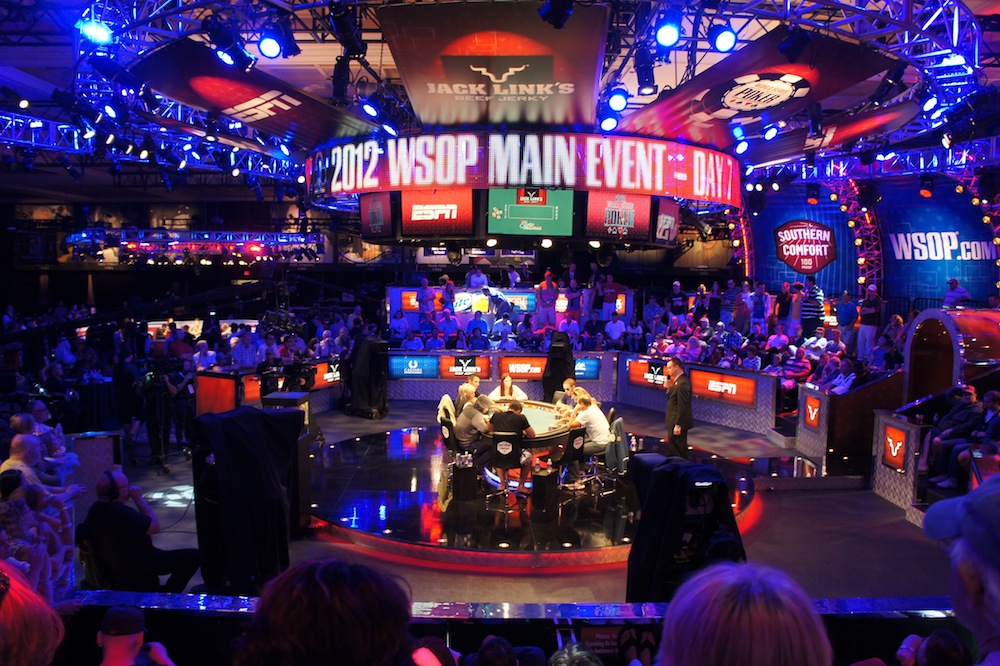 Soon it will all be cleared out until October, but until then there is still poker to be played.
The Almonds Are Priceless
Recently, the T250,000 almond chip was introduced into the Main Event: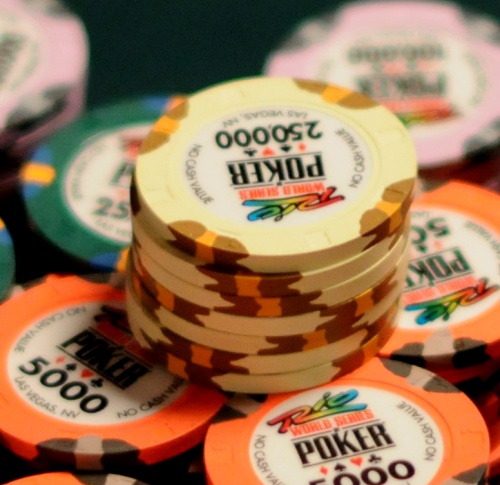 We've done the math and the almond chip is worth a little more than eight starting stacks (240,000/8 = 30,000). After some further math, that puts the cash value of the almond chips somewhere around $80,000. Amazing to think about that.
Unofficial Final Table
With the elimination of Elisabeth Hille in the 11th place, the unofficial final table is now set: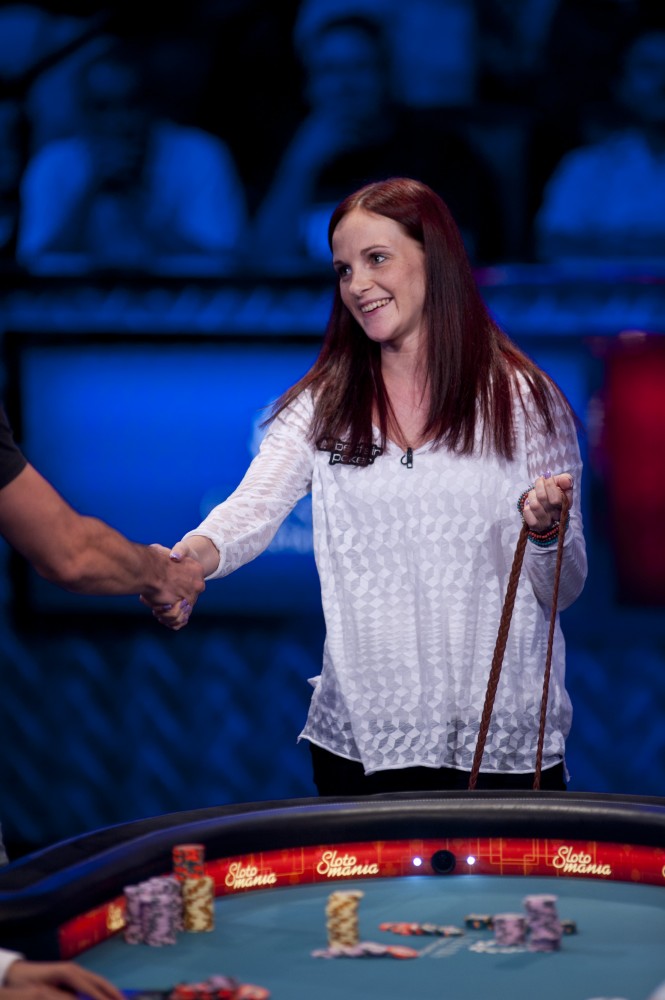 The hopes and dreams of the women now lie on France's Gaelle Baumann, who also has the shortest stack.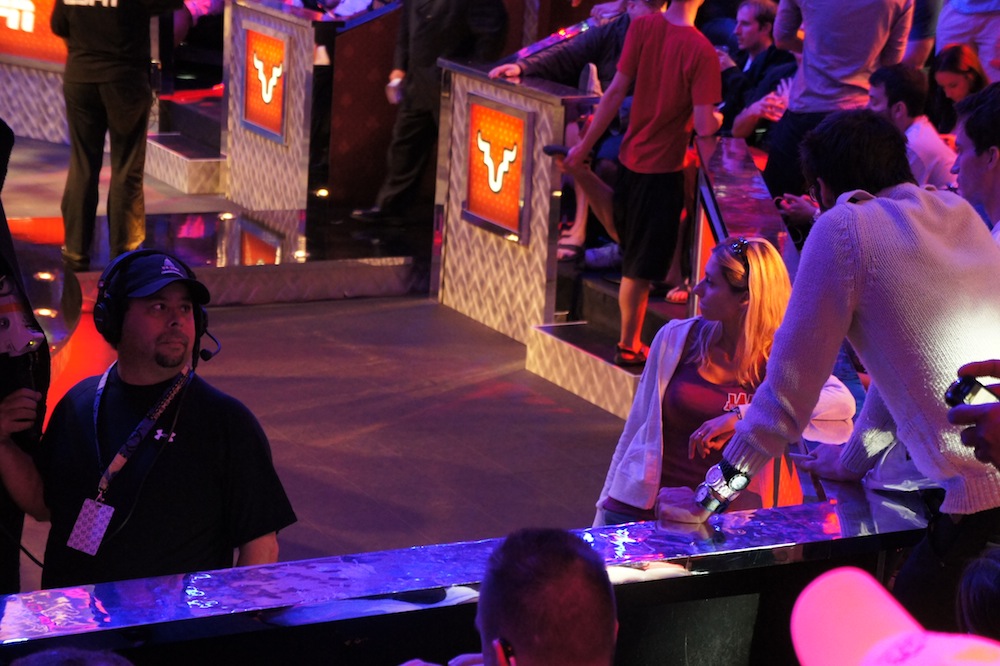 Here's a look at the counts from the unofficial final table:
| Table | Seat | Player | Chips |
| --- | --- | --- | --- |
| Main | 1 | Russell Thomas | 18,700,000 |
| | 2 | Jacob Balsiger | 16,300,000 |
| | 3 | Jeremy Ausmus | 10,100,000 |
| | 4 | Steven Gee | 15,800,000 |
| | 5 | Greg Merson | 31,305,000 |
| | 6 | Gaelle Baumann | 2,330,000 |
| | 7 | Jesse Sylvia | 44,500,000 |
| | 8 | Robert Salaburu | 16,675,000 |
| | 9 | Andras Koroknai | 23,180,000 |
| | 10 | Michael Esposito | 18,470,000 |
And here isElizabeth Hille taking a victory lap around the unofficial final table.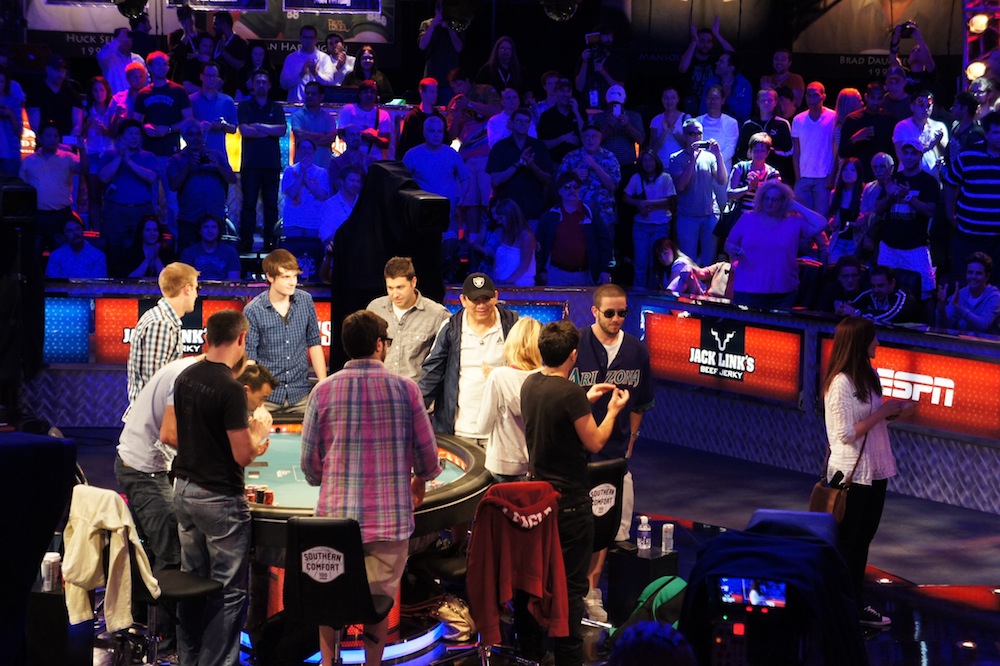 Play will continue until one more player is left, and then it's off until October.
Sounds From the Rail
Here is the what Gaelle Baumann's rail chants sounds like. It's the word "Gaelle Baumann," sung to the tune of "Three Cheers For the Red, White, and Blue."
Nice Guy in Poker?
We just saw this tweet from poker pro AP Phahurat about Andras Koroknai, who is now at the unofficial final table about something that happened on Day 4 of the Main Event:
Andras Koroknai & Robert Salaburu were at my table whole Day 4, Hungarian won AK & AK for 900k & gave the kid 1% freeroll #NiceGuyInPoker

— AP Alex Phahurat (@LegitAP47)
We don't know if this is true or not, but if we can catch up with Koroknai, we'll be sure to ask him.
There Will Be No Ladies in the Octo-Nine
Gaelle Baumann has just busted the Main Event when hes
couldn't catch up to Andras Koroknai's
. That means with the elimination of Elisabeth Hille in 11th, we've had a double female elimination bubble.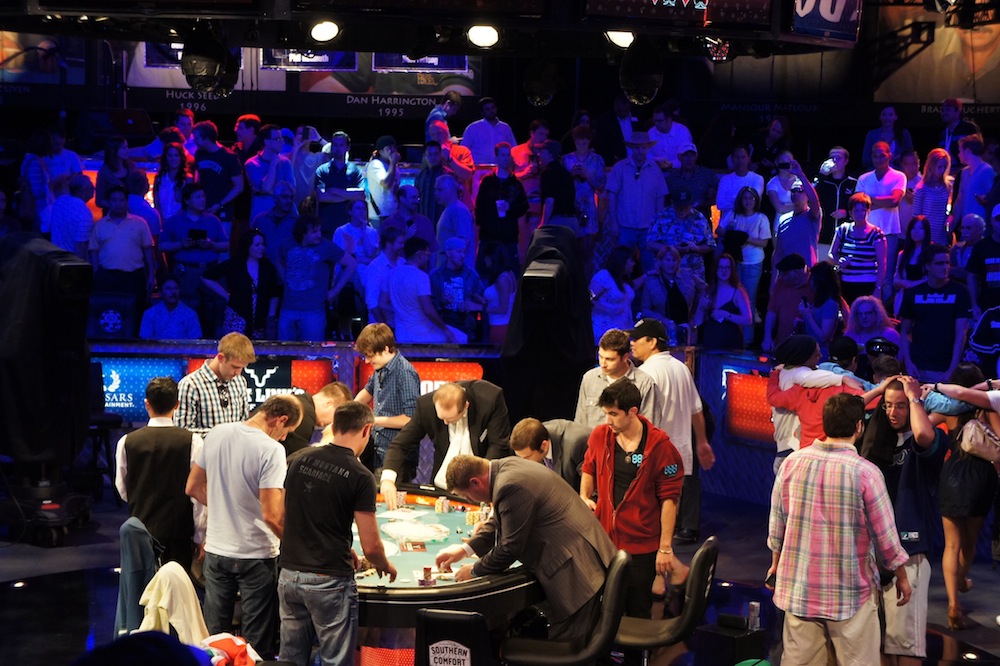 Ironically, Gaelle's elimination was from Koroknai, who she had at risk on day 5, but Koroknai accidentally mucked his hand while Baumann was holding pocket kings! Either way, here is your list of players for the october nine:
Russell Thomas
Jacob Balsiger
Jeremy Ausmus
Steven Gee
Greg Merson
Gaelle Baumann
Jesse Sylvia
Robert Salaburu
Andras Koroknai
Michael Esposito
Good luck to all the players, and we'll see you in October!!!
We encourage everyone to get involved with "The Muck." See something you think is Muck
worthy Send it to the muck@pokernews.com. We accept all media including photos and videos.