The Lazy Person's Guide to PokerStars' Acquisition of Full Tilt Poker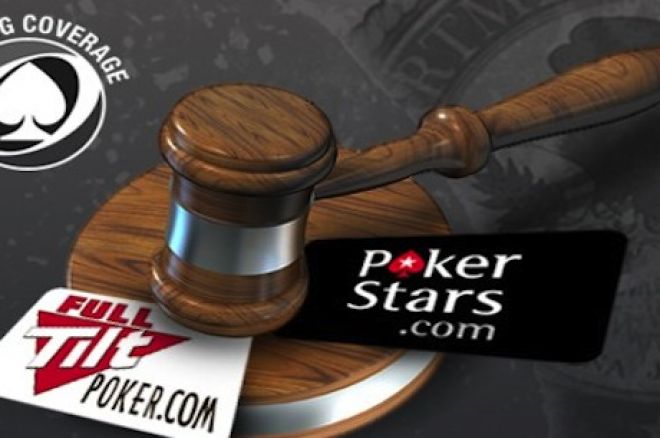 Ever since Groupe Bernard Tapie's bid to acquire Full Tilt Poker (FTP) fell through last April and PokerStars surfaced as a potential buyer, poker players have waited for news on their funds, which have been tied up for 15 months. On Tuesday, players rejoiced when they received great news: after months of negotiations with the United States Department of Justice, PokerStars had completed the purchase of FTP and players around the world would have their balances refunded.
The great news answered a lot of longstanding questions, but it also inspired many new questions. When would players receive their funds? What did the settlement mean for the future of online poker in the U.S.? How would the settlement affect other defendants like Chris Ferguson, Howard Lederer, Rafe Furst and Ray Bitar?
There was a lot of information to absorb, and a day later, questions remained. As such, we've decided to sift through all yesterday's developments and offer them to you in one simple place, what we're calling the Lazy Person's Guide to PokerStars' Acquisition of Full Tilt Poker.
What does the settlement entail?
This is how it will work. First, FTP will forfeit all its assets to PokerStars, which will then forfeit $547 million to the U.S. government over the next three years. Once the transfer of assets is complete, PokerStars will repay non-U.S. customers FTP players a total of $184 million within 90 days, while U.S. players, who are owed approximately $150 million, will be paid by the U.S. Department of Justice.
I'm from the United States. How will I get my money back?
According to the PokerStars Corporate Blog: "The money paid to the U.S. Government will in part be used to reimburse former Full Tilt Poker customers in the United States, through a remission process to be administered by the Department of Justice."
Details on the remission process are expected to be announced in the coming weeks.
Will Full Tilt Poker be back?
According to a press release issued by PokerStars, the company plans to relaunch Full Tilt Poker in most markets as a separate brand, after appointing a "new, independent management team." Full Tilt Poker's headquarters will remain in Dublin, but regulatory oversight will be transferred to the Isle of Man.
Will FTP be available to all players outside the U.S.?
According to Lee Jones, Head of Home Games at PokerStars, the company is not planning to seek a license to operate FTP in France, Italy, Spain, Denmark, Belgium and Estonia. "Full Tilt players in these countries will be able to play on PokerStars," Jones said in a thread at TwoPlusTwo.com.
Will we see either PokerStars or FTP back in the United States?
PokerStars added in Monday's announcement that the agreement allows the company to operate real-money online poker in the U.S. under both PokerStars and FTP brands once the activity is legalized at a state or federal level and PokerStars receives the proper licenses; however, such legalization could take a long time. PokerNews' Matthew Kredell provided an in-depth look at the issue in PokerStars Settlement: What Does It Mean for Online Poker Legislation in the United States?
What sort of ramifications will this deal have on defendants like Howard Lederer, Chris Ferguson and Rafe Furst?
The short answer is that there shouldn't be any ramifications on the cases involving the aforementioned defendants. As FTP attorney Jeff Ifrah told PokerNews yesterday: "On the civil side, this deal doesn't affect the individual defendants obviously, but in terms of what impact it will have, from a technical legal standpoint it really shouldn't have any impact. The charges against the individuals on the civil case are different than what was just resolved today. What was resolved today was the civil forfeiture charges against the corporate defendants, and what remains open are fraud charges against individuals. So there really are different charges."
How have Lederer, Furst, Ferguson and Bitar responded to the developments?
The former two have remained silent, which doesn't come as much of a surprise considering each still have charges pending. Meanwhile, Ferguson's lawyer, Ian Imrich, told PokerNews: "This settlement is great news for poker players worldwide, and particularly in the US. But Chris Ferguson is not in a position to comment at this time as he has not yet resolved his individual civil case with SDNY and the settlement discussions — while extremely positive and productive — must remain private and confidential at this time."
Bitar released a statement of his own, which in part read: "Over the past few days, I signed the papers necessary to complete Full Tilt's deal with the US Government. The company's assets will now be transferred to PokerStars and Full Tilt employees will have a new employer as well. I believe that this deal will result in Full Tilt's customers being repaid. I am extremely pleased and excited by this prospect. For the past 15 months, I have worked hard on possible solutions to get players repaid. It has been a very long road, with lots of bumps along the way, but I am glad we have gotten to the end. I only wish that we could have resolved the situation much sooner."
What ever happened with Absolute Poker and Ultimate Bet?
On Tuesday, the United States Attorney for the Southern District of New York submitted a declaration in support of the government's motion for the entry of proposed stipulated order of settlement between the Government and Absolute Poker and its parties, including Ultimate Bet.
Are all of the online sites guilty of a crime?
As the DOJ said in a press release: "The settlements entered today with regard to Full Tilt Poker and PokerStars, and the proposed settlement with regard to Absolute Poker, do not constitute admissions of any wrong doing, culpability, liability, or guilt by any parties."
Be sure to follow us on Twitter and like us on Facebook.