Petopia Animal Rescue Adoption Center Hosts Poker Night to Benefit Animals in Need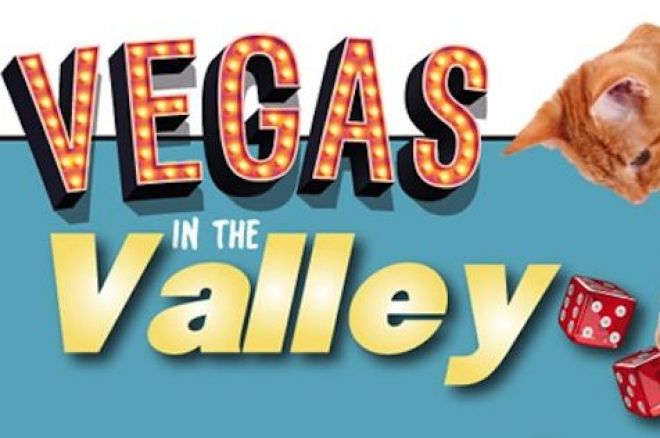 Petopia Animal Rescue Adoption Center urges you to put on your best poker face and join animal enthusiasts, celebrities, and poker aficionados for "Vegas in the Valley" on Saturday, August 9 from 7-11 p.m. in Woodland Hills, CA. The poker charity event will offer guests a Vegas experience while benefitting animals in need.
In addition to poker, attendees will be able to win prizes playing Vegas-style games such as roulette, craps, and blackjack. The evening will also feature a raffle, live and silent auctions, an array of enticing food bars, a special musical performance by LA-based pop-soul artists David & Devine, and a meet and greet with adoptable animals.
Among the celebrities confirmed for the event are Federico Dordei from Two Broke Girls, Sons of Anarchy's Timothy V. Murphy, True Blood's Massi Furlan, Paulo Benedeti of The Bold and the Beautiful, and baseball player and broadcaster Chet Lemon. Of course, that is just a small sample of those who'll be in attendance.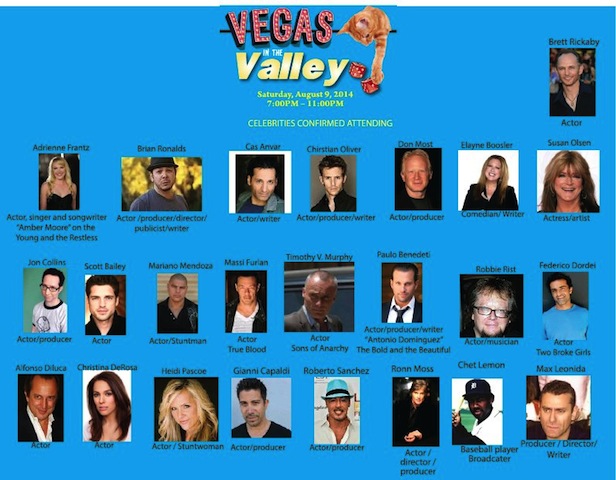 Here are some details on the event:
LOCATION: Hilton Hotel in the Trillium Ballroom, 6360 Canoga Ave., Woodland Hills, CA (Valet parking available)
WHEN: Saturday, August 9 from 7-11 p.m. in the Trillium Ballroom
TICKETS: $75 per person when purchased in advance; $100 at the door. In addition to the admission, each person must pay $25 to participate in the poker tournament.
WEBSITE: www.vegasinthevalley.org
PokerNews recently spoke with Yvette Berke, co-founder of Petopia Animal Rescue Adoption Center, to learn a little more on the charity event.
PokerNews: How did the idea for this event come about and how long has it been in existence?
Berke: Valley Cats Inc. had participated in a similar event the past four years in a private home. This year we decided to make it a bigger event and expand the concept. The Hilton Woodland Hills venue allows us to have more room for dining, dancing and Las Vegas-style gambling. All money raised goes to support the rescue groups involved.
Players are able to play a variety of games including blackjack, roulette, craps, and poker. How do you go about hosting such a variety?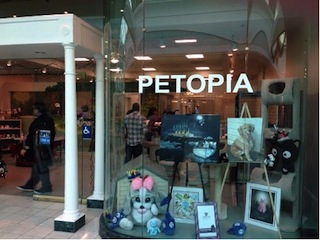 We have hired It's A Deal Casino Rentals to have an exciting experience for our guests. The company has 22 years of experience and a fabulous reputation. We choose the Hilton Woodland Hills because of its proximity to our adoption center and they are animal lovers who are very supportive of our efforts. We even get to have some of our adoptable dogs and cats on the premises so folks can see first hand where they money goes.
Have you had the support of any professional poker players or celebrities?
We've got a number of celebrities who play poker, and of course we would love more players and celebrities.
How will the funds raised benefit Petopia Animal Rescue?
The goal is to raise lots of money for the animals. We are all volunteers — no paid employees — so every dollar goes towards spay/neuter, medical expenses including any surgeries, and food and supplies for the dogs and cats.
The ticket price and buy-ins support the rescue — we also welcome any additional donations. Again, it is all for the animals. We are not government funded, donations, adoption fees, some grants and fundraisers like Vegas In The Valley support us.
All dogs and cats are vetted, spayed/neutered, vaccinated, micro chipped, de-fleaed and dewormed. If they have any special health needs those are addressed. We rescue from high-kill shelters and once in our care the animals are taken to a vet and thoroughly checked out. If they require surgeries or medical attention, that is done immediately.
We do have a number of programs as well to support the community, such as a bereavement program to help folks dealing with a loss of an animal companion. We work with folks who have adopted and are having behavior issues with their pets. We advise on places for low cost spay/neuter or vaccination for those on limited incomes that want to keep their pets.
Can you tell us a little more about Petopia?
Petopia is an amazing place. Our mostly cage-free environment is like Disneyland for dogs and cats. The center is designed to be a fun and exciting place to see the personalities of the animals to be adopted. The open atmosphere allows the public to see the personalities of their potential new facility member. We are located inside an indoor mall and open seven days a week so our rescue groups can get their wonderful dogs and cats adopted.
Petopia opened its doors in November of 2012. After over a decade at a local pet store, Valley Cats, Inc., Petopia's Founder, learned that the store where they showed was closing. This is a big problem for a rescue group as most chains only allow one dog and one cat rescue per store. We decided to think outside the box and knew there were many organizations that had no place to show. They could only put their adoptable dogs and cats on web sites or Facebook or if they showed outside a store, weather could prevent an adoption event.
Growing up everyone used to see pet stores in malls and never knew that many of these places were selling puppy mill animals that suffered horrible conditions. Why not open a center in a mall where all the pets are rescues? Now that the city has made it illegal to sell animals in pet stores it seemed like a perfect transition to have adoptions in a shopping mall instead. It allows us to change the perception that you sell animals in pet stores, you adopt them.
Our founding cat group is Valley Cats, Inc. and Debbie Regal has over 40 years of experience with dogs and cats After the store she showed in for over a decade closed and she found herself without a location to show we teamed up to develop the Petopia concept. Valley Cats is responsible for the care and feeding of over 50 cats and kittens on the premises.
Our anchor dog group is Southern California Pomeranian Rescue. Founder Leesa Molina primarily rescues Pomeranians but has a variety of smaller dogs from Scotties to Chuweenies. We have two groups that show periodically — Precious Paws, which is a cat rescue, and L.A. Animal Rescue, which rescues larger dogs, cats, and even birds.
How does Petopia go about acquiring their animals?
Most rescues go to shelters and pull those on what is called the red list — that means they have health issues or in the case of kittens and puppies would be unsustainable without say a bottle feeder. They are at high risk for being euthanized within 12-24 hours. The rescue groups take healthy animals too, but a dog requiring a leg surgery or a cat that needs eye surgery isn't going to get it at the pound. Their best chance is a rescue group saving them. With the downturn in the economy many folks are surrendering older animals thinking the pound will find them a home - in most cases they just put them down. So we have a "senior-to-seniors" program where we can adopt an older animal to a senior and save that life while providing a loving owner a companion.
If people are unable to attend but would still like to make a donation, how can they do so?
If they would like to make a donation they can go to www.Vegasinthevalley.org and instead of buying tickets to attend there is a donation button they can click. If they prefer to mail a check it would go to Valley Cats Inc. 6100 Topanga Canyon Bl. #2230 Woodland Hills, CA 91367.
For more information, visit www.Vegasinthevalley.org.
Get all the latest PokerNews updates on your social media outlets. Follow us on Twitter and find us on both Facebook and Google+!