Tony G. - Live From Mississippi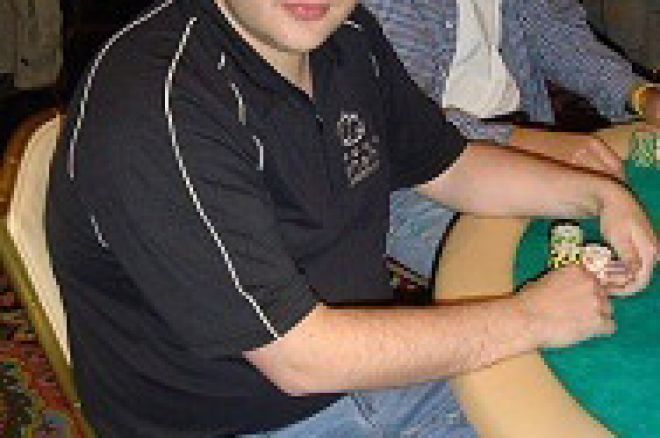 Tony G. has made his way to America to take part in several of the most recent tournaments, including the World Series of Poker Circuit's first stop in Atlantic City, NJ, and the Jack Binion World Poker Open in Tunica, MS. I spoke with Tony Sunday evening (January 23rd) to catch up with his activities and, as our discussion turned more to the game, his thoughts on the game of poker.
PN: So you're staying in Memphis, getting ready for the World Poker Open. How many players do you think are going to be in the Main Event?
TG: It looks like there are going to be around seven hundred players for the tournament, from what I've heard. It should be a strong field as well; there are lots of professionals in town for the event.
PN: Do you like the way you are playing heading into it?
TG: Yes, I'm happy with my game right now. I was just off the money in the $3000 No-Limit tournament. I have been playing well, although I got knocked out early in Atlantic City. But, as with all tournaments, you have to have a good deal of luck to match up with your game at the same time.
PN: The Atlantic City World Series of Poker Circuit stop was the first for that tour. What were your impressions of it?
TG: It was a pretty good event and I was happy with the way it went. I heard that some of the top players weren't happy with it at all. I played in the first World Poker Tour event in Paris two and a half years ago, and it didn't go off well, either. I think with some more time, they'll work out any of the problems that they have and it will be fine.
PN: The L. A. Poker Open starts almost as soon as the Tunica event ends. Are you going to play there?
TG: I am going there to play in the Professional Poker Tour event, but not the Championship. I missed the first event (writer's note: the first event was at Foxwoods in Connecticut), so I thought I would give this one a shot and see what it was about.
PN: What are your thoughts on the Professional Poker Tour? It looks like it may be the future of the game.
TG: I'm not so sure about it. There has been some scheduling conflicts as far as canceling some events and moving the start time of others. Additionally, it is tough for the European players to make the events, as they are all in America. For us to come, we do have the expenditure of travel and if they move or cancel events, then we have come for nothing. Kiril (Gerasimov, the excellent Russian player who performed well at last year's World Poker Tour Championship) and I have been discussing this quite a bit.
Also, for us to come for the prize pool (the PPT events are freerolls with a prize pool of $500,000), you have to look at it logically. At Foxwoods, around 120 players (out of the 200 or so that are qualified) competed in the PPT event. Lots of the American players didn't play in it because it coincided with the Monaco Millions tournament. If you break that down, that's only around a three to four thousand buy-in. You have to really win the event to make it cost effective. With the costs of travel, it is difficult to make it worthwhile, especially if you don't do well.
PN: I understand you have been able to share some time with Phil Hellmuth before the Tunica tournament. What have you been able to pick up from him?
TG: Phil is an extremely confident person, and this is what translates into his personality and his play. We met up here in Memphis (where Tony is staying during the WPO) and have been able to share some time outside of poker. He has so many things going on, with poker and outside of it as well. He wants his new venture, the poker on the cellphone, to have a million subscribers, and he is confident he will reach that. Then there are his interests outside of the game, which are really stretching him out. He said to me that he wasn't going to be playing as much this year, maybe only twelve to fifteen tournaments.
PN: You think those interests contributed to his off year in 2004?
TG: Absolutely. His concentration is on all of his business, his books, and other things. While he is still a dangerous player, he has his focus on many things outside of the game, including his family life. He may not be the best in the game as he once was, but he is still very capable of doing well in tournaments because of the extreme confidence he has in himself.
PN: Speaking of the game, you have shown your aggressive and, sometimes, confrontational style, especially in the European tournaments. Does it translate well to America?
TG: I am not the crazy, aggressive player that everyone thinks I am. The World Poker Tour kind of emphasized that point when I have been on the broadcasts. I play a solid game, looking for the right situations and playing the hands as they come.
PN: So you would look at yourself as a situational player rather than a statistical one?
TG: Most definitely. While the mathematics and statistics of the game are important, you have to be able to judge the situations that you find yourself in. During the Paris tournament, I raised from early position with A-3. Now, most wouldn't do that, because it isn't the statistical play. I got re-raised by K-Q. In this situation, he is representing a big hand to push me off my hand. I had to judge the situation and determine just what was going on, whether I was tops going in, things along that line.
PN: I guess that is the thing that most players do not take into account while playing?
TG: Yes. Remember that the game does have a statistical part, but also remember there is situational play. I think that is where some great players have the advantage.
PN: Like who, for example?
TG: Gus Hansen has to be the best at this. He has been portrayed as a reckless player as well as I have. But, Gus has a brilliant mind and plays more of the situational poker than most players do. Gus is probably a genius, has a fantastic analytical mind, and is very difficult to play. A little off the subject, his poker site, PokerChamps, is great as well. It has a fantastic rakeback feature for all the players and the play is strong. It really is going to be a force in the online poker world.
Amir Vahedi is a super-aggressive player with that same situational style as well. His aggression works against him in some games, like Omaha, but it overall seems to do him well.
PN: Omaha is a game I have played frequently and done fairly well, but it seems like more of a chase game to me. Am I mistaken?
TG: It is perhaps more strategic and statistical than Texas Holdem. Quite a bit of it is in your determination of starting cards.
PN: So what are you doing right now to get ready for the Championship there at Tunica?
TG: Oh, I'm playing four tournaments on PartyPoker while we're talking. I just love this game!
PN: Well, good luck to you at the tournament and it's been great talking to you!
TG: You too, Earl. Thanks!
If you have a chance, catch Tony G. this week at the Jack Binion World Poker Open in Tunica, MS. He also plans to play the Professional Poker Tour event being held in Los Angeles during that tournament. As always, you can check up on Tony at www.tonygpoker.com or through www.pokernews.info.