Chip & Karina Jett - For Love And Poker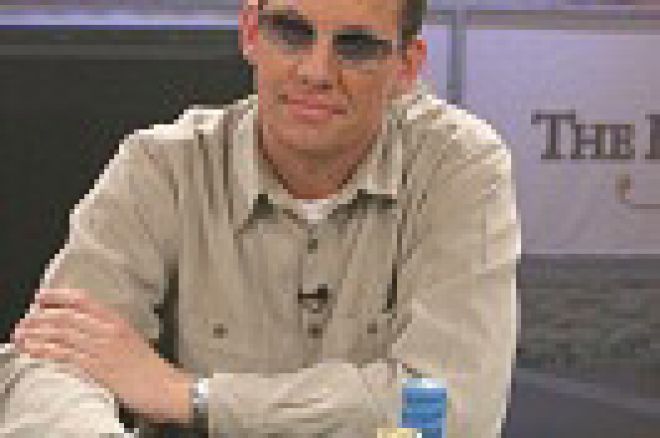 By far, one of the most recognized couples on the tournament poker circuit has to be Chip and Karina Jett. While not only being married, both are highly dangerous poker players. Chip has made several runs at a World Poker Tour championship, and Karina has been at the final table at the World Series of Poker. While their poker accomplishments are excellent, what is just as great is their commitment to each other and their toddler daughter, Athena.
I had the opportunity to sit down with the three of them (with little Athena playing around with Chip during the interview) during the L. A. Poker Classic and here's what they had to say.
PN: What is the toughest thing about being a poker playing couple?
CJ: (looking at Karina) You want to start this one?
KJ: No, honey, you go ahead...
CJ: Well, I would say it is the extreme lack of stability. There is no grounding when both are playing. Normally in a relationship, one person plays and the other person takes care of the bills, things around the house, things such as that. When we are both playing, poker takes up a lot of time, with the travel and everything, and we will forget to do the everyday things, like vacuuming!
KJ: It's not like a normal nine-to-five family. We have to coordinate our schedules everyday, like who is going to play, when, who is going to watch the baby...
CJ: Because we don't use daycare at all. It's either friends or family or one of us sits.
KJ: Right.
PN: What has been the effect of Athena on your lives? Has she made poker less important?
CJ: Absolutely.
KJ: Oh, yeah.
CJ: I mean, I realize that I still have to get out and make money but, seriously, it did take away some of my drive. Nowadays I would rather stay at home and play with Athena than get out and play poker. If and when I get busted out of a tournament, it doesn't hurt like it did before. That's a real big silver lining!
PN: So Athena has cut back on your schedule?
KJ: Both of our schedules, definitely.
CJ: I looked at my history and in 2003, I played in 300 tournaments. Last year, it was only a little over a hundred. That's a pretty severe cutback.
PN: You both have differing styles of play. Is there some things you would like to take from her style and you would like to take from his?
CJ: I take a lot of things from Karina, actually. She can beat the online game, and I can't (they both laugh)! Our styles are completely different...the way I look at it, everyone finds something that they do well in poker, if it is sit and gos, tournaments, whatever, they find their niche. They find their style through finding what they are good at. I can't teach her my style, because people would play her differently, and I could not play her style, because I would have no chips!
PN: Karina, you have a much more methodical style, while you, Chip, are a much more fearless player. Do you two often compare notes?
KJ: Oh, yeah, all the time!
CJ: We definitely sit down together and talk about the game, and sometimes laugh about it. With our different styles, though, it is tough. In that tournament last night, for example, at one point I played sixty hands straight. I do think that my "recklessness" is a little overblown, though.
PN: So you are looking at a more situational style of play while, Karina, you're looking for the right two starting cards?
KJ: Well, I think that, as a woman, I am often underestimated as a player. So I will sit back at the beginning of tournaments, play solid, and gather chips. Halfway into a tournament, I have to realize that it's time to gather some chips and I have a hard time knowing when that time is. I wish I could turn my tournament over to Chip at that point! He can be more diverse and play those wacky hands. I am trying to get to that point and am implementing it into my game.
PN: You said you can't seem to capture the online game, Chip?
CJ: Oh, I have won a couple of tournaments, but she can do it much better than me, let me tell you! (chuckles)
PN: How has the online game changed tournament poker and live games?
CJ: Oh, incredibly. You often hear that it is like a minefield in a tournament, and it used to be that the minefield was pretty small. Tournaments are so big now, you have to constantly watch for the reckless player who might just take you out!
KJ: Thank God for online poker, because I can play poker, make some money and watch Athena at the same time. Some of the online players are really, really good.
CJ: Oh, yeah. Some of the online players are so much more advanced. Playing online is great practice for tournaments, then you also have the acceleration in the number of hands you are playing and the experience of dealing with certain situations which will happen again. There are young players that are 21, 22, 23, and they have the experience of hundreds of final tables online. Five years ago, if you had someone that age, you might be able to put them on five final tables, at most. In another change, the people that would be top players when they were thirty are now making it there when they are twenty two.
PN: Karina, you commented about being a woman player. You participated in the "Battle of the Sexes" on the Game Show Network. How was that experience overall?
KJ: I really enjoyed the experience! I enjoyed playing against Greg Raymer and liked the setup of the game, the women against the men and so forth. The banter back and forth was fun!
PN: Well, I was going to ask you about that. Is that something that you see a lot of in a general game or was it for the cameras?
KJ: I think they picked players that would play more to the camera, more TV oriented. For me, I am very social during a game, either live or online, so it wasn't anything big to me. If I am going to be doing something, I am going to enjoy myself while I do it! There is a social aspect to poker, as well as the mind games and the banter. It all came together during that, and that's why I liked it.
CJ: I liked it that they balanced everything out. Most of the time, there is one woman among a table of men. In this, it was three on three, so it balanced out things quite a bit. The women went at each other harder than the men did!
KJ: I think the top women players respect each other as players and encourage each other to do well. I enjoy that aspect of the game, because there are still some men that don't believe that women should be in the poker room.
CJ: Yes, there are a few of us...(everyone laughs)
PN: Who is going to be the first to get a World Series bracelet? Karina, you nearly got yours last year, so who will be first?
KJ: My theory is Chip will, because he plays more events than I do. I only play a few of the events, and he plays almost all of them.
CJ: If they let me at the ladies' table, I will! (They laugh.) Seriously, what has happened in the past is that if she makes the final table, I make the final table the next day, so she may beat me by a day.
PN: Have you two ever ended up at a final table together?
CJ: Yeah.
KJ: We like it!
CJ: Sometimes, though, if we do end up at the table together, it may have the appearance of looking bad. We are under the microscope when we go against each other, so we have to be thinking about that when we play.
KJ: You remember Howard Lederer's New Year's Eve party? When we came in first and second?
CJ: Yeah, that was fun!
KJ: When we do get against each other, there is no letting up. We go against each other just like if it was another player at the table.
PN: Do you want Athena to play? What about any future children?
KJ: NO!
CJ: If it was a boy, I would think about it, but poker hardens you. Relying on poker to make your living changes you, makes your skin very thick.
KJ: I am sure she will learn how to play poker, but we will not encourage her to play professionally. We would like her to go to college and have a normal life!
[B]PN: Where do you two see yourselves twenty years from now?
CJ: Happily married...
KJ: (giggles) Hopefully retired at a young age and traveling because we want to and not because we have to.
PN: Thank you both for your time.
CJ & KJ: Thank you!
I would like to thank both Chip, Karina and little Athena for their time. They have started up their own company, JettPoker, Inc., and have some very special articles that they will be releasing in the coming months. When they come out, you can be sure that you will hear about them here! Until then, you will see them both hitting the tournament trail, including the World Poker Tour, the World Series of Poker circuit and the Professional Poker Tour.