Scott Fischman on the state of the poker business, and fame in your early twenties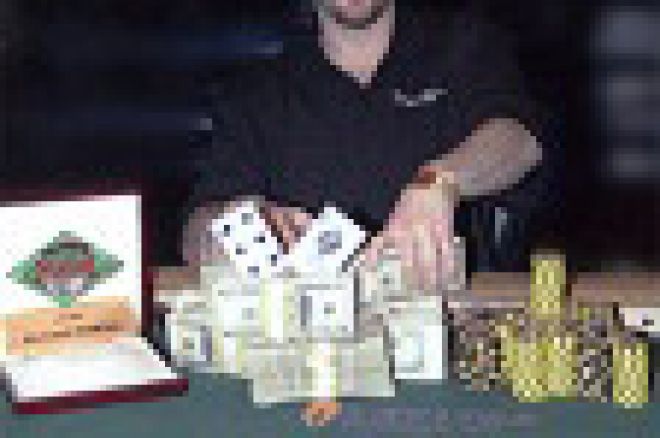 Scott Fischman had only begun to be recognized in the tournament poker world when he went and won two WSOP bracelets in less than 80 hours last summer at the 2004 WSOP. Since then, Scott plays the circuit full time, and just made two final tables at the LA Poker Classic. Scott will soon be featured as one of the 'Young Guns' in the World Poker Tour special of the same name.
Recently, I spoke to Scott about the world of poker, and how those 80 hours last May have changed his life.
Pokernews: You are a pretty young guy. It seems the younger poker players are more business oriented these days, and a little less grab and dash (and spend). Do you find this to be true, and do you think it's a good thing?
Scott: I think it is a good thing. A lot of the young guys have a lot of opportunities as far as the Internet goes, and all the experience they can gain in such a short period of time. If they are able to hone those skills, and view it more as a business, then they can really be successful in the industry, because there is so much opportunity for success right now. But, if you treat it like a game, then it's going to be a bit of a tougher thing. Its important that the young guys can take advantage of what is open for them. Since poker has become more of a glamour thing with all the TV coverage, there are a lot of people…young, old, whatever…there are a lot of people who are trying to get into it, and play for a living. If you just jump right in, it can be kind of tough, and it can really screw you up
PN: So, among the young players, do you still see the type of player out there who will make $10,000 playing poker, and lose $11,000 playing craps the next night? Is that prevalent?
Scott: Yes. It's very prevalent. It's sad. A lot of poker players..young and old view the game as so easy, and there are so many opportunities for them to make money, they feel they can just do it at any time, so they kind of disregard the money they earn, and don't take it very seriously.
As far as tournament poker goes, specifically…you can put in a lot of hours without scoring. So, when you do score after a month or so of a dry spell, you can't celebrate…you have to kind of use that for a salary – you pay yourself for the time you have played. That's how I view it, and how I suggest others view it as well.
PN: What percentage of your time is spent on tournament poker versus the percentage spent playing cash game poker?
Scott: I hardly play cash games at all. It's such a different game. Some say it shouldn't even be classified as the same thing. A no limit hold em cash game is so different than a no limit hold em tournament. I totally agree with this, they are really different. I try not to mix, I try to specifically stay to tournament style poker, so it doesn't screw me up when I switch.
As far as my percentage of time playing poker, I'd say I spend 80% of my time playing. I just consume myself.
PN: So…Play & sleep pretty much?
Scott: Exactly, and its been a good tool for me to stay on my toes, and to stay successful.
PN: You are about to play in the National Heads Up Championship. How does your mentality change when you are playing heads up?
Scott: There are a lot of separate factors to consider. It's more of a 'stay in the moment/right now/present' mentality. So, I really have to stay focused on the moment, and focus on my opponent…try to get the best read off of him at that specific time.
Also, my game plan for heads up is to try to keep the pots small. I know if I play a lot of small pots, I'll have the advantage. I want to play a post flop, small pot game, and try to build slowly
PN: What percentage of your time do you think you will spend in your hometown of Las Vegas this year?
Scott: Well, thankfully there are probably four or five major tournaments here, so I probably will be in Vegas about five months this year, which I am really happy about. They have added the Mirage this year, and they've added some stuff at the Plaza, and there are three major tournaments at Bellagio, so thankfully, they have added some here.
PN: Is the travel something you have noticed wearing on you yet?
Scott: A little bit, but I have grown accustomed to it, because I play a lot online. Even when I am at home in Vegas, I play a lot online. So, it's been pretty easy for me as I am doing the same thing I would be doing anyway.
PN: What has been the biggest change in your life since you won the two bracelets?
Scott: Suddenly, I am a celebrity. Autographs, being recognized, being eyeballed that's the biggest thing. It's kind of hard to get used to. I'm known everywhere I go…its kind of weird. It's changed my game a little too. I used to sit down, and be the empty seat, in fact that was my original online name, y'know…I like to not really be noticed. I like to be viewed as the kid sitting at the table that people would assume couldn't play, but that doesn't happen anymore.
PN: What is the best thing about the notoriety?
Scott: There is a feeling of power and success. And that is incredible.
PN: What is the worst thing?
Scott: I don't know that there is a worst thing
PN: What is your favorite event on the circuit…one tournament that you are really looking forward to going to, or playing in?
Scott: Actually, I'm really looking forward to this next week at Bay 101 – the Shooting Star event. For a couple reasons, number one; there is a little more EV in the tournament because of the bounties. Also, since I'm going to be a star this year, its going to be a fun type atmosphere, and people will be gunning for me, so if I can pick up some cards, I feel like I have a really good chance to win the tournament
PN: Dutch Boyd recently went out, and got himself a sponsor. Any thoughts about the future of player sponsorship, and specifically from non-poker related industries.
Scott: I think being sponsored to play is definitely part of the future. The cost of events, the travel etc, its almost impossible to support yourself playing these tournaments unless you are a multimillionaire. Getting sponsors is definitely smart, and most of it comes from online poker rooms wanting to get their names out there. As far as regular, non-poker related stuff, it's the same thing, people are trying to get their names out there, and get their fingers into the poker world.
As far as Dutch; Dutch is a brilliant guy, and has been a forecaster in the poker industry for quite some time. He invented multi-table tournaments on the Internet, and has foreseen many things.
PN: Talk a little about IAI wear, and your involvement in that.
Scott: IAI wear is "I'm all in" wear, and I endorse that. They have great poker wear, and I love wearing it at the table. Also, they will be cross promoting my new online poker room, which is coming soon, which will be called "The Fishtank". The Fishtank will be part of Doyle's network, and it will launch end of March, beginning of April. I am really looking forward to that.
PN: Thanks for your time, Scott.
Scott: Sure. See you later.