Legends of the Game: Bob "Poker Coach" Ciaffone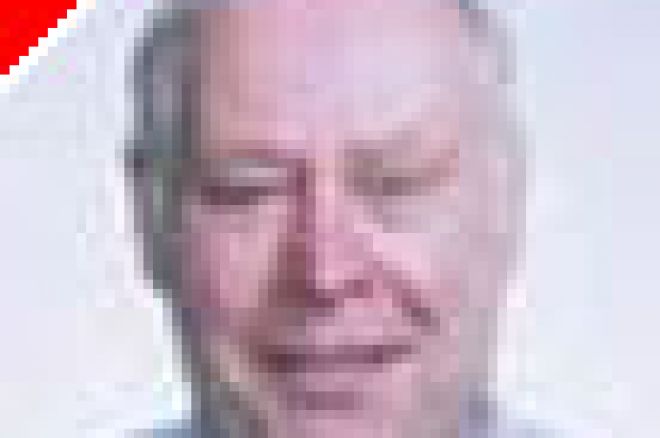 Bob Ciaffone was born in Brooklyn, NY on December 10, 1940. When he was nearly three, his family moved to Long Island, and shortly thereafter, at the age of four, his favorite aunt taught him to play chess. That singular event may have helped spell the life, and lifestyle that Bob would thereafter live.
Bob learned how to play poker at age nine, from his mother. Less than a year later, the family moved to Saginaw, Michigan. At fifteen, he was likely to be found playing bridge, monopoly, hearts, or even guts. By the following year, as a freshman at the University of Notre Dame, he was playing pool, and making a little money at it.
Although Bob's entrance exams placed him as the highest-rated person in his class, he eventually flunked out of school. As he puts it, "When you are handy with a cuestick, the money comes easy, and you have ample opportunity to get involved with other forms of gambling."
Later, at Michigan State, Bob won a number of college championships at both pool and billiards. In 1964 he was selected to represent the Saginaw area to play an exhibition match against one of pool's all-time best players, Willie Mosconi. Bob ran the first rack, but Mosconi came back to beat him. In 1965, Bob took second place in the 1965 Lansing City Championship.
During the 1960's, Bob also excelled at chess, his favorite game, and in 1969 was the State Champion of Michigan. Since that time, Bob has faced many great chess players in simultaneous exhibition games, including World Champions Bobby Fischer and Mikhail Tal. He has also written two books on chess opening theory and is a Life Master.
Bob also became a Life Master at bridge in 1969. He owned a bridge club, "Cavendish North Bridge and Backgammon Club" in Southfield, Michigan from 1975 to 1980, and got his nickname, "The Coach" during that period.
Bob also worked briefly as an insurance adjuster and taught school during the 1960's, but there were just too many games that he was good at to spend in a normal nine-to-five job.
Backgammon became both an obsession and a good source of income for Ciaffone in the 1970's. Bob remembers winning $600 on a Friday afternoon, then playing poker that night and winning $1000 in a home game. Soon, he was playing in home games twice a week, then three times a week. Having learned to play a variety of poker games was beginning to pay some excellent dividends.
The allure of playing poker full-time got Bob to give the games in Las Vegas a try, late in 1978. He was playing no-limit hold'em, mostly, and was comfortable in the games almost from the start. He also read Doyle Brunson's Super System at about this time and says the information in the book meshed well with his style of play.
Although Vegas provided good games, and he remembers winning 20 sessions in a row (with average winnings of about $1,000 per game), Dallas, Texas also offered some very good poker, and Ciaffone moved there in 1980.
At the time, the games in Dallas had three blinds of $5, $10 and $25, with the $5 blind on the button. According to Ciaffone, the games were excellent, and it was three years before he decided to move to Las Vegas, where he stayed until 1994. Over the span of ten years, Bob played in the $10,000 World Series of Poker Championship seven times. In 1987, the final table included a phenomenal group of players, including: Jim Spain, Frank Henderson, Eldon Elias, Mickey Appleman, Dan Harrington, Jack Keller, Johnny Chan, Bob Ciaffone, and a young Howard Lederer.
The tournament that year was a four-day event, and Ciaffone was the chip leader several times, but the long hours can be grueling, and by the time the final nine players were ready to square-off at the championship table, Bob found himself the small stack with just $140,000. His chances of moving up from his ninth-place start seemed slim, but as 1983 WSOP Champion Tom McEvoy stated, "Ciaffone was the most dominant and aggressive player at the final table, and it's a surprise, because Chan is usually a very aggressive player".
Bob's good friend, Dan Harrington, who he says is "One of the smartest people he has ever met, plus a real nice guy," was knocked out sixth. Next, Ciaffone ran into Howard Lederer. "Even then, Howard was excellent", says Bob, but he still busted him out of the game when he made quad nines.
Ciaffone's determined, aggressive play eventually landed him a third place finish and a whopping $125,000 in prize money. Not bad for a quiet, modest guy who has spent his entire life playing games. In fact, his game-playing excellence has led to several very popular books.
Bob's first book, written in 1984 was the definitive work on Omaha Hold'em, and other books like Improve your Poker, No-limit & Pot-limit Holdem, and Middle Limit Holdem Poker continue to sell extremely well.
The beauty and mystery of Nepal entered Bob's life in 1992 as he, Blackie Blackburn and Garland Walters opened a poker game at a casino in Katmandu. It was a transcending experience that opened his eyes to people on the other side of the world.
Walters is a regular Omaha adversary and also a good friend, "Even though he is a very aggressive player who had been very lucky against me for the first half-decade that we tangled", Bob says with a chuckle.
Ciaffone moved back to Saginaw, Michigan in 1996, so he could spend more time with his father, after his mother passed away. Since that time he has been doing his writing, coaching players, and playing on the internet (plus the usual trips to poker tournaments in other states). His father passed away in 2003, but he says he will remain in Saginaw. "I have a home which I love, and a sleepy town is just what I need to continue writing more books."
"Besides, Johnny Moss told me he made most of his money after he turned sixty-years old, so I've got plenty of time to do more damage. With tournaments, new players, and television exposure, the internet will continue to be a tremendous medium for poker during the next ten years."
Indeed, Bob's solid, aggressive style works well on the internet, as well as in live games. Like many other champions, Bob punishes weaknesses in other players, taking pots that better hands should have won, but when called down to the river, he will often show the very hand the caller hoped he would not have.
It's all a balance, this game of poker. Bob's native aptitude and experience in games is what makes the difference. "You learn to focus, you've got to put the two together". Take that as one of the more simple pieces of advice from the "Coach", Bob Ciaffone.
Please visit our online poker room directory to see the best bonuses on the web!