Legends of the Game: Amarillo Slim
Al Moe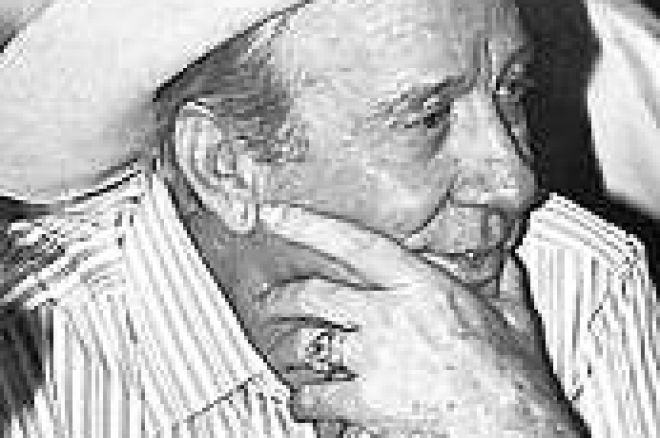 Poker came out of the dark ages when Amarillo Slim burst upon the scene in 1972. From all the hoopla, you'd have thought this man from Amarillo, Texas had just stumbled his way to the poker tables in Las Vegas the week before. In truth, he had been plying his trade for almost thirty years.
Thomas Austin Preston Jr. was born in Johnson, Arkansas, on December 31, 1928. Before he was a year-old, Thomas and his family moved to Texas, and while living in Mineral Wells, he set junior-high track records in the fifty- and hundred-yard dash. His mind was sharp too, with a natural penchant for arithmetic. After his parents divorced, his father moved to Amarillo, and following his sophomore year in high school, so did Thomas.
Before he arrived in Amarillo, Thomas learned to play pool and snooker, and finding the pool halls around his new hometown was easy. There was something wonderful about the clacking of the balls, the smoke in the air, and of course, the money to be made by a smart player. Poker guru and author, David Sklansky, has stated, "You have to be in a game where you can beat the competition, if you want to make any money." That advice sounds simple enough, but gamblers often misunderstand it. You have to be trying to win something of real value to begin with.
At the young age of sixteen, Thomas was already good, but he quickly learned his most valuable lesson: find a good game to play in. He didn't have to worry too much about being able to beat the competition. His skill at pool increased quickly, and there were a couple local gentlemen who wanted to set up some games for him. They agreed to set the games, put up the money, and split everything three ways.
On Thomas' first trip out of town, he won $800 for himself. Pretty good money for the early 1940's! Soon he was winning money from the best players in Texas, and New Mexico. He managed to get good grades in school, but was thrilled with the idea of getting his high school diploma early by joining the US Navy.
Thomas entered the navy and made plenty of extra money booking sporting events. Later, after being discharged, he found that he couldn't get a decent game of pool around Amarillo anymore, everybody knew him. He and his buddy, Wendell Cain, decided to join the US Army and go to Germany, where nobody had ever heard of Amarillo Slim.
Well, Slim thought nobody would know him. As it turned out, he was immediately recognized, transferred to Special Services, and spent his tour of duty giving pool exhibitions. During this time he also hustled a little snooker, helped throw the GI World Series, and set up his own black-market operation. When he returned home, he was a nineteen-year-old millionaire.
The following year he married Helen Elizabeth Byler in Clovis, New Mexico. This was a few years before Buddy Holly recorded at the Norman Petty Studios there, and a decade before stars like Roy Orbison or even Stan Lark and George Tomsco of the Fireballs were in town, so Slim and his new wife headed to Ruidoso, New Mexico, to honeymoon. There just happened to be a horse racetrack there.
Booking sports, playing pool and poker games were Slim's life in the 1950's. During this time he met fellow Texas poker players Doyle Brunson, and Sailor Roberts, and they were partners in a bookmaking business and played out of the same poker bankroll for nearly six years.
When transmitting sporting information across state lines became illegal in late 1961, Slim got out of the bookmaking, but that doesn't mean he stopped looking for "events" to bet on. He recalls his largest sports bet as occurring during the 1969 Super Bowl between the NY Jets and the Baltimore Colts. He knew early on that he wanted to bet on the Jets, and Slim says the amount he bet started with a four, and had between four and six zeros after it!
By the time the 1972 World Series of Poker came around, Slim was well know in all gambling circles, especially poker. His win in the championship final would have been just another poker story if Slim wasn't such an interesting, self-promoting type of fellow. After a few small stories ran about the championship, a story about his victory ran in Parade magazine, which was inserted in millions of Sunday newspapers across the country.
It seemed that playing poker might be alright with America after all, especially if a homey-talking cowboy was leading the way. Slim appeared on The Tonight Show, and eventually was asked to come back almost a dozen times. Later he was seen on 60 Minutes, Good Morning America, To Tell the Truth, What's My Line? and many other TV shows.
Nobody has ever presented the game of poker to the masses as well as Thomas Preston. In fact, he is so well known that letters simply addressed to Amarillo Slim in Austin, Texas, manage to reach his home.
Along the way to becoming poker's ambassador, Slim has won huge bets by playing ping pong with a cast-iron skillet (and a coke bottle), holding on to a running horse's tail for a quarter mile, and beating Willie Nelson (a national champion) at dominos for $350,000 of his and Steve Wynn's money.
In his prime, Amarillo Slim was a very fine poker player, but his own belief is that poker was just part of the whole package. He considers himself to be "The greatest gambler who ever lived." Some of the best know gamblers ever, like Titanic Thompson, and Nick the Greek, died poor and alone.
Slim, on the other hand, is still married to his wife of over fifty-years. He travels to major sporting events, hunts, and watches over his herds of cattle along thousands of acres of his own land, and has put away enough money for all his grandchildren to get an education and a little extra to start their adult lives. Not bad, for a skinny kid from Amarillo.