Legends of the Game - Walter Clyde
Al Moe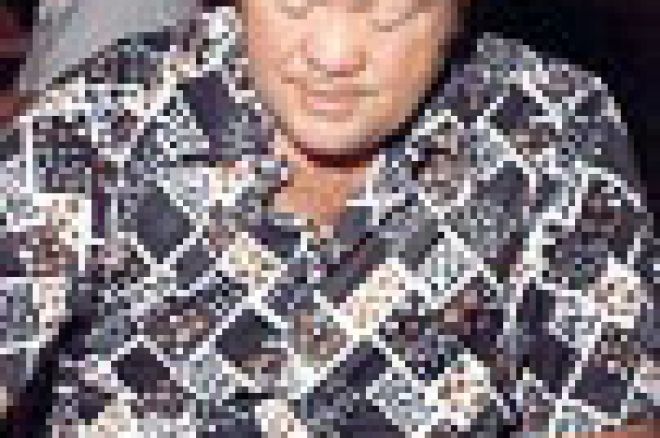 Puggy Pearson was hovering over a high-limit Omaha high-low split game a few years back when I joined him. He doesn't hover well. Sure, Doyle Brunson can hover, he's tall. And with his hip and leg problem he sometimes needed to stand over a game and fire in his raises, but Puggy, no. Puggy is not one to hover. He's at his best when he's sitting at the table, presiding over the game you might say, with a cigar in his mouth, and three back-ups in his shirt pocket.
I pulled up beside Puggy and said hello. We had been playing $300/$600 stud just the day before, so surely I was one of the guys now. He grunted a hello, obviously frustrated that the game in front of him had no seats available. Doyle, and Dewey Tomko both looked up at Puggy from the table. They had smirks on their faces. I assumed this was as good a time as any to engage my new buddy in conversation, so I asked, "Say, Puggy, how did you get your nickname?"
In typical fashion, Mr. Pearson turned his head and looked me over. In truth, he was probably wondering if I was mentally challenged, or just blind, and unable to see his nose. I don't know what he finally concluded, but he did talk to me rather slowly. He answered my question, and while Puggy probably couldn't pick me out of a lineup today, his colorful articulation about his nickname, and his views on poker, have stayed with me like the memory of a good friend.
Walter Clyde Pearson was born in Kentucky in 1929. His father was a jack-of-all-trades, and Walter was one of nine children. Without any education, Walter's father did the best he could, and many times right before the rent was due his family had to move. As Puggy says, the family "lived on beans, and bread if we were lucky." He jokes that he never knew what shoes were until he moved to Nashville, Tennessee, and that while "The Coalminer's Daughter (about Country Western singer Loretta Lynn) was a good movie, my life was tougher."
He took to the streets at eight or nine, selling newspapers to help the family, but had a tendency to get into craps games with the other paperboys. A year or so later, Walter was showing off for his friends by walking on his hands. They were helping out with the construction of a church, and not all the floorboards were nailed down yet. Walter lost his balance and came down flat on his nose, his now "flat" nose. The damage was done, but someday the world of poker would come to know his face because of his enormous talent, and hence: Puggy.
After shining shoes outside the Grand Old Opera building in Nashville, Puggy could often be found shooting pool, and winning. When he turned seventeen, he joined the Navy, and then re-uped twice. It became a ten-year hitch. When he got out in the mid 1950's, poker was the most logical place for him to make a living. You see, for a man with an eighth grade school education, but almost fifteen years of gambling education, some decisions come easy. Building a bankroll seemed easy too. Keeping it was another story.
Puggy invested in a few businesses, including a restaurant that one of his sisters wanted to buy, but none of them panned out. The only good investment he made was in a home for his mother and father. When they were settled, Puggy headed to California to play poker.
"That old bankroll kept rollin' up an down, and I swear I spent five years livin' in my car," Puggy says. He did eventually get serious about keeping to the limits his bankroll would permit, but it was the toughest thing he ever had to learn about poker. Limit poker was almost unknown to him, it was all about no-limit, and being able to shove everything into the pot when the time was right.
Puggy took on a few partners who helped bankroll him into larger games, and after a few months was able to pay each of the four men over $20,000. He took his own piece of the pie and bought a home in Las Vegas. As Vegas grew, so did the poker games in town. His action now included any type of high-stakes poker game, and his opponents were other legends of poker like Johnny Moss, Doyle Brunson, and Sailor Roberts.
Doyle considers Puggy to be one of the all-time greats of the game, "Worthy of his induction into the Poker Hall of Fame, and a man of enormous courage." Nice words from the man who won the 1976 and 1977 World Series of Poker, but Puggy got there first, taking second place in 1972 and then winning in 1973. In fact, Puggy had a hell of a 1973, also winning the Seven Card Stud Championship (the game he considers himself the best at), as well as the no-limit preliminary event.
In 1982, Puggy won the Super Bowl of Poker's "Follow The Stars" tournament, worth $75,000 and a beautiful, stainless steel DeLorean. He never looked right in that sports car, and much preferred the 38-foot long Imperial Holiday Rambler he later bought. It provided much more comfort, complete with a full kitchen, living area and all the extras he never had while living in his car in the 1950's.
On the side of the huge motor home is Puggy's famous saying, "I'll play any man from any land any game that he can name for any amount that I can count." A man with a $200,000 home on wheels can make a statement like that.
Puggy is another of the old-time players who believes in streaks. "It might not be scientific, and it's not the same as believing in luck, it's just that your confidence grows during a streak, and you make smart, aggressive decisions, and your opponents do the opposite," he says.
"Puggy and I played a lot of different games together," says poker pro and author, Bob Ciaffone. "Golf, backgammon, and his brother, JC, played too." Adds Bob, "Puggy is great at all games, and learns very quicky any game he does not know."
I suppose that is why Puggy gave me the look he did when he was waiting on the rail. The truth is, Puggy would rather say "Deal me in," than have to ask first, "What are we playing," The scary part is that even if he hasn't ever played the game before, he still might be the favorite at the table.
Please visit our online poker room directory to see the best bonuses on the web!