Daniel Negreanu's Big Poker Challenge, Part Four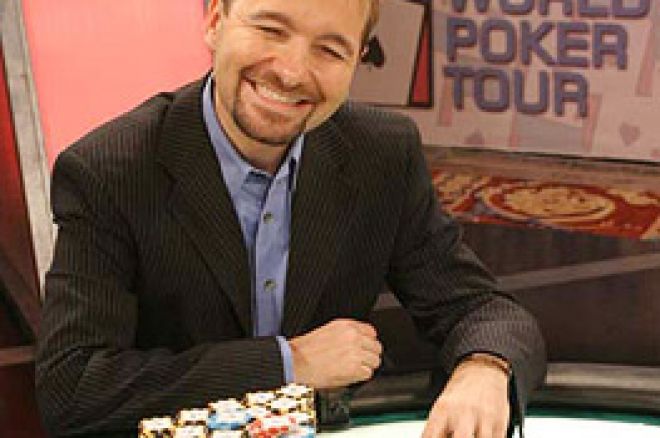 As noted previously on this site, in an effort to maximize his new role as a poker host as the new Wynn Casino, Daniel Negreanu has issued an open challenge. He will play anyone at the Wynn, in any of nine different games for anywhere from $100,000 to $500,000.
When we last left our heroes, Daniel Negreanu and Barry Greenstein had begun their best of nine matches at $500,000 a pop series, and Barry had taken the first match, which was a 7 Card Stud match. As part of the 'rules' of these challenges, Daniel has the right to ask for a rematch in any game, which he did, and Barry agreed to the rematch.
Because both of them are playing in the WSOP each day, there is no set schedule for these matches. Basically, if Daniel and Barry are both out of the WSOP event early enough, then they head over to the Wynn card room (where all Daniel's challenge matches will be played) and get it on.
The second 7 Card Stud match was played out over three nights. After the first nights play, Daniel was up $92,000 (remember - they start with $500,000 each), and play was suspended until they could get together again.
The second night of that match was all Barry Greenstein. Daniel had this to say via his blog about the second night of that match.
I struggled for most of the session, losing the majority of the key big pots where we'd have close hands. In fact, I lost a ton of big pots when the hands weren't all that close either.
The MO for the evening was ugly: I'd have aces and a flush draw on fifth street and we'd jam it. By the river I'd end up with that same pair of aces, while Barry would turn over sevens and fours. It's tough to win if you can't make two pair.
Night three of the 7 Card Stud match finally produced a winner. After being down close to $250k, Daniel at one point closed the deficit to $93,000. The next hour after closing the gap, Daniel found no luck at all, and Barry cruised to a 2-0 lead in their best of nine series.
Now down $1,000,000, and facing a tough opponent, Daniel decided with Barry to go immediately into the next match. Barry chose Pot Limit Omaha for the game, and the match was on.
In less than an hour, Daniel was up $300,000, and his confidence was soaring. In fact, Barry was all in three times in the first couple hours of the match, and managed to hold on each time. So, after night one of the Pot Limit Omaha match, Daniel ended the night up $124,000. Again, via his blog - these were Daniel's thoughts on the PLO match.
Considering the fact that I lost three all in pots to Barry totaling approximately $1,000,000 I feel pretty awesome about the fact that I'm STILL ahead $124,000. If I could have won just one of those big pots it would all be over. Well that would have been nice, but oh well, "That's poker" as I'm becoming accustomed to saying.
As for my thoughts on the match, very early on my worries that I may be an underdog in PLO vanished. I feel like I can win, but of course I said that about stud too and look how that turned out!
While both stud and PLO have high fluctuations and luck plays a major role, I feel as though I may be better off against Barry in big bet poker than I would be in a structured limit game like stud.
The two combatants began night two of match three the very next night at the Wynn. With Daniel starting the night up $124,000, the two players went at it. It got to the point where Daniel had Barry all in, and this time Daniel caught the card he needed, and the match was over.
Barry Greenstein now has a two match to one lead, and it is unclear when the next match will be held. What is clear is that both players are really enjoying the attention, and the competition, and it wouldn't be a surprise if this series turned into best of 15, or best of 21.
Back in the day, a guy named Benny Binion put two great poker players out in the front window of his casino, playing for what at the time was an obscene amount of money. Those players were named Nick the Greek, and Johnny Moss. The match up between Daniel and Barry is a modern day Nick the Greek/Johnny Moss story, and it is good for poker. Stay Tuned.
Ed Note: Heads up is the purest form of poker. Great heads up action always at Pacific Poker