Legends of Poker: Phil Hellmuth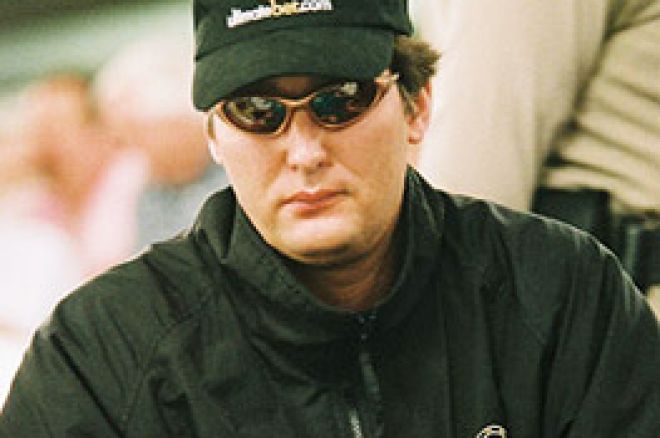 Phil Hellmuth is a master of pomp and publicity. After coming to the forefront of poker at the 1989 World Series of Poker, he has tirelessly marketed poker, and himself, to earn more money in poker-related deals than he has ever made playing the actual game.
For some reason, this "marketing" has given Phil a bad name. Seen as a spoiled brat by many TV viewers, his name is constantly in the small mix of poker "bad boys." However, it is just this image (all right, and that of a tremendous tournament player) that has inspired television networks to air hundreds of hours of poker on television. If it weren't for players that actually exhibit some personality, there would be no poker coverage.
While I've never heard Phil admit it, he had the path to popularity and marketability paved by players like Amarillo Slim, Doyle Brunson, and Tom McEvoy. Huh, you ask? Believe me, Amarillo Slim was the original master of publicity, and in the 1970's he was on the Tonight Show with Johnny Carson (not to mention dozens of other shows), on a regular basis. Slim was always colorful and entertaining, giving poker a good name while Doyle Brunson was afraid of what publicity might do to his "family" name.
Later, after Doyle wrote Super/System, he realized the great publicity a couple back to back World Series of Poker Championships could bring, and he opened the doors of professional poker to a world hungry for quality poker instruction.
In 1983, an unknown professional player, newly arrived in Las Vegas, won the championship event at the WSOP from a tiny little satellite event - and the papers made him a hero. Tom McEvoy took his '83 win and hit the road. He played tournaments in foreign countries, published articles, books, and generally set the stage for a baby-faced kid from Madison, Wisconsin to become the youngest winner ever of the main event at the World Series of Poker.
Phillip J. Hellmuth, Jr. was born on July 16, 1964. His parents weren't worried when he began playing poker at the University of Wisconsin, but were greatly distressed when he quit school to be a professional poker player. Although the popular media story is that Phil's dad finally understood and accepted his son's decision after 1989, the truth is that Phil was an honest poker prodigy.
For years there have been young-guns coming to the WSOP to match wits with the older generation of players, and Phil entered the 1988 field a total unknown, just a 23-year old kid with a baby face - and no credentials. He played in the $1500 7-stud hi/low event and finished in fifth place, an excellent showing, and won $15,000 for his efforts.
His play in the $10,000 Championship event was also excellent, as Phil battled his way to 33rd place and pocketed $7,500. With his strong showing and a taste for major tournaments, he looked forward to the 1989 WSOP. Hellmuth turned 24, and then scored his first major win at the Bicycle Club in Los Angeles. By the time the WSOP rolled around the following year, Phil was ready to take on the big boys again.
After wading through a field of 178 players, Hellmuth arrived at the final table with $344,000 in chips. Just ahead of him at $350,000 was Johnny Chan; and in first position was Steve Lott, with $413,000.
After several grueling hours, just two players remained: the 1987 and 1988 main event champion, Johnny Chan (who had beaten a young Eric Seidel when the play went heads-up the year before), and 24-year old Phil Hellmuth. Chan's heads-up play is legendary, but his chip stack was overmatched at this point by Phil's. On the final hand, Hellmuth reraised Chan's $130,000 bet to over $1 million dollars holding pocket nines. Chan deliberated, then called his remaining chips with A-7 of spades.
The flop came with a pair of kings and no spades, the turn and river leaving Chan with just ace-high. Hellmuth's pair of nines held up, and he leapt into the air with his arms held high. A new Champion!
Since that time, Phil has pushed his poker marketing to the max. He writes articles for Card Player Magazine, has penned several books, and even has instructional videos on the market. He spends with his wife, Kathy, and their two children at their Palo Alto, California home, but still hits the tournament circuit with a gusto not often seen in men who have achieved the pinnacle of their chosen fields.
Hellmuth's WSOP record is simply amazing. He has won bracelets in limit, no-limit, and pot-limit hold'em, and made the final table in nearly all forms of poker. Although his record of nine gold bracelets no longer leads at the WSOP (he is second only to the ten won by Johnny Chan and Doyle Brunson), Phil did add a very important title to his list of almost 50 major tournament wins this year.
From a group of 64 major players (invited by NBC and The Golden Nugget), Phil bested the field to take the first title of "Heads-up Champion." The play, shown on NBC TV, was both exciting, and exceptional. Only the best players managed to beat several opponents and reach the final eight, which included John Juanda, Scott Fischman, Mike Sexton, Lyle Berman, T. J. Cloutier, Antonio Esfandiari, Chris Ferguson, and the winner, Phil Hellmuth.
Phil has proven to be a great promoter of poker, and a top-notch championship tournament player, but says he still wants to be the best poker player of all time. Whether the public could ever decide on a "Champion of Champions" is doubtful, but certainly Phil would be on the very short list of names to be considered. I see no reason why he won't be elected to the Poker Player's Hall of Fame in the near future.
Ed note: Phil plays at Ultimate Bet He thinks you should, too....No, really - we asked him.