Legends of Poker: Ted Forrest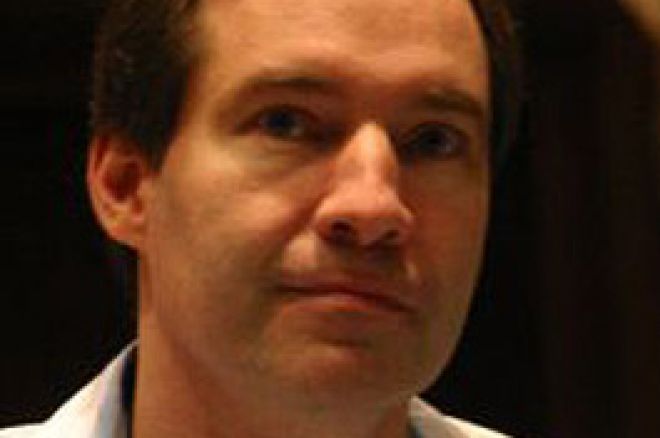 Players from the southern United States dominated big-time poker, as well as the World Series of Poker, in the 1970's. Of the first nine main-event champions, only Puggy Pearson and Bobby Baldwin were not from Texas, and their home states of Tennessee and Oklahoma aren't exactly Yankee domains. However, in 1980, Stu Ungar finally put the East Coast (and most notably, New York) on the map for those southern boys at the WSOP.
Ungar repeated the feat in 1981 when he again took the main event championship, while other players from New York began making their marks in Las Vegas. Since then, players like Erik Seidel, Jay Heimowitz, Mickey Appleman, Bob Ciaffone, and even Gabe Kaplan have done their home state proud. The 2002 champion, Robert Varkonyi, also hails from New York, but the best, all-around poker magician from way back east is Ted Forrest.
Sometimes referred to as "Professor Backwards" by his poker-playing friends for making unorthodox and unexpected moves at the poker table, Ted was born in Syracuse, New York in 1964. His father was a professor at local LeMoyne College, and Ted attended classes there after high school, and played some poker on weekends. His winning's gave him the cash and confidence to take a trip to Las Vegas, and before long, school was on the back burner.
Forrest moved himself to Arizona, where he took a job near the Grand Canyon, but his job allowed him to scoot to Las Vegas over the weekends. Eventually the draw of poker was too much for him, and rather than driving the 300 miles each week, he simply moved toVegas.
After settling into an apartment, Ted took his last $100 to his first day of work at the Palace Station where he secured a job as a "prop player." The job provided $30 a day and a meal in the employee cafeteria. Apparently little has changed since I found myself in Las Vegas at the same 21-years of age and walked into the Palace Station in 1980 (actually it was the Bingo Palace at the time) to play 50-cent stud with the tourists and other props. I moved to Reno and took a prop job at Harold's Club. Ted headed back home after just a few months.
However, before he left, Ted found the job to be quite tough. The stress of playing on a shoestring budget convinced him to learn to deal poker, and as it has for others (myself included), it strengthened his game. In fact, in Ted's case, he seemed to develop the kind of hand reading that Bobby Baldwin developed when he found himself busted at 22-years of age and took a job dealing poker, and an uncanny knack for being right.
Ted always planned on finishing school, so he packed up and headed home. After 18-months of college, Ted returned to Las Vegas, accompanied by his girlfriend, Karen. They were married in 1987, and little Kristin was born in 1988. Their relationship was rocky, and Ted's trips to the poker games in Los Angeles didn't help. Within a few years, Karen would take Kristin back east and file for divorce, but Ted has since picked-up the pieces of his relationship with his daughter.
As for his relationship with poker this time around, Ted found the small limit games easy pickings, and was playing $15-$30 stud in just a couple months. By 1990, he also began playing in tournaments. Because he enjoyed a variety of games, he entered a variety of tournaments.
In 1992, Ted entered each event at the Commerce Casino's L.A. Poker Classic, making 10 final tables. The remarkable feat earned him the tournaments Best All-Around Player award and an extra $20,000 in spending money. Poker writer Michael Craig calls Ted Forrest impassive and unflappable at the poker table, even when the game is $4,000/$8,000 or first-place in a major tournament is at stake.
The problem with trying to explain Forrest's style and abilities at the poker table is that there aren't enough superlatives to do him justice. Ted has that uncanny ability to dissect a hand and put his opponents on very specific cards. He also has the will of a great thoroughbred racehorse, and the ability to leave early loses in the far recesses of his mind while he turns on the afterburners at the clubhouse turn and sprints to the front of the pack.
Mike Sexton likes to say that changing gears is the major component in tournament success because "it keeps your opponents off guard in regard to categorizing you into a certain style of play." Well, what if you can't ever put someone's play into a certain category? What if they are willing to play lots of hands and beat you after the flop, the way Sam Farha likes to? And, what if they can also play for twenty hours straight, and still make a monster lay-down? Well, if you put those ingredients together, you get an idea of what Ted Forrest is like. Kind of, except as soon as you think you have him contained at the table, he comes over the top of a very tight player and you realize you have no idea whether he has ace-ace, or six-seven. It's frustrating, it's infuriating, it's Doyle Brunson's example of "power poker" to the seventh degree.
In 1993, Ted made his first serious attempt in the tournaments at the World Series of Poker and his results speak for themselves: Three gold bracelets; one each in Razz, 7-Card Stud, and Omaha Hi/Low. How do you top that? You can't, unless you are Ted Forest and decide that the live games are still your best road to big wins and high stakes, and you go beat them for a decade.
Ted may not have become a household name until he returned to tournament poker the past few years, but to cash game players, real high-stakes players; Ted is arguably the best in the business. In the long run, poker prowess gets easier and easier to delineate, because whoever wins the most money is the best, and that still means Ted may be the best.
The past five years have been very good to Forrest, because Forrest is a very good poker player. He brought his rugged good looks into millions of households by making three final tables on the World Poker Tour, and while he has yet to win an event, his six money finishes total over $1 million dollars. The WSOP has also been good to Ted where he won a championship in 7-stud in 2004 and a fifth gold bracelet in 2005 for no-limit hold-em.
Forrest has also spent considerable time in the biggest poker game ever run, playing heads-up against Texas businessman Andy Beal for stakes that necessitated $500,000 buy-ins, as well as a $10,000/$20,000 ring game. In each of his first two sessions, Ted was stuck over $400,000 before turning a near disaster into a million-dollar win.
If Forrest never player another hand of poker, he would forever be remembered as a high stakes player of the stuff legends are made. Doyle Brunson won his tenth WSOP championship this year, and he has 30-years on Ted, so it's safe to say that Ted will be adding to his amazing list of accomplishments for a long time to come.