'E-Dog' Speaks: Interview with Erick Lindgren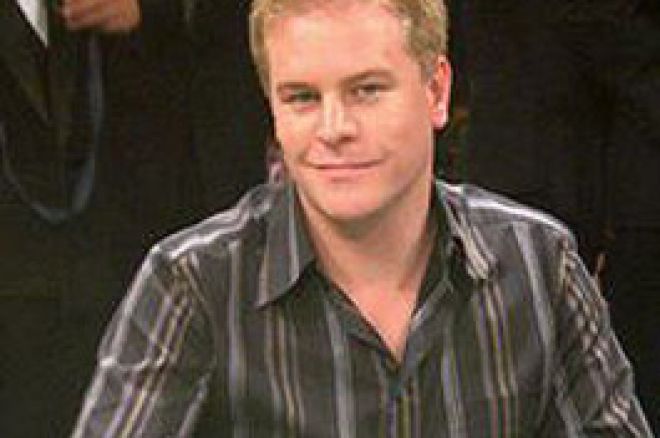 By far one of the most recognizable and brightest stars of the World Poker Tour has to be Erick Lindgren. He has captured two titles in the WPT's history and was named the first WPT Player of the Year in 2004. With those victories, as well as many cashes in tournaments that have covered the globe, Erick has been able to amass over $3 million in tournament winnings and continues to be a threat to any tournament that he enters or cash game that he steps into.
Erick has also added the title of "author" to his impressive resume with the second in a continuing series of books from the WPT. "WPT: Making The Final Table" was recently released and has to be one of the best looks at tournament poker around. In the book, Lindgren divulges his attacking style of play in each phase of a tournament, emphasized with his own experiences at the tables, and offers advice to those who make the windfall of winning a huge poker championship.
All of this (and more) before the age of thirty! For someone from the small California town of Burnley who now calls Las Vegas home, life has to look good for Erick. I had an opportunity to speak with Erick to talk about the book and what we can look forward to in the future from someone who has the potential to become one of the greats in poker!
PN: First off, congratulations on the book! Do you think you gave away too many of your secrets?
EL: (Laughs) Thanks, Earl. No, I'm really not too worried about giving away too much with the book. With the number of people that are coming to the game today, people are learning about the game at an accelerated rate. With this book, I look at it as providing information to readers to improve their game and, even if I have to face them, the game still has to be played out. It's a tool that people can use to become better players.
PN: The style you suggest in the book is an aggressive one. Would you suggest it for a person who is new to the game?
EL: Well, in the book I make an emphasis on post-flop play. That is one thing that I feel I can do better than most in the game, which is why I have such an aggressive style and don't play what could be called a conventional game. Newcomers to poker should try to concentrate on playing more of a pre-flop game, as their post-flop skills haven't had a chance to develop.
I also try to emphasize the importance of how position can dictate what you play sometimes rather than the cards you are holding. Sometimes it can be correct to make a play that, if it's looked at from pre-flop, you may be behind. What happens once the cards come, then you can make your determinations and moves then.
PN: Can the same strategy you talk about for tournament poker be used in a cash game setting?
EL: I believe so, maybe even more so than in a tournament. In a cash game, you usually won't have the wild "all in" moves that you'll see happen in a tournament. While the stacks will be much larger, perhaps even in the $15-$20,000 range, people will be playing strong games and won't be quite as likely to push it in. This allows for the post-flop play that many poker players, including myself, enjoy.
PN: I thought one of the most important parts of the book was your chapter on what to do once you become a WPT champion! How many players fall into the bad habits you spoke of and did you find yourself there as well?
EL: Oh yes, I did. No one is perfect! I learned, from talking to people like Doyle Brunson and some of the other longtime players, that it is a situation that anyone can find themselves in. Over the years, though, you can learn what to and what not to do. If I can help someone avoid some mistakes, then I am going to try to help!
PN: Your co-writer Matt Matros provided some great insight into the math of poker in the book as well. Is that something that isn't your forte?
EL: (Chuckles) I understand the math and use it in my game, but I am much more of a situational player than a strictly math based person. Matt has a thorough understanding of the mathematics of the game and I was happy to have his contribution on that area. It made the book better, as well.
PN: How have the WPT tournaments changed since the first couple of seasons?
EL: The WPT has been such a great thing for poker. Back then, when it was in its infancy, there definitely weren't as many players competing. When Howard (Lederer) and I won our tournaments, the fields were much smaller, but still highly competitive. Now, there are huge numbers and there are definitely many more battles you have to go through. With the Internet providing satellites for players, the online players who come directly into the tournaments, the fields today are tremendously competitive.
PN: Is the Professional Poker Tour (PPT) a different challenge than that presented by the normal WPT tournaments?
EL: Much more so than the normal WPT events. In the PPT tournaments, because I know all of the players and their styles, other than the couple of sponsor slots that are filled, it becomes more of a battle as you take what you know and play against the biggest names in the game. This makes the PPT events another creature entirely than the WPT tournaments.
PN: You were a tremendous athlete in high school. Does that same competitive drive run over to the poker tables?
EL: Absolutely! With sports, I was able to channel my competitive drive into those events. With poker, I get the same outlet and I can compete at almost any time and any place.
PN: Who presents the greatest challenges to you at the tables?
EL: In general or do you want names? (Laughs) In general, I usually have problems with players that are like myself, very aggressive. This would include Daniel (Negreanu), Gus (Hansen), Phil (Ivey), and Josh (Arieh). They all present challenges to me.
My friend Gavin Smith (2005 WPT Mirage champion and third place finisher at the Doyle Brunson NAPC) also falls in that category. He has been on a roll lately, playing very well, and with his confidence and his aggressiveness, he definitely is someone I keep an eye on!
PN: As the holder of two WPT titles and one PPT championship, how important is getting the World Series bracelet to go along with them?
EL: It is definitely a goal of mine. The 2005 World Series was an especially tough one for me, but there is always next year!
PN: That's something that I wanted to ask you about. There's been quite a bit of discussion on No-Limit Hold 'Em taking over tournament poker. Would you rather see a better mix of games or a continuation of the "no-limit" trend?
EL: With so many tournaments that are around nowadays, I really only have a chance to play in the Main Events of tournaments. During the World Series, though, I would like to see more Stud and mixed games involved, rather than the predominance of no-limit.
You have to look at it from all sides, though. No-limit is a quick game and, even if you have a huge field, it can be completed pretty fast. With limit or high/low tournaments, they can be drawn out affairs. I remember back during the Series, in one of the high/low events, that, with the small blinds of the first few levels and the large chip stacks to start with, I could have missed the first three hours or so and really not missed a thing!
PN: If you controlled poker, what changes would you make in the game today?
EL: I'd definitely go over the rules some. The TDA (Tournament Directors Association) rules regarding talking about hands at the tables is something that I really don't get. Part of the game of poker is the probing and questioning that goes on when you are playing heads up. It is how many players get their reads and make determinations on what actions to take. During the Heads-Up Championships, I watched Daniel Negreanu get a great read through his questions and table talk with Jerry Buss and it allowed him to make a great laydown. With the rules the way they are written, though, that isn't allowed.
I'd also like to do something with the "F-bomb" rule. I've unleashed some obscenities at the table, but that's the only one that gets a penalty? It's a little silly, since we're all adults at the table. Don't worry about new people in the game and their sensitivities or little things like language and worry more about how the game is played!
PN: I've noticed that you don't wear sunglasses at the table. Why's that?
EL: To be honest, (laughs) I have made so many misreads of my hand at the tables that they were a bother, so I don't even think about wearing them! Really, I don't think that I need them there.
PN: Is there a particular hand that you always play?
EL: ACES!! (Laughs) I really don't look at the particular cards I play or don't. I choose to look more at the position I'm in at the tables, focus on my post-flop play, things like that. Every situation is different, so there really isn't a hand that I have fallen in love with!
PN: Is it important to get some downtime from poker and, if so, what do you do to get that rest?
EL: It's very important to get away from the game, especially with all of the travel that's involved. I like to play golf, basketball, watch television...basically I look for anything that will get me off my ass and do something! (Laughs)
PN: Finally, Erick, what can we expect from you in the future?
EL: I'm really not sure! There are so many opportunities that are coming up for poker players that it seems to change everyday. Brian Balsbaugh (his agent from Poker Royalty) has really been instrumental in taking care of us in those regards. He is always looking for ways that we can maximize our popularity and, for that, I am thankful to him!
PN: Well, thank you for the time and good luck in the future, Erick!
EL: Thanks, Earl, you too!
I'd like to thank Erick for our time together and encourage you to watch out for Erick on the World Poker Tour! He is always a threat at any tournament and (attention, ladies!) as one of the single "young guns" on the Tour, has a fan base that will only continue to grow as he continues on the road to further poker success! If you can't catch up to play with Erick on the Tour, perhaps you can find him at his online home at FullTilt Poker and learn more from a great tournament player! Failing that, take a look in your local bookstore for his book, "WPT: Making The Final Table" and get some great lessons there.