'Freeze Out': Poker Comes To Indie Films, Part Two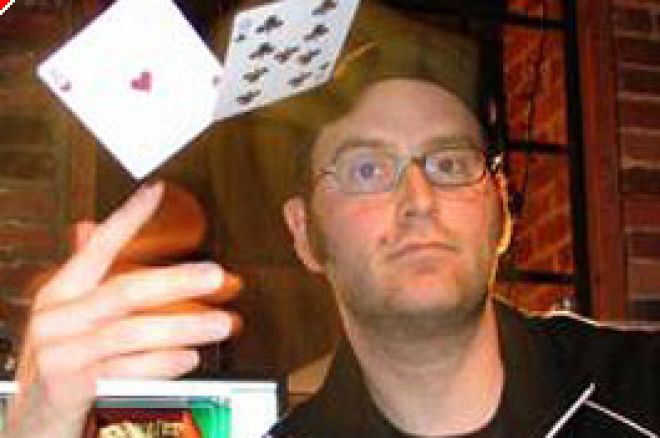 The new independent film "Freeze Out" is currently running at Cinequest (cinequestonline.org) and is garnering high praise from viewers from around the world. The movie, which details the story of a once friendly small stakes home game turned into a cutthroat freeze out tournament for higher stakes, was the brainchild of a man who has actually spent some time at the tables himself, M. J. Loheed. Loheed wrote, directed and produced "Freeze Out", taking his love of the game and placing it on the silver screen.
To learn more about the movie, I recently had a chance to speak with M. J. During the very entertaining conversation, we talked in depth about "Freeze Out" and I learned as well the unique way that the film itself was financed.
PN: How did you discover your interest in poker?
ML: It's funny, I really didn't get into the game until after 1998. I saw the movie "Rounders" and, like many other people, that spurred my desire to learn more about the game. I started off playing at the Bicycle Casino at the lowest levels, $1/$2 No-Limit, and got raked over the coals.
So I started hosting my own home game so I could learn how to play better. My friends and I would get together and just enjoy the time out from the pressures that Los Angeles and the film community put on us. In many ways, that home game I ran and the one in "Freeze Out" were similar, in that it was a respite from the individualism of this city. It was where the idea originated for "Freeze Out", although our game wasn't quite as dramatic as it is in the film! I just loved the conversations we had around the poker table and thought, "This would make a funny movie."
PN: You were really able to get some very good actors for the film ("Freeze Out" features performances from comedian Greg Behrendt and actress Laura Silverman). How was the opportunity to work with them?
ML: I was extremely lucky to have the chance to work with Greg. I met him once, years ago, outside a comedy club and told him that I really liked his set. We chatted a little and he asked what I did. I told him that I was hoping to make movies and then he joked that maybe someday he'd get a chance to be in my movie. When I came to him with "Freeze Out", he didn't remember that conversation at all but he did like the script.  He just nailed the character of Nick to the floor, almost effortlessly.  Now, he's a popular comedian and best selling author, so I am glad we had the chance to do this before he rocketed to his current success.
Laura Silverman is so talented too. She really took the part of Sarah and made it her own, with far more depth than I had written. I'd just written a kook but she made a real person. And I really have to give a lot of credit for the way the film turned out to everyone in the cast.  None of them was paid for working on the film and they took the time out of their own personal schedules for the movie.  All of them turned in excellent performances. I was very fortunate.
PN: How would "Freeze Out" be different now than when you originally filmed it in 2003?
ML: I think I could bring more to the film myself, because my own poker experience has grown so much. The poker game itself in the movie would probably change as well. Instead of being a "Dealer's Choice" tournament, it would more than likely have been a No-Limit Texas Hold 'Em tournament. That would reflect the change between then and now, as it seems that everyone is playing Texas Hold 'Em.
Who knows, I could bring some of those elements if I ever decide to do a sequel to the film. I've been pondering the idea of taking John (the central character of "Freeze Out") to Las Vegas, so maybe I'll be able to incorporate my own experiences as a reflection of my own journey in poker.
PN: While the actors didn't take any pay for the film, you still had to come up with the cash to cover other expenses. How did you manage that?
ML:  Well, the cost to shoot the film was around $20,000.  I financed about $15,000 through my poker winnings.
PN: Really?
ML: Yea, honestly!  The rest I came up with through working and credit cards.  That seems to be a theme for us independent movie guys.
PN: That's a pretty good bankroll there, M. J.! Do you still play?
ML: Yes, but not as much as I would like. The one game I try never to miss is my weekly home game. I still head over to the Bicycle and play in the No-Limit games there and head to Las Vegas a couple of times a year, usually at the Palms.  I really wish that I had more time to play but, with the film and all, it is becoming more difficult to set that time aside to be able to play and play well.
It's one of those central stratagems of poker, your mental state. I always am asking myself "am I in this game or not" and that usually determines whether I stay in a game. It is extremely important to me to have that proper mindset before I even decide if I am going to play.
PN: So what is coming in the future for "Freeze Out"?
ML: Well, the Cinequest Online festival is very critical right now. Even though "Freeze Out" has won some praise and a Best Feature award on the festival circuit, the Cinequest competition could bring even more attention to the film.  If it does well there, it will bring it to the attention of more industry.
Overall, the next six months or so will be very important for the film.  There's a potential for heading to video stores, maybe even to the major independent film channels.  But fundamentally, I just want as many folks to see it as possible. If anything more happens beyond this, it will be icing on the cake.  I'm just proud to have made my first feature film, for my professional growth and to show my love of the game.
I want to thank M. J. for taking the time to talk about "Freeze Out". If you haven't had the opportunity to see the film yet, it is currently running at Cinequest during their Cinequest Viewers' Voice Online Festival. You can download and vote for the film (after registering at the site) at cinequestonline.org until February 24th. For those that have been looking for a poker movie since "Rounders" was released, it could be just what you have been waiting for.