Going Camping...with Phil Hellmuth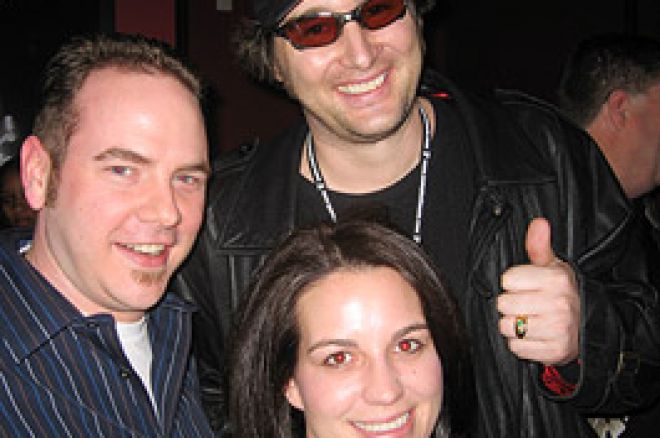 The hand was played as seriously as if it were the final table of the WSOP main event. Two stoic, serious competitors were locked in a tense hand of poker. Scott Fischman had come out firing from the button after the flop, with a man named Matt from Texas subsequently agonizing over the decision to call/fold/raise. After taking time for careful consideration while counting his chip stack, Matt reluctantly released his hand to the muck. "Scott, could you beat pocket 7's?" the amateur asked. In all other playing venues, no professional would ever honestly answer such an inquiry. But at this past weekend's Camp Hellmuth, it was an expectation of the professionals to teach and learn. Fischman immediately leapt into the role of poker tutor, explaining to his opponent, and the table, how he knew he could use position and aggression to move Matt off of his pocket pair. Over 200 campers converged on Caesars Palace in Las Vegas to experience this exact sort of experience. In what was dubbed as "The Ultimate Weekend of Poker," amateur players from across the globe came seeking gems of poker insights from 9 time WSOP bracelet winner Phil Hellmuth and an impressive host of poker professionals.
Before serious poker instruction could begin, though, Phil welcomed his campers with an exclusive party hosted by supermodel Cindy Margolis at the PURE nightclub. In typical Hellmuth fashion, Dom Perignon flowed and poker stories swirled as the campers and pros enjoyed their evening. Although the party left some campers bleary-eyed the next morning, there was indeed some serious learning and playing to do. Over the next two days the campers were to be treated to lectures, instruction, and personal attention from the players that they've watched and idolized on television. Perhaps more importantly, each camper would also get the opportunity to play against these pros. Professionals on hand included Hellmuth, Fischman, TJ Cloutier, Mark Seif, Antonio Esfandiari, Thomas "Thunder" Keller, Cyndy Violette, John Bonetti (3 WSOP bracelets), and one of Ulimatebet's top players Shawn Rice. Ironically, the professionals with an armful of WSOP bracelets may not have been the most intimidating players in the crowd. That distinction went to Joe Navarro, an ex-FBI counterintelligence/counterterrorism expert who was added to the list of Camp Hellmuth faculty to talk about reading people's tells. At stake in these tournaments was not only pride and knowledge, but a remarkable prize pool that included a $12,000 first place prize, trips to Aruba & WPT entry sponsored by Ultimatebet.com, and bounty prizes such as Oakley sunglasses or $200 for knocking out a pro.
Despite the fact that he had been knocked out in about 160th place, the smile could not have been larger on camper Douglas Kerns. "This is the most fun I've had since I was a kid," he explained. "I can tell my buddies that I won a pot from Phil Hellmuth and got away with a bluff on John Bonetti. I mean, that is crazy to me! And I learned so much that I know I'm going to start winning more." Hellmuth starred and taught throughout the camp, displaying his savvy behind the microphone throughout the weekend. Phil told me, "The enthusiasm (from the campers) for the game is fantastic. There is a positive energy there. Everyone here loves the game. I love it."
The next Camp Hellmuth is expected to occur at Caesars Palace in 4-6 months. For more information visit the official website at camphellmuth.com.
Ed note: They run Camp Hellmuth satellites at Ultimate Bet, so give one a shot.