Legend of Poker: Walter Clyde 'Puggy' Pearson 1929-2006
John Caldwell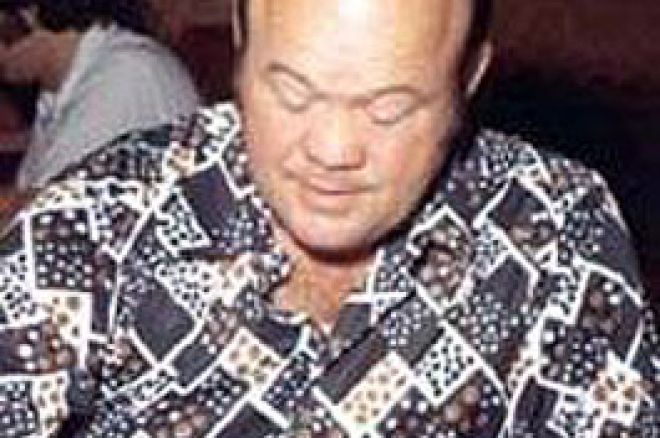 Poker is a game of colorful characters. The poker world lost one of its pioneering characters yesterday as Walter Clyde "Puggy" Pearson passed away. Puggy was 77.
Raised in poverty in Kentucky and Tennessee as one of ten children, Walter Pearson had to leave school at the tender age of ten to help the family make ends meet. Always the showman, around the age of ten years old while helping to build a church with some of his friends, Walter was showing his friends his newfound talent of walking on his hands. Some floorboards Walter thought were nailed down were not, and the floorboards gave way, causing Walter to smash his face into the ground. Walter's nose was permanently flattened by the incident - and "Puggy" Pearson was born.
By 16, Puggy was in the Navy, and honing his skills as a gambler to make ends meet. From a very early age, Pearson would gamble on just about anything. A man of hundreds of great one-liners, Puggy's most famous may have been "I'll play any man from any land any game he can name for any amount he can count............provided I like it".
A true founding father of modern day tournament poker, Puggy was one of the seven poker players invited by Benny and Jack Binion to participate in the very first World Series of Poker in 1970. Pearson was the runner up in both the 1971, and 1972 WSOP Main Event (preliminary events started in 1972), but it was 1973 when Puggy broke through. Puggy won three events at the World Series of Poker in 1973, including the Main Event. In those days, the tournament was winner take all, and in 1973 Puggy took down the entire prize pool for the main event - $130,000.
Doyle Brunson had this to say to PokerNews about the passing of his friend. "We lost one of the all time warriors at the poker table when Puggy Pearson passed. He was one of the original pioneers in poker as we know it today. He will be missed."
Pearson was a fixture in the card rooms of Las Vegas for decades. This reporter remembers walking out of the Orleans card room about a year ago at 2:30am.....just as Puggy was sitting down to play.
The last time many in the poker world saw Puggy is when he sang his traditional song at the final table of the Main Event of the WSOP this past summer in Las Vegas. Under the bright TV lights that lit the final table in the new era of poker, one of the old characters of the game was having a moment in the sun. It had been a long time since Puggy had been at a final table at the World Series of Poker. But, by the twinkle in Puggy's eye, and the spark in his voice that night, you would have never known it.