Apostolico Contributes Another Tome With 'Lessons From The Felt'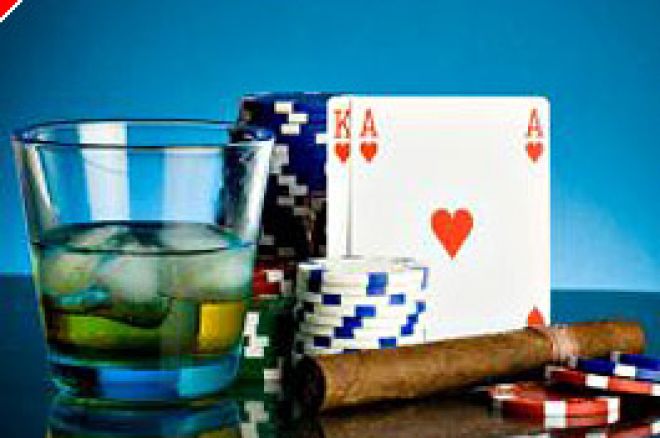 Poker author David Apostolico has been one of the most prolific poker authors over the past eighteen months. In this short span, he has written three useful poker books in "Tournament Poker And The Art Of War", "Machiavellian Poker Strategy" and "Lessons From The Pro Poker Tour", and has also co-written one of the World Poker Tour books along with poker professional Antonio Esfandiari ("In The Money"). Just when you think David may have become tapped of useful tidbits for poker book readers, he comes up with his latest effort, "Lessons From The Felt".
"Lessons From The Felt" (available now in all bookstores and online for $14.95 U.S., $20.95 Canadian) takes some of its impetus from the work that Apostolico started in "Lessons From The Pro Poker Tour". In that book, David demonstrated actual hand histories from tournaments he had played in on the Professional Poker Tour and offered an accurate analysis of those hands. With "Lessons From The Felt", he takes that same analytical style and moves it into virtually every form of poker that can be played by the average person. By doing this, he demonstrates very well that a meticulously mindful player can improve their game in almost any playing situation.
Over the 143 pages that make up the book, Apostolico demonstrates the learning curve that many players start at, the "friendly" home game that is sometimes a burgeoning poker player's first step into the competitive poker world. He continues from there to look into freeroll poker and the online game (including sit and goes), live single table and multi-table satellites and rebuy tournaments. Through all of these examples, David presents lessons that would be of great use to any player who is either fresh to the game and also offers reminders to those who may have been playing for some time.
One of the great reminders that David presents throughout the book is that learning about poker can be achieved at any level. He particularly points out the "bar league" poker that is quite popular today as one place where important lessons can be learned. Apostolico is on target when he advises readers to never relax in a game, to always be looking for useful information, even when it appears that nothing is on the line (as is often the case in these "bar leagues" and some home games). This is useful for players to hone their skills that they can use when they step up to higher tournaments, where there is definitely more on the line.
While delivering the lessons from all aspects of poker, I personally found David's thoughts on other subjects after this to be the most useful. In fairly short, quick chapters, Apostolico discusses dealing with aggressive players, not being deluded into thinking lucky play makes you a winner, making deals at the end of tournaments and other areas. These were critical parts of the book, in my opinion, as they are reminders and lessons that you don't often see in the realm of poker books. While these extras were highly enlightening, two sections in particular were impressive in their information.
As a lawyer, Apostolico encourages the reader to look at the game of poker from a business perspective. Don't overlook this section as it places acute business information into the mix of making decisions at the poker table. By looking at poker as a business "investment", so to speak, David projects the decision making of a businessman can be a profitable way to approach the game of poker. It is something that I never thought of but can be a highly useful tact to take before stepping to the tables.
In the final chapter of the book, Apostolico steps back to his days of using historical essays to accentuate poker ideas. By using the works of 16th century Italian author Baldassare Castiglione, David presents the theory of "sprezzatura" which basically states that one should preserve their composure and self-control under any conditions. This is a critical item that every poker player must have in his arsenal (alongside the card sense and other abilities) and David thoroughly demonstrates its usefulness at the tables, serving as a nice ending for this book.
"Lessons From The Felt" is an excellent work that can sit quite nicely alongside Apostolico's other tomes. Along with his other books, "Lessons From The Felt" serves as an excellent way to cap off a series that would be a good tutorial for newcomers to the world of poker to learn the game. In writing all of these pieces, Apostolico has demonstrated a thorough knowledge of the game and has explained and taught these nuggets of information to his readers. Hopefully, the future will be populated with more of his theories on the game as well.
Ed note: Populate your wallet with cash from the players of Mansion Poker. Sign Up today.