Friday Night on the Strip, Part I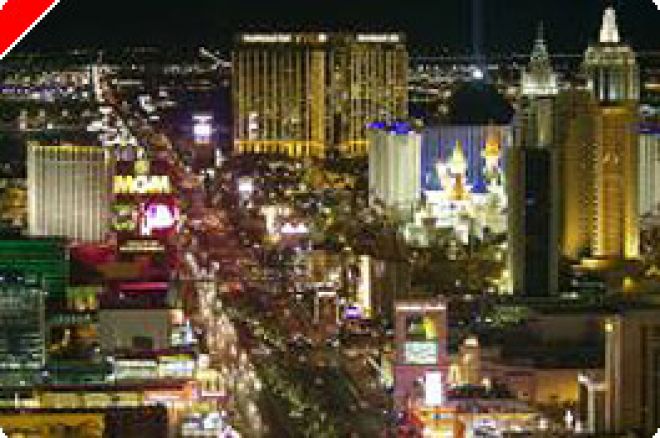 So you are coming to Las Vegas for a weekend and want to play some poker? With all the new and old card rooms—where should you play? This is part one of a series which will take a look at what is actually going on at each and every one of the poker rooms on the Las Vegas Strip on a typical Friday night.
For our first "Friday Night on the Strip" I started at the southern most end of the Las Vegas Boulevard where I began injecting, inspecting, detecting and rejecting the card rooms at: Mandalay Bay, Luxor, Excalibur, and Tropicana. Here is what the action and inaction looked like in these four poker rooms on a recent Friday Nite.
Mandalay Bay
I began and finished my evening at Mandalay Bay. You gotta park the car somewhere, and with the tram from Mandalay to Luxor and on to Excalibur and then an over-the-Strip walkway to Tropicana, I was not going to get a lot of exercise between casinos tonight.
Mandalay Bay has a ten table room which at 7:30 had nine tables in action. Like nearly all of the small and medium size rooms in Las Vegas these days, the action was 'all Hold'em all the time.' Limit and No-Limit, of course, and all of the tables were low-limit, nothing over $4/$8. Also like most of the rooms on the weekend, the tables are filled with players staying at the property. At Mandalay Bay about 70% of the players were staying on site, another 20% were staying at nearby properties and less than 10% were locals who consider this room to be their own private fishing hole. This split of players is fairly typical of many rooms. This means that some players at nearly every table know each other and are in Las Vegas to enjoy themselves. On this night I played three different tables at Mandalay Bay and played with two couples from Chicago and an entire family of four from Atlanta. A bit surprisingly, the action was actually a lot tougher after midnight when usually the alcohol factor has set in. The room was full by 11 PM and the wait for a seat got as long as 30 minutes by midnight.
Luxor
Just a short tram ride or a moving sidewalk away is the Luxor poker room, but these two rooms (Mandalay & Luxor) are nothing alike. Again, it's all Hold'em at the Luxor but they spread an interesting No-Limit game. The buy-in in $50 maximum with $1/$1/$2 blinds. Basically, this is a no fold'em Hold'em no-limit game and there were plenty of tables going on Friday night. You can only rebuy if you go bust, so any short stacks are pushing with borderline hands to either get back in the game or rebuy back to $50. These are very loose games, which make the room a lot of fun to play if you like loose and loose-aggressive games. No-limit with a low buy-in is a strange concept to get used to and many of the players never do. I walked the room around 11 PM and found only one player at any of the no-limit tables with a stack larger than $200.
There was also a lot of table talk at the Luxor tables, about poker, about politics, about sex: "The Luxor ['working girls'] have better bodies than those at MGM." I am only quoting here, I have no evidence to offer a personal opinion.
Excalibur
Next it was on to Excalibur. The first thing you will notice at Excalibur is a lot more local players. The old room here was a local favorite for many years and the property still draws a fair number of locals. One reason is the $2/$6 spread limit game. There is a real added skill in having the option to "make it six" anytime. Also the room at the Excalibur seems to have a faster turnover; a fair number of players are sitting down for short sessions and the turnover makes for less reads and more cards-only play. On most nights at the Excalibur the games are a bit more conservative than at the more tourist oriented rooms, so if your game is tight and right, this may be the room for you.
Tropicana
Many rooms have become all Hold'em; the Tropicana has become all no-limit Hold'em. The only game dealt in the six table Trop room is $1/$2 no-limit Hold'em. Rumors are that the big face-lift in store for the Tropicana casino will include a new poker room but until then this is a small and quiet room with generally only one or two tables in action and several long-time players who make a living in this tropical pond. If you need no-limit lessons, you can get them here but you will pay.
Next Friday, we move up the Strip and take a look at some of the "big" rooms.
Ed Note: Poker Stars is the 'biggest' room of them all. Sign up, sit down, and play…today.