'Dr Pauly' from the Aussie Millons - Day 3: Marathon Omaha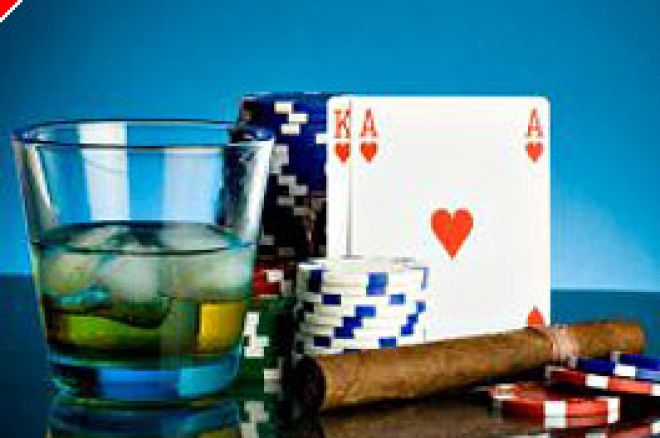 In one of the longest tournaments in the history of the Aussie Millions, a champion was crowned in Event #3 $1,100 Omaha Hi/Lo just after sunrise which included an epic heads-up battle that lasted 4.5 hours. Sometime in the wee hours of the morning, Jethro Horowitz emerged victorious and took down $33,600 (Australian Dollars). The final table featured Mel Judah, Marsha Waggoner, and Billy the Croc, who ended up making final tables in two consecutive events.
There were 96 total entrants with a price pool a shade under $100,000. Notable players in the event included Harry Demetriou, Gary Benson, Tony G, Kenna James, Mark Vos, Sticky Mickey Guttman, Mick the Hoon, Mel Judah, Marsha Waggoner, Marek Kolk, Maurie Pears, Van Marcus, and defending Aussie Millions Main Event Champ Lee Nelson.
The newly crowned champion, Jethro Horowitz from Double Bay, South Wales, is an excellent online player who has done well for himself in live tournaments. He made a final table of the $1,500 Speed Poker event last year and he also finished in 14th place in the Aussie Millions Main Event. He cashed in two events at the 2006 WSOP in Las Vegas including an impressive 16th place finish in the $3,000 buy-in Omaha Hi/Lo event. That was the same event where Phil Hellmuth made the final table during his quest for his 10th bracelet.
UK Open Champion Marek Kolk jumped out to a blazing chiplead. He caught some amazing cards early but admitted he used up all his good card karma. "I got A-A-2, at least twenty times," he said to us in press row during one of the first breaks.
Kolk made it to the final two tables but could not advance any further. He busted out and explained, "I have A-2 in one hand and flop a full house and I lose to A-3 (the turn and river were running threes). I have the nut straight in a big pot and I have to fold to a bet when a flush comes on the river. Shortstacked, I made second nut low with pocket queens and my opponent has the nut low and two pair. That is poker. I am out."
The top 9 places paid prize money and two players went out in the same hand on the money bubble. Maurie "The Master" Pears and Woody Deck both chop the 9th place prize of $1,920. With eight players remaining, the final table was set.
Constantine Harach, a hairdresser from New Zealand who had been sporting the most colorful shirt in the tournament, began the final table as the chipleader with $114K. Jethro Horowitz was not far behind with $86K while Marsha Waggoner hovered around $50K. Mel Judah was one of the short stacks with $22K. He remarkably made the final table despite behind shortstacked the entire day.
David Gorr was the first player from the final table eliminated as he fell victim to Billy the Croc. Mel Judah was the next player out in 7th place when Adam Geyer rivered a set against him to scoop the pot. Robert Sherer was eliminated in 6th place by Horowitz.
A few hands later, Horowitz would be involved in one of the biggest post of the tournament worth over $110K against Billy the Croc and Adam Geyer. Billy the Croc flopped a flush draw, while Horowitz flopped an open-ended straight draw. Horowitz rivered his straight to take down the monster pot. His stack peaked over $240K after that hand and he had more chips than the rest of the players at the table.
Billy the Croc would bust out in 5th place when Geyer scooped a pot against him. Marsha Waggoner unfortunately ran into Horowitz, who had been running hot at the final table. Waggoner was all in with A-6-5-5 but lost to Horowitz's two pair in a pot with no qualifying low. Constantine Harach headed to the rail in 3rd place when his J-J-8-4 could not beat out Horowitz's Q-Q-K-8.
When heads-up play began, Horowitz had well over a 4 to 1 advantage with $310K in chips to Adam Geyer's $74K. One of the toughest games in all of tournament poker is Omaha Hi/Lo and to win one of those events, players really need to be patient and have enough discipline to play solid hands. Unlike NL Hold'em where junk hands can become extremely profitable, you need to utilize all four of your cards in Omaha Hi/Lo and try to scoop the entire pot. There is no single knock-out blow in limit split pot games. Basically, these tournaments are a war of attrition. And that's why the final two players battled it out over 4.5 hours.
In the first hour of heads-up play, Geyer stormed back and won three pots in a row to even the chip count. Geyer, from Austin, TX, cashed in the 2006 WSOP Main Event when he finished 485 out of 8773 players. Geyer hung on and displayed his Texas toughness as the two players traded blows back and forth for three more hours. Neither would give up easily. Geyer eventually took over the chip lead and took control of the game. At one point he held a $300K to $85K lead, but Horowitz fought back.
Even though the tournament lasted well past 6 A.M., an enthusiastic crowd still gathered on the rail supporting both players. Australians are super competitive, but are true sportsmen and can appreciate an epic match when they see one. Tournament Director Danny McDonagh brought out a box of energy drinks for everyone, which drew a thunderous applause from the crowd.
On the final hand after 4.5 grueling hours of heads-up play, Horowitz had A-J-8-4 and Geyer had K-9-3-3. Unfortunately, the board came down A-10-6-5-Q, which meant that Horowitz scooped the pot with a pair of Aces and no qualifying low. An exhausted Geyer won $19,200 for his efforts while Horowitz won $33,600 and the coveted crystal trophy.
Final Table Results Event #3 $1,050 Omaha Hi/Lo:
1. Jethro Horowitz (New South Wales, Australia) $33,600
2. Adam Geyer (Austin, TX, USA) $19,200
3. Constantin Harach (New Zealand) $11,520
4. Marsha Waggoner (California, USA) $9,600
5. Billy "the Croc" Argyros (Victoria, Australia) $7,680
6. Robert Sherer (USA) $5,760
7. Mel Judah (Victoria, Australia) $3,840
8. David Gorr (Victoria, Australia) $2,880
9. Maurie Pears (Queensland, Australia) $960
9. Woody Deck (Lithuania) $960
Ed Note: Full Tilt are the title sponsor of the Aussie Millions, and are sending dozens of players to play in the event.