L.A. Poker Classic Final Table Recap: Amateur Wins $2.4 Million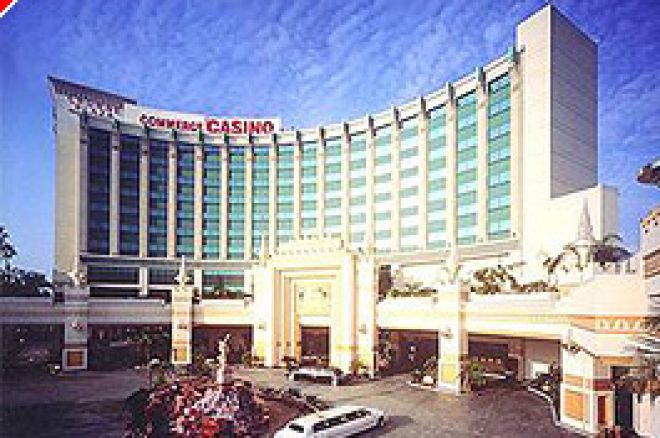 A South African native playing in his first ever live tournament came from behind to beat one of the toughest pros in the world and win $2.4 million at the L.A. Poker Classic. Eric Hershler, a lawyer who currently resides in Los Angeles, CA stunned everyone on the rail at the Commerce Casino when he overcame pro JC Tran for the L.A. Poker Classic title. Hershler joined an elite group of previous winners that included Gus Hansen (2003), Antonio Esfandiari (2004), Michael "The Grinder" Mizrachi (2005), and Alan Goehring (2006).
A record number of 791 players bought into the L.A. Poker Classic, which set a record for the biggest prize pool in a $10,000 buy-in event on the World Poker Tour. After six long and brutal days of poker, only six players remained. Hershler was by far the least inexperienced player at the table and oddsmakers listed him as a longshot to win it all.
Final Table starting chip counts:
1. JC Tran $3.47M
2. Paul Wasicka $3.39M
3. Jacobo Fernandez $3.37M
4. David Bach $2.07M
5. Eric Hershler $2.16M
6. Chau Giang $1.37M
Out of everyone at the final table, Paul Wasicka was the leader in lifetime career tournament earnings. After picking up a second place finish at the 2006 WSOP in Las Vegas, Wasicka collected over $6.4 million in tournaments. JC Tran earned almost $3 million total and that does not include online cashes. He won the Poker Stars WCOOP Championship at the end of 2006. Chau Giang won $2 million plus in tournaments. However, his overall lifetime winnings including cash games puts him over the top. He regularly plays in the Big Game in Las Vegas with Doyle Brunson, Bobby Baldwin, and Barry Greenstein.
The first half hour of play featured limited action from the table. There was only one hand that went to the river and was shown down. The pre-flop aggressor has been picking up pots through the first 15 hands or so with 180K or so being the standard raise. JC Tran increased the chip lead to over $4 million, while Chau Giang has slipped to 990K.
Tran scooped a $1.5 million pot on Hand #9. He raised 180K pre-flop and Jacobo Fernandez called. The flop was
and both players checked. When the
fell on the turn, Fernandez bet out 230K. Tran called. The river was the
. Fernandez checked and Tran bet 300K. Fernandez went into the tank for a few minutes before he called. Tran flipped over
for a pair of Aces, while Fernandez showed
for second pair.
By Hand #24, Tran had increased his stack to over 5M after he picked up several uncontested pots. He sensed that the table was paying tentative and took advantage early on.
On Hand #50, Chau Giang lost a big pot against Paul Wasicka to slip to under 700K. But two hands later, he doubled through David Bach when his
held up against Bach's
as Bach was crippled.
On Hand # 54, Eric Hershler made a move on Tran. The flop was
and Tran bet 300K. Hershler raised to 1M. Tran carefully watched Hershler as he put all his chips into the pot before he glanced at his big stack and mucked. Hershler picked up a pot worth close to 1M.
On Hand #69, the first player was eliminated from the final table. David Bach moved all in with his short stack of 205K. Eric Hershler, Jacobo Fernandez, and Chau Giang all called. The flop was
and everyone checked. The turn was the
and Hershler moved all in. Fernandez and Giang folded as Hershler tabled
for a set. Bach flipped over
for two pair. The turn was
and Hershler won the pot as Bach headed to the rail. David Bach from Athens, GA won $257,425 for 6th place. With five players left, Tran still held onto the chiplead with 6.2M.
On Hand #82, Chau Giang busted out after he moved all in for about 1M and JC Tran pushed all in with his monster stack. Giang said, "Game on."
Hershler, who thought about calling, mucked
face up. Giang flipped over
and Tran showed
. The flop was
and Giang took the lead and picked up a flush redraw. The turn was the
and the river was the
. Tran rivered a pair of Aces while Giang won $341,710 for 5th place. By that point, Tran's stack swelled to over 7M.
Hershler made another move against Tran on Hand #83. Tran raised 560K and Hershler sat and pondered a call. One female railbird from the audience screamed, "Go all in! Be a man!" That drew a not-so friendly reaction from Hershler who looked at his chips and moved all in for 1.45M. Tran peeked at his hand then mucked. Hershler's stack improved to over 2M. He picked up another million on the next hand against Paul Wasicka.
Tran headed over the 9M mark on Hand #88 after he busted Paul Wasicka in 4th place. Tran raised 600K pre-flop and Wasicka pushed all in with
. Tran called with
. The flop was
and Tran flopped a boat as the crowd went berserk. The turn and river did not help Wasicka and he won $455,615 for 4th place. With over 9M in chips, Tran held 56% of the total chips in play as Fernandez and Hershler both had less than the average stack of 5.2M
Tran headed over the 10 million mark and appeared to be on the way to a victory at the L.A. Poker Classic. That was until he doubled up Eric Hershler on two decisive hands. On Hand #96, Tran moved all in from the small blind and Hershler called with
for about 1M. Tran flipped over
. The flop was
. The turn and river did not help Tran as Hershler doubled up to 2M.
Two hands later, Hershler struck again. He moved all in from the button and Tran called. Hershler showed
and Tran showed
. The flop was
and all of Tran's railbird's screamed for a Queen. The turn was
and the river was
. Hershler doubled up again against Tran to over 4M. Tran's stack slipped to 7.4M as he lost momentum.
On Hand #102, Fernandez raised 1M and Eric Hershler smooth called. The flop was
and Hershler checked while Fernandez bet 1M. Hershler moved all in for 1.92M. Fernandez sat and analyzed Hershler's check-raise for several minutes before he mucked
face up. Hershler showed
and picked up a 3M pot. Fernandez slipped into the shortstack with 1.7M.
Three hands later, Fernandez moved all in with
and Hershler called with
. The flop was
. Hershler's set of Aces were good enough to win after the turn and rivered bricked up for Fernandez. That hand put Hershler into the chiplead with over 8.5M. Fernandez headed to the rail in third place and won $607,490.
When heads-up play began, Tran trailed Hershler by 8.5M to 7.12M. It would only take one hand to determine a champion. Hershler limped and JC Tran raised 700K. Hershler called. The flop was
. Tran bet 1.2M and Hershler moved all in. Tran instantly called and showed
for top pair, while Hershler flipped over
for two pair. The turn was the
and the river was the
, which did not help Tran. JC Tran was eliminated in second place while Eric Hershler won the L.A. Poker Classic along with $2,429,970 and a $25K seat in the WPT Championship at the Bellagio in April. Even though he came in second, JC Tran still won $1,177,010.
Here are the final table money winners:
1 Eric Hershler $2,429,970
2 JC Tran $1,177,010
3 Jacobo Fernandez $607,490
4 Paul Wasicka $455,615
5 Chau Giang $341,710
6 David Bach $257,425
Congrats to Eric Hershler for his $2.4 million score. Don't forget to check back at Poker News for videos, pictures, and Hand-in Depth coverage.
Ed Note: WPT host Mike Sexton proudly endorses Party Poker ...Can the Ambassador of Poker be wrong?