Isabelle 'No Mercy' Mercier on Breaking Through in Poker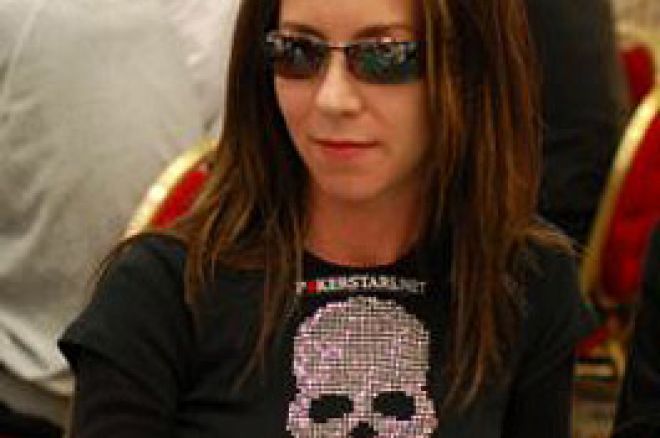 If Isabelle Mercier hadn't been asked to take up a position as the manager of the Aviation Club in Paris eight years ago, and therefore decided against playing poker full time, you might very well have been able to hire her as your lawyer today. "Don't hire me, though," she says. "I've forgotten everything they taught me." Isabelle laughs and sips her glass of red wine while looking around the room. The hat she wears makes her look like a young girl who just happens to be good at playing with chips, rather than an impressive young poker star with a growing string of major tournament successes.
Isabelle won the World Poker Tour Ladies Event in 2004 and thanks to her aggressive style earned the nickname 'No Mercy.' PokerStars scouts spotted her and offered her one of the best sponsor contracts in the poker world today. PokerNews caught up with Mercier in Amsterdam, where she commented on, among other things, her breakthrough PokerStars deal:
Mercier: It was a dream come true. All of a sudden I had a sponsor deal with PokerStars, together with Chris Moneymaker and Greg Raymer. Since then I've had the chance to play in poker tournaments all over the world and I don't have to worry about a thing. It is not an unlimited contract, but still a really good one I am very content with. PokerStars expects a lot from me: site promotion, photo shoots and stuff like that. I know some others mind that stuff, but I don't mind at all. It's a great opportunity, and on top of that, PokerStars is the best site, and I am honored they picked me as one of their spokespeople. At first I only player smaller cash games and had trouble making ends meet. Now I don't feel that pressure, I also do much better in cash games. I leave 18 out of 20 tables with profit. Not that I play that often, I mainly play in tournaments, but like here in Amsterdam, where I always spend a whole week and have lots of fun, I do tend to grab a chair at some of the offered cash games, especially if I don't feel like sitting in my hotel room.
PokerNews: How does a young lady end up in a men's world where poker is played for high stakes?
Mercier: I don't have a clue. I've been playing since I was three with my uncles. Playing cards and dice comes naturally and that has never changed.
PN: Three years ago you decided to completely change your life. You sold all your possessions, stopped working and became a poker professional. You don't own a house and you carry everything you own with you. Did it ever cross your mind that you might have made the wrong choice?
Mercier: Absolutely. I only played small cash games for eight months to stay alive and that was pretty rough. I was full of doubts back then. The lowest point I reached must have been when I playing in a week-long tournament at Turning Stone [in] New York. I was in the middle of a losing streak, everything had been going wrong for weeks, and I could not win a single hand in New York. It was really a major crisis I went through, and the evening before the main event I cried my eyes out in my hotel room. I asked for a sign, so I would know whether I was good enough to make it as a professional. In the second hand I was dealt pocket tens. The whole table limped until the big blind went all-in. I was sure it was a move, a bluff, and I called after some thinking. 'Let's see if I am good enough,' I thought. Of course my opponent was holding pocket aces so I lost the hand. I had two chips left and thought my poker life was over. I ended up splitting the first prize with three others. I had two chips left!
PN:You asked for a sign?
Mercier: Yes, I am very spiritual. I believe the universe is always around us and that there are always signs you should look out for.
PN: Why are all poker players busy not playing poker [but instead] doing business?
Mercier: The big money is not in the game, but in everything that revolves around it. You can't really make that much money playing poker, except if you win major tournaments, but the chances of winning those are pretty slim. That's why I welcomed the deal with PokerStars, have my website and online shop and that's why I write columns. Thanks to all those things I can play poker freely. And yes, those things can have a negative influence on your game. A few months ago my head was so full of poker business-related thoughts that every tournament I played in was basically a complete waste of money. I have regained my balance, though. It can also go the other way, [when] you are so busy you just leave everything as it is and decide to play poker that day. There is always a flipside.
PN:Devilfish told me (interviewer Frederiks) a few hours ago that women will never be able to play as good as men, simply because they are not aggressive enough. What do you think about that?
Mercier: Devilfish is right. I don't know how to explain it. Maybe it's in the genes; women are generally more conservative, more at ease. Maybe it's the experience that most women lack. What I do know is that I really do my best to get there, to be just as good as the male players I admire. I played a final table at the WSOP this year (referring to the 2006 event) with players like Marcel Luske and Phil Hellmuth. I was not nervous at all and played a good game. The fact that I was talking to them, even trash talking with them was a great feeling. It had nothing to do with me being a woman. I know I sill have a lot to learn, since the level they played at was a little more advanced than mine. Thank goodness I keep getting a lot of tips from guys like Devilfish, Luske and Gus Hansen, my mentor. They give me advice for free and I learn a lot from that. Isn't that wonderful?
PN:Have you ever used your charm to the extent that players muck? Or have you ever felt that players go easy on you because you are a woman?
Mercier: Maybe every now and then. I should be doing that a lot more to be honest. The other day I saw a woman playing and she had enormous breasts, and you could totally tell. It obviously had an effect on the game. Man, I wish I had such a rack and could play like that! It definitely has its advantages. I can only give players like Tony G. props for having a great table personality. Seriously, if I had breasts like that and Tony's attitude, it would be even more fun, but not yet, maybe in the future....
PN: What would you like to tell women in general?
Mercier: I get a lot of e-mails from young women. They often don't even talk about poker, but more about the decision I made a while back; leaving everything behind and starting from scratch. I am proud to be an inspiration for them. Maybe that's my purpose here, my message to others. To tell others not to fear change and not to be afraid to make something of their lives. What's the worst thing that can happen; death, that's all, right?
PN: So, you're not afraid of death?
Mercier: Oh for sure, I fear death! Death is all around me, that's why I always try to make the best of it. Poker has really changed my life. I come from a small town with only 40,000 inhabitants. I have met more brilliant people in the past three years than I met in the 28 years before that. Interesting characters, fascinating personalities. Poker is a projection of everyday life. Just now I was at a table where a player would go crazy every time he lost a hand. 'F*** this,' 'screw that,' and so on. Have you ever seen Phil Ivey react like that? I think that the way you play says a lot about how you live your life and where you are in your development.
PN [following a phone call, which Mercier quickly handles....]: Are you in love by any chance?
Mercier [with a surprised look and a giggle]: Me? No, why? Oh, that was my mother on the phone. She bought a percentage and I told her I just busted out. She'd be better off investing in something else, I don't want her to lose money because of me.
PN: Your mother buys percentages from you?
Mercier: Only in smaller tournaments. I hardly ever play them, only in Paris and Amsterdam, because I like it there. Most of the time I play in bigger tournaments; if that's the case my mother cannot afford it. I think my parents weren't very lucky to have me. They tried for a long time to have kids, and when they got me, I decided to run away from home (for a while) when I was 12.
PN: You mentioned that Gus Hansen is your mentor. Rumor has it that you and Gus are dating. I know it's a silly question, but readers want to know....
Mercier (with a pause, and a giggle): Gus Hansen is a very, very good friend and my mentor, that's all.