WCOOP – Event #18, $530 7-Card Hi/Lo: 'BigLL' Scoops Title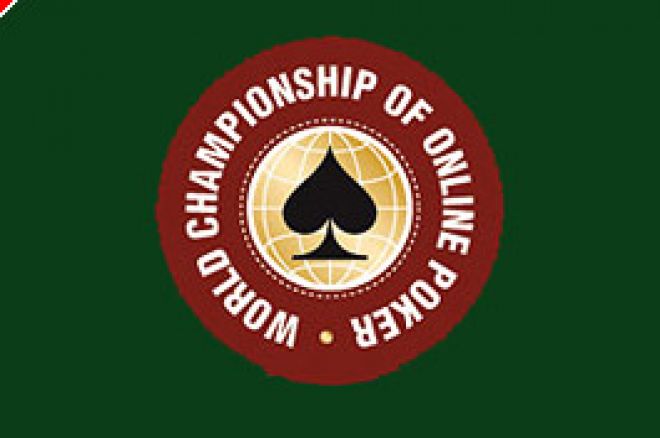 The PokerStars World Championship of Online Poker (WCOOP) saw yet another successful day on Thursday with Event #18, $530 7-Card Stud H/L. This year's event had 598 entries which saw the smallest amount of participants for any WCOOP event held so far, but the prize fund still far surpassed the pre-tourney guarantee of $200,000, generating a $299,000 purse.
'Donflun' was eliminated on the bubble in 89th place after just eight hours of play. The final table was reached after only ten hours when 'rkruok', who had took third in Event #8, was all-in on sixth with four to a low and a pair of sixes but missed against 'mysticaces' who made a pair of jacks with no low.
The final table included 'theowl48', 'BigLL', mysticaces, 'TheActionKid', 'pinfishtom', 'Sensor', 'motor1963', and 'crazyjanie'. Most of the players held roughly 200,000 in chips going to the final table, with the exception of Sensor, who was under 50,000. motor1963 and crazyjanie were the two chip leaders, both with nearly 400,000.
The first elimination came when Sensor, who completed the betting with the
, was heads up against motor1963 showing the
. Sensor bet again after catching the
while motor1963 caught the
. After motor1963 called, Sensor called and caught the
while motor1963 showed a working straight with the
. motor1963 led out and Sensor, having to go all in, called. After seventh street, Sensor showed two pair,
with a missed low while motor1963 offered
for three of a kind. Sensor was eliminated in eighth place while motor1963 increased his stack to 500,000.
TheActionKid was eliminated in seventh place when, after being whittled down to just 30,000, he completed the betting to 27,302 and was all in. motor1962 called and TheActionKid's tournament life was on the line. TheActionKid ended up with a decent hand, making
for a pair of aces and lost to motor1962, who caught
for three of a kind.
With the stakes at 20,000/40,000, mysticaces and pinfishtom, both sitting under 140,000 in chips, were sitting with just enough to play one hand without going all in. BigLL edged up to the chip lead with 849,000 in chips, winning the majority of hands he played, giving himself a four-to-one advantage over the table. It took only a few more hands for him to have over one million in chips, with mysticaces in distant second with 150,000. BigLL's lead was certainly intimidating, but fell short after losing two huge pots, one to crazyjanie for 384,000 when crazyjanie started with rolled up sevens. After losing that hand, BigLL's chip stack was cut down to just 483,661.
theowl48 was all in on sixth street with
and was called by both mysticaces and motor1963. motor1963 was all in after seventh showing
and was called by mysticaces. mysticaces and motor1963 chopped the pot with motor1963 showing
for the high with three of a kind while mysticaces showed
for the low. Theowl48 showed 2d Kh Ks 8c Ah 5c 7d and was eliminated with just a pair of kings and no low.
crazyjanie was the next to take advantage of the high stakes, trimming others at the table under 400,000 and taking the chip lead with over 700,00 in chips. BigLL became the short stack at the table after crazyjanie scooped a pot against him, leaving him under 200,000. BigLL increased his stack after scooping a pot with just a pair of threes, and no qualifying low against pinfishtom and motor1963. motor1963 was all in on third street, and was eliminated after failing to make even a pair or a low.
crazyjanie was the next player to break over one million in chips after scooping BigLL in a 402,000 pot. The stakes increased to 25,000/50,000 and it wasn't long before pinfishtom raised all in on third street with a
against mysticaces, who showed
. pinfishtom was eliminated after not improving his pair of fours and missing a low as well.
After pinfishtom's elimination, the remaining three players agreed to a chip chop which would give BigLL: $39,367, mysticaces: $38,712, and crazyjanie: $49,473. Play continued on for $9,000 and the WCOOP bracelet to the winner.
crazyjanie was the next player eliminated after becoming severely short-stacked at the table. crazyjanie was all in on a board of
against BigLL, who showed
. BigLL made the call and showed
after seventh street for two pair, kings up. crazyjanie showed
, missing both the low and the high, and was eliminated in third place.
BigLL quickly took control of the game and had mysticaces all in on several occasions. Just a few hands after crazyjanie's elimination, BigLL had over 1.3 million in chips, leaving mysticaces just 360,000. But things took a turn for the worse for mysticaces after being whittled down to just 150,000. Every hand turned into an all-in and mysticaces was eliminated after shoving with the
against BigLL's
. BigLL made three of a kind with a fantastic low with
while mysticaces ended up with
for another missed high and low, and was eliminated in second place, making BigLL the winner of Event #18.
Final Results:
*1. BigLL - $48,367
*2. mysticaces - $38,712
*3. Crazyjanie - $49,473
4. pinfishtom - $18,567.90
5. motor1963 - $14,950
6. theowl48 - $11,661
7. TheActionKid - $8,730.80
8. Sensor - $5,681
* reflectes three-way chop for remaining prize money, $9,000 to eventual winner